To get the best possible sound out of your record player, you must invest in a proper turntable mat. With a mat, you'll not only reduce vibrations caused by the turntable platter but also noticeably improve audio quality, especially with resonance and bass.
With hundreds of turntable mats to choose from, getting the right brand for your audiophile needs can be a bit tricky. But don't worry—I'm here to help!
In this article, I've tested and reviewed some of the best mats for turntables you can find today so you can make an informed decision with your purchase.
Let's dive right in!
Best Mats For Turntables
1.  Best Overall: Hudson Hi-Fi Acrylic Turntable Mat  
Top Pick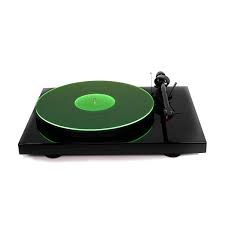 Specs
Material: Acrylic
Diameter: 298.5 mm (11.7 in)
Thickness: 3 mm
Compatibility: Full-sized LPs
Hudson Hi-Fi is a well-known name in the audiophile community for its sound isolation tools, measuring instruments, and platter mats.
The Hudson Acrylic Turntable Mat is one of the company's most popular products, often deemed as the "gold standard" of turntable mats—and for a good reason!
Available in five different colors, the Hudson Acrylic Turntable is made from CNC-generated acrylic material for increased durability and sound performance. It's designed to control resonance generated by the stylus, resulting in excellent resonance control, improved playback, and consistent record contact.
The Hudson Acrylic Turntable is compliant with the certification criteria of the RIAA (Recording Industry Association of America), so premium quality is guaranteed.
As for measurements, the Hudson Acrylic Turntable has a diameter of about 298.5 mm, which translates to roughly 11.7 in. This means that it fits most full-size turntables.
It has a thickness of roughly 3 mm, which is slightly thicker than other felt mats though not by much. Still, you might need to adjust your turntable's arm height accordingly so as to not modify the VTA too much.
Pros
RIAA certified
Multiple neon colors to choose from
Visibly reduces vibration
Improves depth of sound
Cons
Only available in bright neon colors, which may not suit the taste of some people
2.  Runner Up: TazStudio Premium Slipmat 
Top Pick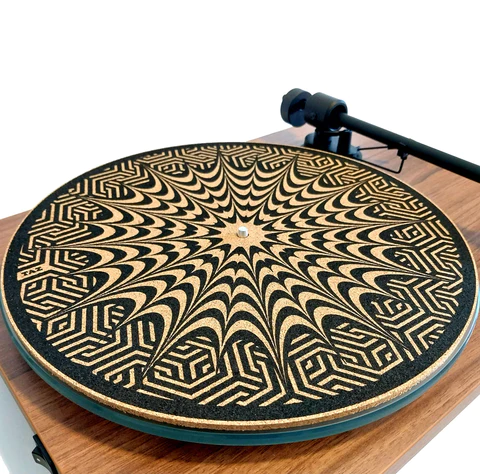 Specs
Material: Cork
Diameter: 298.5mm (11.7 in)
Thickness: 4 mm
Compatibility: Full-sized LPs
The TazStudio Premium Slipmat is a cork turntable mat that comes in a number of attractive designs, including Geometric Eagle, Psychedelic Dark Light, and Psychedelic Geometric. The designs are too beautiful to cover up, so it's best enjoyed with clear or translucent vinyl pressing.
Though the slipmat's design is enough to make anyone take a second look, what really makes it stand out is its premium quality.
With a thickness of 4mm and diameter of 11.6 in, this slipmat is made from Portuguese cork that was obtained from the province of Algarve. It's 100% environmentally friendly and painted with organic ink.
The TazStudio Premium Slipmat absorbs the turntable's mechanical noise with great ease, resulting in a tighter, more focused sound. It improves sound quality by reducing resonance to create a more natural sound.
Another great thing about this slipmat is that it's anti-static, which helps reduce humming, popping, and rumbling noises. And since it's designed to sync perfectly with the rotating platter, you won't experience instances of skipping and vibrations.
Pros
Beautifully designed
Reduces static and friction
Made of high-quality cork material
Cons
Might be too thick for some record players
3.  Best Budget Choice: Facmogu Turntable Wool Mat
Top Pick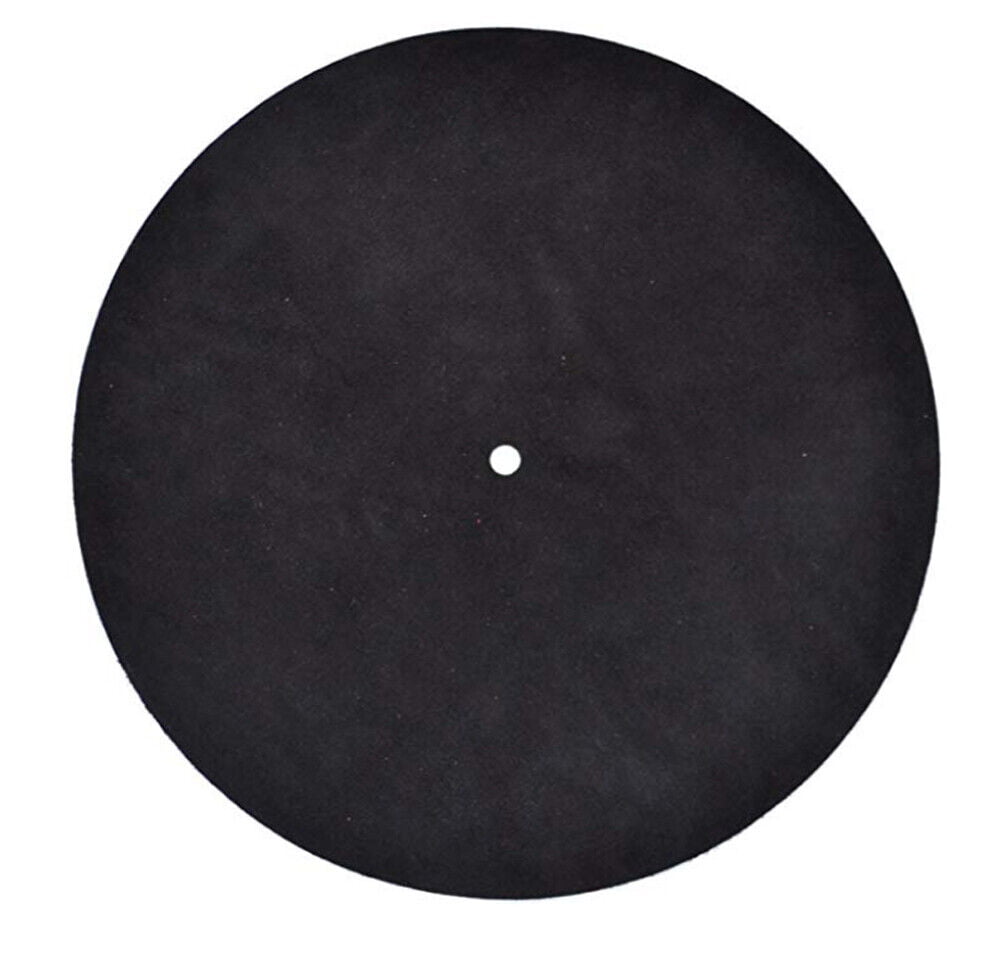 Specs
Material: Felt
Diameter: 300 mm (11.8 in)
Thickness: 2 mm
Compatibility: Full-sized LPs
Felt mats have a less-than-stellar reputation in the audiophile community. They do have their advantages, but their cons often outweigh the pros. Plus, they attract dust and static, making them a pain to manage.
That said, the Facmogu Turntable Slipmat is different. Though it's made from felt, it specifically uses anti-static wool to reduce electrostatic buildup. It doesn't eliminate the static completely, but it reduces it enough to make a difference.
Like most felt mats, the Facmogu Turntable Slipmat naturally attracts dust. But since it's made from premium wool, it can be cleaned regularly without fear of damage. Just don't wash it with water, as it might shrink unevenly. Instead, hold the mat against a flat surface and vacuum it gently from top to bottom, then turn it around and do the same thing until it's all clean.
The Facmogu Turntable Slipmat neutralizes movement, resulting in reduced vibration and record bumps. It also increases the adhesion of records, ensuring smoother record playback.
Since it's made of soft wool felt, it protects your records against scuffs and scratches. It likewise reduces friction, which is good for DJing.
Pros
Reduces static
Soft surface prevents record damage
Easy to clean
Cons
Low damping ability
Attracts dust 
4.  Best Anti-Static: Pro Spin Acrylic Mat  
Top Pick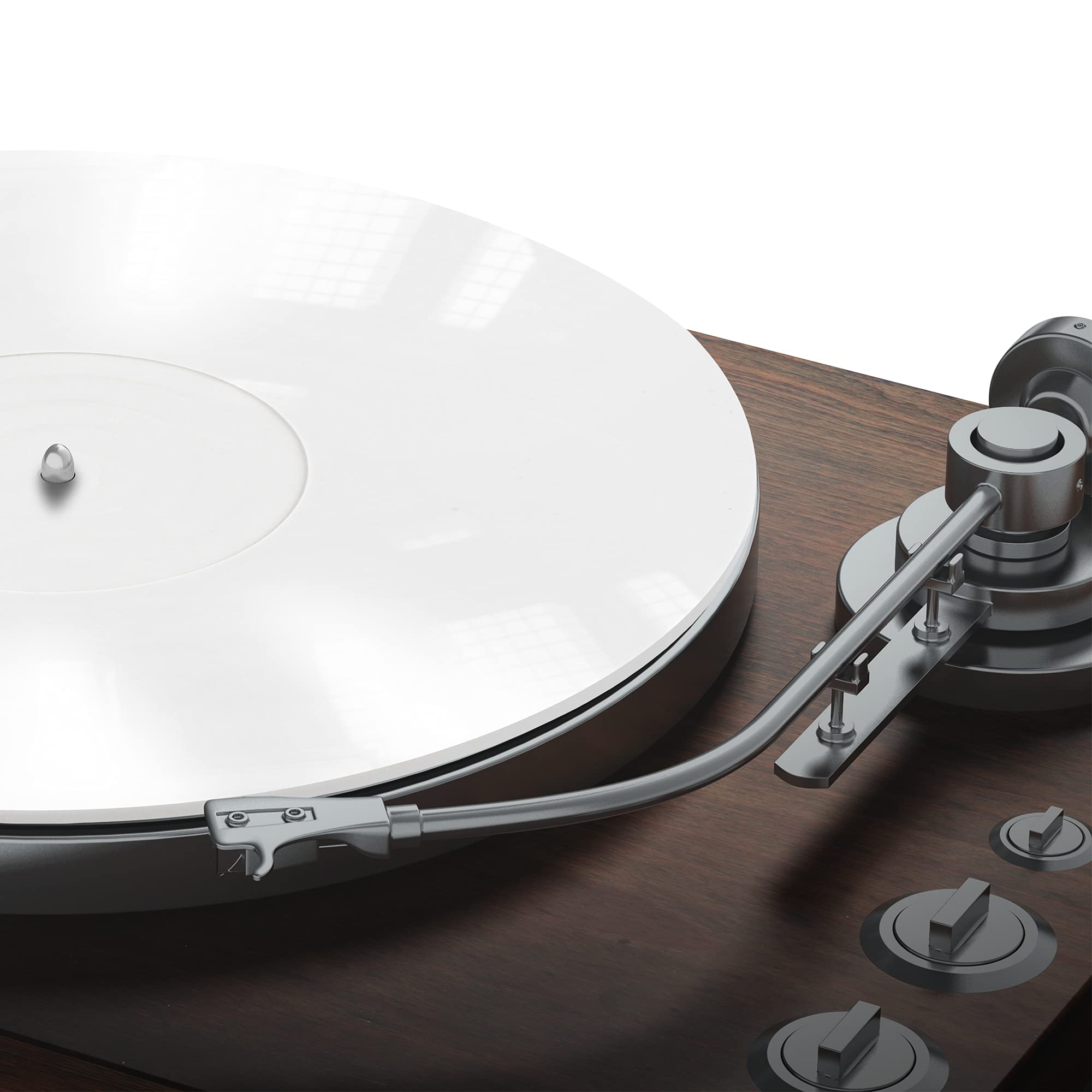 Specs
Material: Acrylic
Diameter: 300 mm (11.8 in)
Thickness: 3 mm
Compatibility: Full-sized LPs
The Pro Spin Acrylic Turntable Mat is a no-brainer choice for most audiophiles. It has everything you'd want in a turntable mat, including quality, improved audio, and professional sound-dampening effects.
Boasting a classic white finish, the Pro Spin Acrylic Mat has a thickness of 3 mm and a diameter of 300 mm—perfect for standard 12-inch platters. It works on both 33 1/3 and 45 RPMs.
This turntable mat offers brilliant record contact. Since it uses almost the same material as vinyl records, it's far better at controlling stylus-generated resonance than traditional cork, felt, and leather mats.
It's also way stiffer than its counterparts, so the vibrations created by the needle are transmitted more efficiently through your records. This, in turn, reduces static, thus eliminating pops in playback and protecting your stylus from damage.
Pros
Generates crisp, clear, and well-rounded sound
Classic white aesthetic
Prevents static and dust from sticking to the vinyl
Cons
Hole in the center of the mat is slightly bigger than average
5.  Best Rubber: Fluance Turntable Rubber Mat
Top Pick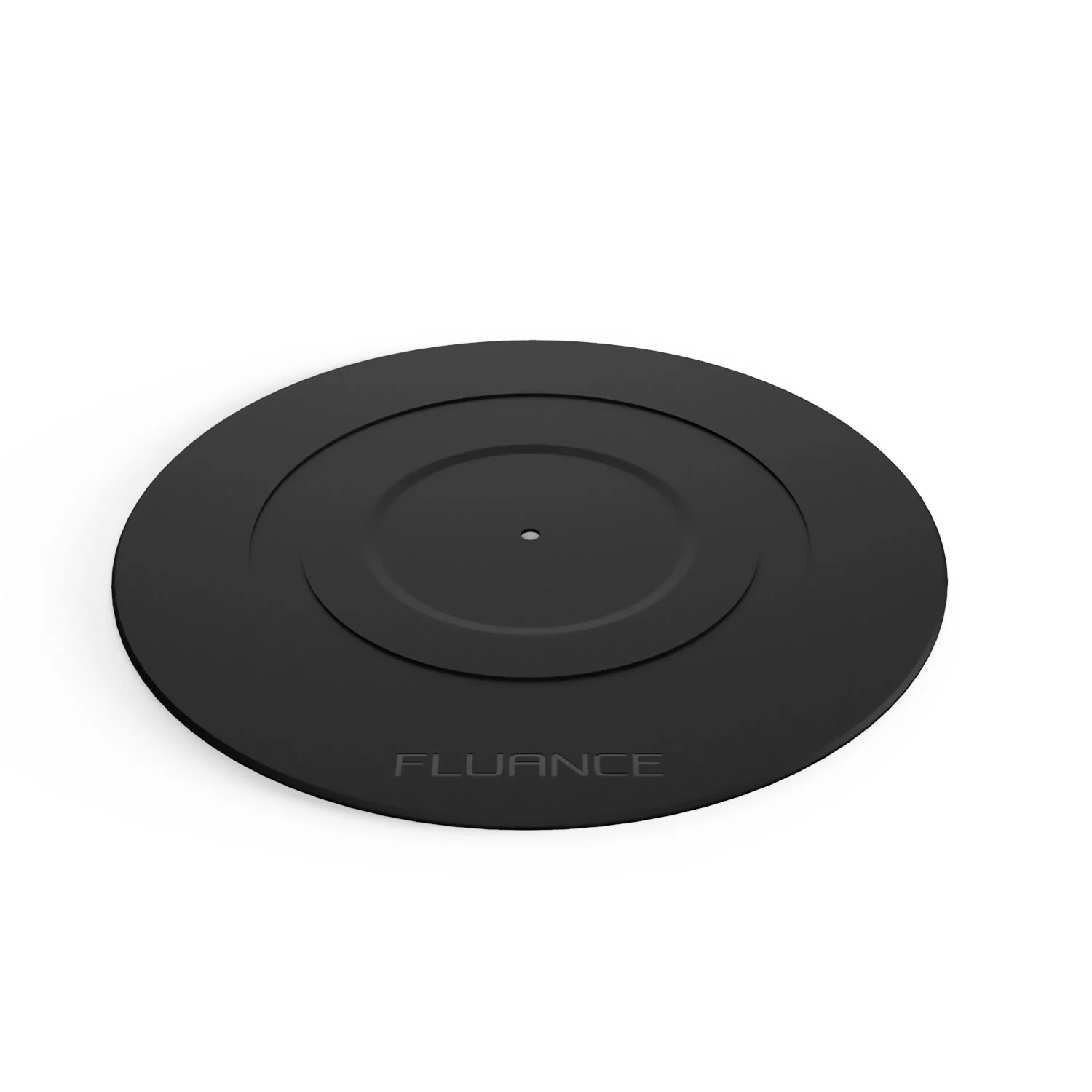 Specs
Material: Rubber/silicone
Diameter: 296 mm (11.6 in)
Thickness: 3 mm
Compatibility: Full-sized LPs
If you're looking for a durable rubber mat for your turntable, look no further than the Fluance Turntable Platter Mat.
Made with silicone rubber, the Fluance Turntable Mat reduces unwanted micro-vibration resulting in a fuller, deeper turntable sound.
Due to its recessed center, LPs lay perfectly flat on the turntable regardless of label thickness. This quality helps maintain the integrity of the record during playback for a more transparent, clean sound.
The Fluance Turntable Mat improves the sound of almost all genres under the sun, but it's best appreciated with jazz and classical records. It adds an extra grip onto the platter, which creates a deeper, warmer sound that's closely associated with the original recording.
At 12 inches, this rubber mat is suited for standard LPs. It has a diameter of 296 mm, measured across the underside of the mat.
Pros
Flexible and easy to clean
Has a good grip on records
Durable silicone construction; doesn't scratch or tear even with regular use
6.  Best Cork: Fluance Turntable Cork Mat
Top Pick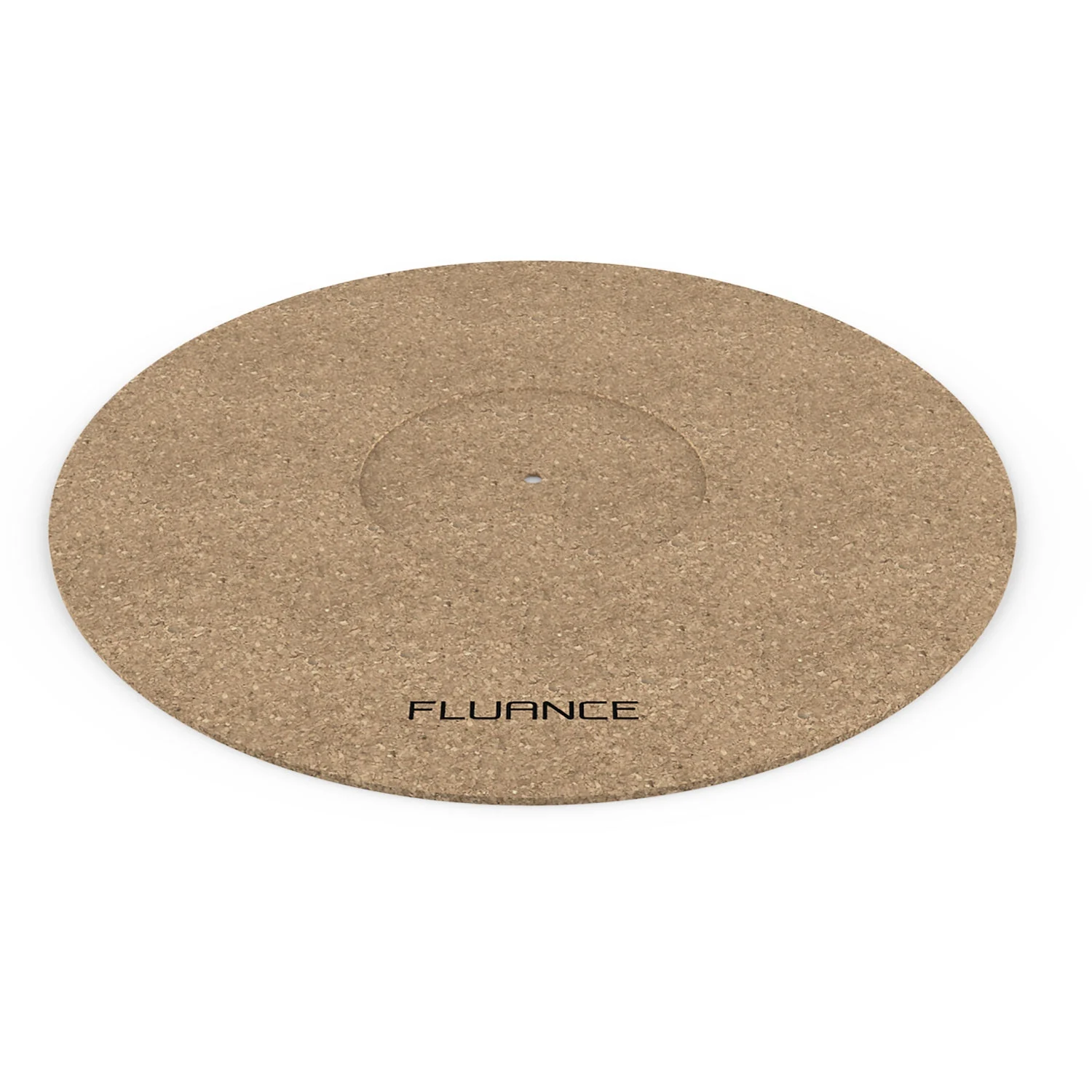 Specs
Material: Cork
Diameter: 298 mm (11.75 in)
Thickness: 3 mm
Compatibility: Full-sized LPs
If you're not a big fan of the Fluance Turntable Rubber Mat, the Fluance Turntable Cork Mat might be more up your alley.
It costs roughly the same as the rubber variant, with similar thickness and dimensions. The biggest difference between the two (other than material, of course) is the sound each mat produces. Rubber adds transparency to the sound, while cork improves warmth.
The Fluance Turntable Cork Mat dampens micro-vibrations, which audibly reduces motor noise. In addition, the material's insulating properties can reduce static as long as the turntable is grounded. It doesn't remove it completely, but the static reduction is noticeable enough to mention.
Like the Fluance Turntable Rubber Mat, the Fluance Turntable Cork Mat improves the grip between the record and player for flawless playback. It also enhances audio detail by enriching low and mid-bass.
Pros
Improves bass quality of sound
Reduces resonance, especially on metal platters
Keeps records in place
Cons
Doesn't remove static completely
Sheds after several uses
7.  Best Handcrafted Leather: Atrafen Premium Leather Deer Hide Mat
Top Pick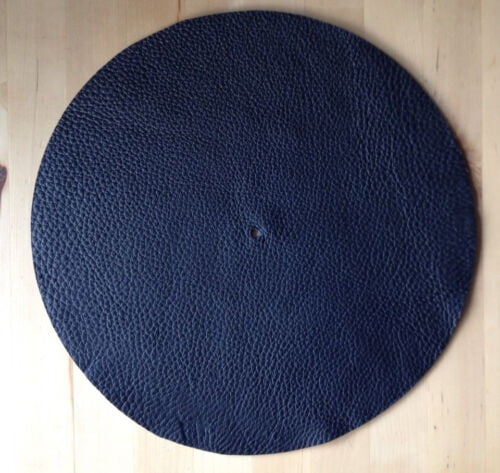 Specs
Material: Leather
Diameter: 292 mm (11.5 in)
Thickness: 3 mm
Compatibility: Full-sized LPs
Made from premium leather deer hide, the Atrafen Turntable Mat is an audiophile's dream come true. The mat is supple, buttery soft, and handcrafted to perfection.
That's right—it isn't commercially produced like some of the other mats on this list. This mat is meticulously cut by hand to eliminate natural flaws, nicks, bumps, and fluctuations in thickness to produce a defect-free turntable mat.
The leather used in the Atrafen Turntable Mat is twice as expensive per square foot as the synthetic kind used in most leather mats. But with price comes quality, and the Atrafen Turntable Mat is as close to "perfect" as any handcrafted leather mat can get.
This leather mat works almost like magic; it simultaneously dampens sound whilst enhancing the quality of others. The sound difference is especially pronounced on acoustic and bass-heavy tunes, as it adds unrivaled warmth to the sound.
Compared to most synthetic leather mats, the Atrafen Turntable Mat is heavier and significantly more durable. Plus, it has that unmistakable quality feel to it. It's static-free and helps eliminate dust, adding to the longevity of your LP.
Pros
Enhances bass response
Dampens motor noise
Premium quality leather
Hand-made construction
Cons
Since it's made from natural deer leather, some mats have uneven thickness
8.  Best Luxury Leather: Pro-Ject Leather It Platter Mat
Top Pick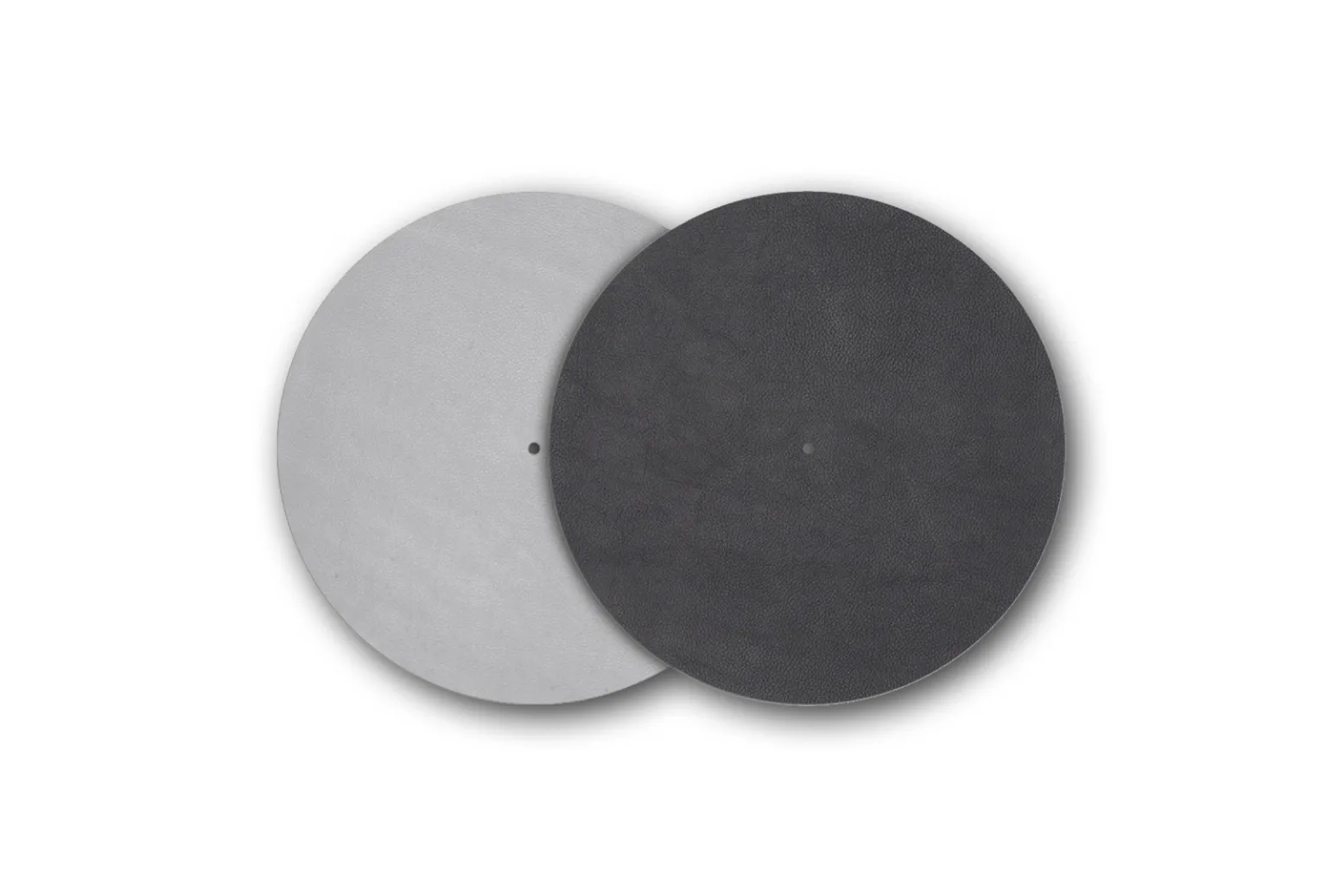 Specs
Material: Leather
Diameter: 299.7 mm (11.8 in)
Thickness: 3 mm
Compatibility: Full-sized LPs
The Pro-Ject Leather It Platter Mat is one of the more expensive entries on this list, double the cost of the Atrafen Premium Leather Deer Hide. However, its leather quality and sound performance more than make up for the price. It's an overall fantastic investment for long-term use.
Made from premium suede leather, the Leather It Platter Matturntable mat is a huge upgrade from standard felt and rubber mats. While the latter two reduce static, this mat eliminates it completely. Moreover, it effectively dampens resonance and keeps dust away.
What makes this different from the Atrafen Leather Mat is its construction. The Atrafen Leather Mat is handcrafted, while the Leather It Mat is manufactured by precision machines.
I'm all for handcrafted items, but the difference is clear—the Leather It Mat is extremely high quality, with no defects, nicks, or torn edges. It looks and feels luxurious.
The Leather It Mat broadens bass but not in an overpowering way. On top of that, it provides smooth contact between the record and the platter, eliminating skipping issues.
Pros
Eliminates static and dust
Made of high-quality suede leather
Compatible with nearly all turntable types
Excellent resonance
Solves record-skipping issues
Luxury look and feel
9.  Best Acrylic: Mobile Pro Acrylic Turntable Mat
Top Pick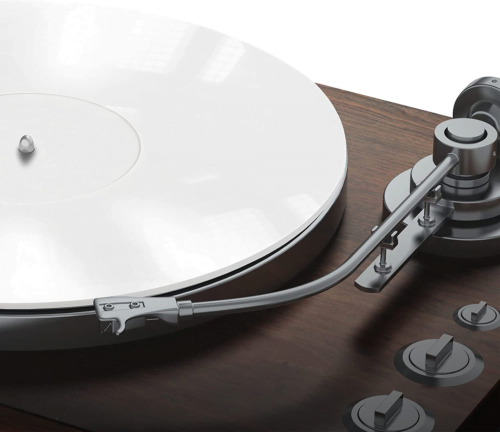 Specs
Material: Acrylic
Diameter: 295 mm (11.6 in)
Thickness: 2.7 mm
Compatibility: Full-sized LPs
Available in white, black, and clear transparent, the Mobile Pro Acrylic Turntable Mat adds a modern look to your LP. It's made from high-quality acrylic, so expect it to last for years if not decades. It isn't scratch resistant, but it won't warp, break, or bend even with regular use.
The Mobile Pro Acrylic Turntable Mat has a thickness of 2.7 mm and a diameter of 295 mm, so it's not too thick nor too wide. It fits standard 11.5 to 12-inch LPs.
This turntable generates tighter bass and mid-range tunes, resulting in dynamic, less splashy sound. It also reduces the static on your LP records, which lessens pops and crackles.
Pros
Aesthetically pleasing color options
Reduces electrostatic buildup
Produces a distinct and tighter bass
Cons
Isn't scratch resistant
Limited resonance control 
10. Best Hybrid Mat: PRO SPIN Cork and Rubber Turntable Mat
Top Pick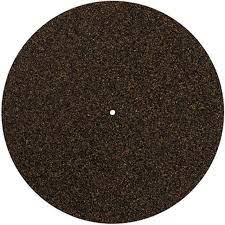 Specs
Material: Cork and rubber
Diameter: 298.5 mm (11.7 in)
Thickness: 3 mm
Compatibility: Full-sized LPs
As the name suggests, this turntable mat is made from two materials: cork and rubber.
It's the best of both worlds; it reduces static while simultaneously dampening resonance. The rubber end of the mat prevents slippage and smooth even contact while the cork adds more definition in low and mid-frequencies.
Measuring 3 mm thick, this turntable reduces humming and rumbling, as well as unwanted vibrations. These qualities help retain the original sound of the record without the added feedback. In addition, it minimizes dust so you won't have to constantly wipe the mat in fear of dust damaging your records.
Like the Pro Spin Acrylic Turntable Mat I reviewed earlier, the cork and rubber variant supports 33 1/3 RPM and 45 RPM.
Pros
Minimizes static, dust, and vibrations
Durable cork and rubber craftsmanship
Adds noticeable bass improvements
Cons
Must be saturated in lukewarm water before use, as the packaging doesn't keep out dust and debris
11. Best for Small Turntables: Ywhomal Turntable Platter Mat
Top Pick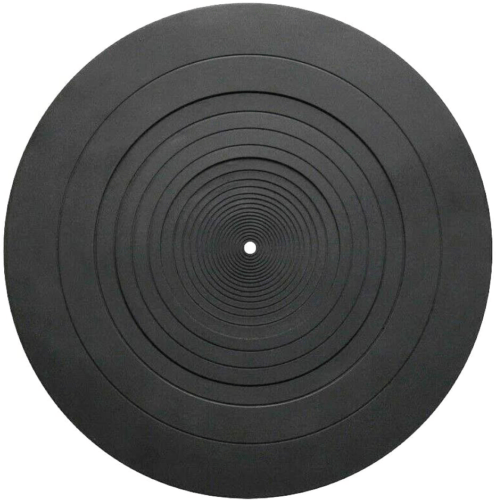 Specs
Material: Rubber
Diameter: 177 mm (7 in)
Thickness: 2 mm
Compatibility: 7-in LPs
Since most of the turntables on this list are suited for full-sized LPs (12 inches), I'd be remiss if I didn't add a smaller variant to this list. Enter the Ywhomal Turntable Platter Mat: a 7-inch silicone rubber mat for mini turntables.
The Ywhomal Turntable Platter Mat is roughly 7 inches in diameter and 2 mm thick. Though small, it works just like those 12-inch platter mats: it reduces unwanted micro-vibration, delivers transparent sound, and reliably keeps the record in place thanks to its gripping properties.
This platter mat has a recessed inner center, allowing the record to lay as flat as possible. The recessed center perfectly balances the record, eliminating skips and popping sounds.
Pros
Reduces vibration and static buildup for a cleaner sound
Recessed center eliminates record skipping
Increases bass response
Cons
Only suitable for smaller turntables
FAQs
Are turntable mats necessary?
Turntable mats aren't necessary but are still recommended. It provides a bunch of benefits like friction reduction and record protection. It also dampens resonances and minimizes vibrations, which, in turn, improves sound quality.
What does a turntable mat do?
Turntable mats have several functions, including, but not limited to:
Protecting your vinyl record from scratches and damage
Reducing static production and dust buildup
Improving sound quality
Dampening vibrations
Helping with scratching and beat matching when DJing
Personalizing your turntable with various colors and designs
Stabilizing playback to eliminate record skipping
Because of all these advantages, most audiophiles recommend getting a turntable mat for their LPs. The improvement in sound alone makes it a well-worth addition to your turntable equipment.
What are the types of turntable mats?
In general, there are five types of turntable mats: cork, rubber (or silicone), acrylic, leather, and felt. You'll also find them in glass, brass, and plastic, though less common.
What type of turntable mat should I choose?
Mats for turntables are made from various materials. Their characteristics, quality, and cost depend on the material they're made from.
Felt
Felt is arguably the most popular turntable mat material. It's cheap, easy to find, and universal.
Since it's made from soft material, it protects records against scuffs and scratches. However, it's a magnet for static, lint, and dust. Plus, it isn't as durable as other options out there.
Rubber
Rubber mats are durable, thick, and easy to clean since they don't attract dust. They reduce static to a respectable level and isolate micro-vibrations to create a deep, warm playback. They have a decent grip, too, thus reducing record skipping.
That said, rubber mats have a certain smell that never seems to go away. They're also heavier and thicker than most mats.
Cork
Cork mats are often the go-to option of most audiophiles since they're non-stick, light, and airy. They dampen resonance to a certain extent and keep dust away from the LP. They often come with aerated holes to project louder, bolder sounds.
Acrylic
Acrylic mats are made from nearly the same material as the records themselves. This compatibility not only decreases vibrations but also generates crystal-clear playback and tight bass. They're the second-most expensive option after leather.
Leather
Leather is the most expensive option on this list, but if you can spare a couple of extra dollars, you'll be rewarded with greatly improved sound quality. Leather mats broaden bass, dampen resonance, eliminate static, and stabilize the record.
What's the best type of turntable mat?
The answer to this question is somewhat subjective. There's no single best type of turntable mat, as each type brings about its own advantages.
For example, cork mats add some warmth to a record, like what you'd hear from tubes.
Acrylic mats brighten highs and tighten lows, making them especially suitable for pop, rock, and metal records.
Silicone, on the other hand, excels in stabilizing vibrations, which pairs well with jazz and classical records.
Users also read: Why Do Vinyl Records Sound High-Pitched
Do turntable mats scratch records?
No; on the contrary, turntable mats protect records from scruffs and scratches. As long as you regularly wipe or dust the mat (with a duster or vacuum), your records won't be affected.
If you're worried about your records getting scratched, I recommend going for a felt mat or a high-quality leather mat.
Are slipmats and platter mats the same thing?
Technically, no; slipmats and platter mats aren't the same. However, most classify them in the same category as they more or less have the same purpose.
Slipmats are targeted towards DJs as it allows maximum freedom of movement, both back and forth on the platter.
Conversely, turntable mats are specifically designed for Hi-Fi lovers. They don't allow as much freedom of movement as slip mats, but they improve the sound, reduce static, and dampen vibration.
Unless stated otherwise, slipmats and platter mats are used interchangeably by manufacturers. For example, the TazStudio Premium Slipmat is labeled "slipmat" even though slipmats don't usually come in cork variants (since cork can shed if moved back and forth).
Still, it's worth double-checking if the mat you're buying is for DJing purposes or Hi-Fi purposes by reading the product description.