Cassette tapes and compact discs may have outshone turntables for a while. However, vinyl record players have gained a lot of attention lately among audiophiles. In fact, in 2021, around 82 thousand units were sold in the United States alone.
While there are several turntable names to choose from, today we're going to look at Fluance RT84 vs RT85 in this side-by-side comparison.
Fluance RT84 vs RT85: Overview
The Fluance RT84 is a reasonably priced turntable that could easily impress people not only because of its quiet and nostalgic design but also with its heavy music playback capabilities.
Meanwhile, the Fluance RT85's robustly made acrylic platter makes it resistant to vibrations. This feature enables it to produce a consistently beautiful sound quality.
Image
Product
Detail
Price

Fluance RT84

Reasonably priced
Quiet and nostalgic design
Heavy music playback capabilities

Price

Fluance RT85

Resistant to vibrations
Beautiful sound quality

Price
What Is RT84?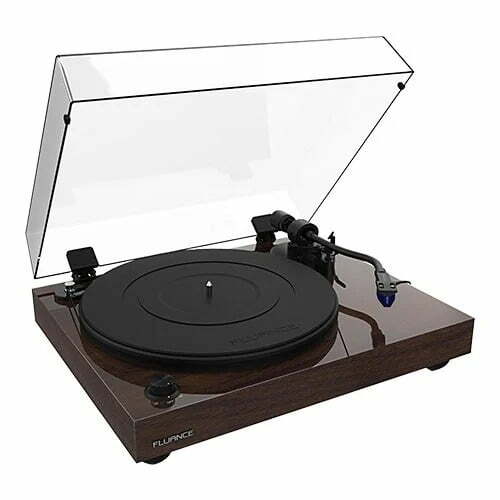 Part of Fluance's Reference Series, RT84 is a high-fidelity vinyl turntable. Apart from its enhanced linearity, it boasts a clear and warm sound output.
Likewise, it has an old-school appeal that could easily turn back the hands of time. This is thanks to the glossy coating of its well-crafted plinth.
What Is RT85?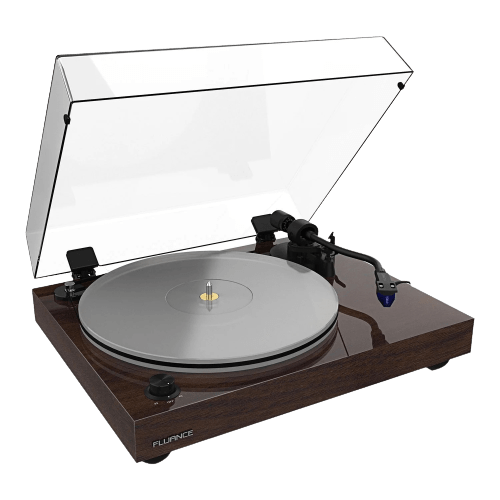 As the flagship vinyl player of Fluance and also a part of its Reference Series, the RT85 has a low-noise sound output and less mechanical noise. Both of these features make for a clearer and more pleasant listening experience.
With a clean veneer finish, its neat and sleek look amplifies the overall beauty of this high-fidelity record player.
How Are They Different?
Now that we've seen what Fluence RT84 and RT85 are, let's take an in-depth look at some of their differences.
1. Platter
A platter is a flat and disc-shaped surface where vinyl records sit and spin during playback. It minimizes vibrations produced by other parts of the turntable. The Fluance RT84 and RT85 use different materials for their platters.
Fluance RT84 uses an aluminum platter that weighs 1.22 lbs. while Fluance RT85 uses an acrylic platter. It weighs 3 lbs a piece.
2. Net Weight
While Fluance RT84 and RT85 share almost the same build and material, they weigh differently.
RT84 weighs 14.99 lbs. while RT85 weighs 16.76 lbs. We could attribute their weight differences to their platter materials as seen earlier.
How Are They Similar?
Let's now inspect the many similarities between these Fluance turntables. We'll look at their design and aesthetics, tonearms, head shells, etc.
Users also read: Fluance RT85 vs. RT82
1. Design and Aesthetic
To make these models aesthetically pleasing, Fluance used a glossy finish on these turntables' MDF-made (medium-density fiberboard) plinth. Both have an eye-catching and retro appeal. Moreover, these models also come with tinted covers as shields against dust.
2. Belt Drive and Motor
Fluance RT84 and RT85 are two belt-driven turntables. Put simply, their motors don't sit directly beneath their platters. Instead, they have elastic belts attached to their motors that make the platters rotate. This setup helps reduce vibrations.
Moreover, these models both have a speed of 33 and 1/3 RPM. They both have Auto-Stop functions as well.
3. Tonearm
These record players use static balanced tonearms that reduce track errors. Made of aluminum, they play a big role in maintaining the stability of the cartridge as the vinyl record spins. These tonearms help minimize jumps and skips during playback.
4. Head Shell Mount
Weighing 10 grams each, the head shells for these models allow users to change cartridges effortlessly. Known as H-4 Bayonet Mount, this piece of innovation is made of aluminum. It flaunts exceptional build and finishing.
5. Cartridge
Both turntables have Moving Magnet Ortofon 2M cartridges. This equipment is responsible for converting vibrations from the stylus into electrical signals that'll eventually turn into audible sounds. They're compatible with the usual stereo setups we have at home.
6. Warranty Period
Fluance offers turntable aficionados lifetime customer support and a two-year manufacturer's warranty for both RT84 and RT85 models.
7. No Preamps
These Fluance phonographs don't come with preamplifiers or phono stages. That means that you can't just connect your RT84 or RT85 to external speakers. That said, you may want to check this preamp by Fluance and see if it suits your taste.
8. Other Specs
The following are some of the other specifications of both Fluance turntables:
| | | | |
| --- | --- | --- | --- |
| Specifications | Description | Fluance RT84 | Fluance RT85 |
| Dimension | 5.5H x 16.5W x 13.75D inches | ✓ | ✓ |
| Operating Temperature | 41°F to 95°F | ✓ | ✓ |
| Wow and Flutter | 0.07% | ✓ | ✓ |
| Supported Cartridge Weight | 0.18 – 0.25 oz (5.0 – 7.5 g) | ✓ | ✓ |
| Tonearm Wire | 36 AWG Litz Cable / 7 Strand | ✓ | ✓ |
| Effective Tonearm Length | 8.82 inches | ✓ | ✓ |
| Stylus | 0.3 x 0.7 mil | ✓ | ✓ |
| Cartridge Weight | 0.25 oz (7.2g) | ✓ | ✓ |
What's Better About RT84?
Despite its mid-range price tag, the Fluance RT84 screams exceptional sound quality and the ability to play hard-sounding music, thanks to its Ortofon 2M cartridge. Simply put it could play upbeat tracks with groovy baselines and heavily-distorted guitar riffs without trouble.
In addition, the classic appeal and minimalist design of Fluance RT84 could also add a vibe to the experimental sound of 60s music and the 70s nostalgic disco beat.
Must read: Dual 1219 vs. Dual 1229
What's Better About RT85?
What separates Fluance RT85 from some of its competitors is its acrylic platter that mitigates a significant amount of vibrations. This means that heavy footsteps or a roaring lawn mower in your front yard will have a hard time disturbing this turntable.
Moreover, its platter offers a precise and immaculate sound quality by canceling unnecessary noises. Its substantial weight also contributes to the constant rotational speed of the turntable's motor. It makes the audio less distorted.
Who Should Get RT84 (And Why)?
Folks looking for a turntable that doesn't break the bank yet offers quality sound and design will enjoy the Fluance RT84. Its Ortofon 2M cartridge and well-thought construction outweigh its budget-friendly price.
Apart from quality, people who love listening to music in their sleep will also find this model's Auto-Stop feature handy.
Who Should Get RT85 (And Why)?
With its heavily built acrylic platter that reduces external vibrations, the Fluance RT85 is suitable for audiophiles whose house sits next to a busy street. This turntable will benefit people whose kids love to run around the house too.
Lastly, people with diverse tastes in music will find how remarkable and consistent the audio quality that this record player produces. From the soothing vibe of a ballad to the aggressive sound of rock and roll music, this turntable could handle them all with ease.