Turntables tend to make music feel like a blast from the past. In a world that's becoming more digital, that blast-from-the-past feeling you get from vinyl records is highly appreciated.
If you've been looking around for a high-quality turntable, you're in for a treat with the matchup I have for you today.
In this article, we're looking at Music Hall Classic vs. Fluance RT85. I've been seeing a lot of great reviews on both turntables, so this should be fun.
Music Hall Classic vs. Fluance RT85: Overview
The Music Hall Classic and the Fluance RT85 are two of the best turntables around to date. They both have a semi-automatic design that delivers great sound quality.
The Music Hall Classic sports a traditional turntable-inspired look with modern features. On the other hand, the Fluance RT85 comes with a modern, stylish design with advanced features.
Image
Product
Detail
Price

Music Hall Classic

Modern Look
Advanced Features

Price

Fluance RT85

Traditional Look
Modern Features

Price
What Is Music Hall Classic?
The Music Hall Classic stays true to its name with its design inspired by classic turntables, though this turntable has modern and high-quality features.
You'll barely face any complications when setting up the Music Hall Classic. Its design is easy to set up and is almost an instant plug-and-play turntable straight out of the box.
It may be a bit more of an investment than the RT85, but it's certainly a turntable worth getting. I can see how vinyl enthusiasts of any level could easily get into this quality turntable.
The key features of the Music Hall Classic include:
Top Pick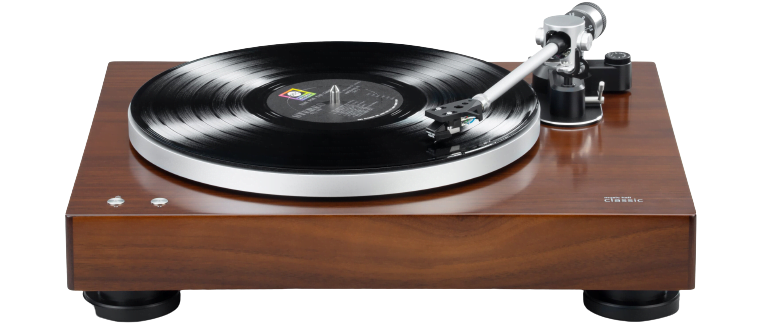 Specifications
A pre-mounted and precision-aligned music hall spirit cartridge
Touch-sensitive speed control buttons (33 and 45)
A built-in preamp that can be bypassed
A removable headshell that's easy to upgrade
Semi-automatic features such as auto-stop and lift
Pair all those features with the Music Hall Classic's sleek design, and you've got yourself a first-rate turntable. One of the best parts about it is that you don't even need to be a pro to use one.
Pros and Cons of Music Hall Classic
If you're looking for a classy turntable that's high-tech and beginner-friendly, this one's a solid pick. It delivers well with its advanced features without being too complicated to set up and use.
Let's dive further into some of the pros and cons of the Music Hall Classic:
Pros
Comes with a built-in preamp
Similar design to classic turntables
Touch-sensitive speed control buttons
Semi-automatic functionality
Quick setup plug-and-play turntable
Cons
The tonearm isn't s-shaped
The Auto-lift feature can be a bit slow
Its power button is awkwardly located at the back of the turntable
What Is Fluance RT85?
Fluance is almost always a part of the conversation when it comes to turntables. They've been serving the turntable industry quite well, and the RT85 is one of their best products.
The RT85 isn't their newest model, but it's still considered one of the top turntables to date. It's not surprising since this turntable has a great design, sound quality, and durability.
The inclusion of the Ortofon: 2M Blue cartridge is what makes its sound quality truly shine. Its natural and highly-detailed sound makes you want to dance to your music like there's no one watching.
It doesn't have a built-in preamp, though, so that may take some points off of convenience. However, if you've got your own preamp or are willing to spend extra, this won't be too much of an issue.
Users also read: Fluance RT82 vs. RT85
Whether you're new to turntables or not, the RT85 is worth considering. Its well-thought-out design, excellent sound quality, and top-notch features are sure to give you your money's worth.
Pros and Cons of Fluance RT85
If you're looking for a good turntable entry point that's built to last and has a modern look, look no further. The RT85 delivers well for what it's worth without being too much of an investment.
Let's dig deeper into this turntable's pros and cons:
Pros
Ortofon: 2M Blue cartridge provides great and highly-detailed sound quality
Top-notch sonic speed accuracy and consistency
Highly durable and resistant to vibrations
Semi-automatic motor design
No motor noise
Cons
No built-in preamp included
Vertical tracking angle (VTA) is fixed and can't be adjusted
Slightly heavier than most turntables
Comparing the Music Hall Classic and Fluance RT85
This matchup is actually quite a close one, as both turntables are almost equally on par with each other. I believe this is one of those win-win situations where you can't go wrong with choosing one over the other.
I'll give a point to the Music Hall Classic when it comes to convenience. Having a built-in preamp saves you the trouble of buying one, plus you have the option to bypass it.
If the classic design doesn't sit well with you, you've got a lot more options with the RT85's plinth finishes. It also has a durable acrylic platter that eliminates your need for a platter mat.
Here's a detailed table of comparison for both turntable's features and inclusions:
| | | |
| --- | --- | --- |
| Point of Comparison | Music Hall Classic | Fluance RT85 |
| Model Weight | 15.2 lbs | 16.76 lbs |
| Preamp Inclusion | Yes | None |
| Plinth Finish | Dark Walnut Wood Veneer | High Gloss Piano White, High Gloss Piano Black, Matte Bamboo Real Wood Veneer, High Gloss Walnut Real Wood Veneer |
| Platter Material | Aluminum Die-cast | Acrylic |
| Cartridge Type | Music Hall Spirit Cartridge | Ortofon: 2M Blue |
| Tonearm | Unipivot tonearm | Aluminum S-shaped, Static Balanced |
| Stylus | Music Hall Spirit Elliptical | 2M Blue |
| Dust Cover | Plastic Dust Cover With 2 Hinges | Tinted Plastic Dust Cover with 2 Hinges |
| Motor | Precision Drive DC Motor | Servo-controlled DC Motor |
| Auto-Stop Feature | Yes | Yes |
As you can see, both turntables have a lot to offer. It's no wonder both are getting a lot of attention and positive reviews.
Which Turntable Is for You?
Choosing between the Music Hall Classic and the Fluance RT85 is a tough decision to make. Both of them are viable options that deliver well as quality turntables.
You'll have to rely mostly on your preference for this one. Either way, you'll get more than what you bargained for, regardless of which turntable you end up choosing.
Related: 3 Best Ultrasonic Record Cleaners
If you prefer convenience with a touch of a classic turntable design, get the Music Hall Classic. On the other hand, if you favor a more modern look with advanced features, the RT85 is your best bet.