If you want to enjoy authentic music quality, you need to have an audio amplifier as the centerpiece of your sound system.
However, if you want to skip the hassle of connecting preamps and power amps, you can simply go for an Integrated amplifier, such as the options provided by the English manufacturer Rega.
Among the most popular models that Rega makes are Rega IO and Rega Brio, so which one should you go for?
In today's article, we will walk you through a brief guide that puts Rega IO vs Brio in a head-to-head comparison to help you narrow down your choice to the one that suits you best. So without further ado, let's dive right in!
Rega IO vs Brio Overview
Both the Rega IO and the Rega Brio are excellent choices to consider if you're looking for a reliable integrated amplifier.
The Rega IO is a more solid choice if you're looking for a decently priced option with surprisingly clear audio quality.
The Rega Brio is an upgrade pick if you're looking for a louder, warmer, and more powerful sound.
What Is Rega IO?
Top Pick

Specifications
Fully analog with mini wireless remote control
3 Audio channels (2 RCA and 1 MM phono) – 30 watts into 8 ohms each.
6.3 mm socket for compatible audio devices
2 Line-level inputs
Built-in MM Phono Stage
The Rega IO is one of the most popular integrated amps on the market, which specifically targets audiophiles that are all about crisp sound quality and enjoy high-quality music.
The Rega IO is very well designed and quite durable with an aluminum chassis and premium components with A/B circuitry that will stand the test of time.
As the name suggests, this unit is an integrated amp, so it is considered a combination of two devices, which are a preamp and a power amp.
The preamp unit in this device is responsible for controlling and switching sound sources, and then sending the audio signal to the power amp and volume control units in order to power up your output and control the audio level.
The Rega IO is a fully analog device that doesn't have any digital features, which is one of its few drawbacks.
However, when it comes to audio quality and fidelity, this device packs a punch despite being highly compact. It has 3 audio channels (2 RCA and one MM phono), each with an output of 30 watts into 8 ohms.
Not only that, but it also comes with a small wireless remote that lets you control various functions, such as audio channel, track, volume, pause/play, etc.
The Rega IO also features a 6.3 mm socket that allows you to connect headphones and various compatible audio devices.
What is Rega Brio?
Runner up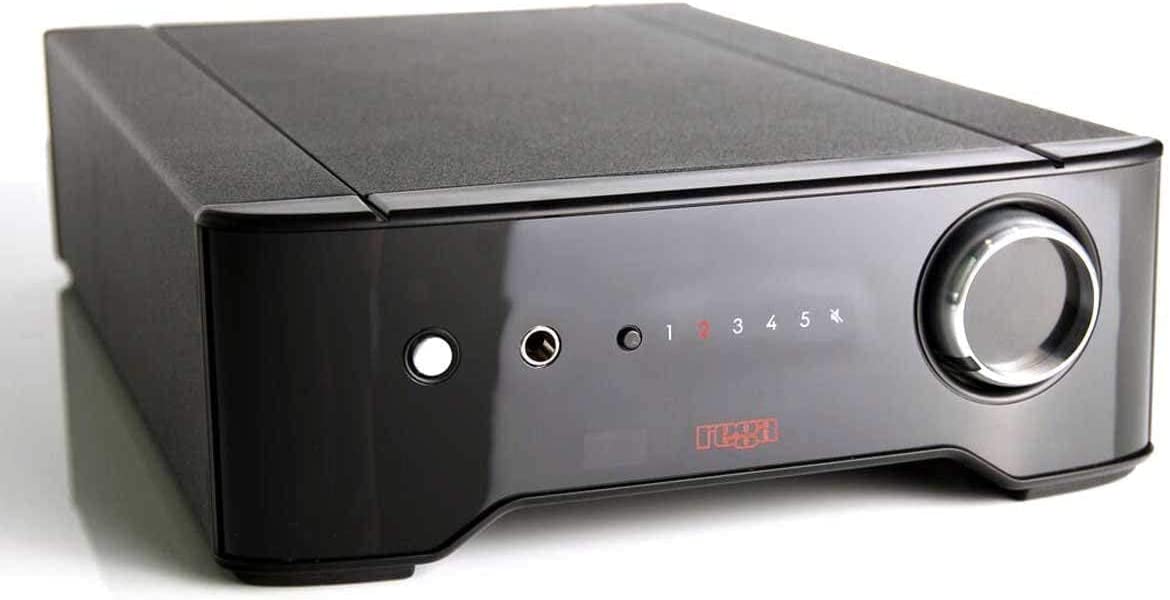 Specifications
Redesigned circuit board with improved isolation
5 Audio channel connections (4 line-level, 1 MM phono) with 50 watts into 8 ohms each.
3.5 mm audio jack
Small remote control
The Rega Brio is considered the older brother of the Rega IO. This integrated amp unit is characterized by its relatively modest design in terms of connectivity and functions, but it's an excellent choice if you are all about sound quality and performance.
This one has a redesigned circuit board along with an improved power supply system that improves its isolation when compared to previous models.
The integrated amplifier has a solid yet minimalistic build that is made of aluminum, so it looks as premium as it costs.
On the front, you can adjust the volume, change the audio source, and connect your headphones through the 3.5 mm audio jack. All the buttons click nicely and don't get stuck.
As for the back, there are 5 different audio channel connections (4 line level , and one MM phono), each with a power output of 50 watts into 8 ohms.
Don't let the small size of the device trick you into thinking that it's not loud. With such wattage, the device can be remarkably loud without distortion, provided that you have good speakers to match the quality.
Along with the main unit, the Rega Brio comes with a small remote control that allows you to control all the features of the device, but it doesn't have any LCD screens.
Related: KT88 vs. KT66 Full Tube Amplifier Comparison
What Are the Differences Between Rega IO and Rega Brio?
Since the two devices are made by the same manufacturer, they share a lot of features. However, they also have their fair share of differences.
For starters, the most obvious difference between the two is the price. Although both of them are integrated amps that are on the medium to high-end scale, the Rega IO is more affordable than the Rega Brio.
In fact, the IO model comes at nearly half the price of the Rega Brio, which makes it a much better bang for the buck, especially for those looking for a simple option.
Since it's more affordable, it is no surprise that the Rega Brio surpasses the IO model in various aspects and specifications.
For example, when it comes to audio channels, the Brio offers more channels than the IO. Not only that, but each one of these channels can go much louder while maintaining a significantly warm tone.
On the other hand, the sound of the Rega IO is decently loud and remarkably clear, so you might not be able to tell the difference between the two as long as you don't blast the speaker volume all the way.
In addition to price and audio performance, the two devices are slightly different in terms of size and weight.
The Rega IO dimensions are 11.4 x 7.1 x 2.7 inches and weigh 6.3 lbs while the Rega Brio dimensions are 8.5 x 13.6 x 3.1 inches and weigh 11 lbs.
What Are the Similarities Between Rega IO and Rega Brio?
Now that you know more about the differences between the two, let's have a quick look at some of the aspects where the two are quite similar.
At first glance, you'll notice that the two have similar minimalistic aesthetics on the outside, which puts the Rega Brio at a disadvantage because you don't get a design upgrade despite being a heftier sum.
The internal circuitry of the two systems is also quite similar. Both of them use a toroidal power transformer in their power supply units.
These transformers are more efficient, compact, and flexible than standard shell and core transformers, all the while providing better and quieter performance.
In addition to the power transformer, the two of them also have robust binding posts to provide a reliable connection to the speakers as well as detachable power cords, so you can use better ones if you are up for it.
As previously mentioned, both systems lack any digital features, so you shouldn't expect any LCD monitors in either model or even higher end ones like the Rega Elex-R.
Users also read: Grado Black 3 vs. Ortofon 2M Red
What Makes Rega IO a Better Choice?
One of the main reasons that make the Rega IO a better choice is its price. The IO costs slightly more than half the price of the Rega Brio.
However, just because it's cheaper, doesn't make it too far off when compared to its more powerful counterpart.
In fact, if you have a relatively modest sound system, it will be much harder for you to notice the differences in the quality of the audio output.
This rule doesn't only apply to your audio system quality but also to the type of audio you're listening to.
If you listen to relatively subtle music genres that don't rely on loudness and power, the differences are even harder to notice, making the Rega IO a more reasonable option with more value for its price.
Additionally, the Rega IO is a lightweight device that is a few pounds lighter than the Rega Brio, so it can be a little more portable.
What Makes Rega Brio a Better Choice?
The Rega Brio is a more expensive option for a good reason. Even if the two devices look similar to each other on the outside, the Rega Brio is significantly more powerful per channel.
The extra wattage allows you to blast the music louder, and you clearly hear the difference when testing the limits of both devices or playing big songs and music genres like rock and metal all the time.
Who Should Go for Rega IO (And Why)?
The Rega IO is ideal for various types of buyers. For example, if you're on a budget or you don't want to spend a lot of money on an integrated amp, but you still want a decent option, the Rega IO would be a great pick for you.
In addition to coming at a relatively decent price, you'll still enjoy a remarkably crisp and clean audio quality.
In addition to budget buyers, the Rega IO is also great for those who don't have powerful speakers to begin with. After all the capabilities of your system are always capped by the weakest link in the chain.
Who Should Go for Rega Brio (And Why)?
The Rega Brio is an excellent choice for anyone who doesn't mind splurging a little more in order to enjoy the louder and warmer sounds, especially if you typically listen to powerful music.
The additional audio channel sockets also allow you to connect to more sources, which is ideal for anyone who has an elaborate setup that can handle the high wattage!