Your turntable cartridge is the only part that comes in direct contact with your vinyl records, which is why it has a huge impact on the quality of the sound that you hear while playing them.
Whether you've worn down your original cartridge or are planning to upgrade it for a more capable one, a budget of $300 should be enough to feel a real difference without spending an arm and a leg on your setup.
However, with all the options that the market has to offer, picking the best turntable cartridge under 300 bucks can be a tricky challenge!
But don't you worry! This guide will help you buy the best option for your needs by walking you through brief reviews of the best options at that price range in addition to all the necessary information you need to keep in mind before making up your mind. Let's jump right in!
How We Review Turntable Cartridges
If you have been into turntabling long enough, you'll know that reviewing phono cartridges is quite tricky.
The differences between some models can be very subtle. In addition to that, even the slightest variation in the testing environment can have some major impacts on the results
To make sure we've selected the best possible options for the following review list, we've scoured the market looking for all the turntable cartridges within the $300 price range.
While testing out the turntable cartridges, we tried to eliminate all the possible variables by using the same turntables and audio samples, so that all the results can be noted while minimizing the external impact as much as possible.
Additionally, we did several rounds of one on one comparisons in order to qualify the best ones that are mentioned in this list. We've even written several reviews and in-depth comparisons of different models, so you can find out more about the ones you like.
After trying out all the different models, we've arranged the ones that did best in terms of sound quality, durability, and performance in the review section below.
Top 5 Under $300 Turntable Cartridges Available on the Market
Now that you know more about our turntable cartridge reviewing process, let's have a quick look at the best turntable cartridge that did exceptionally well while trying out the different options on the market:
Audio Technica VM540ML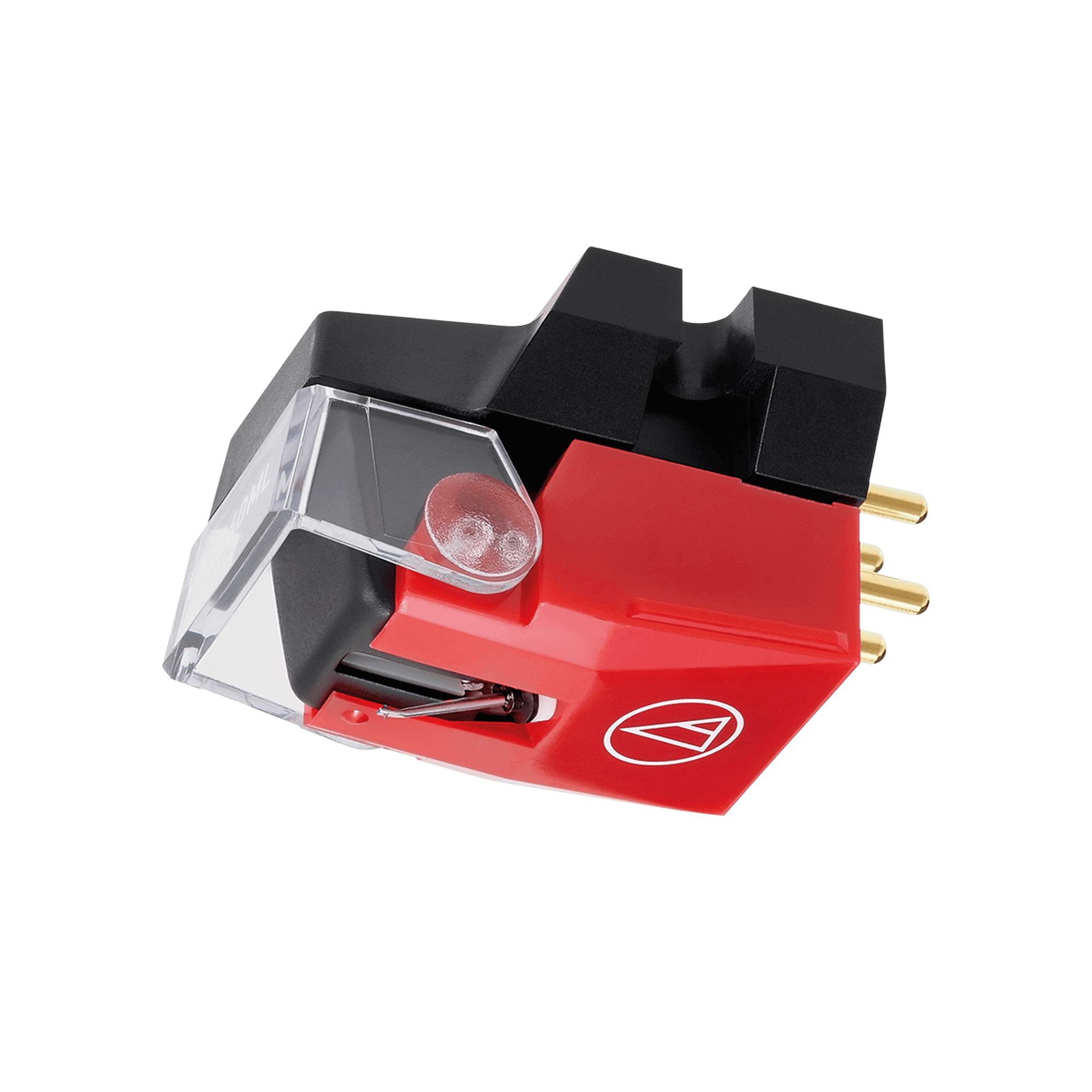 Pros
Incredible value for money
Features a superior quality microlinear stylus for ultra high audio resolution
Durable housing that minimizes inner groove distortion
Cons
The alignment of the cartridge is a bit difficult
Let's start with a turntable cartridge that easily out-performed a wide range of competitors by providing a remarkably clean sound quality that even gives some elite cartridges a run for their money!
The VM540ML from Audio Technica is a wonderful choice for anyone looking for a nice upgrade cartridge that has a balanced frequency response that is quite unmatched at such a price level, which extends from 20 Hz all the way up to 27,000 Hz.
This dual magnet cartridge features an exquisite stylus that measures 2.2 x 0.12 mm. The stylus has a nude microlinear structure that is easily superior to any elliptical or conical stylus on the market.
This unique structure allows the cartridge to trace every groove in your vinyl record no matter how old and worn they are while keeping the inner groove distortion to a minimum.
Another great advantage of using microlinear styli in this model is that they allow them to last for a significantly long time, as you should expect the Audio Technica VM540ML to last for up to 1,000 hours of playtime.
In addition to the stylus, the housing of the cartridge is made of dense polymers that keep it lightweight while maintaining its durability and resonance resistance.
The stylus has a tracking force of around 1.8 to 2.2 gm with a tapered pipe cantilever that is made of lightweight aluminum and an overall weight of 6.4 gm.
It even comes with all the necessary accessories for installation and maintenance, which adds to the value of the product.
Nagaoka MP-150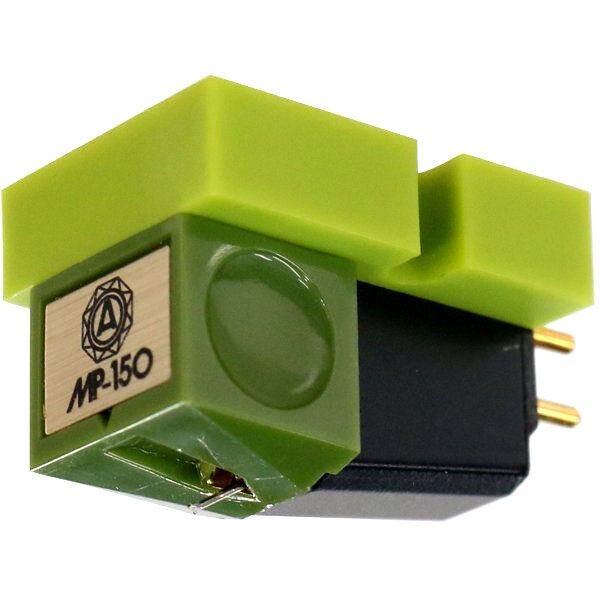 Pros
Incredibly smooth and well balanced sound quality, especially the mids
Decently durable construction that lasts for quite some time
A great upgrade from stock cartridges that you can easily notice
Cons
Despite the improvement, the housing might still cause some inner groove distortions.
Next up, we have the Nagaoka MP-150 moving magnet cartridge, which is an excellent step up from the Nagaoka MP-110 without exceeding your set budget.
The Nagaoka MP-150 features a 0.4 × 0.7 mm elliptical diamond stylus, which is a major step up from the bonded diamond tip of the MP-110.
Another aspect that makes the MP-150 a great upgrade from your stock cartridge is the channel separation of this model.
This one has a separation rating of 24 dB at 1 kHz, although it has the same frequency range of 20 to 20,000 Hz, which is one of the many reasons why the Audio Technica VM540ML exceeds this model at that price range.
Related: Best turntable cartridges under $200
Another specification that has seen some improvement in the Nagaoka MP-150 is the channel balance, which is rated 4.5 mV instead of the standard 5.0 and 5.5 mV of some lesser models.
The cantilever of the MP-150 is made of hardened tapered aluminum, which gives the cartridge an extra boost of durability. The construction of the cantilever also keeps it lightweight and highly accurate while translating the grooves of a vinyl record into an audible signal.
All in all, the MP-150 is a remarkably good cartridge that offers a smooth, crisp, and joyful sound that is rarely edgy or hard.
The only downside of this cartridge is that it features the same materials when it comes to the housing, you might still notice some inner groove distortion.
Audio Technica AT-VM95ML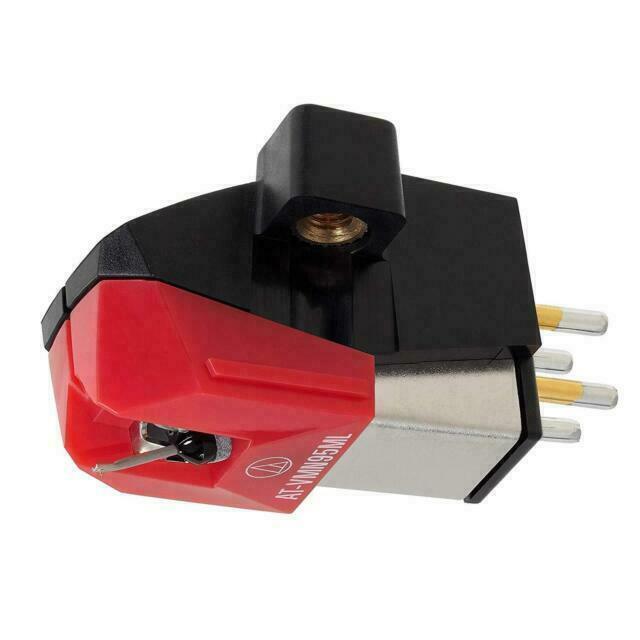 Pros
Excellent value while coming at a budget friendly price
Easy to upgrade thanks to its compatibility with many Audio Technica models
Remarkably durable and lasts for up to 1,000 hours of playtime
Cons
The cartridge is a little tricky to align
If you want to save as much money as possible while still enjoying incredible quality, you shouldn't look further than the Audio Technica AT-VM95ML.
Despite being remarkably more affordable (when compared to other options on the list), it offers some features that can even surpass some of them! In fact, the AT-VM95ML easily exceeds just about any turntable cartridge within its price range.
One of the main reasons why this cartridge is quite popular among audiophiles is its construction. This one features a 2.2 x 0.12 mil nude square shank microlinear stylus that is similar to the one in the VM540ML.
The cartridge has a frequency range of 20 to 25,000 Hz along with 1.8 to 2.2 gm tracking force and channel separation of 23 dB at 1 kHz.
In addition to its incredibly durable stylus that lasts for up to 1,000 hours before displaying any major changes in the sound quality, it also features a dense polymer housing that stabilizes the cartridge, even at a relatively high frequency.
As a result, it's an excellent choice if you want to eliminate all kinds of inner groove distortion without spending a lot of money on a turntable cartridge.
The cartridge is ideal for all kinds of music genres, thanks to its smooth and crisp sound quality. However, like most cartridges from Audio Technica, this one can be a little tricky to align.
With that being said, it's generally easy to install and comes with all the necessary accessories to make it a smooth process.
Audio Technica AT-VM95ML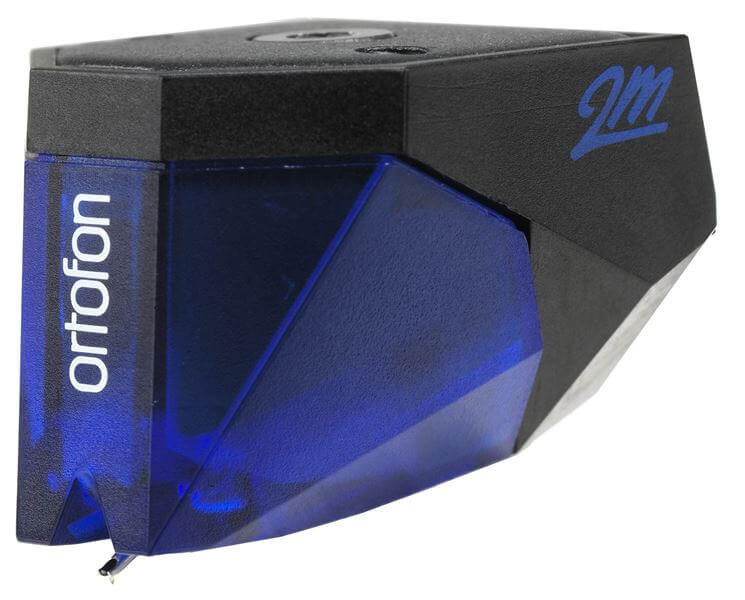 Pros
An ideal choice for an Ortofon 2M Red user looking for an affordable upgrade
Has a near-universal fit that is compatible with a wide range of turntables
Remarkably smooth and well balanced sound quality
Cons
You can't upgrade it to the 2M Bronze without buying the entire set
Next up, we have an excellent option from the reputable Ortofon 2M Series. On such a budget, your best option is, of course, the 2M Blue moving magnet cartridge.
This one is a great choice if you're looking for a smooth and dynamic sound or you're not satisfied with the quality of the 2M Red, which is considered an entry level cartridge.
The 2M Blue features a special diamond style with an elliptical shape that is interchangeable with the 2M Red because they have the same engine construction.
Although the 2M Red also has an elliptical stylus, this one is nude while the other is bonded, so the 2M Blue offers a higher level of accuracy with an open sound and better resolution.
In other words, if you already have a 2M red, you can simply replace the cartridge stylus with the 2M Blue replacement stylus and save even more money!
However, if you want to upgrade it to the 2M Bronze, you'll need to buy the entire carriage, so you can't simply swap the stylus for another.
This one has an output of 5.5 mV along with an excellent frequency range of 20 Hz to 25,000 Hz.
Another great advantage of the Ortofon 2M Blue is that it is remarkably easy to install and adjust, which makes it ideal for anyone who doesn't like to go through a lot of hassle while aligning and installing a new cartridge to their turntable.
GRADO Prestige Gold 3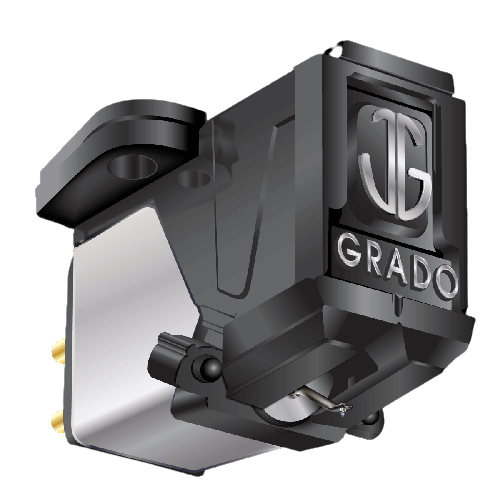 Pros
A great upgrade if you already have the Grado Black 3
Offers excellent bass and treble without being too screechy or muddy
Features a housing dampening design that reduces inner groove distortions
Cons
If not mounted properly, you might hear a slight hum
Last but not least, if you're a fan of GRADO products, you're going to love this one! The Grado Prestige series is an excellent choice for anyone who likes an extra kick when it comes to bass and treble, which are ideal for rock and jazz lovers!
The Gold 3 phono cartridge is the top tier with the highest level of quality offered by the New York-based giant.
This Prestige Gold 3 features a standard 1/2 inch mount that makes it compatible with a huge variety of turntables out there.
In fact, with minor modifications, some audiophiles were even capable of installing the cartridge on a P-mount system, so it offers an excellent level of compatibility.
In addition to that, the Gold 3 is also interchangeable with other models of the Prestige series. This makes it an excellent upgrade if you already have the Black 3, although the difference between this one and the Blue 3 isn't really worth the upgrade.
The stylus in this cartridge is made of a bonded elliptical diamond stylus but you can easily swap it for a nude elliptical one for more enhanced sound quality.
The cartridge features 4 pure copper wire coils that allow for a more fluid transfer of the electric signal, and therefore, offers a higher sound fidelity with very little background noises.
Although the general quality of the sound this cartridge offers is brilliant, you can easily notice its superiority when it comes to bass, which is quite powerful and punchy without being muddy. This makes it a brilliant choice for a variety of genres, including rock, EDM, and jazz.
One thing you should keep in mind about the Gold 3 is its relatively loud hum, which is often a side effect of improper alignment, so make sure that you take your time while installing it.
Things to Keep in Mind While Buying a Good Turntable Cartridge Under $300
A turntable cartridge is a big investment, as it lasts for quite some time and costs a relatively hefty sum to land a good one.
For that reason, while buying one, there are several essential aspects that you need to look for if you want to make the most out of your purchase. Let's have a quick look at those critical buying points:
Mounting System
Before buying any cartridge, you have to make sure that it is going to fit properly on your turntable.
Luckily, there shouldn't be much confusion about the mounting systems of a turntable cartridge because most turntables today use a standard 1/2 inch mount.
These mounts use two vertical screws with a standard space of 1/2 inch between them in order to secure the phono cartridge to the tonearm of your turntable, hence the name.
On the other hand, the P-mount system will secure the cartridge to the tonearm using 4 small pins that you can plug directly into a tonearm, which eliminates the need for a headshell for installation.
Although P-mount systems are easy to install, they're not ideal for customization, which is why most cartridges nowadays are 1/2 inch ones.
Stylus Materials and Construction
The stylus is one of the most critical parts of a cartridge because it's the main part that comes in contact with the vinyl record.
They're responsible for translating the tiny grooves on a record into an audible signal, so you have to make sure that the cartridge you buy has a pristine value stylus to make the most out of your investment.
The tip of the stylus is always made of diamond. However, some styli are made of nude diamonds (cut entirely from a single diamond), while others are bonded, which means that the diamond is fixed to a metal shank.
While bonded styli are usually more affordable, a nude diamond is much lighter in weight, and therefore, offers better accuracy while transmitting the signal. Also, since they're made of a single component, they usually last longer.
Read more: Project X1 Vs Rega Planar 3
Stylus Shape
Since the stylus is the most critical component, there is another aspect that you need to consider about them while getting a cartridge, which is the shape of the tip.
While there are various styli shapes, some of them are rarely found at that mid tier cartridge that costs $300 or less, such as Shibata and Special Line Contact.
However, at that price range, you can find decent options, such as microlinear styli as well as less favorite options like elliptical and conical.
The difference between microlinear and elliptical is not easily noticed if you're not an audiophile, but microlinear lasts a lot longer, so they make for a better long term investment.
Cantilever
The stylus is usually connected to the cartridge via the cantilever, which is a thin tube that is responsible for transmitting the vibrations of the stylus to the magnet.
The cantilever comes in a variety of materials that have good electric conductivity, such as aluminum, carbon, boron, and copper.
At such a price, the best option that you can find is aluminum, especially the ones that are made of aluminum alloy. These are fairly lightweight with decent durability so they can last for some time.
Tracking Force
The tracking force measures the amount of weight that the cartridge adds to the tonearm, which allows you to adjust the counterweight accordingly.
This metric is usually measured in grams, and a good option will usually range between 1 to 3 grams.
Specifications
There are various specifications that you should keep an eye on while buying a cartridge. Among the most important ones is the 'channel separation'.
This one describes the ability of the cartridge to deliver the signal of the right and left sides separately, which is essential for achieving surround-sound quality.
Another aspect that you should consider is the frequency range, which measures the range between the minimum and maximum frequency that the cartridge is capable of picking up.
A good one will have a frequency range between 20 Hz to 20,000 Hz, which covers the entire human audible range.
What Is the Best Turntable Cartridge for Me?
As you can see, there are plenty of options on the market to choose from if you have a maximum budget of around $300 or less.
If you're mainly looking for a reliable cartridge that is fairly durable with an astonishing audio quality to match its premium specifications, you shouldn't look further than the Audio Technica VM540ML MicroLine Turntable Cartridge.
This one is equipped with a high end microlinear stylus that a lot of audiophiles installed and never looked back after!
A close second that is much easier to align and install but has some noticeable inner groove distortions here and here is the Nagaoka MP-150 Audio MM Cartridge.
However, if you like the features of the VM540ML but you're looking for a more affordable alternative that will give you a great bang for the buck, you should consider the Audio Technica AT-VM95ML, which offers the same stylus construction for a fraction of the price!
FAQ
Do You Need to Break in a New Cartridge Stylus?
When you buy a new cartridge, the suspensions of the stylus would be a little stiff. However, with continuous use, the mechanical suspension will start to relax more, which results in smoother sound quality and a better listening experience as a whole.
Although not all cartridge styluses will require a period of breaking in before they reach their peak performance, it is fairly common to expect a better audio quality within the first 7 to 10 days of use, which translates to around 40 to 100 hours of playtime.
How Long Should a Turntable Cartridge Last?
On average, a turntable phono cartridge should last you anywhere between 300 to 600 hours of playtime without any change in the quality, which is equivalent to about 3 to 5 years if you're going to use the turntable casually.
However, the durability of any given cartridge can vary depending on various aspects, especially the quality and build of the stylus used.
For instance, a standard elliptical diamond cartridge should last anywhere between 200 to 300 hours while a high end nude microlinear stylus is built to last up to 1,000 while retaining its original sound quality.