If you're looking for the best vinyl record stores in Phoenix, Arizona, this article has got you covered. In this guide, we'll walk you through 9 of the best stores with excellent collections and rare gems for collectibles. So without further delay, let's dive right in!
Best Vinyl Record Stores in Phoenix Reviewed
1. Zia Records
Zia Records started as a small but ambitious store back in 1980. Since day one, the owner's goal was to provide a huge variety of records to audiophiles in Phoenix at relatively affordable prices.
Today, Zia Records is a huge success with 8 stores in several states in the US (5 of them are in the Greater Phoenix area).
When it comes to the records collection, the store has a truly impressive one across different music genres and even some local labels.
In addition to records, the store also sells, buys, and trades in comic books, CDs, Tapes, posters, and other accessories. The prices, in general, are quite cheap, with some records being sold for under $1.
The staff is quite nice and helpful when you need them, but the experience may vary depending on who you're dealing with and the workload.
Despite all its merits, waiting times can be quite long if you're selling a large collection of records. However, the enjoyable atmosphere and the hidden gem pursuit can easily help you kill some time!
Related: The Top Vinyl Record Stores in Charleston
Most Zia Record stores are usually open every day from 10 AM to 10 PM and have spacious parking spaces.
Contact Information
2. The Record Room
The Record Room has been in business since 2012. The store deals in both new and used records as well as other types of music, CDs, books, and other memorabilia as well as stereos and speakers that are in good condition.
The collection in the store is quite varied and the owner posts the discography on the store's website to make it easier to browse through. The store is decently organized and has a small patio for occasional events and live performances.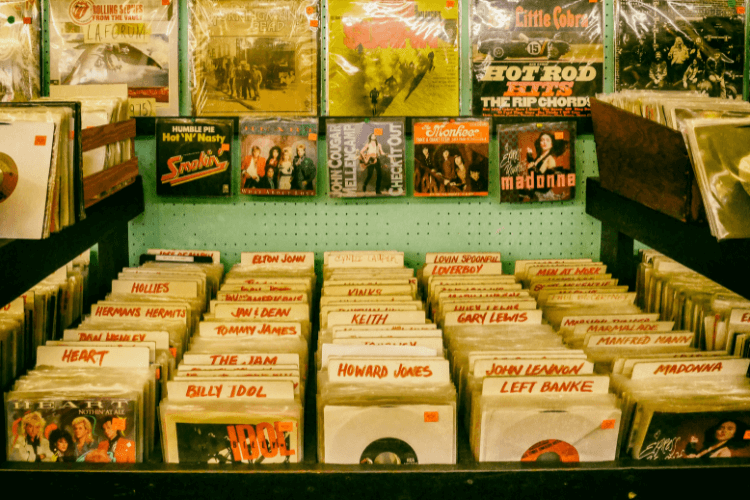 The prices in the store are fairly average and usually on point when compared to other stores in the region, although the store offers military discounts. Keep in mind that the store accepts payments in cash and credit cards only.
The Record Room is usually open every day from 10 AM to 6 PM, except for Sundays when it's open by 11 AM.
Contact Information
3. Stinkweeds
Stinkweeds Records is one of the oldest record stores in Phoenix, as it was established back in May 1987.
The store boasts a remarkable collection of records of all types and music genres, especially new releases, indies, and some alternative music. The prices are usually decent with some items being slightly above-average.
The store is also the go-to location if you're trying to track down any in-print records, as the staff orders them at no extra charge and they arrive in a relatively short time!
The store also features a large listening station to try out the records and hosts a variety of performances from local and touring bands. The staff is generally nice and offers excellent guidance and recommendations.
In addition to payments in cash, you can also pay with credit cards as well as Apple and Android Payments. Stinkweeds is open from 11 AM to 8 PM on Mondays to Fridays with a long day on Saturday (10 AM to 8 PM) and a shorter Sunday (12 PM to 6 PM).
Contact Information
4. Grand Avenue Records
Grand Avenue Records is a relatively new record and merch store that has only been around since 2016.
Yet, it has cemented its place among the Phoenix audiophile community, thanks to the store's massive inventory that contains thousands of records across almost all popular music genres out there.
In addition to records, the store also sells a variety of merch items and accessories. Grand Avenue Records is also well-designed and tended to and the owner is very nice and knows his stuff.
The priced items are usually fairly affordable, although some items in the store are estimated at checkout, which is a turnoff for many buyers. The store accepts cash payments as well as credit card payments, but no mobile banking apps are accepted there yet.
The store closes on Sunday and Monday but is open throughout the rest of the week from 11 AM to 6 PM
Contact Information
5. Tracks in Wax
Tracks in Wax is another iconic store that has been in the Phoenix Uptown area for over 40 years. The store is prized for its amazing collection of rare vinyl records and hidden gems that are surprisingly fairly priced.
Tracks in Wax also buys, sells, and trades all types and genres of music and offers higher prices for collections than most other stores.
The owner, Tim Stamper, is a down-to-earth guy who owns a huge collection of unique and impressive records from all over the world.
Although the store is quite small in size, it's neatly organized and stacked to help you browse through the inventory freely. The record store is open every day of the week (except Mondays) from 12 PM to 6 PM.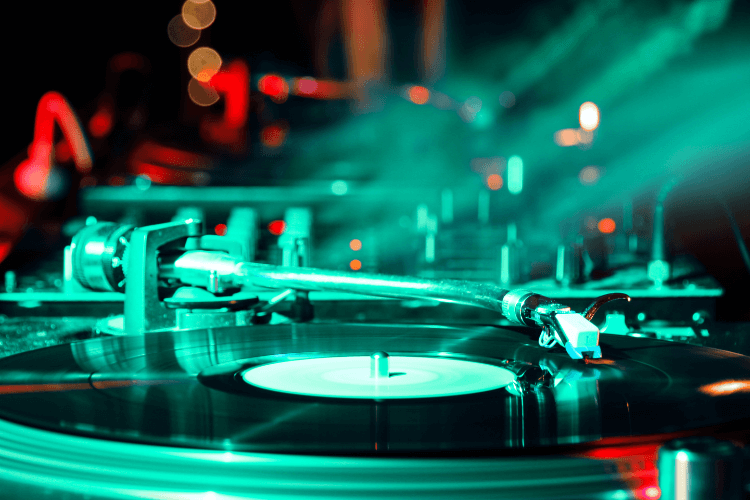 Contact Information
6. Record High
Record high is a brilliant little shop with dedicated owners and a remarkable collection of used and new vinyl records, although it's really tucked away and easy to miss.
Despite being a small shop, Record High houses a decently large collection of vinyl and LP, whether new or used. The condition of all records in the store is quite impressive and the prices are usually within range. The store also accepts mobile payments as well as credit cards.
You can also try out the records in dedicated rooms, as the store has one for Jazz and Blues as well as another for other genres.
Record High is usually open on Wednesdays to Sundays, opening as early as 11 AM (10 AM on weekends), and closing at 4 PM (5 PM on Fridays and 3 PM on Saturdays).
Related: Why Is Tool Aenima Vinyl So Expensive?
Contact Information
7. The 'In' Groove
The strong start of The 'In' Groove allowed it to become an instant fan-favorite among the Phoenix audiophile community, despite being new to the scene.
Besides the store's impressive collection of records, the new arrivals section is always updated on Fridays.
The vintage collection is also impressive with some rare and hard-to-find items here and there, although the rates are sometimes a bit high when compared to other options on the list, but not always.
The staff is quite helpful and knowledgeable too. The 'In' Groove is open every day except for Sundays from 11 AM to 7 PM.
Contact Information
People Also Read: Top vinyl record stores in Athens, GA
8. Trill
Trill is one of the newest vinyl record stores in Phoenix, which specializes in hip hop vinyl and accessories as well as CDs, tapes, cassettes, etc. In fact, the store decorations and memorabilia on display are nothing short of a small museum!
Trill might also have some vinyl of other music genres, but unless you're a true hip hop fan, you shouldn't expect a massive inventory.
One of the best things about this store is that it's also surprisingly cheap, which makes it an excellent choice for buying large quantities.
The store is usually open every day of the week from 11 AM to 7 PM, except for Sundays when it opens from 12 PM to 5 PM.
Contact Information
9. Bookmans Entertainment Exchange
Last but not least, although Bookmans is originally a bookstore chain, you can still find some remarkably impressive collections of vinyl records and LPs in their Phoenix store. In fact, with enough digging, you can find some amazing gems for highly affordable prices there.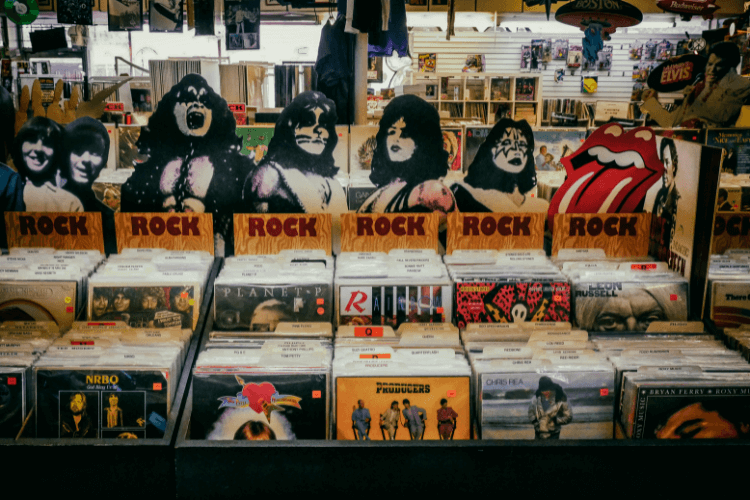 The vibes in the store are quite enjoyable and the staff is always ready to help when you need them. The store also sells games, toys, accessories, books, musical instruments, and much more.
The store is usually open from 9 AM to 8 AM from Sundays to Thursdays and 9 AM to 9 PM on Fridays and Saturdays.
Contact Information