Ready to go crate-digging for hidden gems? Find your favorite record store or discover new ones in this list of the best vinyl record stores in Athens, GA!
5 Best Vinyl Record Stores in Athens, GA, Reviewed
Whether you're a casual listener or a dedicated vinyl collector, these record stores are worth visiting if you're in or around Athens, Georgia:
1. Low Yo Yo Stuff Records
Located in downtown Athens, Low Yo Yo Stuff Records boasts a vast selection of new and old CDs, LPs, cassettes, and tapes.
With the help of knowledgeable and approachable staff, you'll feel right at home sifting through the store's insane collection of LPs. It's one of those rare record stores where you'd walk out with a bag of painfully obscure 45s and out-of-print rock albums that sell for hundreds of dollars online.
If you're not into the old classics, fret not: Low Yo Yo Stuff Records also sells Modern Pop, Alternative, and Indie. You'll also find new albums by Taylor Swift, Billie Eilish, and other "modern" artists.
Related: Best vinyl record stores in Charleston
Pricing
Low Yo Yo Stuff Records' pricing is fair and affordable. If you sift through the bargain bins, you'll find hidden gems that cost no more than $5 apiece. Plus, the store regularly participates in Record Store Day so you might find the album you're looking for at an insanely low price.
Pros
Wide selection of new and old albums
Knowledgeable staff that are clearly passionate about music
Everything is clean and organized
Accepts special orders and requests
Cons
Can be a bit cramped in some areas
2. Wuxtry Records
Wuxtry Records has been around since 1976, so it's fondly remembered by its locals.
Though small, it's filled to the brim with charm and great music. It has an impressive assortment of both new and old records, as well as exclusive editions, CDs, DVDs, posters, action figures, books, vintage toys, and more. The store also goes out of its way to highlight local artists and Georgia-born superstars.
When you enter the store, you'll feel like you've been transported back to the '70s and '80s. As some customers describe it, it's a "hot, disorganized mess of vintage items," but not in a negative, off-putting way. You'll find yourself browsing through collection after collection for hours, hoping you haven't missed a lucky find tucked in between well-known records.
If you're not one to stay in a store for too long, ask the staff for help and they'll be more than happy to help you locate the album you want. The staff is friendly and knowledgeable, plus they seem genuinely passionate about their work.
Pricing
Wuxtry Records' pricing is one of the best I've seen. Much of their items are friendly on the pockets, so you'll always leave the store with at least one or two purchases. It also has a discount bin of popular records you can go through.
Pros
Excellent selection of vinyl and CDs
Fantastic staff
Cozy atmosphere
Cons
Feels a little disorganized
3. The Record Booth
Home of vintage vinyl, The Record Booth features a large selection of individually priced collectibles, rarities, and exclusives. It also sells vintage audio equipment, turntables, stereo, receivers, and more.
Most of The Record Booth's records are old originals, but you'll find a good selection of new reissues, too. The store restocks its collection every week, so you're sure to find a hidden gem during one of your visits.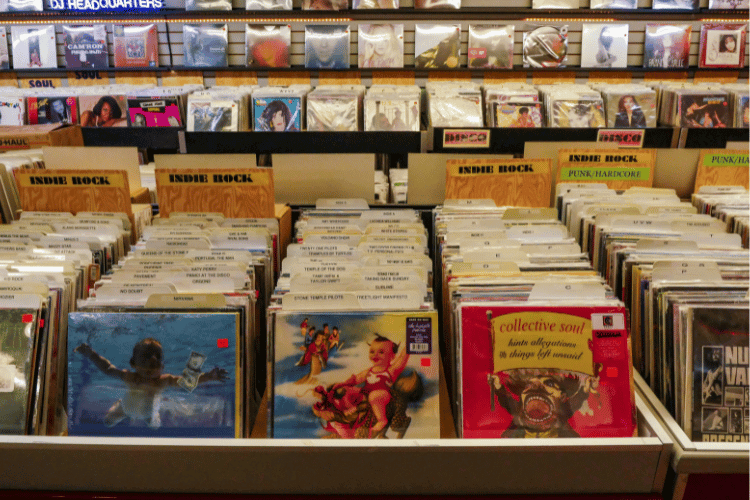 Pricing
The Record Booth sells records at incredible prices. In fact, some cost as low as $1! Additionally, the store regularly hosts discounts, holiday offers, and bulk pricing. If you're an oldies collector on a budget, The Record Booth is a great place to start.
Pros
Records at amazing prices
Regularly restocks its inventory
Good selection of vintage audio equipment
Related: Best vinyl record stores in Phoenix
4. Depot Records
Depot Records houses over 5,000 vinyl records, so it's easy to get lost in the hunt for hidden gems and rarities. No matter what era and artist you're looking for, you'll certainly find something to take home. The store is like a charming time capsule, with records that date all the way back to the 30s!
If I had to complain, I'd say that this store needs to work a bit more on its organization. It isn't a small store, so finding a specific artist or album can be a bit of a challenge. The records aren't individually priced, either, making it hard to put a stack together. If you're on a budget, you might find yourself asking staff for prices on more than one occasion.
Still, Depot Records is an undeniably great place to explore albums you didn't know existed or want. It's an adventure every time you enter the store.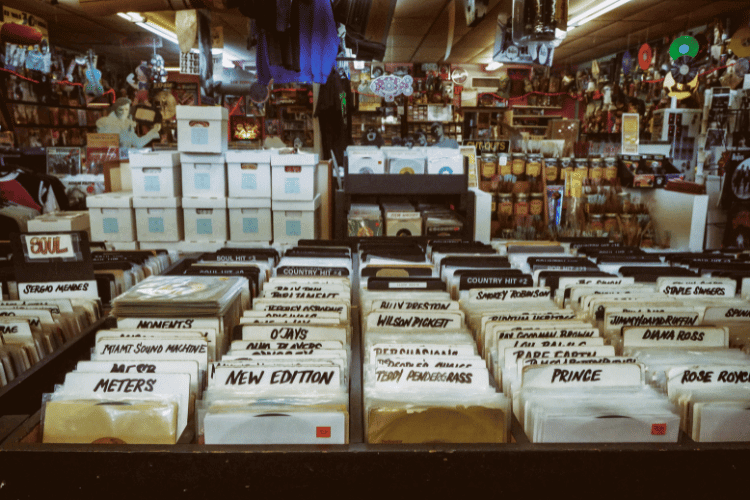 Pricing
The pricing in Depot Records is a bit of a mixed bag. Some albums are dirt cheap, while others are expensive. Pricing depends on the record's quality, demand, and rarity.
Pros
Knowledgeable staff with friendly dispositions
Wide selection of various genres
Cons
Disorganized; no labels or pricing
5. Bizarro-Wuxtry
Located on College Ave, Athens, Bizarro-Wuxtry is a vintage store that mostly specializes in books, comics, manga, art, and zines. However, it also offers a decent selection of pre-loved vinyl, CDs, and tapes.
If you're on the hunt for both books and records, you can hit two birds with one stone in Bizarro-Wuxtry.
Related: How to clean stylus with Magic Eraser?
But if you're a collector in search of obscure or specific albums, you're better off visiting the other stores on this list, specifically Low Yo Yo Stuff Records, Depot Records, or even its sister store Wuxtry Records. Bizarro-Wuxtry focuses more on its book collection than its vinyl collection.
Pricing
As you might have noticed from the name, Bizarro-Wuxtry is an extension of Wuxtry Records. As such, its prices are just about the same. The records are reasonably priced and the store regularly adds discounts to items.
Pros
Great customer service from the staff
Clean and organized store
Excellent atmosphere
Cons
Vinyl selection is a bit limited