Did you know that turntables reached their peak of popularity back in the 60s and 70s? Just like every household must have a flatscreen TV today, Dual turntables took the audio market by storm and were a must in every home.
Of course, despite not being as popular in the 21st century, turntables have their own dedicated fans who want to step up their nostalgia game. If you belong to this group, you might be wondering which option is better: Clearaudio Concept vs. Rega Planar 6.
In this guide, we'll discuss their similarities and differences, what makes each one of them special, and who needs which device.
Clearaudio Concept vs. Rega Planar 6 Overview
When it comes to the Clearaudio Concept, it promises ease of use, a clean-cut sound, and a more compact body. On the other hand, Rega Planar 6 produces a sound that has more edge, drive, and excitement. In addition, this turntable is more open to modifications, while the Concept is all about plugging and playing right away.
Image
Product
Detail
Price

Clearaudio Concept

Price

Rega Planar 6

Plug-&-Play
More open to modifications

Price
What Is Clearaudio Concept?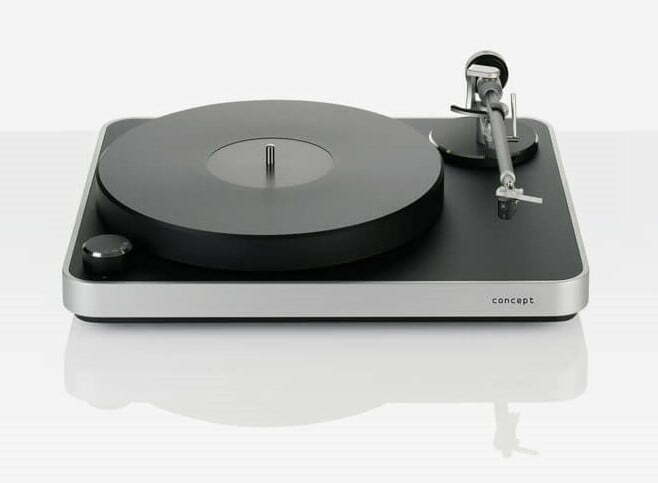 Before we dive into our detailed comparison, let's take a few moments to get you more familiar with each one of our candidates. We'll start with Clearaudio Concept.
In short, Concept is a high-end turntable made by the reputable German company Clearaudio. Thanks to its innovative design and the technology used in its making, this turntable has been the go-to option for many audiophiles across the globe.
In addition to that, the Clearaudio Concept has won several awards, including, but not limited to:
German Design Award 2012
Analog Award 2013
Goldenes OHR 2016
What Is Rega Planar 6?
Rega Planar 6 is one of the best UK-based turntables you can come across. Not only does it boast a sleek modern design and lightweight, durable body, but it's also loved for its top-notch performance.
Rega Planar 6 is a favorite of many audio enthusiasts because it gives them the freedom to make adjustments and modifications to it. This level of customization resonates with adventurous music lovers, so they naturally make up the larger percentage of its fanbase!
Just like the Clearaudio Concept, Rega Planar 6 has won a few awards throughout the years:
The Ear Review 2017
Hi-Fi Choice 2019 – Turntable (Group Test Winner)
What Hi-Fi Awards 2021 (Best Turntable)
How Are Clearaudio Concept and Rega Planar 6 Different?
Because these two turntables have hardcore lovers everywhere that swear by their sound and performance, it can be hard to pick a favorite.
That's why we've compiled a list of the differences between the two to help you find your winner!
1- Size and Weight
Even though both turntables are considered compact and lightweight, the Clearaudio Concept is slightly better in this regard. Its dimensions are 16.5 inches in width, 13.7 inches in depth, and approximately five inches in height.
As for the overall weight, the Concept weighs around 17.4 pounds. This includes the weight of the unit itself, the motor, tonearm, and cartridge.
On the other hand, the Rega Planar 6 has a somewhat bigger footprint, but nothing too dramatic!
The turntable comes with a width of 17.6 inches, a depth of 14.1 inches, and a height of 4.7 inches. The entire unit weighs 13 pounds, which is a lot less than its Concept sibling.
2- Build, Materials, and Design
A lot of people will argue that the Clearaudio Concept must have superior build, design, and materials simply because it's made in Germany. While this is something we can't ignore, it doesn't mean that the Rega Planar 6 isn't one of the sturdiest turntables on the market.
The Rega Planar 6 comes with a hand-assembled precision RB330 tonearm, dual-layer glass platter, and a lightweight foam core plinth. The coating on the plinth is also worth mentioning with its matte, scratch-resistant finish.
The manufacturer spent 35 years of experience and advanced technology to construct the RP 6's tonearm. As a result, you can expect clear sound out of your favorite vinyl record with minimum distortions.
The build of the Clearaudio Concept is just as fascinating. The body is made from medium-density wood with highly durable as well as aesthetically pleasing finishes.
This is mostly seen on the upper layer, where specially-made, high-tech plastic covers the wood to minimize resonance that could interfere with the sound quality.
The magnetic tonearm is also a sight to behold, but its sleek appearance isn't the only thing that matters here. The tonearm is designed and positioned to keep friction to a minimum, promising almost no distortion.
Still, despite its top-notch manufacturing, you should know that a lot of people had some trouble keeping the Concept stable. The unit is prone to vibrations if you don't lay it upon a solid surface, so that's something to keep in mind.
Related: Detailed Guide on Crosley Record Player Worth
3- Sound
There's no denying that both products offer amazing sound quality. That's what all those awards were for, right?
Regardless, each turntable shines in a certain area when it comes to the sound that it produces, which in turn appeals to different audiences.
For example, the Clearaudio Concept's sound is best described as crisp and clear. It does a great job of enhancing some of the tiniest details of records, giving them an openness that not many turntables can offer at this price point.
On the other hand, the Rega Planar 6 has a more mature and refined sound, and its dynamics and timing are also impressive.
A lot of people commented on how deep and textured the vocals sound coming out of this turntable, and they're often in perfect balance with the instrumentals.
Because of its sound quality, many audiophiles associate the Rega Planar 6 with listening to rock or metal. It particularly shines in those genres of music!
4- Ease of Use
Both turntables are surely easy to use, but the Clearaudio Concept may be a bit more user-friendly, especially for beginners. Its setup is intended for plug-and-play, and we can't say the same for the Rega Planar 6.
This turntable needs some trial and error until you match it to the perfect sound system. Some components can lower its sound quality, while others will help it reach its potential.
As a result, the Rega Planar 6 requires someone who's experienced in the audio world, and a beginner might find it difficult to deal with.
How Are Clearaudio Concept and Rega Planar 6 Similar?
Clearaudio Concept and Rega Planar 6 have a few things in common.
First off, both turntables belong to the same price range. While they're not exactly affordable, they're still at a price point that many hardcore audiophiles can match with their budgets.
Second off, these two devices surely offer great value for the money, whether you buy them with or without their designated cartridges.
Lastly, there's no denying that the Clearaudio Concept and Rega Planar 6 produce awesome sound quality that should have your foot tapping and your head nodding in time with the beat. There are only slight differences in their sound, which we discussed earlier.
What's Better About Clearaudio Concept?
Clearaudio Concept shines in terms of design and manufacturing, clear, neutral sound quality, and user-friendliness. It's also smaller in size, making it suitable for people who don't have a lot of space in their homes.
It doesn't require careful attention to the entire sound system to make it work beautifully.
What's Better About Rega Planar 6?
Rega Planar is better when it comes to its textured, deep sound, punctual beat timing, and rich basslines. It's also much more lightweight than the other turntable.
In addition to that, the RP 6 is more stable and resistant to vibrations. It doesn't require you to fasten it to a specific surface to keep it from bouncing.
Who Should Get Clearaudio Concept (And Why)?
People who are looking for a beginner-friendly, plug-and-play turntable should ultimately aim for Clearaudio Concept.
That's because the device doesn't need careful tweaking and matching to other audio devices in order to do its job.
It's also suitable for those who want crisp and clear sound with attention to detail.
Who Should Get Rega Planar 6 (And Why)?
In our opinion, audiophiles who are into modifications should get Rega Planar 6. It can simply meet their desire to personalize their turntable to end up with the results that they want. This level of freedom won't be easily achieved with the Clearaudio Concept.
The Rega Planar 6 can also be a wonderful option for people who are into heavy musical genres. This is because it brings out the best parts of rock, metal, punk, and the like, which should definitely impress fans of these styles!
So, if you're a seasoned audiophile who enjoys metal and knows which system parts will work great with Rega Planar 6, you should probably get it. At least you should be ready to try and match it with several system components until everything clicks together!