In the world of vinyl, it can be hard deciding the right cartridge for you. While it mainly depends on personal preferences, there are a few details that most audiophiles agree on. However, when it comes to Dynavector 10×5 vs. Ortofon 2M Bronze, it can be a close call.
Both cartridges fall in the same performance criteria with relatively close price points. Additionally, they produce amazing audio quality and precision. That said, they're not for beginner-level vinyl enthusiasts. Well, it's not logical to start at the top of the ladder, is it?
Below is a detailed comparison between Dynavector's 10×5 and Ortofon's 2M Bronze cartridges.
Dynavector 10×5 vs. Ortofon 2M Bronze Overview
Ortofon 2M Bronze introduces the state-of-the-art nude fine line stylus, which is one of the highest quality styli of all types. This reflects in its ability to track the record's grooves remarkably.
Dynavector 10×5 cartridge also produces outstanding audio. That's due to being an MC cartridge that fits MM inputs. This, consequently, gives it a huge advantage over other MC cartridges.
Image
Product
Detail
Price

Produces Outstanding Audio
Better Option

Price

Ortofon 2M Bronze

Track The Record's Grooves Remarkably

Price
What Is Dynavector 10×5?
Dynavector 10×5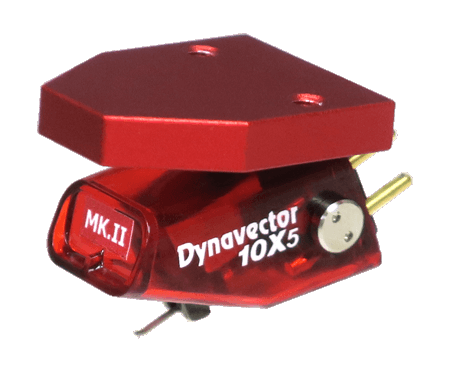 Pros
Precise and solid sound
Exceptional timing
Outstanding clarity and musicality
Powerful and energetic mid ranges
Cons
A bit tricky to install
Can be bass shy at moments
The 10×5 is the latest model cartridge of Dynavector's 10X series. The company released that line of high-output moving coil cartridges in the late seventies. This line won the CES Design and Engineering Award, which was held in Chicago in both 1978 and 1981.
The Dynavector 10×5 cartridge has a high 2.5mV output. That's why it also works with moving magnet inputs, which is a tremendous plus for many users. Besides, the company introduced other technical improvements too.
Dynavector 10×5 utilizes their magnetic flux damping and softened magnetism (patent) along with a powerful Neodymium magnet. This cancels out any stray flux lines. In turn, it results in mostly eliminating the commonly occurring hardness or edginess of moving coil cartridges.
This model also features an aluminum head block instead of the commonly known plastic body. This part provides a solid platform for its motor and a strong tonearm connection. However, looking relatively different from other cartridges may pose a challenge when trying to install it.
The Dynavector 10×5 cartridge plays music with incredible timing accuracy and surprising organic flow.
Some audiophiles report that the Dynavector 10×5 sounds amazing right off the bat, while others state that it took over 70 hours for it to accustom and give its best performance. Typically, if you're not enjoying your new cartridge after 100 hours, then you probably won't like it at all.
Related: Sumiko Amethyst vs. Ortofon 2M Black
What Is Ortofon 2M Bronze?
Ortofon 2M Bronze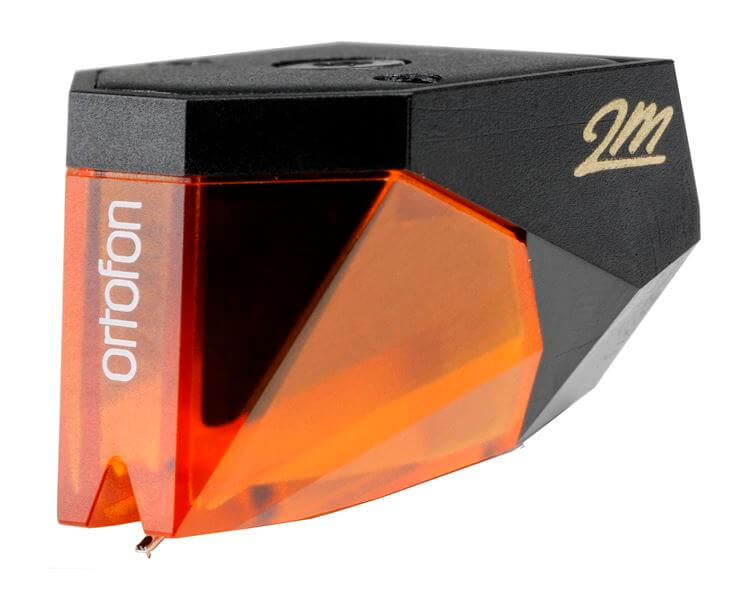 Pros
Clean sound
Outstanding details
Neutral tone
Precise positioning
Optional stylus upgrade
Cons
Awkward stylus guard
Not the most solid treble
2M Bronze is the fancy successor of Ortofon's 2M Blue and 2M Red. So, it's one of Ortofon's finest. The name 2M is an alphanumerical abbreviation for "moving magnet," which is what this cartridge type is.
It features a nude Fine Line diamond stylus. Being one of the highest-performing shapes, the Fine Line stylus tracks the tiniest details of the record's grooves. It also ensures less record distortion as well as reduced record wear.
Moreover, the 2M Bronze stylus is interchangeable with both the styli of Ortofon's 2M Black and 2M Black LVB250.
Impressively, Ortofon made the 2M Bronze cartridge's body out of Hopelex. This material eliminates unwanted resonances while being highly rigid. What's more, the cartridge's upgraded motor features split pole pins with a silver-plated copper wire.
This cartridge produces amazing vocal clarity. It does a marvelous job reducing surface noise, as well as separating different sound layers, like vocals, instruments, etc. Be careful, though, as this cartridge is a bit touchy. So, it requires careful alignment and proper system matching.
That said, the weight and size of the 2M Bronze fit a wide range of turntables in the market today. This means that it has excellent compatibility with most systems using an array of variant phono preamps.
As for Ortofon 2M Bronze's break-in period, it's probably within the same range as other cartridges, which is 50–100 hours. Well, it's not a huge deal compared to the life span of any standard cartridge, which easily exceeds 1000 hours. So, give it time.
Key Features
As both cartridges provide exceptional features, it helps to see them laid side by side to figure out which to go for. So, here's a table of Dynavector 10×5 and Ortofon 2M's most essential specifications.
| | | |
| --- | --- | --- |
| Specifications | Dynavector 10×5 | Ortofon 2M Bronze |
| Type | High output moving coil cartridge | Moving magnet cartridge |
| Stylus tip | Elliptical | Nude Fine Line |
| Cantilever | Aluminum pipe with 6mm length | Bare aluminum tube |
| Weight | 7.3g | 7.2g |
| Output voltage | 2.5 mV at 1000Hz, 5cm/sec | 5mV at 1000 Hz, 5cm/sec |
| Channel balance | 1 dB at 1KHz | 1 dB at 1KHz |
| Channel Separation | 25 dB at 1KHz | 26 dB at 1KHz |
| Frequency response | 20–20,000Hz ± 1dB | 20–20.000 + 2 / – 0 dB |
| Tracking force range | 1.8–2.2g | 1.4–1.7 g |
| Compliance | 12dyn.mm | 22 µm/mN |
| Recommended impedance | >1K Ohms | 1.2K Ohm |
How Are They Different?
Essentially, there are three major differences between these two cartridges, which are:
1. The Stylus Type
Dynavector 10×5 features a different stylus tip than the 2M Bronze cartridge, which is the elliptical tip. This shape bears a great resemblance to the cutting stylus used on master records. Being an upgrade over the spherical stylus, it's able to follow the grooves more accurately.
The 2M Bronze's stylus, contrarily, is a nude Fine Line. This type has a sharper tip than the elliptical, which makes it even more superior in tracking the finest groove details. This enables you to detect additional specifics like instruments, sound arrangement, or backing vocals.
2. Cartridge Type
The moving magnet cartridge, such as Ortofon 2M Bronze, accomplishes sound conversion by connecting the stylus to a set of magnets. Those magnets vibrate closely to the coiled wire.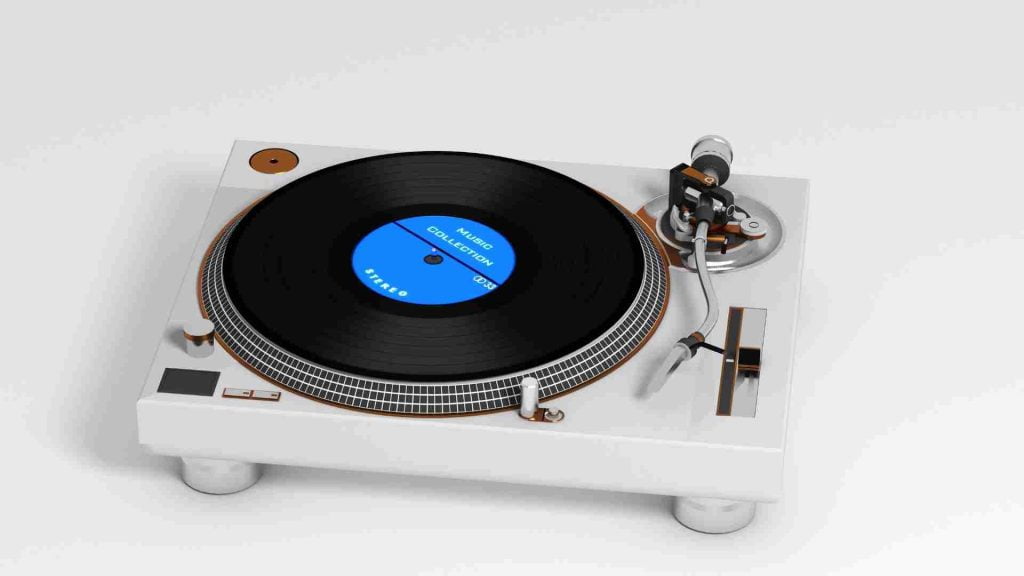 In moving coil cartridges, like Dynavector 10×5, the needle vibrates near the coiled wire close to fixed magnets.
3. Body Material
Dynavector 10×5 features a chunky, flat aluminum mounting plate connected to its body. Ortofon 2M Bronze, however, has a body that's made of Hopelex. This is a low-viscosity, clear polycarbonate resin material that's durable and resonance resistant.
How Are They Similar?
Both Dynavector 10×5 and Ortofon 2M Bronze cartridges produce high-quality audio that impresses all listeners. Although they're of different types, both of them fit moving magnet inputs. This is a huge plus, as they, to some extent, don't require a high-sensitivity phono stage.
Moreover, both of them fall in the same price range and they offer a significant upgrade over many cartridges of the same criteria.
What's Better About Dynavector 10×5?
This phenomenon cartridge is a great all-rounder with a quite high arm tolerance. Additionally, it copes with almost every setting and produces a musical, dynamic sound that's remarkably well-balanced.
What's even better is that Dynavector 10×5 provides the moving coil cartridge's spaciousness within the standard input of a moving magnet cartridge.
Users Also Read: Ortofon 2M Black LVB 250 Review
That said, this cartridge produces warm audio, which is typically easy on the ears. So, listening to music for a long time using the 10×5 cartridge shouldn't be fatiguing to the ears, especially on the higher frequencies.
What's Better About Ortofon 2M Bronze?
The Ortofon 2M Bronze is a capable cartridge that's able to extract an enormous amount of details with amazing dynamics. It produces relatively specific and crisp bass, especially with vinyl records that are still in a good condition.
This cartridge opens up various dimensions in your records that you haven't had the chance to hear before. In addition, it comes with a pretty accurate scale, which is a huge plus if you don't already have one.
Who Should Get Dynavector 10×5 (And Why)?
Dynavector's 10×5 cartridge is the most fitting choice for audiophiles on a tight budget. That's because, unlike ordinary moving coil cartridges, the 10×5 has high output volume. Combined with the moving coil's pure sound quality, you can say that it's got the best of both worlds.
So, when you think about purchasing one of those cartridges, you won't have to worry about spending more money on an extra gain stage.
Who Should Get Ortofon 2M Bronze (And Why)?
The 2M Bronze cartridge is ideal for those who have been upgrading their technical equipment gradually from scratch. Now that they've reached a point where they have, for example, the 2M Red or 2M Blue, it's logical to buy the 2M Bronze.
That's because this type of user appreciates the improvements. After all, they remember what it sounded like to have lower-quality gear. So, you can say that it fits the listener criteria of upper mid-gear.
Furthermore, the 2M Bronze cartridge is also a great choice for those who haven't used a turntable for a while but have always been vinyl enthusiasts. That's due to their need to make a strong comeback, yet spend their money wisely.