The world of entry-level turntables is viciously competitive. Each brand tries to win the market by providing high sound quality with other "extra" features while maintaining low cost.
In this post, we're taking a close look at PS-LX310BT vs. Fluance RT81, covering their strengths and weaknesses to help you decide which record player fits you best. So, stick around!
Sony PS-LX310BT vs. Fluance RT81: Overview
Both the Sony PS-LX310BT and Fluance RT81 are cost-efficient and stylish turntables. As far as sound goes, however, the RT81 performs better thanks to its elliptical shape cartridge that delivers sound accuracy, unlike the conical-shaped cartridge that comes with the PS-LX310BT.
Image
Product
Detail
Price

Sony PS-LX310BT

Cost-efficient and stylish
Conical-shaped Cartridge

Price

Fluance RT81

Better Performance
Elliptical-shaped Cartridge

Price
What Is Sony PS-LX310BT?
Sony PS-LX310BT is an affordable, belt-driven record player that boasts Bluetooth connectivity.
Thanks to the belt-driven motor being positioned away from the platter, this device produces clean, crisp audio. Plus, the elastic belt absorbs shock, limiting harsh motor vibrations from feeding into the record's sound.
However, refined audio isn't the only perk this turntable brings to the sound game. It features a gain switch that allows you to move through three settings: low, mid, and high.
The gain settings allow you to increase or decrease the input audio signals of your records. This allows you to smoothly adjust the input signals depending on how quiet or loud the LP you choose to play without hearing distortions resulting from inadequate gain setups.
That said, the motor belt can fall off after a few turns, requiring you to place it back. In addition, you can expect to hear some rumbling noises while playing your records.
When it comes to the design, the PS-LX310BT is as sleek as it gets. This turntable is all black, giving it a modernized look.
Plastic makes up most of this device, which isn't a surprise considering its price. Still, the tonearm and the platter (the two key components) are made of aluminum.
Sony PS-LX310BT
Pros
Modern-looking design
Gain switch to alter the input signals according to the nature of the LP
Good sound quality considering its price
Cons
Made of plastic, making it less durable
The motor belt needs readjustments as it doesn't stay in place
What Is Fluance RT81?
Fluance RT81 is the improved version of RT80 in the reference line, which has been in the turntable game for around 6 years.
Although it's an affordable, entry-level turntable, the RT81 delivers high quality that's on par with some mid-range turntables.
Similar to the PS-LX310BT, Fluance RT81 is belt driven. However, it offers better sound clarity and dynamics, delivers rich bass and mid-range sounds, and does a decent job of capturing some of the higher frequencies.
What's more, this turntable sits on four sound-damping feet. As a result, it isolates unwanted vibrations, reducing noise from appearing in the record's audio.
The high-quality material used to make this turntable is what separates it from other contenders at the same price. High-mass wood makes up the RT81's cabinet. Plus, the tonearm and the platter are made of aluminum, making this unit highly sustainable.
This model comes in three colors: black, white, and walnut. The former two colors might please those who seek a modern-looking turntable, while the latter color gives a more classic, vintage look.
On the flip side, the RT81's speed adjustment isn't always accurate. Plus, the sound fidelity is highly dependent on the cartridge type.
Fluance RT81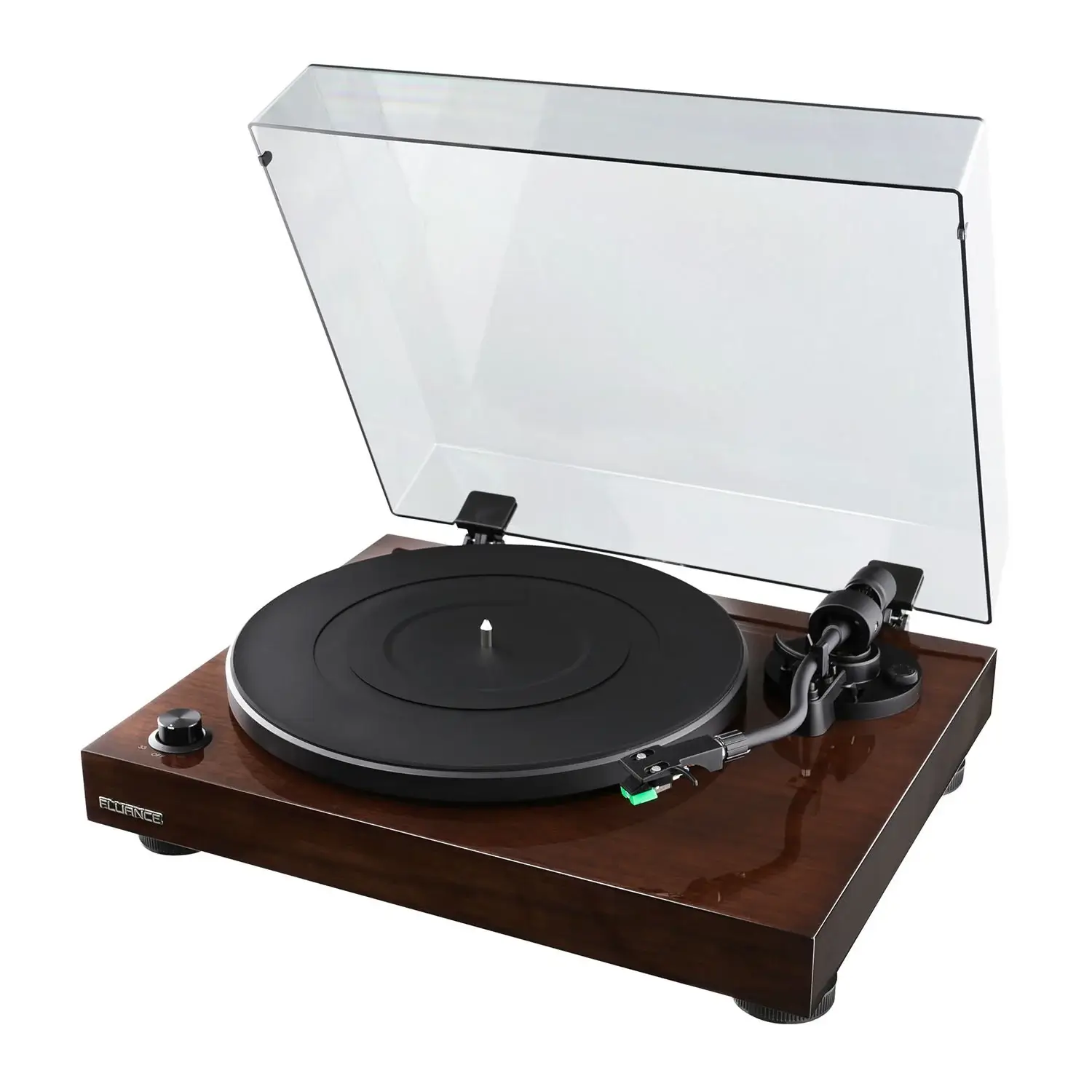 Pros
Visual pleasing design with three color options
A well-constructed cabinet provides sturdiness and sustainability
Good sound clarity and dynamics compared to low-end turntables
Cons
Inconsistent and inaccurate speed
Sound details depend on the cartridge type
How Are Sony PS-LX310BT and Fluance RT81 Different?
Here are the key differences between the PS-LX310BT and the RT81 to help you pick the device that suits you best:
Signal-to-Noise Ratio
The signal-to-noise ratio (SNR) is a measurement of audio signal strength compared to undesired background noises. The higher the ratio, the cleaner and less rumbly the sound.
When shopping for high-fidelity turntables, you want a signal-to-noise ratio of at least 60-65 dB. Sony PS-LX310BT has an SNR of 50 dB, while the RT81 gives a ratio of 67 dB.
Considering its higher ratio, Fluance RT81 delivers higher fidelity, making it the winner of this category.
Related: Sony PS-LX310BT Vs. Audio Technica LP60XBT
Connectivity Technology
Sony PS-LX310BT brings more to the table than the RT81 in terms of connectivity. The LX310BT provides Bluetooth connectivity to pair with speakers, PCs, and even your AirPods!
Not only that, but Sony's turntable has a USB outlet, allowing you to connect it to computers and digitalize your precious vinyl collection. Plus, it includes a wired connection via RCA cables.
On the other hand, the RT81 only provides RCA connections, which are slightly outdated.
That said, the Bluetooth feature will add unnecessary vibrations to the audio. So, for many audiophiles, this added feature might be undesirable.
Still, the LX310BT wins this category, as it offers more connectivity options.
Tonearm Type
Sony PS-LX310BT has a straight "i-shaped" tonearm, while Fluance RT81 comes with an "s-shaped" tonearm.
An s-tonearm is more accurate in tracking grooves than an i-shaped tonearm. Plus, it has fewer pivoting errors thanks to its angled structure, reducing the chances of sound skipping.
Since the s-shape tonearm has many perks over straight tonearms, the RT81 wins against the PS-LX310BT in the tonearm category.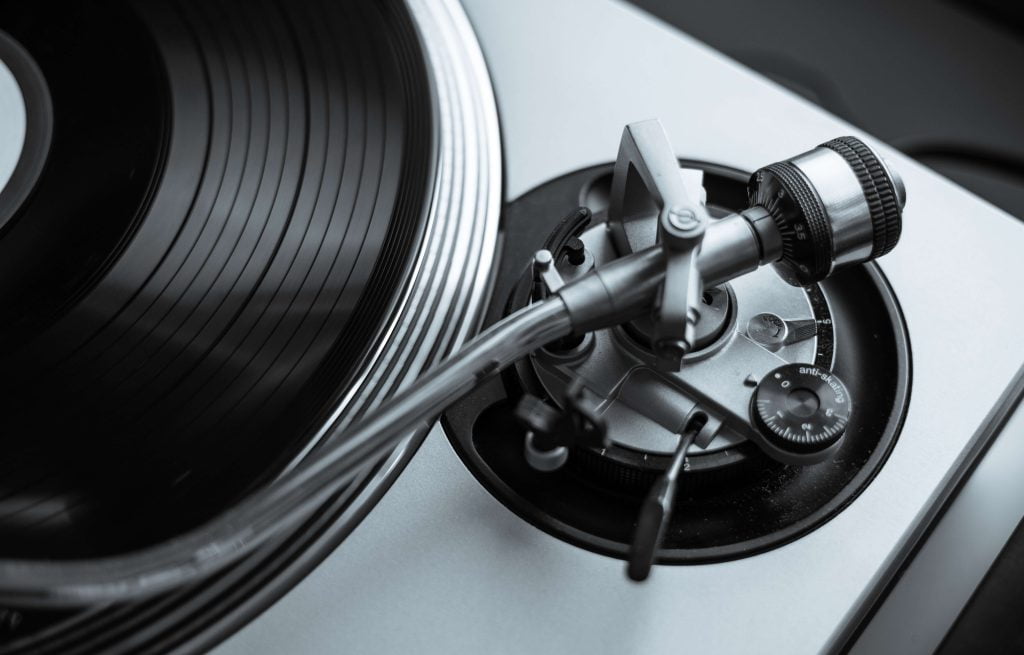 How Are Sony PS-LX310BT and Fluance RT81 Similar?
Both turntables are belt-driven and automatically operated. Automatic turntables are convenient since they do the fine-tuning and place the tonearm on and off the record on their own.
Another similarity between the RT81 and PS-LX310BT is their speed. Both turntables can play 33 ⅓ and 45 RPM records. Plus, they come with a built-in amplifier that you can turn off to connect an external amplifier.
What Is Better About Sony PS-LX310BT?
Ease-of-use, sleeker design, and better speed adjustment are the biggest advantages of SonyPS-LX310BT.
In addition, the LX310BT is more flexible in terms of connectivity options, offering Bluetooth, USB, and RCA connections.
What Is Better About Fluance RT81?
Fluance RT81 wins when it comes to sound performance. It produces refined audio, all while delivering different sound dynamics.
Readers also checked: Fluance RT85 Vs Pro-Ject – Which One Should You Choose?
Who Should Get Sony PS-LX310BT (And Why)?
Sony PS-LX310BT satisfies modern-day users thanks to its Bluetooth streaming option and contemporary design.
It also might be a good choice for casual listeners who want an easy-to-use table without the hassle of buying external amplifiers, preamps, and wired speakers.
Who Should Get Fluance RT81 (And Why)?
Fluance RT81 is for audiophiles looking for an affordable turntable that delivers clean, natural-sounding audio that's rich with delicate details present in the record.