If you're aiming to upgrade your turntable setup for something midtable that combines features and value, or you just got into turntablism and are looking to start with a capable unit that won't put a huge dent in your wallet, then this article is for you!
Two of the biggest brands you'll come across in the industry are Fluance and Pro-Ject. Their mid-level turntables -the RT85 and the Debut Carbon Evo- have taken the world of turntablists by storm, especially those trying to get as many specs as possible at a reasonable price.
Today, I'll be sharing a detailed Fluance RT85 vs Pro-Ject comparison to help you decide which option is right for your audio needs.
Fluance RT85 vs Pro-Ject Overview
The Fluance RT85 offers a more detailed sound with its Ortofon 2M Blue cartridge, but the Pro-Ject delivers more depth and a better-refined sound thanks to its carbon fiber tonearm.
The acrylic platter in the RT85 makes it superior when it comes to vibration resistance. However, you have more flexibility to upgrade various components in the Debut Evo.
Image
Product
Detail
Price

Fluance RT85

Resistant to vibrations
More detailed sound

Price

Pro-Ject

More depth
Better-refined sound
Flexibility to upgrade

Price
What Is Fluance RT85?
Fluance RT85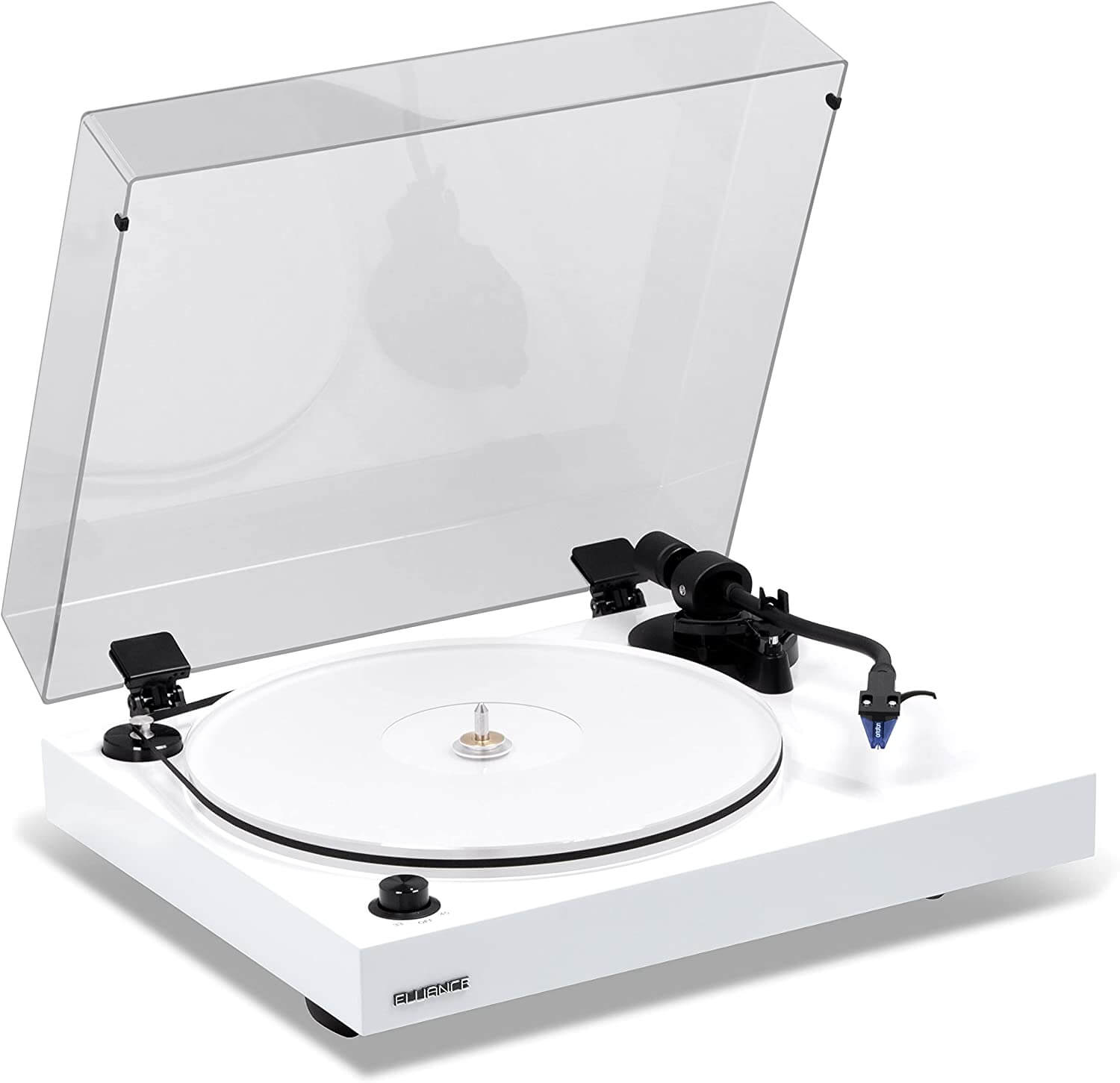 Speed 33 1/3, 45 RPM
Belt drive
DC Motor
Acrylic platter
High Gloss MDF cabinet
Ortofon 2M Blue cartridge
S-shaped aluminum tonearm (8.8 inches)
Signal-to-noise ratio 76 dB
 0.07% Wow and Flutter
With its motto being "serious performance", Fluance is a well-known audio brand that designs and manufactures high-end music systems, home audio, and high-fidelity turntables.
Based in Canada, Fluance has been in the business for 20 years and counting. The RT85 is the company's step-up from RT81, with many new features added to improve the overall quality of construction, design, and sound.
The RT85 cabinet will catch your eye thanks to its old-school appearance. You get to choose your favorite from 4 different finishes: walnut, bamboo, black, and white.
The DC motor on this unit is belt-driven and offers two speeds; 33 1/3 and 45 RPM.
When it comes to the tonearm and cartridge, the Fluance RT85 really hits the spot if you want something different from the usual. Instead of the standard straight design, this turntable carries an S-shaped aluminum tonearm.
What's even more impressive is the featured Ortofon 2M Blue cartridge, which is a high-end phono cartridge that excels in various aspects of audio output.
As for the platter, this is another component where the Fluance RT85 really shines among competitors. It's made out of acrylic, unlike most mid-range turntables that typically house metal platters.
What Is Pro-Ject?
Pro-Ject Debut Carbon Evo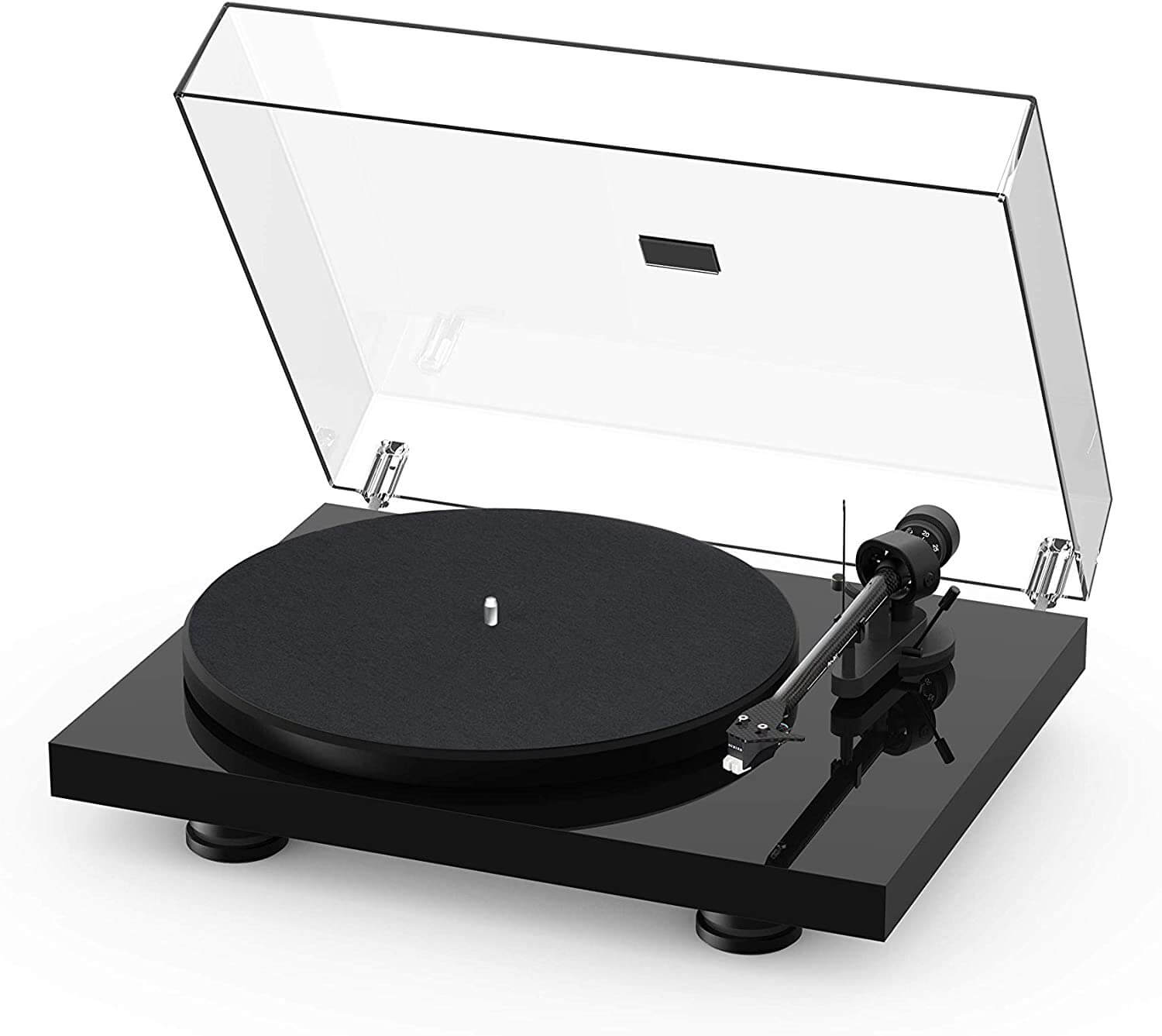 Speed 33, 45, 78 RPM
Belt drive
DC motor
Steel platter
TPE and felt platter damping
High Gloss MDF cabinet
Sumiko Rainier cartridge
Tonearm, one-piece carbon fiber (8.6 inches)
Signal-to-noise ratio 68 dB
0.17% Wow and Flutter
Established by Heinz Lichtenegger in 1991, Pro-Ject Audio Systems is a widely recognized manufacturer of turntables and a range of audiophile equipment.
The design of its products happens in the brand's headquarters in Mistelbach, Austria, whereas the building takes place in Slovakia and the Czech Republic.
Pro-Ject has several turntable models on the market, but today I'll be focusing on the Debut Carbon Evo since it's generally considered the direct competitor of the Fluance RT85.
The MDF cabinet of the Debut Evo comes in many elegant, modern finishes that'll attract anyone's attention. You can pick your favorite matte or high gloss look from red, black, white, green, blue, white, or walnut.
It houses a DC belt-driven motor with three speeds; 33, 45, and 78 RPM. As for the tonearm and cartridge, the Pro-Ject Evo carries an exquisite one-piece carbon tonearm and an average Sumiko Rainier cartridge.
Users Also Read: Project X1 Vs Rega Planar 3
How Are They Different?
The Fluance RT85 drive system comes with an auto-stop function that kicks in 20 seconds after the record end to prevent the tonearm from playing unnecessarily.
On the other hand, you have to manually stop the Pro-Ject Debut Carbon Evo after the recond is done.
When it comes to speed of rotation, only the Fluance RT85 is built to achieve 78 RPM.
Phono cartridge-wise, the Fluance RT85 uses the Ortofon 2M Blue cartridge, whereas the Sumiko Rainier is what you get with the Pro-Ject Debut Carbon Evo.
The tonearm on the RT85 is aluminum and S-shaped, however, the Debut Evo has a one-piece tonearm made out of carbon fiber.
Another major difference between the two turntables is the platter material. It's made out of acrylic in the Fluance RT85, while the platter in the Pro-Ject Debut Evo is made out of steel.
How Are They Similar?
Both the Fluance RT85 and the Pro-Ject Debut Carbon Evo have an MDF cabinet with 3 height-adjustable rubber feet. This means they offer similar vibration dampening and unit balance.
They also house belt-driven motors. Compared to standard motors on the market, this system offers improved suppression of unwanted noise and vibrations.
Additionally, the two turntables are also equipped with belt-driven motors for a quieter operation with minimal disturbance.
What's Better About Fluance RT85?
The Ortofon 2M Blue cartridge is far superior to the Sumiko Rainier. It's a high-end model that does a better job of producing a detailed and full sound.
This acrylic platter featured in the RT85 is also the winner compared to the steel one in the Debut Carbon Evo. It possesses more refined dampening properties and higher density, which resists resonance and eliminates unwanted sounds more effectively as you play your favorite record.
Check out this in-depth comparison: Pro-Ject Tube Box S2 Vs DS2 Detailed Comparison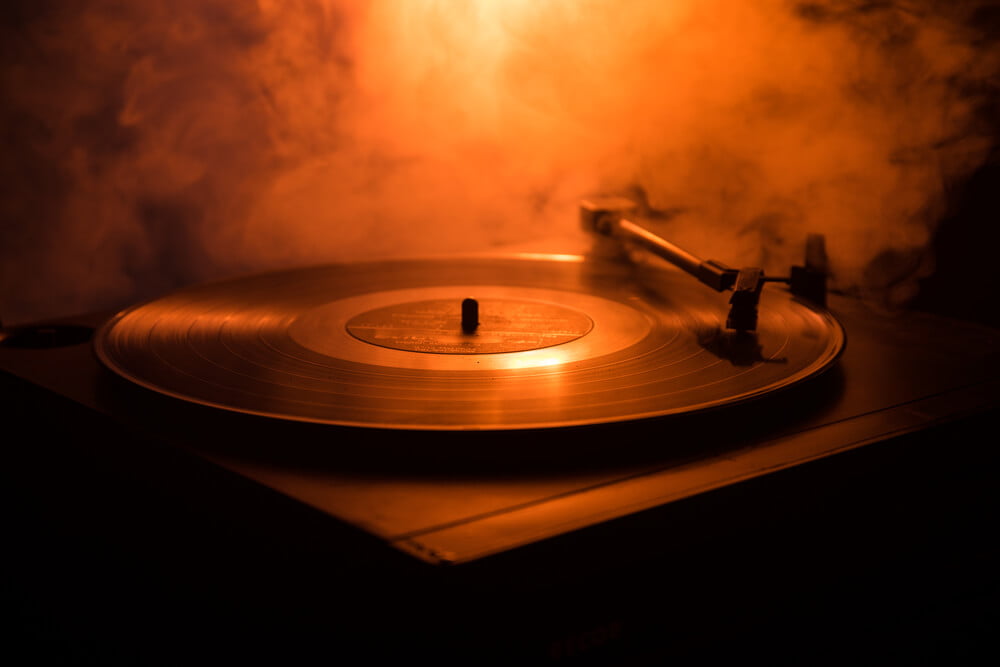 What's Better About Pro-Ject?
Another aspect that's superior in Pro-Ject Debut Evo is its upgradability. You have extra flexibility to tweak the platter, sub-platter, power supply, spindle, belt, and more.
However, the carbon fiber tonearm is what takes the cook. It delivers a better-refined sound than the aluminum one found on the RT85.
Features and Specifications Comparison Summary
| | | |
| --- | --- | --- |
| Spec/Feature — Turntable | Fluance RT85 | Pro-Ject Debut Carbon Evo |
| Speed | 33 1/3, 45 RPM (no 78) | 33, 45, 78 RPM |
| Drive System | Belt drive | Belt drive |
| Motor | DC | DC |
| Platter | acrylic | steel |
| Platter Damping | Not needed | TPE and felt |
| Cabinet Material | High Gloss MDF | High Gloss MDF |
| Cartridge | Ortofon 2M Blue | Sumiko Rainier |
| Tonearm | S-shaped aluminum (8.8 inches) | One-piece carbon fiber (8.6 inches) |
| Signal-to-noise ratio | 76 dB | 68 dB |
| Wow and Flutter | 0.07% | 0.17% |
| Power Consumption | 1.5 W | 4 W |
| Dimensions | 13.75 x 16.5 x 5.5 inches | 12.6 x 16.3 x 4.5 inches |
| Weight | 16.76 pounds | 13.2 pounds |
Who Should Get Fluance RT85?
You should get the Fluance RT85 turntable if:
You want an excellent phono cartridge
You want more dampening
You want more detailed sound
You're a beginner who doesn't worry about upgradability
You're a professional mixer looking for a budget option
Who Should Get Pro-Ject?
You should get the Pro-Ject Debut Carbon Evo if:
You want a superior tonearm
You want a more refined sound
You're a beginner looking for more upgradability
You're a professional mixer looking for a budget option