If you're reading this review, let me tell you that I was once an amateur audiophile like you. That's why I'm here to help you get started on your audiophile journey!
Let me introduce two great entry-level cartridges: the Ortofon 2M Blue and Sumiko Moonstone. Both are excellent brands that established themselves in the audio industry for decades–a century even!
So stick around because I'll be comparing Ortofon 2M Blue in-depth vs. Sumiko Moonstone for all you audiophile newbies and oldies alike.
Ortofon 2M Blue vs. Sumiko Moonstone Overview
Danish-originated Ortofon 2M Blue is a moving magnet cartridge that delivers ease of mounting and precise Hi-Fi sound. Handcrafted in Japan, Sumiko Moonstone also boasts its high-performing dynamics as a moving magnet cartridge.
Image
Product
Detail
Price

Ortofon 2M Blue

Danish-Originated
Precise Hi-Fi Sound
Moving Magnet Cartridge

Price

Sumiko Moonstone

Handcrafted in Japan
High-Performing Dynamics
Moving Magnet Cartridge

Price
What Is Ortofon 2M Blue?
Ortofon was founded by two Danish engineers, Axel Petersen and Arnold Poulsen, in October 1918.
This dedication to creating excellent audio experiences for over 104 years has led them to make the Ortofon 2M series, launched in 2008. For over 12 years now, the Ortofon series has been well-loved by audiophiles.
Ortofon 2M blue is one of the four in the Ortofon 2M colored series designed to be a universal fit for most brands of turntables. It's an upgrade from the 2M Red, which is an entry-level cartridge.
You can easily upgrade your 2M Red to a more dynamic sound by replacing your cartridge with a 2M Blue stylus–no need for a complete cartridge switch.
Ortofon 2M Blue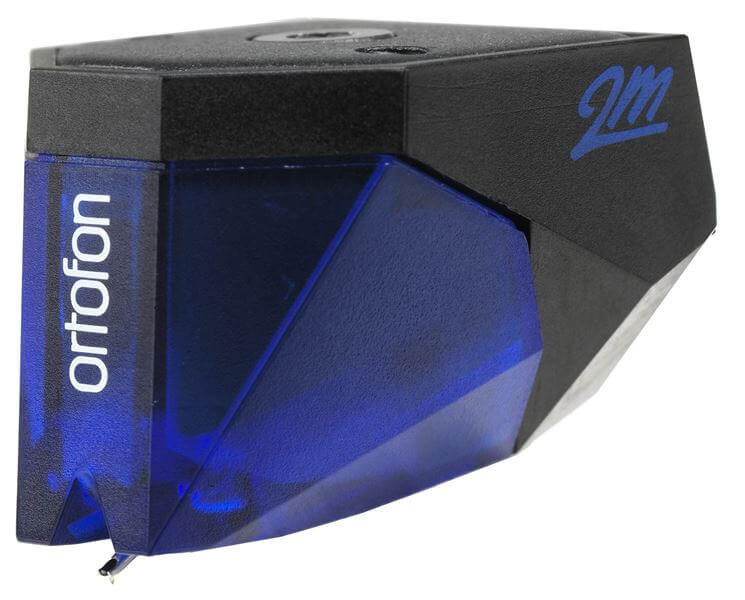 Clear Distinction between Vocals and Background
Tight Bass
Stylus Directly Mounted to the Cantilever
What Is Sumiko Moonstone?
Already 40 years into the business, Sumiko phono cartridges are produced by skilled artisans in Japan with a focus on excellent analog reproduction. Sumiko Moonstone, part of the Oyster range, creates a naturally rich and well-balanced dynamic with its bonded elliptical stylus.
The Moonstone is also an upgrade from the entry-level Rainier and mid-tier Olympia. These three have the same cartridge housing, and you only need the stylus to upgrade if your current one wears out.
Sumiko Moonstone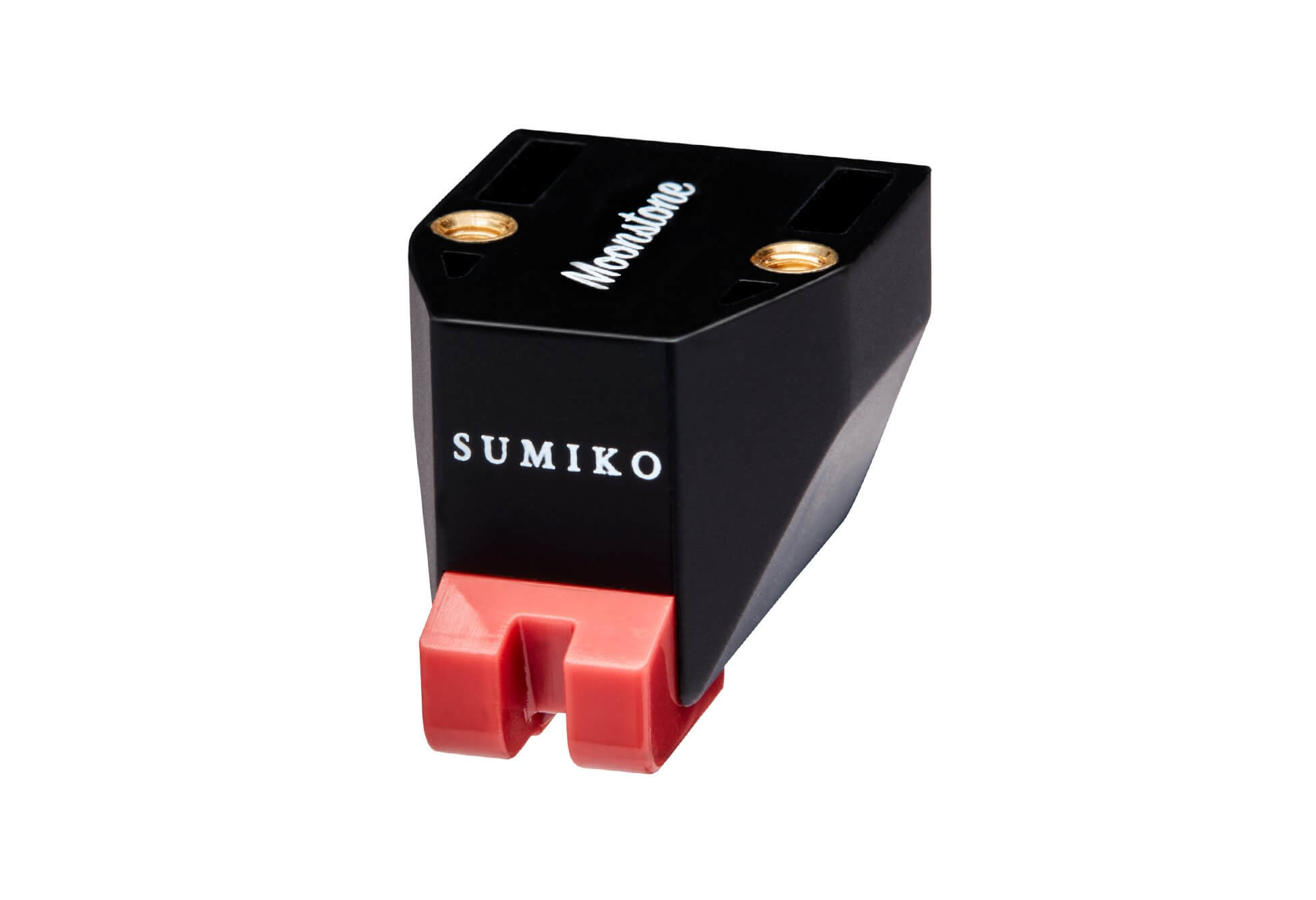 Fuller Sound Overall
Elliptical Stylus
Stylus Connected to the Cantilever with a Metal Piece
Similarities and Differences Between Ortofon 2M Blue vs. Sumiko Moonstone
In the table below, I listed some key similarities and differences between Ortofon 2M Blue and Sumiko Moonstone.
| | | |
| --- | --- | --- |
| Cartridge Brand | Ortofon 2M Blue | Sumiko Moonstone |
| Type | Moving Magnet | Moving Magnet |
| Frequency Response | 20 – 20 kHz +2/-3dB | 12Hz – 33 kHz |
| Output Voltage | 5.5mV | 3.0mV |
| Load Impedance | 47 kΩ | 47 kΩ |
| Stylus Type | Nude Diamond Elliptical | 0.3 x 0.7 µm elliptical |
| Compliance | 20µm/mN | 12µm/mN |
| Tracking Force Range | 1.6 – 2.0g | 1.8 g – 2.2g |
| Recommended Force | 1.8g (18mN) | 2.0g |
| Cartridge Weight | 7.2g | 6.5g |
Now, I know some of these sound technical, but I'll break down some of them in simple terms. This is just a reference of specifications for when you plan to upgrade your entire turntable gears.
How Are They Different?
With my discerning ear, I found that the 2M Blue emphasizes a clear treble distinction between vocals and background, capturing accurate sound from the record. It has a tight bass, which is not at all too dark.
On the other hand, the Moonstone offers more balance, warmth, and a fuller sound overall. Their styli are also the key difference, affecting the sound each needle collects from the record's groove.
They both have diamond styli, but 2M Blue is directly mounted to the cantilever. Whereas the Moonstone stylus has a bonded type diamond stylus connected to the cantilever with a metal piece.
Related: An A–Z Sumiko Moonstone Review
How Are They Similar?
The Ortofon 2M Blue and Sumiko Moonstone are both moving magnet cartridges, which are a compatible fit for most turntable brands. How is this so?
Based on the chart, their compliance may differ in number, but 10-20µm/mN compliance is in the same range. The compliance range of these cartridges is in the moderate range.
Meaning both the 2M Blue and the Moonstone are moderate compliance cartridges. In simpler terms, they're compatible with most turntables that have moderate mass tonearms.
Both have the same load impedance of 47kΩ, which is standard in powering a cartridge. They're also interchangeable within their respective series, which makes it easy to upgrade your cartridge with only the stylus change.
What's Better About Ortofon 2M Blue?
What I love about the 2M Blue is that it captures more details of the record with its nude elliptical diamond stylus. It sounds more elevated compared to the bonded elliptical stylus of 2M Red.
I like how it enriches the sound of my record with more accuracy, making the song come alive.
I can distinctly hear vocals and instrumentations with crisp quality, almost like it's digital. It sometimes comes off bright in tone, but the tight bass balances it well.
This cartridge plays music decently, but if I have any problem with it, it picks up surface sounds, like soft crackles and pops.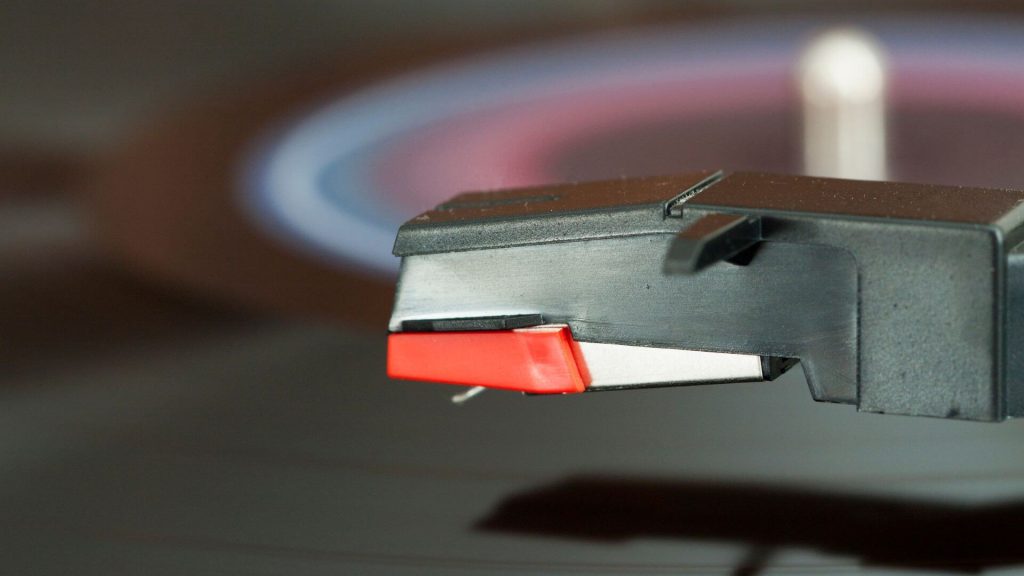 What's Better About Sumiko Moonstone?
With its bonded elliptical stylus, I thought I wouldn't get the accurate soundstage I was looking for. Boy, was I wrong!
It plays jazz records so beautifully smooth and warm that it felt like I was in a jazz bar in person. Even Sumiko claims it produces quality sound like a moving coil cartridge!
My only complaint is how carefully I needed to install it and ensure it was properly aligned.
Users also read: Sumiko Rainier Vs Ortofon 2M Blue
Who Should Get Ortofon 2M Blue?
Those with a 2M Red would be pleased to upgrade to the 2M Blue. It offers more openness in sound than the Red's neutral tone.
Audiophiles who love to pick apart more precise details in vocals and instruments and an emphasis on treble would appreciate getting an Ortofon 2M Blue. Or, if you're looking for a more digital sound in the form of a vinyl record, then you should consider this.
Who Should Get Sumiko Moonstone?
Owners of low-end turntables looking to elevate their player's delivery by a ton should consider getting Sumiko Moonstone. It's truly a bang for your buck!
I personally prefer Moonstone over 2M Blue with its well-balanced dynamic. The Moonstone enhances records with its easy-on-the-ear trebles and smoothness that are perfect for any genre of music.