The Moonstone is the star of Sumiko's three new Oysters. If you're an audiophile, you surely know that Sumiko is a reputable name in the industry, and the Moonstone is hands-down one of their best works. Therefore, you can expect to indulge your ears with rich and deep sonic imagery.
Interested to find out more about the Sumiko Moonstone? You've come to the right place!
In today's article, we have a full Sumiko Moonstone review, along with all the specs, key features, pros, and cons of the moving-magnet cartridge. Let's dive into the details!
Sumiko Moonstone Overview
Every audiophile is well-aware of Sumiko products. This company has been making cartridges for over 40 years. You can choose from their products whether you're on a tight budget or looking to spend some money.
At the lower end of Sumiko's budget scale comes the 'Oyster' series, which gets its name as each cartridge in the series is named after a precious stone.
The Moonstone cartridge is in the Premium Moving Magnet line of the Oyster series. It's incredibly cost-effective while still offering the high-quality of Sumiko's cartridges.
Sumiko Moonstone Specs
Let's kick things off with the specs of the Sumiko Moonstone. The cartridge weighs only 6.5g, and its dimensions are 17.2 x 18.8 x 29 mm.
The Moonstone is made of high-quality, well-designed materials. The stylus is a 0.3 × 0.7mil elliptical, and the cantilever is a 0.5 mm aluminum pipe. More importantly, the coils are made of high-purity copper.
Sumiko Moonstone cartridge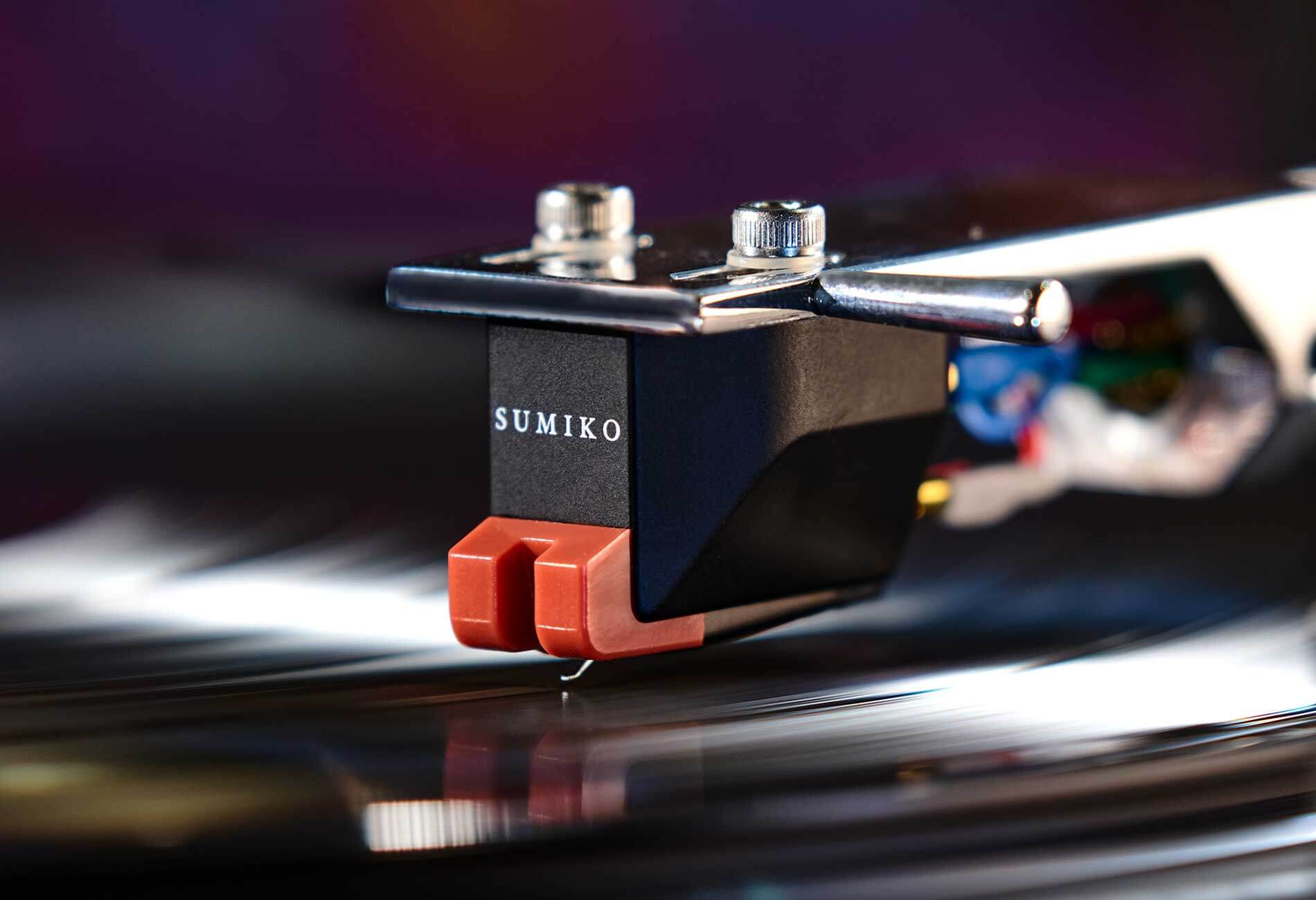 Internal Impedance: 1,130 Ω
Load Impedance: 47 kΩ
Frequency Response: 12 Hz – 33kHz
Output: 3.0mV
Channel Balance: 0.5dB @ 1kHz
Tracking Force Range: 1.8g – 2.2g
Channel Separation: 30dB @ 1kHz
Compliance: 12×10-6 cm/dyn @ 100Hz
Vertical Tracking Angle: 25°
Capacitance: 100pF – 200pF
Recommended Tracking Force: 2.0g
Key Features of Sumiko Moonstone
Every part of your turntable can affect the sound of your record. You could have the best-rated turntable in the world, but if the cartridge is wrong, the sound won't be so good.
The opposite can be true. A good cartridge that has great features can transform the sound of any turntable.
When it comes to sound quality and overall design, Sumiko Moonstone is packed with amazing features. Let's check them out!
Stylus
The stylus of the Moonstone cartridge is truly stunning. It adds an affordable quality to the cartridge due to it being interchangeable. This also means you can upgrade it to another stylus in the 'Oyster' series.
Yet, Moonstone's elliptical stylus can truly get the best sound out of your records. That's because an elliptical stylus, in general, covers more surface area. So, it's able to track all the details in the grooves of your records.
Minimalist Design
Sumiko Moonstone has an elegant, minimalist design. There aren't too many distracting colors. Instead, the entire body of the cartridge is black, with a red replaceable stylus that is too small to notice.
Therefore, you can pair this cartridge with almost any turntable you have. You don't need to worry about the cartridge looking out of place.
Packaging
The Moonstone comes in a sleek-looking package. The package has the same design as the Oyster line, but in a red color that matches the red on the cartridge.
The box itself is made of wood, which looks pretty elegant in my opinion. Once you open the box, you'll find the Sumiko Moonstone in a plastic case.
Additionally, you'll find almost everything you need to install the cartridge, including two mounting screws, two plastic washers, an Allen key, and a brush.
Unfortunately, the package doesn't include an alignment tool, which can be a problem if you're setting up your first turntable.
Related: Sumiko Pearl vs. Ortofon 2M Red
Pros of Sumiko Moonstone
There's a reason behind the great reviews of the Sumiko Moonstone cartridge. In fact, many people have found this cartridge to be almost perfect in every aspect, from its quality to its features.
Here are the best aspects you'll find in the Sumiko Moonstone cartridge:
1. Crisp Sound
The Moonstone cartridge is one of the best-sounding on the market in this price range. In fact, it can transform your low-end turntable into a lavish one just by the clear sound it produces.
It can actually be hard to believe that the sound is from a turntable. The music sounds incredibly smooth, well-defined, and dynamic.
You can easily separate the vocals from the instruments. Moreover, the soundstage you get with this cartridge at this price is unbelievable; it feels like a tiny stage with live music coming from it.
Simply put, the sound that the Moonstone cartridge produces is crisp and bright without being too high. The bass is also prominent when you put this cartridge to work, but the details aren't lost in the warm bass.
The Moonstone can surprisingly deliver an astonishing amount of detail. Not many cartridges can deliver this amazing performance in that low price range.
This doesn't essentially mean that it's up there with high-tier cartridges, like the Koetsu cartridges. However, it's really close to that type of performance, and with that price, we can't really complain.
In other words, the Moonstone will surely satisfy the ears of any audiophile.
2. Interchangeable Stylus
The styli on all cartridges in the 'Oyster' series are changeable. Yet, you don't have to purchase the same stylus as the original cartridge.
It's worth noting that the Moonstone stylus is elliptical, which can be great if you're looking for a deeper sound. However, you can upgrade to other Sumiko styli, such as the nude line-contact diamond stylus found on the Sumiko Amethyst.
Needless to say, this is a great, versatile feature for anyone wanting a change of sound. You won't have to pay extra for a new cartridge, as you can simply replace the stylus.
3. Great For Beginners
If you've only just started your turntable journey, finding the perfect cartridge can be a challenge. You might spend hours researching thousands of cartridges without knowing which one would suit you.
Sumiko Moonstone can be perfect in that case. Not only will it save you money, but it'll also be a great standard on which you'll measure your upcoming cartridges.
In other words, the Moonstone cartridge allows you to experience how vinyl records are supposed to sound without having to buy dozens of cartridges until you find the right one.
4. Affordable
Sumiko's Moonstone cartridge does a lot at a modest price. Usually, to get all the great features available in such a stylus, you'll need to pay a huge amount. Yet, Sumiko was able to deliver high quality at a reasonable cost.
Even though seasoned audiophiles might look away from the Moonstone cartridge due to its price tag, it actually rivals cartridges that value thousands.
This affordable cartridge is a must-have. The value for money you get with it is astonishing. You'll give a fresh sound to your records without having to spend a lot of money.
The stylus replacement is also incredibly cost-efficient. You can simply replace the stylus without having to buy a brand-new cartridge.
5. High-quality Materials
To make any product more budget-friendly, some companies choose average-quality materials to cut down on some expenses.
However, this isn't the case here. Sumiko products, including the Moonstone, are made with high-quality materials with intricate details. In fact, the Moonstone is crafted by hand in Yokohama, Japan.
It's very hard to get craftsmanship like that from average-quality cartridges. The materials, along with the brilliant design, are what make this product stand out.
That's why you can get a lot of playtime with the Moonstone cartridge without worrying about it wearing off. It won't just fall apart after a couple of plays. Even if that happens, you'll only need to get a replacement needle.
6. Reliable
A cartridge can have all the advantages you can count, but there's a reason why some brands are better known than others. The Sumiko name adds trust to any product. You know you're purchasing a high-quality cartridge despite its low price.
For that reason, many audiophiles stick to Sumiko cartridges. Instead of purchasing new, high-quality cartridges, you can just follow the upgrade path of the stylus, going from a Rainier cartridge to an Olympia or a Moonstone, then an Amethyst.
Simply put, the choices are endless when it comes to Sumiko cartridges, and each cartridge is as well-made as the other.
In fact, the Sumiko Moonstone cartridge is incredibly trustworthy. That's why many turntables come pre-equipped with it, such as the Pro-Ject X1.
Pros
Crisp Sound
Interchangeable Styli with 'Oyster' series
Great For Beginners
Modest price
High-quality Materials
Reliable
Cons
Hard to Install
Sound Can Be Dull
May Damage Records if unaligned
Cons of Sumiko Moonstone
Though there are many reasons why you should get the Moonstone cartridge, it also has its drawbacks. This is only natural since it's an affordable cartridge, not to mention that even top-tier products tend to have their drawbacks.
Additionally, every audiophile has a different taste, so what might be an advantage for some can be a great disadvantage for others.
1. Hard to Install for Beginners
The Moonstone cartridge might need some tweaking to get to the perfect pitch. This means that the cartridge needs a trained hand to properly adjust the treble and bass.
It can also be hard to align. Sure, you can watch a tutorial to know how to install the cartridge, but the Moonstone is harder to install than other beginner cartridges.
Furthermore, the cartridge doesn't come with a detailed manual or an alignment tool. Both of these would've been a fantastic help for beginner audiophiles, whom this cartridge is marketed towards.
However, this shouldn't be a problem for anyone with some basic experience with turntable parts.
2. Sound Can Be Dull
When it comes to the sound quality of the Moonstone cartridge, Sumiko did the right thing by lowering the vibrations.
Sadly, you can't have it all. The sound of the cartridge can be a bit congested or dull sometimes. This is the only way to avoid the low-tracking noise or the muddy-sounding bass in most cartridges, though.
However, this sound might not suit everyone, especially audiophiles who like to blast their music. So, while Sumiko Moonstone can offer a realistic sound, it falls short in the case of symphonic music.
3. Stylus May Damage Records
Though the stylus of Sumiko Moonstone is one of its best qualities, it can be unforgiving when it comes to records. It should be installed and aligned a certain way so as not to damage any of your records, and this can be quite a hard process.
The needle might scratch an old vinyl if it wasn't properly cleaned before use. Also, if the vinyl record isn't good quality or is poorly cut, you can kiss it goodbye before playing it with the Moonstone cartridge.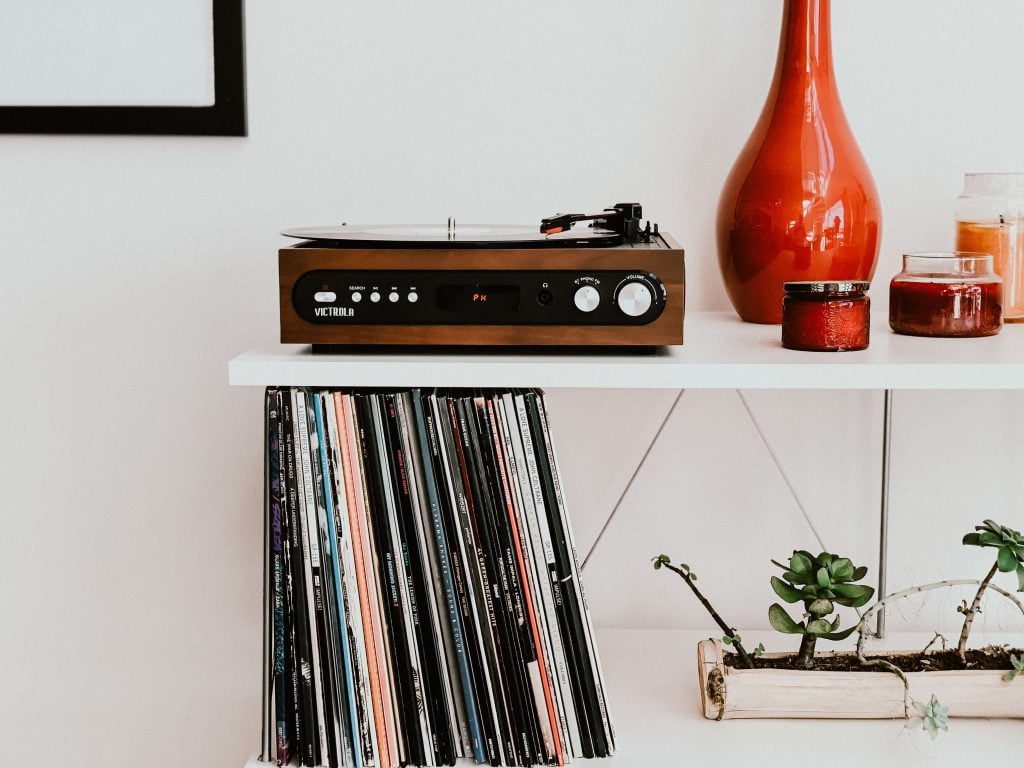 Rating Sumiko Moonstone
You know all the different parts and how the Moonstone cartridge sounds. When it comes down to the purchase, aspects such as usability and value for money matter most.
So, check out our ratings of Sumiko Moonstone
Ease-of-Use 3/5
While you should generally handle your turntables and vinyl records with care, Sumiko Moonstone isn't that easy to use or mount, especially if you're new to the turntable world.
Mounting this cartridge requires fairly experienced hands. You need to tune the height of the tonearm as well as properly align the stylus. What makes this harder is that the Moonstone cartridge doesn't come with any instructions regarding the ideal arm angle.
If the stylus isn't properly aligned, or if the records are somewhat dusty, the elliptical stylus might irreversibly damage the grooves within the vinyl record.
If you want to get the best sound from your cartridge, you'll also need to adjust the bass and the treble to your liking.
As for the replacement of the stylus, the packaging of the replacement stylus isn't the most secure. Since this is a fragile item, it needs special handling. So, while you can save money by replacing the Moonstone stylus, it won't be an easy process.
It isn't impossible to use and mount Sumiko Moonstone. But, if you're a beginner audiophile, you might face some issues during the first couple of uses of this cartridge.
Features 4/5
The Moonstone is packed with a lot of features that you rarely find at this price. From the interchangeable stylus to the great performance, there's nothing more to ask for.
The cartridge provides a good punch and a realistic sound with the moving magnet mechanism. Moreover, the moving magnet features an aluminum cantilever, pure copper wiring, and a micron-elliptical stylus.
Still, while these features are great for an affordable cartridge, there's always room for improvement.
Sound 5/5
The sound you'll get using the Moonstone cartridge is one of the best. It's clear, crisp, and well-defined. You can easily distinguish each instrument, and the vocals are well-separated.
No matter how complex the music is, the Moonstone can definitely handle it pretty well.
This is all done without any buzzing or loud, deep, bass. In fact, if you're a treble-lover, this cartridge allows you to also appreciate the bass as it isn't overbearing.
To avoid the droning or annoying frequency problems, you might find that your records sound a bit muted. However, this is a small price to pay for the clear sound that the cartridge offers.
Additionally, the dull sound is barely noticeable and can actually be an advantage for certain audiophiles. After all, it all depends on your taste and personal preference.
Still, the sound of the Moonstone cartridge will, without a doubt, enhance how you listen to vinyl.
Value for Money 5/5
There's no denying the great quality that the Moonstone cartridge offers at an incredibly low price. Typically, a cartridge of this quality is worth thousands. However, Sumiko's 'Oyster' series carries greatly-crafted cartridges at a low price point.
The Moonstone cartridge is undeniably one of the best cartridges in the Oyster series. You'll be getting a high-end-sounding cartridge without any damage to your bank account.
Additionally, the replaceable stylus adds more to the Moonstone cartridge's value. Your cartridge will last a lifetime even if the stylus wears out.
In case you want to upgrade your cartridge or change its sound, you can also replace the stylus, meaning you'll get multiple cartridges in one!
Overall Rating 4/5
All in all, Sumiko Moonstone is a great entry cartridge as well as a great addition to your seasoned collection. It can improve the sound quality of many turntables.
This is a perfect cartridge if you're on a budget, and it can also hold a candle to many high-end cartridges. However, things could be better in terms of usability and bass quality.
Read more: Sumiko Rainier Vs Ortofon 2M Blue
Should You Buy The Sumiko Moonstone?
The Moonstone cartridge is a great purchase, whether you're looking for a cartridge for your new turntable, or only looking to expand your collection and explore new sounds.
The performance and crisp sound of Sumiko Moonstone rival that of other expensive cartridges. It can even be hard to believe how cost-efficient this cartridge is.
The low moving mass and the improved sonics make the Moonstone one of the best options you can get at this price range.
Sumiko Moonstone is also a great fit for all turntables. It can greatly enhance the sound of your budget turntable.
Typically, if you have a high-end or expensive turntable, you want to pair it with a high-end cartridge. However, why spend the extra money when you can get a performance so close with much less money?
Additionally, with a price like that, you can keep it as a backup cartridge. There's no need to buy two exotic cartridges when you can buy a budget-friendly one that gives a very close performance.
On the other hand, if you're a novice audiophile, the sound, quality, and specs of the Moonstone cartridge will be the standard on which you measure any following purchase. However, this cartridge can be hard to mount and tune. This is nothing an online tutorial can't fix, though.
Basically, you can't go wrong with any cartridge from the affordable 'Oyster' series. Still, the Moonstone takes the crown due to its versatile features and well-defined sound.
Whether you're new to this hobby or you're one of the old guards, the Sumiko Moonstone is definitely worth the try, and it would make a great addition to your collection.
Frequently Asked Questions
Is Sumiko Moonstone better than Ortofon 2M Red?
The reason both Moonstone and 2M red are often compared to each other is their almost identical specs and their affordability.
Both cartridges sound excellent. Though Sumiko Moonstone can deliver a softer, crisp sound, the Ortofon 2M cartridge has a more precise sound stage.
Overall, it depends on your preference, as both are great starter cartridges. You should also check which cartridge is more compatible with your turntable.
Which stylus can fit the Sumiko Moonstone cartridge?
Rainier, Olympia & Moonstone all have interchangeable styli. However, if you want a substantial upgrade, you can also replace the Moonstone stylus with the Amethyst one, as well as those of Wellfleet, Olympia, or Blue Point.
Simply put, any Sumiko stylus within the 'Oyster' series can fit within the Moonstone cartridge.
Does the Sumiko Moonstone wear out?
Generally speaking, MM cartridges don't wear out, only the stylus does. Thankfully, you can easily replace the Moonstone stylus with a new one, or with another stylus from the same series.
Usually, a stylus should last about 200 to 1,000 hours of playtime. So, with a replacement needle, the Sumiko Moonstone cartridge should last you a lifetime!
Still, if you want the stylus to last even longer, you should make sure to regularly clean your records, properly align the needle, and brush the stylus after every play.
Which turntables are the Sumiko Moonstone cartridge compatible with?
The Moonstone cartridge fits any standard 1/2" mount turntable or headshell. It's compatible with almost any turntable from a lot of manufacturers, like Audio Technica, Sony, Pioneer, Technics, Pro-Ject, Dual, Denon, Marantz, and so on.
Additionally, the Moonstone is compatible with most turntables from manufacturers like Shure, Ortofon, Grado, Empire, Pickering, and so on.