Choosing a new turntable is always exciting, but it can be a little tricky. You want to make sure you get the most features without breaking the bank.
As record lovers, we've spent hours window shopping turntables to find the perfect one.
When comparing Rega Planar 3 vs Pro-Ject X1, there are a few key specifications to consider. Let's take a look at some of these features to help you decide which one is right for you.
Rega Planar 3 vs Pro-Ject X1 Overview
Both the Rega Planar 3 and the Pro-Ject X1 can deliver excellent audio. However, there are a few differences. The Rega Planar 3 has a more powerful motor and extra tonearm stability. Still, the Pro-Ject X1 doesn't need any additional accessories and cuts down on static charges.
What Is Rega Planar 3?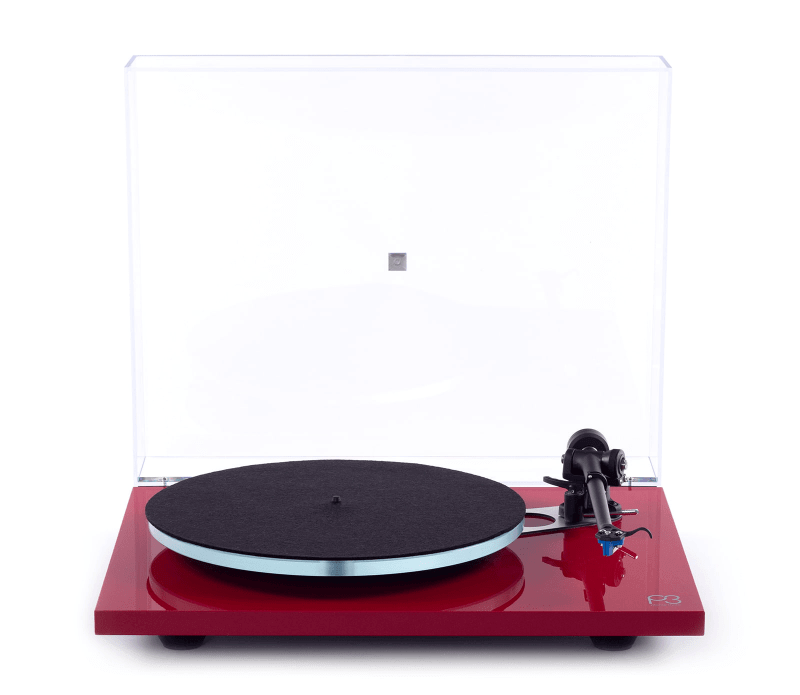 Specifications
Length: 14.17 in.
Width: 17.59 in.
Height: 4.6 in.
Weight: 13.22 lb.
Power: 24 V.
Connectivity: RCA / Phono
Platter: 12 mm glass polished edge
Tonearm Type: Pivot
Accompanying Cartridge: Rega Elys MM
Rega Research has been a major player in hi-fi audiophile turntables since the 1970s. It focuses on delivering high-quality products to its consumers. The latest addition to its roster, the Rega Planar 3, is no exception.
This turntable has a unique tonearm design with improved bearing housing and stability. The weight distribution of the arm ensures that there are fewer resonance points. In addition, movement is almost completely friction-free due to the extra steadiness.
To improve the balance of the turntable, Rega designed the foot to reduce vibrations.
The Rega Planar 3 boasts a powerful 24V motor. This motor connects to a printed circuit board that allows you better control over speed.
On top of that, the turntable comes with the capability to integrate with Neo PSU. With this addition, you can use the electronic speed change and anti-vibration functions.
You also no longer have to worry about overheating. The motor comes with a cover tray that has built-in cooling.
Related: Rega Planar 1 Vs 2
What Is Pro-Ject X1?
Specifications
Length: 14 in.
Width: 18 in.
Height: 6 in.
Weight: 15.4 lb.
Power: 15 V.
Connectivity: E Phono cable
Platter: 20 mm heavy Acryl
Tonearm Type: Stainless steel/Brass
Accompanying Cartridge: Sumiko Rainier
Project-Audio built a business based on three simple philosophies. Always use high-quality materials, a simple yet technically proficient design, and expert craftsmanship. The Pro-Ject X1 follows these to the letter.
This turntable offers high-end sound at an affordable price. The X1 tonearm consists of carbon and aluminum, giving it strength and flexibility. Besides that, it's also incredibly light, which makes repositioning a breeze.
Pro-Ject X1's tonearm is also all one piece with a counterweight, which means there's less resonance.
One of the device's most impressive features is the motor. It delivers stable power to the turntable while remaining almost silent. Add to that the speed control board, and you have total mastery over your audio.
The main bearing of the Pro-Ject X1 is stainless steel. This allows for fluid motion and seamless rotation.
In addition, this turntable has adjustable feet. With this feature, you can ensure the isolation of the device from whatever surface you place it on. Doing so can help cut down on resonance and vibrations.
How Are They Different?
If you're choosing between the Rega Planar and the Pro-Ject X1, you've come to the right place. Let's take a look at some of the differences in features between these two devices.
| | | |
| --- | --- | --- |
| Feature | Rega Planar 3 | Pro-Ject X1 |
| Dimensions (LxWxH) | 14.7×17.59×4.6 in. | 14x18x6 in. |
| Motor | 24 V | 15 V |
| Tonearm | RB330 | Carbon-Aluminum |
| Colors | Glossy red, glossy black, and glossy white | Black, white, and walnut veneers |
| Platter | 12 mm Float glass | 20 mm Heavy acryl |
Dimensions
When you consider the dimensions of both turntables, you'll notice that they're almost the same size. However, with added upgrades, the Rega Planar 3 does end up being more significant.
Upgrades
Speaking of upgrades, the Rega Planar 3 has a clear upgrade path. You can improve on the platter, sub-platter, motor printed circuit board, and even the feet.
In addition, there are also many accessories you can add. For example, a tungsten counterweight, a reference belt, and an external power supply.
When it comes to the Pro-Ject X1 upgrades, they're a little more scarce. For the most part, you can only switch out the cartridge.
Another major difference is that the Rega Planar 3 doesn't come with a cartridge, while X1 does.
Must read: Pro-Ject Debut Carbon Evo vs. Rega Planar 1
How Are They Similar?
The Rega Planar and the Pro-Ject X1 are completely different turntables. However, there are a few key similarities between the two.
Price
For starters, both seem to cost about the same. The Pro-Ject X1 is slightly more expensive. Yet, when you add the cartridge price to the Rega, the investments balance out.
Audio Quality
Sound quality is another factor these devices share. Both are capable of producing excellent, clear audio. Not just that, but they also have resonance damping.
Physical Features
Moving on a little further down the turntables, the feet also share a likeness. On both devices, there are rubber tips that help ground them to surfaces. This improves stability and cuts down on vibrations.
Aside from that, the feet are adjustable. You can change the height of each foot to customize the turntable to your workspace.
While constant cartridge change can be annoying, it's common with all turntables. You'll need to switch out cartridges about every 1,000 playing hours for both devices.
What's Better About Rega Planar 3?
Rega Planar 3 is an all-around, amazing turntable. This is because there are a few features that make this device stand out.
Plinth Stabilization
Starting off with the double bracing system. The plinth is the platform that your turntable rests on. Instead of relying on gravity, this platform has two stabilizing connections.
The first attachment point is to the tonearm, and the second is to the main hub bearing. Together, they increase the rigidity of the plinth and reduce unwanted resonance.
Customization
Another reason the Rega Planar 3 is popular is that it's customizable. You can think of the device as a blank canvas. There are so many accessories and upgrades you can buy to improve the Planar 3.
Motor
On top of all that, it also has an incredibly powerful motor. The near-silent engine uses a brushless system to deliver power.
This will come in handy if you plan on using the speed modulator. A strong motor can ensure consistency in the sound the device is creating.
Resale
Finally, the Rega Planar 3 maintains a high resale value. That means that you can get back a large chunk of your investment if you ever decide to part with it.
What's Better About Pro-Ject X1?
There are many reasons why the Pro-Ject X1 is in high demand. Let's take a look at what makes it special.
Motor
One of the best features of this device is the motor suspension system. On most turntables, there's a connection between the motor and the main plinth.
Since the motor will probably vibrate, this movement could travel to the platter. So, severing this tie can help improve the quality of your audio.
Platter
The acryl platter is also an amazing feature. This allows you to place records directly onto the surface, without needing a felt mat.
Tonearm
Another unique aspect of this turntable is the vertical tracking adjustment. Unlike the Rega Planar 3, this device allows you to change the height of the tonearm.
With this feature, the tonearm can accurately track the grooves of a record. This, in turn, will give you the best audio possible.
Once you find the perfect elevation for your tonearm, you can then use the counterweight. The thermoplastic elastomer balance ensures the stability of the arm.
Speed Control
Finally, this device has a DC/AC generator board switch. This comes in handy when controlling the speed of your record.
Who Should Get Rega Planar 3 (And Why)?
With incredible performance, the Rega Planar 3 can work for many people. Still, it's more suited to people who enjoy customization.
When you first receive your Planar, you only get the bare bones. Rega doesn't even provide a cartridge.
While this may be a nuisance for some, others enjoy the puzzle. You can purchase all sorts of accessories to personalize your device.
Yet, you need to remember that each extra part comes at a cost. This means that to perfect your turntable, you'll likely make a huge investment.
Who Should Get Pro-Ject X1 (And Why)?
If all you're looking for is a low-maintenance turntable, the Pro-Ject X1 may be the way to go. This device can offer crystal clear sound, without any fuss.
When you receive the device, it comes with all the necessary parts and accessories. For this reason, you can start enjoying music as soon as you receive it.
The only task you'll need to do is replace the cartridge every once in a while. This process is simple and you can use almost any cartridge brand.
In addition, if you struggle with static electricity, X1 may help with that. Since the platter is acryl, you cut down on stagnant charges.