A worn or damaged cartridge and stylus can mean the difference between listening to smooth, high-definition audio and listening to scratchy noise.
Not only that, but it can also damage your beloved vinyls, rendering them worthless. So, if you feel it's time for an upgrade, then you've come to the right place.
We know how much you value your record collection. That's why we rounded up two of the best BSR turntable cartridge replacements on the market. We also talk a bit about the history of the manufacturing company BSR and its rise to glory that lasted a few decades, followed by its quick demise.
So, let's dive in and find your BSR record player the best replacement you can find.
Birmingham Sound Reproducers: The Background
Birmingham Sound Reproducers (BSR) was a British manufacturer of sound recording instruments, intercoms, and record players.
The Beginning
The company was first founded in 1932 by Daniel McLean McDonald in Birmingham. By the 1950s, the business was doing exceptionally well, thanks to the advances in audio machinery.
This is when Samuel Margolin, producer of the Dansette record player, began purchasing auto-changing players from BSR, which was better known as 'BSR McDonald' at the time.
Using McDonald's turntable design, Margolin was able to manufacture over a million Dansette record players over the following 20 years. It became such a hit that people in Britain started associating the name 'Dansette' with turntables and music.
Taking Over the Global Market
By the start of the 1960s, BSR had become a publicly owned company that employed close to 3,000 employees! Besides supplying turntables and autochangers to Margolin's company, BSR also began supplying audio-producing instruments to many of the world's largest record player manufacturers.
The company became so successful that it managed to gain over 85% of the global market.
The Accutrac 4000
In 1975, BSR teamed up with Pico Electronics and started manufacturing an upscale turntable for their ADC line. They called their new record player the Accutrac 4000 and had it made at the Garratts Lane factory in the town of Cradley Heath, Birmingham.
One of the many advantages of this turntable was its ability to play specific individual tracks from the LP side of the vinyl. Not only that, but a user can also specify the order of these individual tracks any way they like.
These record players came with a direct drive motor as well as a top-of-the-line ADC LMA1 cartridge and stylus. They also came with an innovative ultrasonic remote control.
The End of a Legacy
Starting in the 1980s, BSR began facing heavy competition from portable music players, like Walkman by Sony. As a result, the company was forced to close several of its factories and laid off thousands of workers.
Then, by 1985, BSR produced its last turntable, then shut down all its divisions except for one: the Astec Power Supply. BSR later moved this division to Hong Kong and continued operating until 1998 as Astec plc.
Users also read: Best Turntable Cartridge Under $100
Finally, Astec plc was fully acquired by the EmersonElectric Company in the US, marking the complete dissolution of BSR.
The Best BSR Turntable Cartridge Replacements
Now that you know a little bit about the background of BSR, let's talk about some of the best replacements for their turntable cartridges.
Take a look.
Top Pick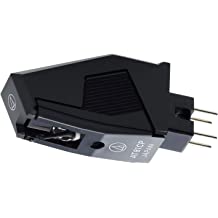 Pros
User-friendly installation
Ideal for beginner audiophiles
Long-lasting build
Bright trebles and mids
Cons
Weighs about 20 grams, which makes it a bit heavier than many other cartridge models
The first thing you'll notice about the Hakeeta Turntable cartridge is its excellent responsiveness and detailed performance. Made of high-quality plastic outer shell, this cartridge is durable and will last through many hours of listening time.
It's designed to provide excellent audio clarity and high-definition. As soon as you start playing your vinyl, you'll notice a lot of trebles and some pretty decent mids. However, the bass is a bit lacking compared to other cartridges on the market.
One of its best features is its elliptical stylus. It's capable of providing a highly accurate response for an overall exquisite listening experience.
The Hakeeta is a half-inch mount that seamlessly fits onto your record player's headshell. In addition, it comes with its own set of mounting screws and nuts for a quick and easy mounting process.
Since it's considered to be one of the more moderately priced cartridges on the market, it's usually recommended for beginners. So, if you're just starting out or if you only want to give record collecting a try, then this cartridge is for you.
The LP GEAR Sanyo MG09D is a high-quality top-performance cartridge made in Japan. It's manufactured using high-strength aluminum alloy for maximum durability and excellent sound output.
Containing a two-channel moving magnet (MM), the MG09D cartridge is made with a super permalloy shield injection mold. Its half-inch mount is easy to install and set up on the headshell. It comes with four screws and two nuts for easy mounting.
This genuine cartridge features a highly polished spherical stylus. Its diamond bonded tip has a radius of 0.0006 inches to pick up even the most subtle of sounds.
The sturdy solid black cantilever is designed to give the utmost sensitive response. It glides over the grooves, tracing them to produce clear, crisp sounds, creating a better overall listening experience.
With an overall weight of 5.5 grams, the MG09D has a frequency range of 20Hz to 20kHz. It has a recommended tracking force of 2 grams and an output voltage of 4mV at 1kHz.
Pros
Features a ultra-fine diamond bonded stylus tip
Easy to install
Comes with an aluminum alloy cantilever for high sensitive response
Sturdy outer shell for long-lasting use
FAQs
Check out some common questions asked by your fellow audiophiles.
What do turntable cartridges actually do?
Every record player has a cartridge that holds a needle on one end and attaches to the tonearm on the other. When the needle, or stylus, comes in contact with the vinyl, it vibrates.
Then, this mechanical movement of the stylus is transformed inside the small cartridge device into electrical signals. Finally, these signals are amplified, transmitted through the turntable stereo, and put out as audio.
Do turntable cartridges make any difference in how a record sounds?
Yes, definitely! Cartridges have a significant impact on the overall audio performance and sound quality of a record player.
That said, many turntables are either affordable or old. Either way, they most likely feature cartridges that don't make use of the player's full potential.
That's why vinyl fans often look for replacements that offer better audio quality and faster responsiveness.
Must read: Are Moving Coil Cartridges Better?
How often should I replace the turntable cartridge?
Experts know exactly when you should replace the stylus. They all agree that the best time to get a new stylus is after around 200 to 1,000 hours of playtime, depending on the make and model of the needle.
However, they're not yet unanimous on the best time to replace the cartridge. They feel that the body of the cartridge doesn't deteriorate.
Nevertheless, the coils and magnets working inside the cartridge do. That's why you should definitely get a new cartridge every couple of years.
It'll help keep the tonearm and stylus in optimal condition. Plus, having a high-quality cartridge will protect your vinyl against any possible wear and tear caused by damaged parts.