Since they first appeared on the market in the late 1930s, Dual turntables have been considered a worthy contender in the world of mid-range products. Soon after they made headway with their first record players, the company began developing and producing a wide range of audio equipment.
Included in this line of sound production were Dual cartridges. However, the problem was that the original models were no longer being reproduced. This caused audiophiles worldwide to look for a substitute that could fit into their Dual turntables without sacrificing audio quality.
So, if you're a vinyl record fan on the hunt for the best dual turntable cartridge replacement, you've come to the right place. We'll talk briefly about the history of the Dual company, then review three of the top-class cartridges currently on the market.
Let's dive in.
What Is a Dual Turntable?
It all began with the two brothers, Christian and Josef Steidinger, who lived In the southwestern region of Black Forest, Germany, at the turn of the 20th century. At the time, they were two young men who had just taken over the family business of building precision parts for clockmakers.
Then, Christian decided to start his own workshop in the basement of his new home. In addition to supplying tools and parts to the area's various clockmakers, this new workshop allowed the brothers to begin designing their new spring-loaded drive for gramophones.
Around 1912, Josef parted ways to begin his own business, which didn't really go anywhere.
On the other hand, in 1927, Christian was soon able to produce the world's first-ever 'dual-motor' record player.
At home, you can power the turntable using electricity. Then, if you wanted to take it somewhere where there was no electrical supply available, you could operate it via a spring drive similar to the inner workings of a clock.
This meant that when you bought a Dual record player, you became the owner of a portable gramophone that you could play anywhere you wanted.
People were so fascinated with the idea of a 'dual' motor that the name stuck. Then, around 1935, the company released its first-ever 'Dual Turntable' with the official brand name of 'Dual Motor' printed on the side.
A couple of years later, Christian died, and his two sons took over the business. Building on their father's legacy, the two brothers combined their business savvy and know-how and turned the company into a global phenomenon.
Unfortunately, the business did take some hard hits over the years, even declaring bankruptcy once or twice. It wasn't until the early 2000s that the company DGC GmbH was finally able to start releasing products under the Dual name once again.
Soon after, it changed its name to Dual GmbH and began designing a new generation of turntables. Their best-seller is a high-quality, made-to-order model known as 'Primus Maximumus.'
The 5 Best Dual Turntable Cartridge Replacements
Here are our top three choices for a Dual turntable cartridge replacement. Take a look.
Top Pick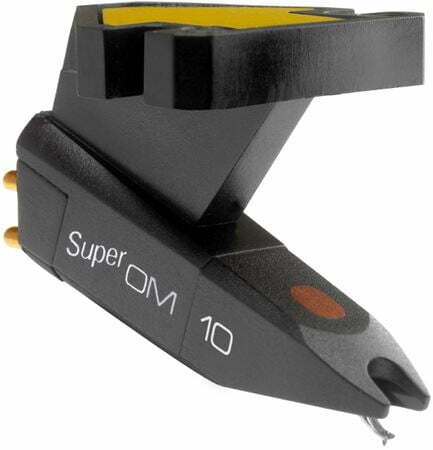 Pros
Moderately priced
Weighing only 5 grams, it's pretty lightweight to reduce record wear
New technology provides for a smooth, refined, crisp sound
Rich midrange audio
Comes in a classic black outer body design
The Ortofon OM 10 cartridge is considered one of the best overall starter cartridges on the market. It makes a great replacement for a cartridge on the 1229 Dual Turntable, as well as many other standard record players.
One of the things we first noticed is its moderate price range. It's certainly less expensive than many other Ortofon models, especially the more recent ones.
Users Also Read: Best Phono Cartridge Under $200
At the same time, it doesn't compromise on sound quality or performance. This is mainly thanks to its elliptical, also known as 'bi-radial,' diamond stylus and low mass.
Together, they help reduce the wear and tear on your vinyl records, usually brought on by damaged or worn-out needles. Not only that, but they also take sound reproduction to a whole new level.
The OM 10 is best known for its full, rich midrange sounds, particularly in the vocals. The lows and trebles are also quite impressive.
However, we have to mention that some audiophiles feel the bass is a bit lacking compared to other cartridge models on the market.
Nevertheless, it still features Ortofon's new technology and advanced design optimization. As a result, this moving magnet (MM) cartridge can produce some of the most refined sounds you'll ever hear!
Top Pick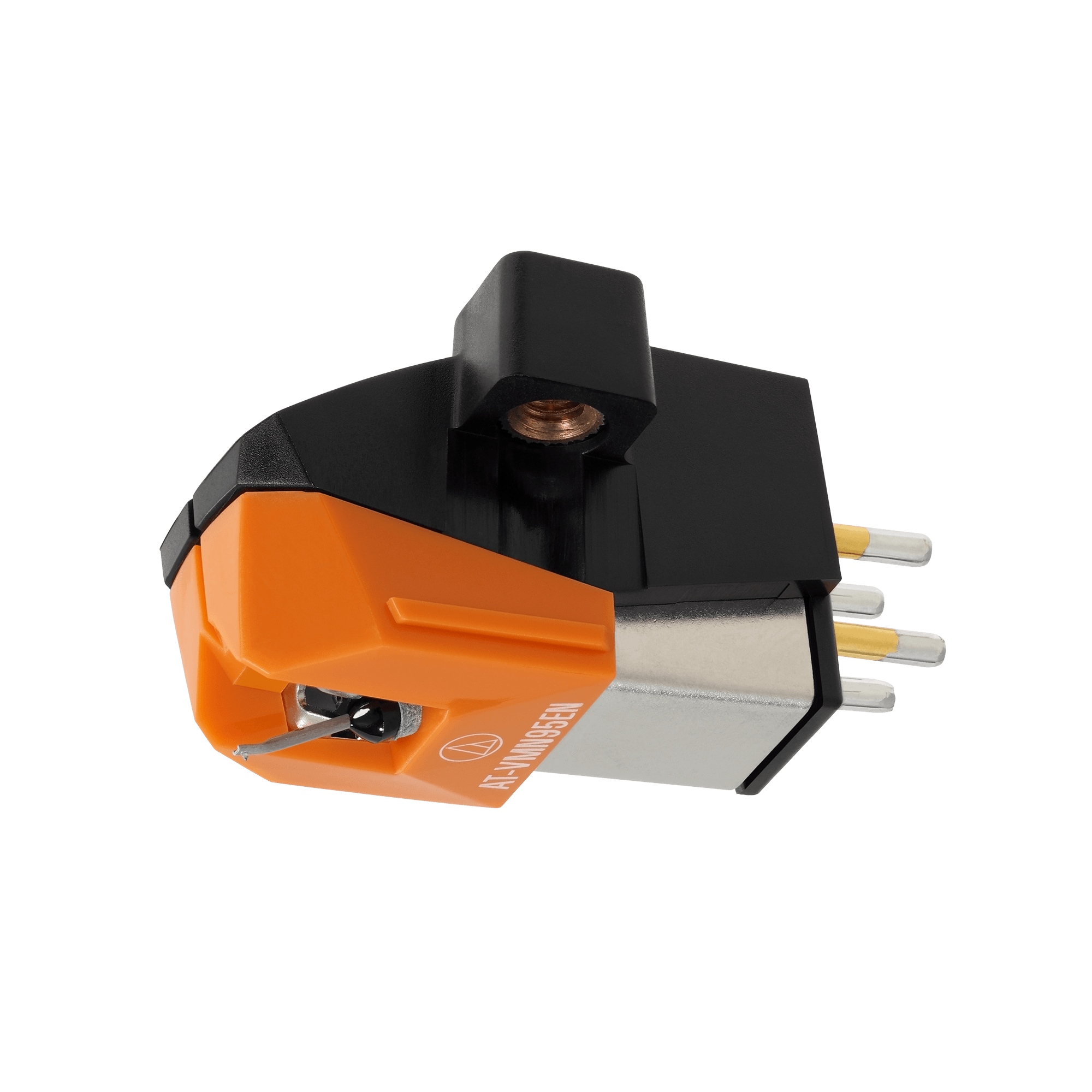 Pros
Strong, light bass
Clear vocals
Easy to mount
Long-lasting, durable design
Comes in a funky orange color
Cons
Falls into a higher price range than other models on our list
Part of the Audio Technica renowned VM95 series, the VM95EN cartridge features a dual moving magnet for first-rate hi-fi audio. In addition, its ultra-fine round tip elliptical nude stylus ensures top-quality sound performance.
We also like the aluminum cantilever and the low-resonance polymer housing. They're designed to provide superb audio quality and last many playtime hours.
Another nice feature is that the VM95EN comes with threaded inserts. This way, you can just mount the cartridge onto the headshell with only a couple of screws. Gone are the days of tirelessly turning around nuts to secure the cartridge in place.
This feature makes it great for beginners. It's also great for anyone who doesn't want to bother with screwing in cartridges for a full hour.
Plus, the VM95EN has proven to be one of the most versatile turntable cartridges on the market. Being so easy to set up and secure in place also makes it a suitable fit for a wide range of record players, from Dual to Audio Technica to countless other brands as well.
As for its tracking and audio performance, you'll be awarded accurate sound reproduction. It feels like you're sitting there right next to the musician.
It may be pricier than the other options on our list. However, it's safe to say that if you're one of those audiophiles who lives for live performances, you'll definitely get your money's worth.
Top Pick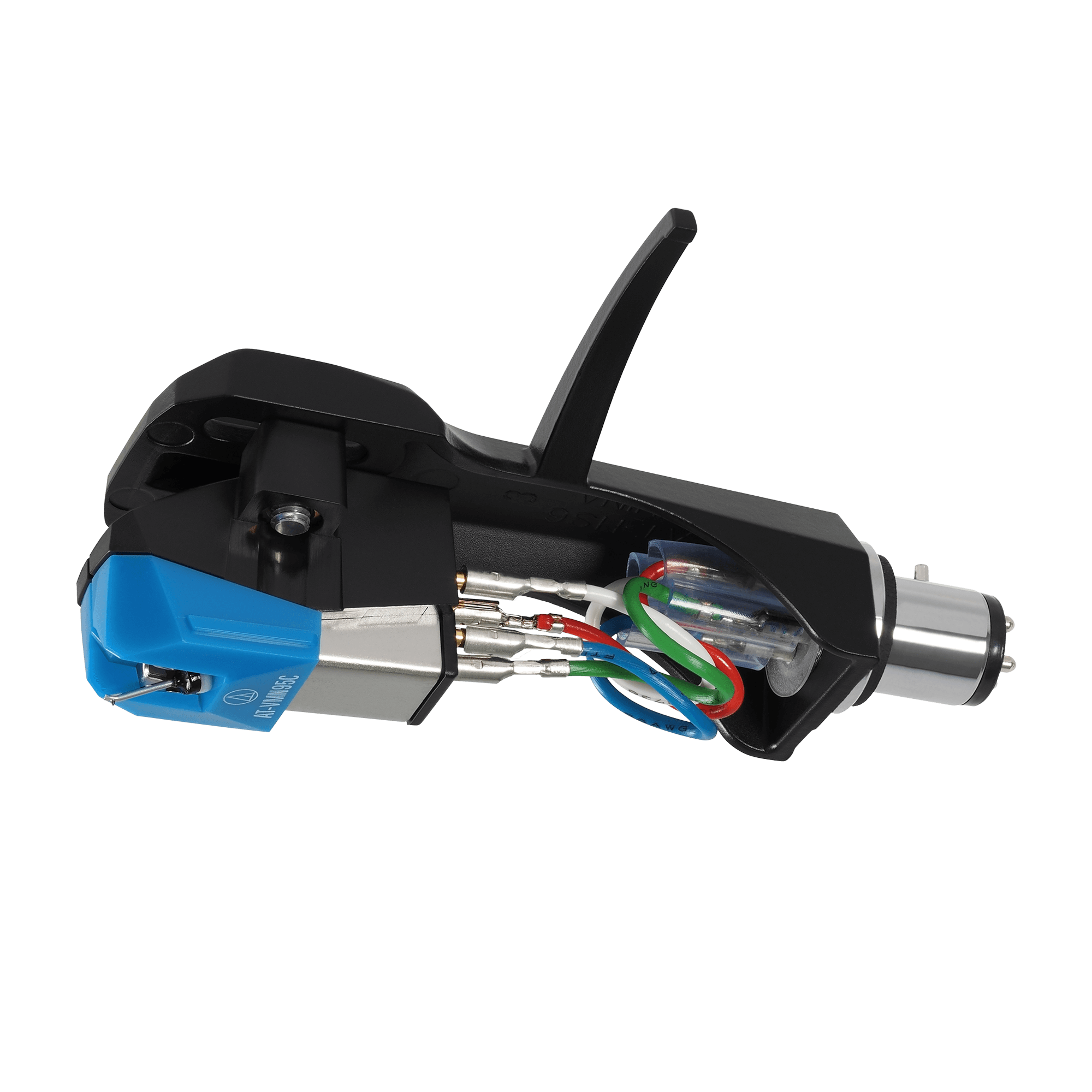 Pros
Great value for the price
Bonded conical stylus provides a distinctive sound
Comes in a subtle shade of blue
User-friendly mounting process
Features specially wound coils for increased output voltage
Cons
Doesn't seem to be as durable and long-lasting as other models on the market
For those looking for smooth vocals, then the Audio Technica AT-VM95C is the right cartridge for you. In addition, its subdued highs and lows certainly don't disappoint.
This cartridge packs a lot of energy and punch. Yet, at the same time, it's not too bright or bold that it tires you out.
One feature we found impressive is that it doesn't take a lot of hassle or fuss to tweak the sound to get it sounding just right. The design is basic and straightforward.
However, that doesn't take away from the sound. You still get smooth, crisp audio performance every time.
This could be partly due to the dual moving magnet or the 0.6 mil conical stylus. Another reason for the fantastic sound performance is that the VM95C features specially wound coils. These coils help boost audio quality as well as increase output voltage for superb tracking.
One of the reasons it's often recommended for beginners is that it's easy to set up. This quick and easy mounting process is all thanks to the brass threaded screw inserts in the body of the cartridge.
Then, of course, there's also the wallet-friendly price. The one drawback we found is that it's not it doesn't have a durable and long-lasting outer shell like some of the other cartridge models on the market.
FAQs
Take a look at some common questions regarding Dual turntables and their cartridges.
Who Should Buy Dual Turntables?
Even though you can buy a modern Dual record player today, some people feel it's not up to the same standards as the original. So, anyone who dabbles in collecting genuine turntables or is a bonafide vinyl fan would be elated at the thought of purchasing an original Dual Turntable that was made decades ago.
In fact, they're so sought out by a large portion of record collectors that there's a large market for authentic Dual turntables and spare parts. These are considered collector's items, being parts that were once manufactured by the original Dual Motor corporation decades ago and remain in circulation today.
Users also Read: Best BSR Turntable replacement
Which Dual Turntable Models Are Worth Buying?
For decades, Dual Motors had been the primary supplier of record players in Germany and other countries around the world. So, it's only natural that they'd have their fair share of bad apples that came out of their production line.
So, to help you pick out the worthy models from the not-so-worthy, here's a list of some of the good quality turntables worth seeking out: