You're walking back home from work and, as usual, reach for your earphones. During this particular walk, you decide to go through some old-school hip-hop tracks.
Wheels of Steel by Outkast shuffles on and you're met with the signature DJ-scratching sounds. If you've wanted to replicate that sound ever since, then you'll need a good turntable for scratching.
Aside from that, scratching is an essential skill every DJ should know, no matter your skill level. I mean, if you ask anyone to do a DJ impression, they'll instantly try to emulate that wicka-wicka scratching noise.
Stick around to check out our top picks and how they help you achieve that reminiscent scratching sound.
1.   Audio-Technica AT-LP120XUSB: Best Overall
The Audio-Technica AT-LP120 model reigns as the best overall turntable for scratching thanks to its affordable price and diverse features. The turntable operates on a direct-drive motor, which is highly suitable for scratching.
The feature means that the device's motor is located in the center of the turntable, which offers more responsiveness and torque. Plus, with this kind of motor, you'll be able to freely use forwards and reverse playbacks.
You can choose between three different speeds for your playbacks, namely, 33, 45, and 78 RPM.
In addition to its well-suited motor, the Audio Technica model also gives its user a range of pitch adjustments of around +-16% thanks to its pitch slider.
Read more: Sumiko Rainier Vs Ortofon 2M Blue
One of this device's main selling points is its USB port, which may allow you to transfer the vinyl record music to your PC.
Apart from that, the Audio Technica is fitted with a Dual Magnet phono cartridge and an S-shaped tonearm.
The moving magnet cartridge option may not be the best in sound quality compared to a moving coil option. Nonetheless, it mainly lowers the price of the turntable.
Meanwhile, an S-shaped tonearm is beneficial since they give you the option to detach the headshell.
Pros
Versatile pitch control
Range of speed playback choices
Includes a slip mat
Cons
Its plastic plinth material could affect its durability
2. Technics SL-100C-Runner Up
Technics is one of the most reputable brands in the turntable industry. To demonstrate, the first direct-drive turntable, the SP-10, was designed by the company's founder, Hideo Matsushita. After years of fine-tuning developments, Technics has come out with the SL-100C turntable.
This model is notably a retake of the company's famed SL-1200 turntable. It features a direct-drive motor as well as an aluminum S-shaped tonearm.
Additionally, the turntable is equipped with a moving coil cartridge. This type of cartridge provides more detailed sound retrieval features. Plus, its lightweight structure allows it to move faster than a moving magnet cartridge.
On top of that, the Technics model also offers a high-rigidity plinth which reduces vibrations. Meanwhile, the platter is made from aluminum and rubber dual layers, this, in turn, eliminates any unwanted resonance.
With a cone-shaped stylus, the turntable is highly suitable for scratching. Having said that, the Technics turntable has an auto-lifter, which protects its stylus and your record from potential damage. This feature doesn't use motor power to prevent any vibrations from affecting the record.
Pros
Smooth minimalist design
Sensitive tonearm for more accurate record reading
Audiophile-grade cartridge
Cons
The product may prove costly
3. Numark PT01-Best Budget Choice
If you're a beginner DJ, you may not want to go all out when purchasing a turntable for your scratching needs. For this reason, the Numark PT01 may be an ideal choice since it's budget-friendly.
In addition to its affordability, the Numark turntable is also portable. The device is battery-operated and requires 6 D batteries. Nevertheless, it also comes with an AC power outlet.
Plus, you can connect it to your phone or speakers through an AUX cord. The product includes a ⅛ inch input, ⅛ inch output, and ¼-inch output connections.
Other than that, the Numark offers an adjustable scratch switch feature making it a perfect option for beginner DJ scratchers.
Pros
Wallet-friendly
Portable
Comes with a slip mat
Cons
Belt-drive motors may not perform as well as direct-drive motor options
4. Pioneer DJ PLX-500
Like Technics, Pioneer is also one of the big names in the turntable industry. The company offers over 50 years of expertise in the field.
With that in mind, the Pioneer DJ PLX-500 model is one of the organization's most successful creations.
It's designed for analog enthusiasts and professional performers alike. This turntable can take your scratching game to the next level with its short S-shaped tonearm and high-performing analog playback.
Speaking of which, you can't go wrong with this model's playback mode since it comes with a built-in preamplifier and headshell.
The direct-drive motorized turntable is also fitted with USB outputs so you can digitize your music recordings. Plus, the Pioneer DJ PLX-500's platter is made of an aluminum die-cast making it relatively lightweight.
Nevertheless, aluminum may be regarded as a weak material for platters and susceptible to resonance as well. To counter that argument, aluminum's lightweight structure could make it better paired with direct-drive motors.
Apart from that, the turntable provides some versatility in its color design since it comes in either black or white.
Pros
Offers a direct-drive motor which is more suited for scratching
Connectable to external devices through its outputs
Comes with a dust cover
Cons
Non-durable plastic plinth
5. Reloop RP-7000
The Reloop RP-7000 turntable has comparable quality and appearance next to Technics options, which says a lot. It offers a lower price and several functional features. Some of these include an electronic pitch control, a torque adjustment knob, and RCA output sockets.
Speaking of pitch control, the turntable model is equipped with several options ranging from +-8%, +-16%, and +-50%.
The Reloop is fitted with other control knobs that allow you to lock the tempo and reverse. On top of that, the turntable has an additional start or stop button on the top-left corner of the device. This is to make it more accessible for scratch DJs.
In addition to this, the Reloop model also has a protective cover for the on and off buttons. This is perfect if you intend to use the turntable professionally.
For example, imagine clubbing through the night and accidentally hitting the off button. This is when the protective lip has got you covered.
Overall, the Reloop RP-7000 is all about the details, making it best for professional use.
Pros
Height-adjustable tonearm available
Anti-skating control feature
The direct-drive motor provides a stable spin
Cons
No lids are provided to cover the turntable
6. Pioneer DJ PLX-1000
From the Pioneer DJ PLX-500, we're moving on to the upgraded PLX-1000 model. If you're a professional DJ, then this turntable is worth considering. Its main selling feature is its high-torque direct-drive motor.
To demonstrate, it can reach a 33 ⅓ RPM rate in an impressive 0.3 seconds. Aside from torque, the PLX-1000 is designed with a highly durable zinc chassis to avoid resonance and vibrations. Structurally, the bottom part of the turntable is fortified with an 8 mm-thick resin layer.
In regards to its tonearm, it's composed of a rubber-insulating material which is beneficial in vibration absorption.
Similar to the Reloop RP-7000, the Pioneer PLX-1000 also includes the same pitch controls ranching from +-8%, +-16%, and +-50%.
Pros
High-torque direct-drive motor
Strong die-cast zinc material for chassis
Flexible pitch controls
Cons
Does not include a stylus or cartridge
7. Audio-Technica AT-LP140XP
The Audio-Technica LP140XP is a popular choice in the DJ community. Who could say no to a reasonable price and high-torque direct-drive motor?
Its rotation features varied speed options, including 33 ⅓, 45, and 78 RPM. Plus, the turntable can allow you to experience some exceptional speed stabilization.
That being said, the Audio-Technica model also comes with an S-shaped tonearm with adjustable height features. Cartridge-wise, the turntable comes with a moving magnet option which provides a high-volume output.
Another noteworthy feature of this turntable is its stroboscopic platter, which you can reference the movements of the record with. Plus, you also get a popup stylus target light. Its main function is to assist you with finding the right track in your record, especially in a dark setting.
Pros
High-speed direct-drive motor
Stroboscopic platter
Stylus target light assist
Cons
Not fit for hi-fi fans due to the over-pronounced audio sound
8. Reloop RP-2000 MK2
Unlike its RP-7000 counterpart, the Reloop RP-2000 is more fit for starting DJs. If you're still launching your music career and don't want to drop all your eggs in one turntable basket, then this option is worth a look.
Its pitch control is limited to one adjustment at +-8%. The turntable operates with a direct-drive motor while avoiding any wow or flutter.
As for its tonearm, it's S-shaped and is fitted with a hydraulic lift and anti-skating mechanism. The cartridge region is easily detachable as well.
User Also Read: Best Phono Cartridge Under $200
At first glance, the device's design is sleek with a quartz-lined direct-drive. Its panel is made out of a sturdy metal surface. The turntable's on and off buttons are similarly metallic as well.
Meanwhile, the Reloop model also offers a target light to view the line of the record's track in dark areas. Overall, the build of this turntable is exceptionally strong which enhances its vibration absorption capabilities.
Pros
Modern sleek design
Target light feature
Ideal for beginners
Cons
Doesn't have a USB port connection
9. Denon DJ VL12
Unlike other companies mentioned, Devon DJ specializes solely in DJ equipment. They provide other lineups of DJ mixers, players, controllers, interfaces, and standalone systems.
Let's look at their Denon VL12 model. This turntable can be used by professionals and enthusiasts. Having said that, the device offers one of the highest torques in the industry reaching up to 5kgf per cm.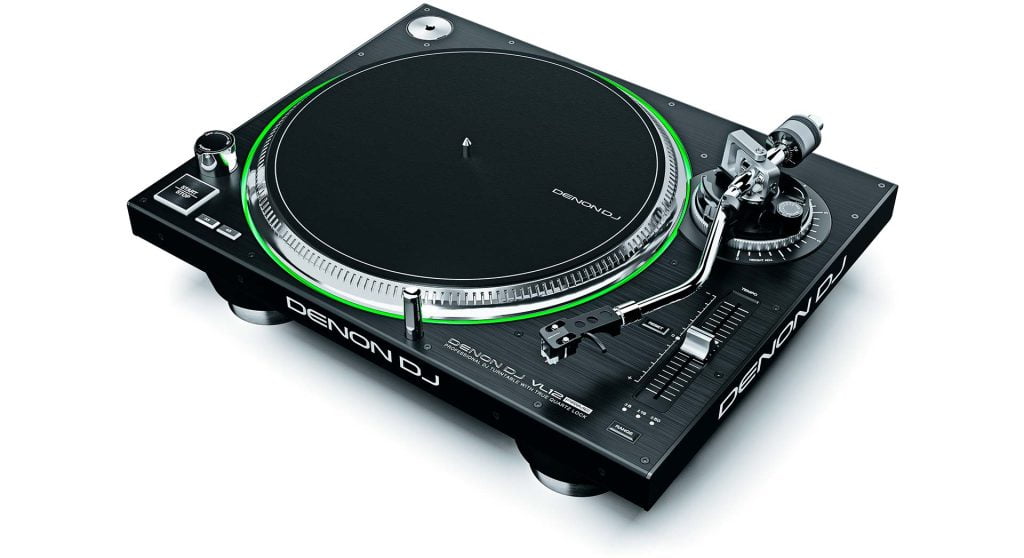 Another prized feature of the Denon turntable is its pitch control which ranges between +-8%, +-16%, and +-50%. Speed-wise, you can choose between 33 ⅓ and 45 RPM.
Aesthetically speaking, the turntable comes with a glowing LED platter ring, making it perfect for club and party scenes.
In addition to this, the direct-drive motorized device is fitted with feet for sufficient shock and vibration absorption.
If you look at the Devon VL 12's tonearm, you'll notice a little support with a lock and rest feature. Speaking of the tonearm, it's S-shaped which makes detaching the cartridge easier.
Aside from that, the product's plinth material is composed of plastic, which may be off-putting considering its relatively high price.
Pros
LED lighted platter
High-speed motor
Tonearm adjustable support
Cons
The product is relatively high-priced
Buyer's Guide For Turntables
If you're unsure what to look for in your turntable, you can use our buyer's guide to assist with your purchase. That way, you'll find a suitable option by weighing in the features such as its platter, motor, and tonearm.
Belt-Drive vs. Direct-Drive
Turntables are usually either equipped with a belt-drive or a direct-drive. These choices ultimately decide the spinning mechanism of your turntable's platter.
A direct-drive turntable has a motor directly underneath the platter that turns it. Meanwhile, a belt-drive, as its name would suggest, uses a pulley system. It has a thin belt wrapped around the spindle under the platter that pulls and rotates it. Plus, its motor is not in the center.
Which One is Best for DJs?
For DJs that particularly enjoy lots of scratching, a direct-drive is the best option. With scratching, you'll want a strong motor with adequate torque. These characteristics are more present in direct-drive motors.
Pitch and Speed Control
Scratching can easily make an unpleasant noise with the wrong pitch controls. For this reason, as you browse for turntables, find ones with a generally wide range of pitch control.
Similar to pitch, speed control will also help you create customizable scratch sounds, making the turntable more versatile.
Plinth
The plinth of a turntable is its base. You can choose between a variety of materials such as wood or plastic. This choice can rest upon your personal preference or budget.
Keep in mind that a durable material will provide your turntable with a longer lifespan and overall refined sound quality.
Related: Sumiko Pearl vs. Ortofon 2M Red
Platter
The platter is where your record will go. Like the plinth, platters are also offered in multiple materials such as plastic, acrylic, or metal.
Platters mostly function to stabilize the record and its vibration as it oscillates. The stronger the material, the higher the performance of the turntable.
Tonearm
The tonearm is fitted with a cartridge and needle This device comes in varied shapes and sizes. It can come in an "S" or "J" shape.
Generally, both are adequate options for scratching. Some DJs may prefer straight-shaped tonearms since they're more likely to stay in their groove lane. In terms of size, tonearms can range between 9 to 12 inches in length.
Cartridge
Cartridges, for the most part, come in two different kinds, moving coil and moving magnet. Both provide different advantages and drawbacks. For instance, a moving coil cartridge moves a lot quicker than its moving magnet counterpart.
Nevertheless, it's usually higher priced. Meanwhile, moving magnet cartridges are heavier and give off a louder volume. When it comes to scratching, both cartridges are sufficient options, but moving coil cartridges are typically better in terms of sound quality.
Needle
The needle, also known as a stylus, is what hits the record and triggers the sound in your turntable. As the needle makes contact with the record, it moves smoothly along its walls.
These walls or grooves vary in depth and width which allows them to produce the diverse sounds you hear and love.
Styluses are provided in several shapes such as micro-ridge, elliptical, and shibata options. The most well-suited shape for scratching is the spherical or cone-shaped needle.
FAQs
Can You Scratch Records On A Turntable?
Yes, scratching or scrubbing the records on a turntable involves moving the vinyl record forward and backward. Subsequently, this technique produces a unique and rhythmic sound that appeals to several genres.
Can You Scratch On Belt-Drive Turntables?
You can use a belt-drive motorized turntable for your scratching technique. Nonetheless, it's not recommended since the belt can ultimately lag and cause a lack of response in the turntable. Instead, a direct-drive motor is more suitable for scratch DJ techniques.
Does Scratching Vinyl Damage Its Needle?
No, the needle is usually composed of a tough material such as diamond or sapphire. Contrastingly, vinyl records are made of plastic. That being said, the needle will likely fair well against the vinyl record.
How Many Times Can You Play A Record Before It Wears Out?
If the record is well-maintained, it can last for up to 100 plays. Over time, you may notice some deterioration in sound quality. Besides that, the lifespan of a record depends on the turntable equipment handling. One wrong turn can cause irreversible damage to your record.
Do Scratched Records Still Play?
It might play, but only at a certain point until it eventually skips. If the record has a deep scratch, then it could potentially get stuck. Overall, a scratched record will probably interrupt the music and even worsen the condition of the record as well.