The phono cartridge has a crucial effect on the audio quality coming from your turntable since it directly touches the vinyl records to pick up sonic signals.
As such, listening to your favorite rock music records is only as enjoyable as your cartridge allows.
In today's article, I'll help you find the best phono cartridge for rock music by reviewing the top 3 candidates on the market and sharing some helpful tips. Let's jump in!
How I Rounded Up Phono Cartridges for Rock Music
I started by searching the web for cartridges with impressive sound quality, particularly in the bass aspect. I also made sure they offered good treble and highs while effectively handling surface noise and groove distortion.
Next, I eliminated cartridges based on ratings, users' reviews, and various budgets to end up with the top-performing options at various price points.
In the end, I tested the final candidates to determine how they compare and create a list.
Reviews of the Top 3 Phono Cartridges for Rock Music
1. Best Overall: Denon DL-110 High Output Moving Coil Cartridge
Top Pick: Denon DL-110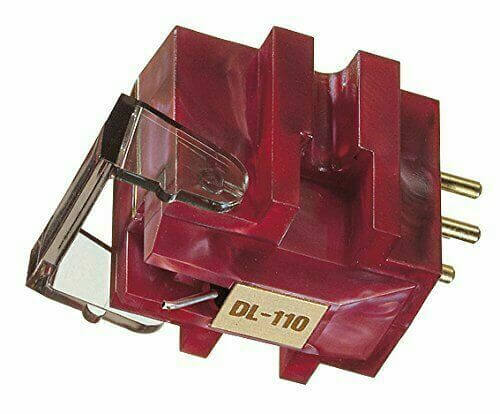 Pros
Amazing balance with punchy bass and silky highs
Easy to set up with no loading issues
A great sound stage with a hint of warmth
Cons
A bit pricey
Can take a while to break in
If you're looking to achieve an incredible listening experience while getting the most value for your money, I believe the DL-110 from Denon is right up your alley! Spending some time with this cartridge and I can really tell they didn't cut any corners to make their moving coil unit every bit as good as a moving magnet cartridge.
The DL-110 is a high-output cartridge. At 1.6 mV, it can generate a power matching that of most moving magnet cartridges out there. It's also easy to set up and align on a wide range of turntables thanks to the featured 1/2-inch mount system.
This means you can install the DL-110 directly to the moving magnet interface of just about any amplifier without the need to fit an extra component such as an adapter or a step-up transformer.
The audio profile of the Denon DL-110 is very well-balanced and overall pleasant. It retains minimal to no vibrations, courtesy of its dual-structure cantilever, cross-shaped body, and single-point core support mechanism complete with suspension wires.
As for the sound quality, the DL-110 is simply remarkable. The soundstage is big, the treble is beautifully detailed, and the highs are clear and silky with impressive extension and no annoying harshness.
The midrange is strong and prominent, whereas the bass is consistent, deep, and intense to give a rich tone. Also, the DL-110 does an excellent job managing IGD (inner groove distortion), taming sibilance, and cutting through/reducing surface noise on records that have seen better days.
All these elements work together to create a perfect performance with a hint of warmth for rock and metal music lovers.
When it comes to installation, be sure to take your time and do it properly to enjoy everything the Denon DL-110 has to offer. You may find that it takes some time to break in, but listening to its glory is so worth it.
Note that the total weight of the DL-110 is 4.8 grams and its tracking force is 1.5 to 2.1 grams. This gives you more room to adjust the counterweight on your tonearm.
Related: Denon DL-110 vs. DL-103
2. Runner-Up: Ortofon 2M Bronze Moving Magnet Cartridge
Ortofon 2M Bronze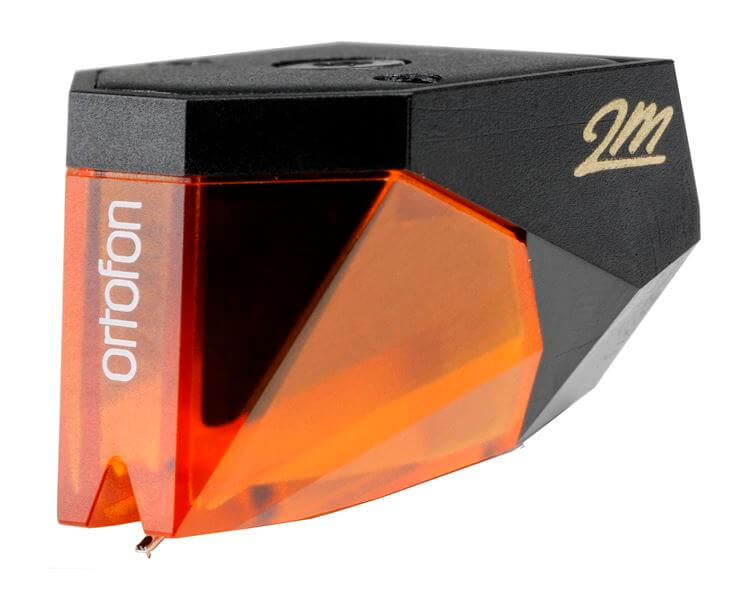 Pros
High-quality construction
Outstanding sound resolution
Easy and cost-effective upgradability to the premium 2M Black
Cons
The most expensive option on today's list
It may be a bit too high-pitched in some systems
A close second to the Denon DL-110 is the Ortofon 2M Bronze. Its performance is truly incredible and while it costs a little more, I think that's totally justified.
If you're interested in vinyl systems, then you're probably familiar with the popular 2M series from the well-known Danish manufacturer; Ortofon. Within the lineup, the bronze cartridge is one of the high-end models, with only the premium 2M Black exceeding it.
When we compare the 2M Bronze with the less advanced 2M cartridges, the 2M Bronze proves to be a major upgrade from the 2M Red and a notable step up from the 2M Blue.
Related: Ortofon 2M Blue vs. Bronze
In addition to their different colors, the performance of the 2M Bronze is far superior whether we talk about the clarity of the details or the richness of the audio. It produces sound with amazing openness and resolution where the trebles are prominent and the highs are smooth.
Also, the bass is solid and punchy with fantastic dynamics. All these elements combined with a great soundstage make the 2M Bronze ideal for rock, jazz, and metal genres.
This moving magnet cartridge is equipped with impressive tracking capabilities -especially high frequencies- thanks to the included nude fine-line diamond stylus. This stylus also reduces inner groove distortion significantly while eliminating screeching and overpowered noise.
The 2M Bronze will bless your turntable with excellent instrument separation and precision. But keep in mind that this lively cartridge may come off a bit too bright in some systems, so brace yourself with a reliable preamp to resolve the issue if you prefer warmer sounds.
Finally, the design of the 2M Bronze shares the same engine as the 2M Black. This allows you to upgrade to the 2M Black stylus without having to pay the full price of the cartridge.
GRADO Prestige Gold 3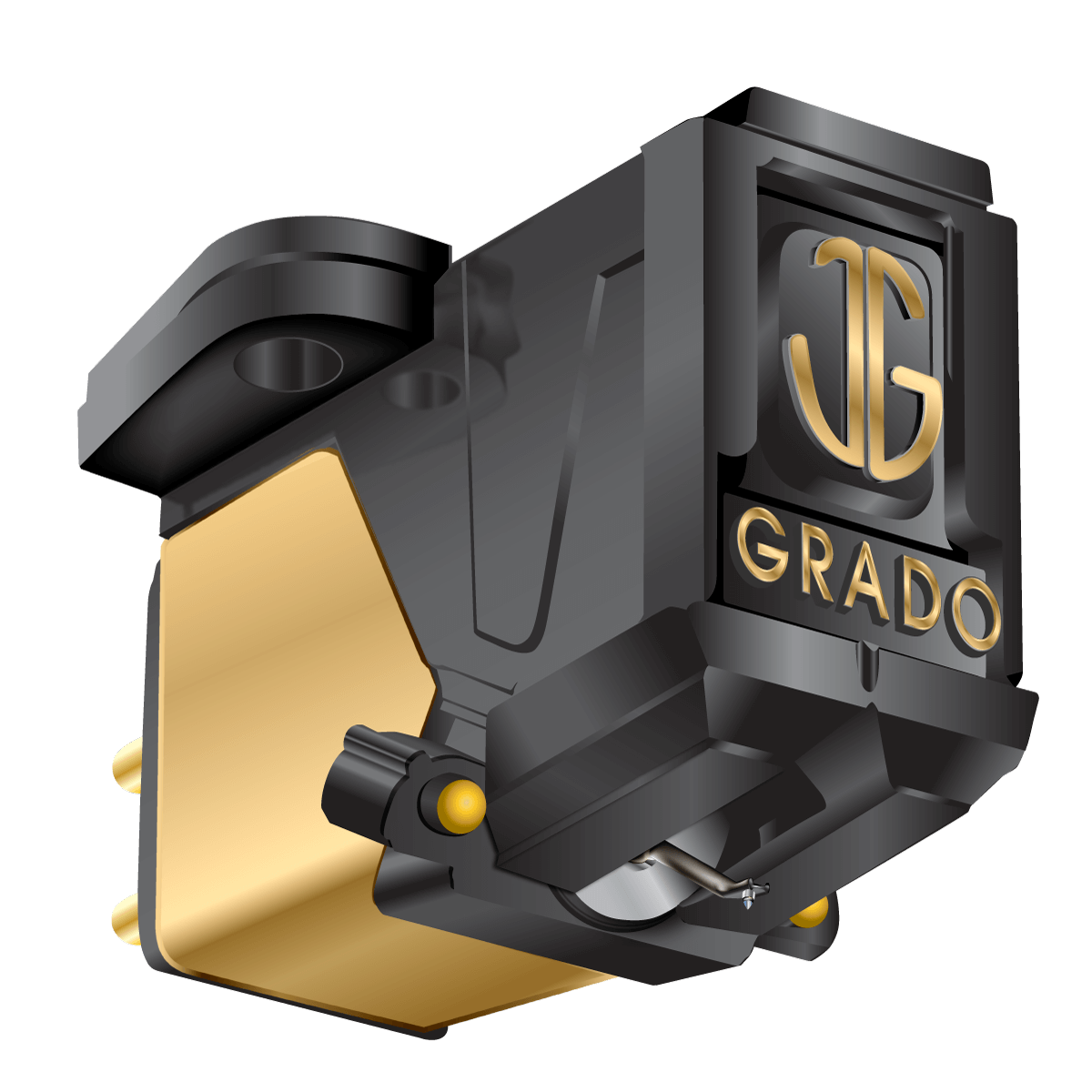 Pros
The bass is exceptional
No screeching or muddiness
Effective reduction of distortions
Good value for money
Cons
A slight hum can result from improper mounting
Last but not least, the Prestige Gold 3 is my recommendation for a budget-friendly cartridge that plays rock like a champ.
Grado's cartridges are pretty popular thanks to consistent performance and reliable quality. One of the manufacturer's top-selling lineups is the Prestige series and not only because it includes the most cost-effective models, but also thanks to high clarity, remarkable sensitivity, and impressive details.
The Gold 3 phono cartridge ranks 1st within the Prestige spread. It delivers an extra punch in bass and treble that hits the sweet spot for rock and jazz lovers. If I had to pick one element where the Grado Gold 3 shines, it'd be the solid but not muddy bass.
Additionally, this cartridge does a fine job minimizing background noise and improving sound fidelity with the help of the 4 copper coils that support smooth signal transfer and the integrated dampening design of the housing.
The Prestige Gold 3 comes with a practically universal fit that makes it compatible with most turntables on the market thanks to its standard 1/2-inch mounting system. What's more, you can also install this cartridge on a tonearm with a P-mount system by tweaking it a bit.
To enhance accuracy, openness, and resolution, the Prestige Gold 3 uses a bonded diamond elliptical stylus.
Speaking of which, all the cartridges in the Prestige lineup have interchangeable styluses, so if you already own the Blue 3 or the Black 3, you can swap its stylus and save some cash.
Related: Ortofon 2M Red vs. Grado Black 3
Make sure to take your time when setting up the Gold 3. Without proper alignment, you might hear a faint hum.
Tips to Consider Before Buying a Phono Cartridge for Rock Music
Keep the following tips in mind when choosing a phono cartridge for rock music:
It's best to opt for elliptical or micro linear styluses instead of conical ones. The former sounds better and lasts longer.
If possible, always go for cartridges that support interchangeable styluses. This will save you money down the road when it's time for an upgrade or replacement.
Choose a cartridge that you can align easily. It should come with the necessary tools for mounting.
Be aware of the mounting system of your turntable. The standard is the 1/2-inch type but yours can also be a P-mount.
Best Phono Cartridge for Rock Music: FAQs
How Long Does a Phono Cartridge Last?
The longevity of a phono cartridge depends on various factors such as the material of the stylus and the frequency of use. Under average conditions, any phono cartridge can last between 400 to 600 hours without any audible change.
But nowadays, manufacturers are using sturdier materials and newer technologies to extend the lifespan of their cartridges. As such, you'll find many cartridges lasting for up to 1,000 or even 2,000 hours.
Ultimately, it boils down to the durability rating for the specific cartridge you have. That said, you can get more playtime out of your cartridge with proper care.
Related: Grado Black 1 Vs. Ortofon 2M Red
How Do I Maintain My Phono Cartridge?
To keep your cartridge in good condition, you should clean it regularly at least once every 7 or 10 days.
Use a small brush (usually included with the cartridge) to remove dust from the stylus. Make sure you're gentle and pay extra attention to the tip of the stylus because a buildup of dust there results in quick wear down.