Any vinyl enthusiast knows that the phono cartridge is one of the key elements in a turntable setup.
After all, it's the only component that comes in direct contact with the vinyl records, majorly affecting the quality of the system's sound output and your listening experience.
Whether you've worn down your current cartridge and need to replace it or you're looking to upgrade to a more capable unit, a budget of $500 is more than enough to provide you with something truly impressive.
The problem is, there are dozens upon dozens of phono cartridges on the market that you'll be able to afford, so shopping for the right one can get pretty confusing. This is exactly where I come in!
In today's article, I'll help you find the best phono cartridge under $500 by reviewing the top 5 options available within that price limit and sharing a handy buying guide. Let's get started!
How I Select Phono Cartridges
The first step I took in my mission today was to research dozens of pages on the web to find all reliable phono cartridges that fall below the maximum price tag regardless of their popularity.
This is to ensure that the products I've included in my list of the top phono cartridges under $500 are the best possible options.
The next step was to begin eliminating options based on users' reviews and ratings across various platforms. Once I was left with a selection of the top-performing cartridges in this category, I started testing out each one.
I wanted to determine how the cartridges compare in aspects such as sound quality, ease of installation, and compatibility with different turntables.
To guarantee a high level of accuracy for the results, I worked while eliminating most of the variables in equipment types and conditions. Additionally, I used a wide range of audio samples while testing the cartridges to highlight different sound characteristics such as bass and treble.
These measures allowed each cartridge a fair chance against its competitors.
Finally and after careful reviewing of the results, I've put together today's list to include only the phono cartridges that performed better than the rest.
Recommended: Nagaoka MP-110 Vs. Ortofon 2M Red
Top 5 Phono Cartridges Under $500
My search for the best phono cartridges that cost no more than $500 has led me to options in the section below.
Here, I'll walk you through what each candidate has to offer, so you can choose the right one for your audiophile needs.
If you're looking to enjoy the most premium quality that $500 can buy, you should consider the bronze model from the 2M series manufactured by the renowned Danish company; Ortofon.
The 2M Bronze is a high-end option within the 2M range, second to none other than the 2M Black. It's a huge step up from the 2M Red and notably ahead of the 2M Blue.
Aside from the color, the performance of the 2M Bronze vs the 2M Blue cartridge is very clear in the richness and details of the sound. Not to mention, the bronze sibling offers improved audio resolution, punchier bass, clearer treble, and more pronounced highs.
You'll never hear the 2M Bronze screeching or overpowering. It's equipped with unmatched tracking thanks to the featured state-of-the-art Nude Fine Line diamond stylus, which also keeps inner groove distortion to a minimum.
The Ortofon 2M Bronze shows off a compact, sleek design with an easily upgradable engine. So, whenever you decide to take your turntable setup to the next level, simply swap the 2M bronze stylus with the 2M Black stylus for elite sound quality and durability.
Ortofon 2M Bronze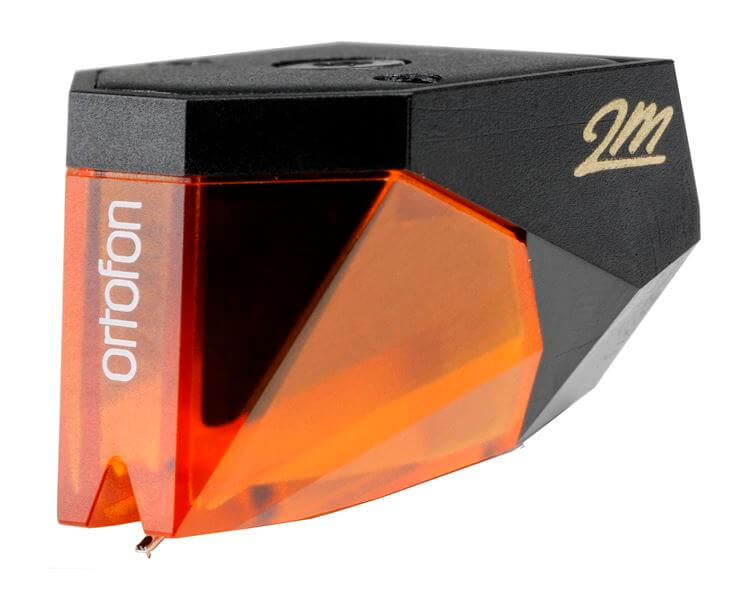 Pros
Built with high-quality materials
Amazing sound resolution
Looks very elegant
Easily upgradeable to the elite 2M
Cons
The most expensive price tag
If you're after remarkable durability and exceptional sound quality, you should add the Audio-Technica VM750SH to your shortlist. This phono cartridge offers a great balance between performance and cost-effectiveness.
For starters, it's equipped with a fantastic nude Shibata diamond stylus, allowing for excellent groove tracking and impressive sturdiness. It also picks up on the finest of details so you can enjoy every single instrument and vocal.
Additionally, the VM750SH houses a die-cast tapered aluminum cantilever. Compared to standard aluminum cantilevers, this one is a lot more rugged for better performance and longevity.
This unit from Audio-Technica also features dual magnets to enhance the matching of the right and left channels in stereo record grooves. As such, it delivers outstanding channel isolation and wider frequency response.
Not to mention, the solid construction supports improved resonance resistance and reduces inner groove distortion.
Audio-Technica VM750SH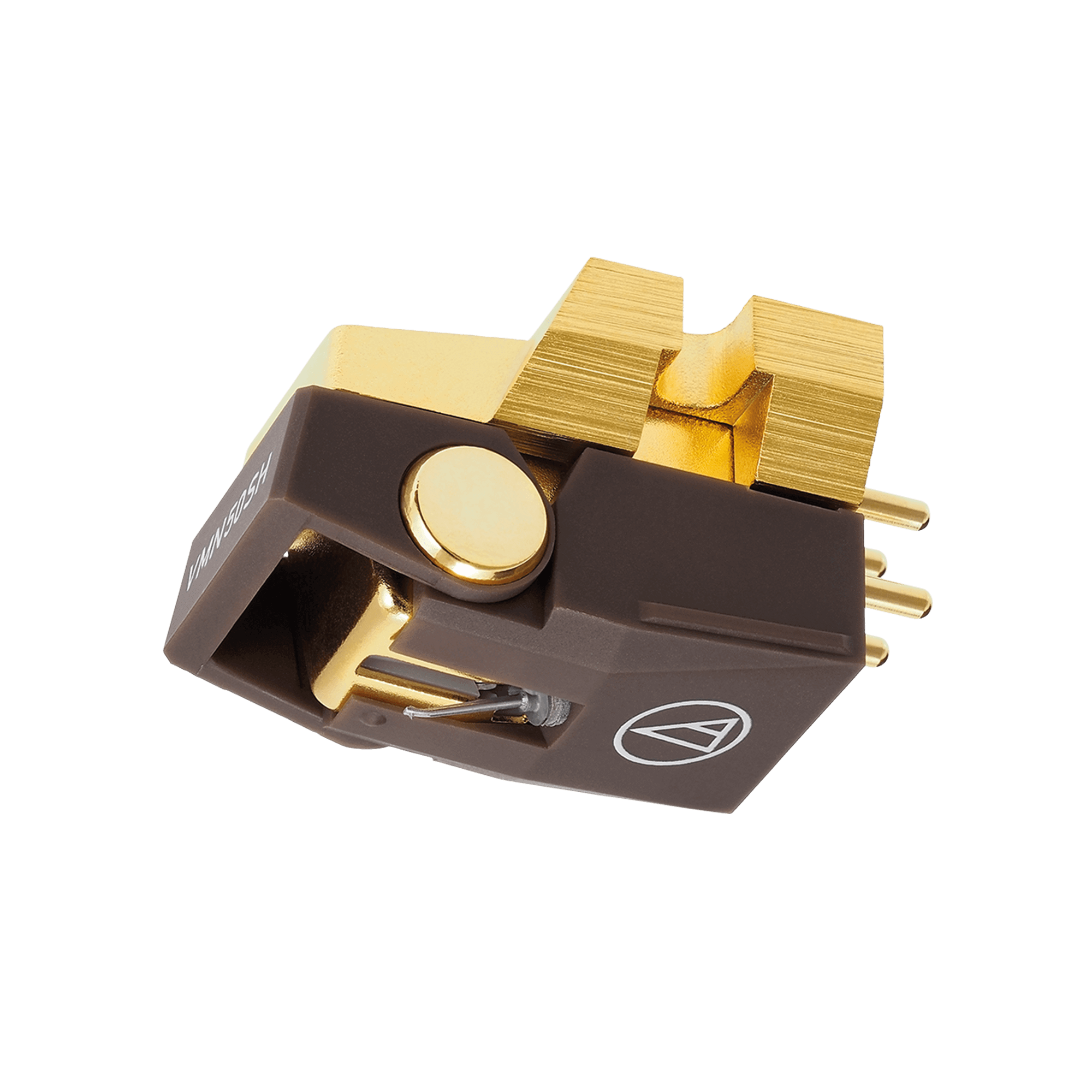 Pros
Great tracking and detailing
Impressive longevity
Lots of value for money
Cons
Maintenance can be a hassle
The legendary DL-103 cartridge by Denon is exactly what happens when quality meets value. Its high-fidelity audio, impressive details, and simple design make for a timeless phono cartridge.
It's also very easy to install since it's compatible with pretty much every turntable system out there. The sound transfer is enhanced thanks to the incorporated moving coil mechanism.
Unlike most phono cartridges close to today's budget, the DL103 features a conical stylus.
This is because it was introduced in 1962 to be used in broadcasting where clean, low-distortion playback is essential.
The conical shape is the only stylus that offers the preferable symmetrical geometry to the groove walls for improved broadcasting.
Denon DL-103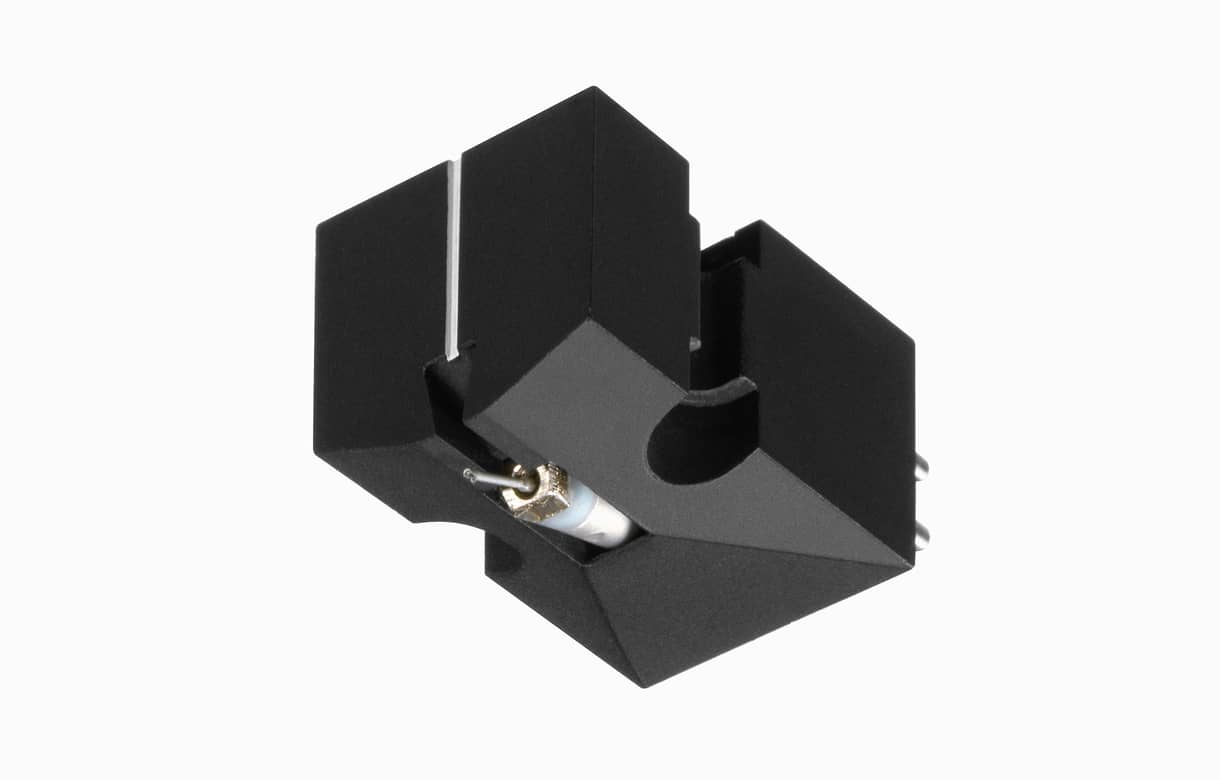 Pros
Excellent for broadcasting purposes
Incredible audio range
Classic, durable design
Cons
The tracking force is high, so you should be careful when setting up
Sometimes, the treble may be a little flat
If you're searching for a relatively affordable phono cartridge that'll save you a couple of hundred dollars while sounding clean and lively, then the VM540ML from Audio-Technica should be right up your alley!
It comes with a dual magnet cartridge and a nude micro linear stylus for superior performance compared to any budget option on the market. It has an extended frequency response ranging from 20 Hz to 27,000 Hz.
This unique design of this phono cartridge enables it to trace all the grooves of your vinyl record. Not only does this mean less distortion, but it also helps play worn-out and old records.
Additionally, the micro linear stylus on the VM540ML grants it improved longevity for up to 1,000 hours of playtime without audible changes. It features a tracking force of 1.8 to 2.2 grams.
The tapered aluminum cantilever keeps the overall weight of the unit less than 6.5 grams. What's more, the dense polymer material of the cartridge housing of the cartridge ensures it stays as lightweight as possible while maintaining resonance resistance and sturdiness.
Finally, the Audio-Technica VM540ML package includes all the tools necessary for installation and maintenance. You may run into some trouble aligning the cartridge, but it'll eventually work out.
Audio-Technica VM540ML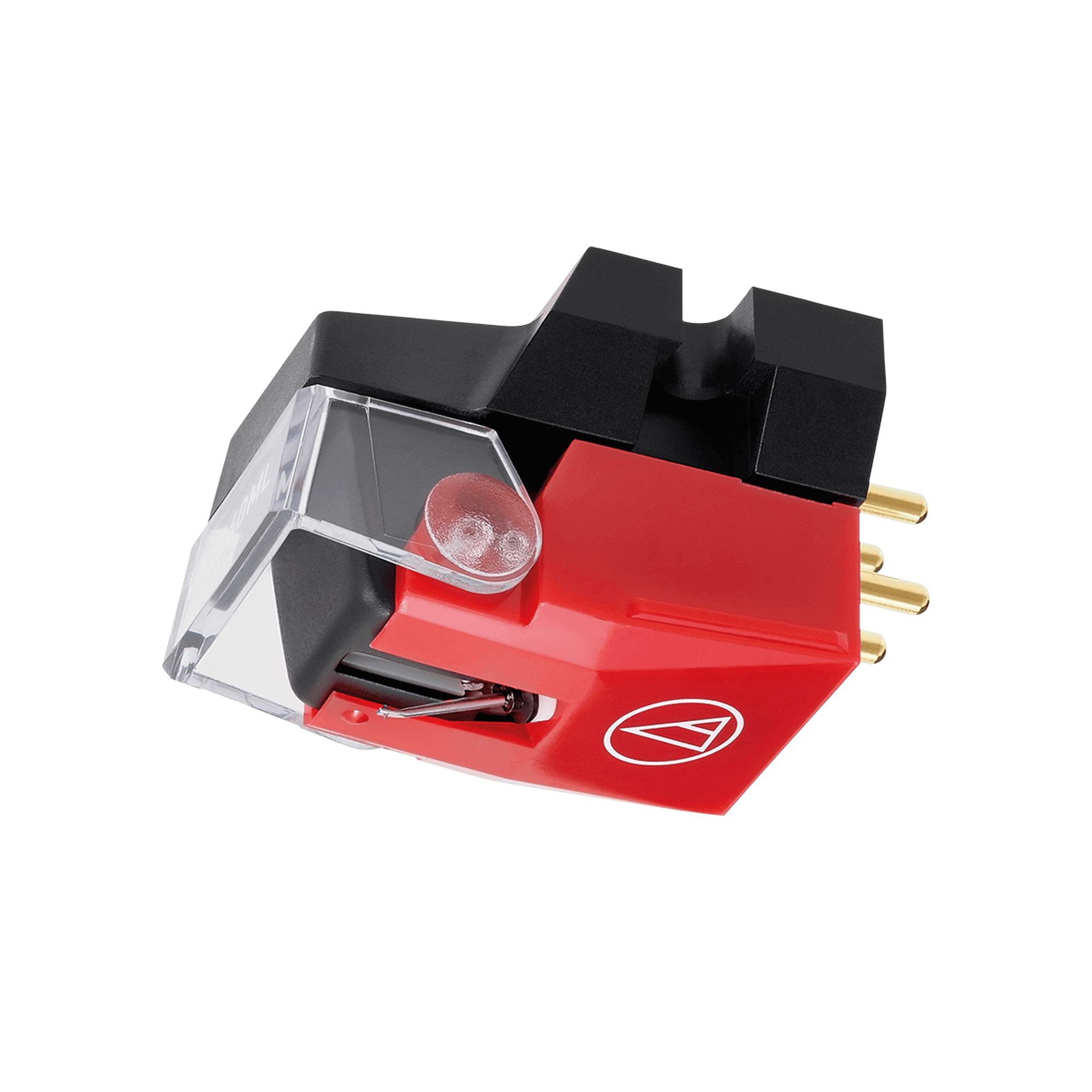 Pros
A budget-friendly option
Has a micro linear stylus to enhance the resolution
Effectively minimizes distortion
Cons
Cartridge alignment isn't smooth sailing
Last but not least, we're discussing the Nagaoka MP-150 phono cartridge. If you're familiar with the Nagaoka MP-110, this model is the next level.
The Nagaoka MP-150 carries an elliptical diamond stylus, so it makes for a fine upgrade from any stock cartridge. I like the channel separation of this unit, rated at 24 dB (at 1 kHz).
The frequency range is 20 to 20,000 Hz whereas the channel balance is 4.5 mV. Once again, this is an improvement from the standard 5.0 and 5.5 mV of budget cartridges.
The hardened tapered aluminum cantilever on the MP-150 adds to the longevity of the model. It also guarantees a reduced weight for impressive accuracy of audio reproduction.
Using this cartridge, you can expect an overall crisp and smooth sound, especially the highs and mids. Nothing is particularly harsh or edgy.
Nagaoka MP-150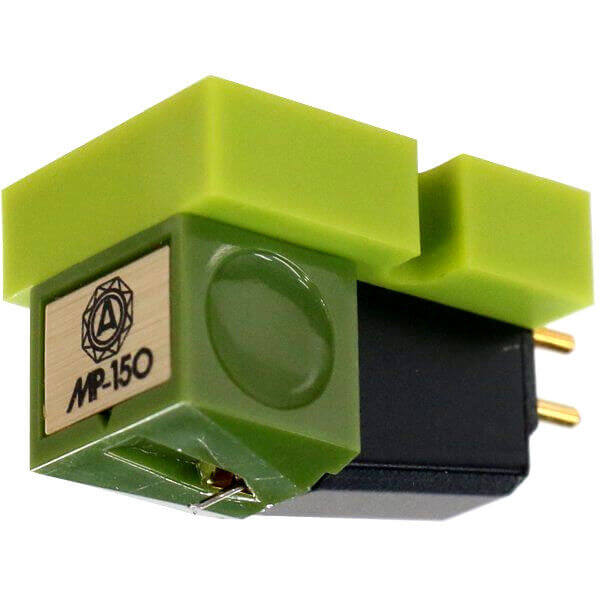 Pros
Smooth mids and crispy highs
Hand-made needle
Impressive cantilever
Cons
The housing material could be improved
Which Phono Cartridge Under $500 Should You Opt for?
Choosing a reliable phono cartridge with a budget limit of $500 surely isn't a simple task. There are plenty of options and you don't want to make a bad call with such money at stake!
So, if you're looking for a highly reliable phono cartridge that'll provide the most impressive sound quality for the price point, you should go for the Ortofon 2M Bronze Moving Magnet Cartridge.
I believe it's the best candidate in today's category as it offers incredible audio resolution with bright highs and punchy bass. The 2M Bronze is made using premium components, features a polished design, and offers you upgradability to the 2M Black.
A close second to the 2M Bronze is the Audio Technica VM750SH Turntable Cartridge. It delivers a wonderful listening experience thanks to its exceptional nude Shibata diamond stylus.
Alternatively, if you're trying to save some cash without sacrificing much of the sound quality of your phono cartridge, you may want to try the Audio Technica VM540ML MicroLine Turntable Cartridge with its impressive micro linear stylus.
What to Consider Before Buying a Phono Cartridge for Your Turntable
When shopping for a phono cartridge under $500, choosing the best product for your audio needs can get confusing if you don't know what different features and specs mean.
To help you better understand what you're buying, keep the following points in mind:
Stylus Design and Material
The stylus is widely thought of as the most important aspect of a phono cartridge because it's the component that comes in contact with the vinyl record. Its job is to travel across the surface of the vinyl, grooves and all, to pick up the stored information that forms the produced sound.
As such, the stylus should possess high sensitivity to be able to reproduce sound accurately. The two factors with the greatest impact on the sensitivity level of a stylus are its design/shape and material.
When it comes to the design of a phono cartridge, the most common ones on the market are elliptical, conical, and micro linear. There are also Special Line Contact and Shibata designs.
Micro linear, Special Line Contact, and Shibata are mostly found on more expensive models priced at more than $500. They can produce professional-grade sound quality and resolution.
Elliptical and conical styluses are the predominant shapes in the sub $500 category of phono cartridges. Out of the two, the elliptical design is always superior.
As for the construction of the stylus, it's typically either nude or bonded.
A nude stylus is built from whole diamonds whereas a bonded stylus is made using diamond bonded to a metal shank in the final stages of the finish. These are very durable and much lighter with higher sensitivity.
Bonded styluses are more affordable but heavier than nude ones. As such, bonded styluses are less sensitive and accurate. Not to mention, they're less durable.
Bonded styluses are more common at low and mid-range budgets because they're easier and less costly to manufacture.
Related: our favorite phono cartridges under $100
Cantilever Material
The cantilever is a slim, tube-like component that transfers mechanical energy from the tip of the cartridge's stylus and the record to the cartridge's magnet.
This is why you want the cantilever to be as lightweight and durable as possible. On the market, you can find cantilevers made out of carbon, copper, boron, and aluminum alloy.
Aluminum is the most commonly featured material because it's not very heavy but still long-lasting. Granted, aluminum cantilevers aren't as impressive as boron or copper options, but they save both manufacturers and users a decent sum of money.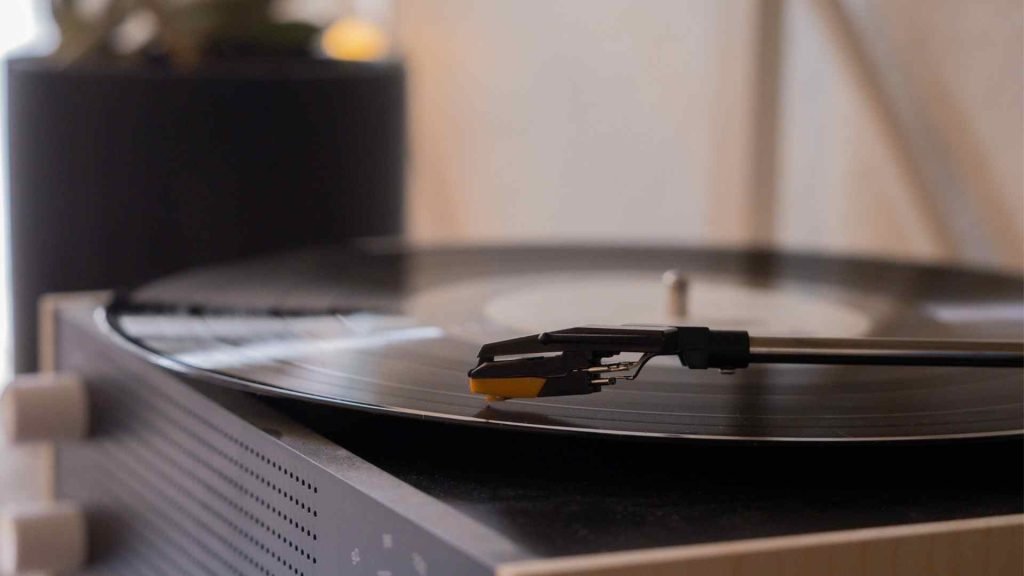 Specifications
Any phono cartridge is built to include various specifications that ultimately determine the quality of its output and performance.
A few of the most important specs you should check in your potential choice of cartridge include channel separation, tracking force, and frequency range. Here's a quick breakdown of each specification:
Channel Separation
The channel separation of a cartridge refers to its ability to deliver the audio signal meant for the right and left channels separately (measured in dB).
The better the two channels are isolated from one another, the better the quality of the surround sound effect.
Tracking Force
The tracking force of a phono cartridge refers to the weight at which its stylus or needle sits on the record. A proper weight is essential for producing the best sound and preventing damage to the record.
The tracking force is measured in grams. It's different from another spec known as trackability, which is expressed in micrometers (μm).
So what's the ideal tracking force for a cartridge? Well, it depends on the type of turntable you're using and the counterweight adjustability feature.
But generally speaking, anything between 1 to 3 grams is a good enough tracking force for an entry-level to an intermediate record player.
Frequency Range
As for the frequency range of a phono cartridge, it corresponds to the range of Hertz (Hz) that the cartridge can detect and express.
Normally, you don't want a cartridge with a narrower range than the audible frequency range, which is from 20 to 20,000 Hz.
Related: the top phono cartridges under $200
Upgradability
You shouldn't overlook the upgradability of the phono cartridge in case you decide to take the quality and performance of your turntable system to the next level down the road.
So, do you have to buy a new cartridge every time you want to upgrade?
The answer depends on the brand and the model of the phono cartridge you own and that of the unit you want to upgrade to.
Some companies make cartridges featuring interchangeable styluses so you can switch the lower-level stylus with the higher-quality one without having to pay the full price of a whole new cartridge. In other words, you can purchase the more advanced stylus alone.
For example, Ortofon's 2M Bronze stylus is interchangeable with a 2M Black stylus.
Ease of Installation
Finally, you need to make sure the phono cartridge you're aiming for supports easy installation. After all, what good is a cartridge if you can't even mount it on your turntable?
A phono cartridge often comes with mounting tools and hardware, particularly a screwdriver and a few screws and nuts. If it doesn't, you can buy them separately or store them from an older cartridge.
When the time comes for you to mount the cartridge on the tonearms, you should be familiar with the system you're dealing with. Commonly, you'll encounter either the 1/2-inch mount or the P-mount.
Recommended: Check the full Ortofon RS 309D review which is one of the best tonearms on the market
Also referred to as the standard system, the 1/2-inch uses two vertical screws that are 1/2 an inch apart to secure the cartridge to the tonearm, along with 4 posts that connect to the tonearm leads.
As for the P-mount system, it uses 4 small pins and attaches directly to a compatible tonearm without needing a headshell.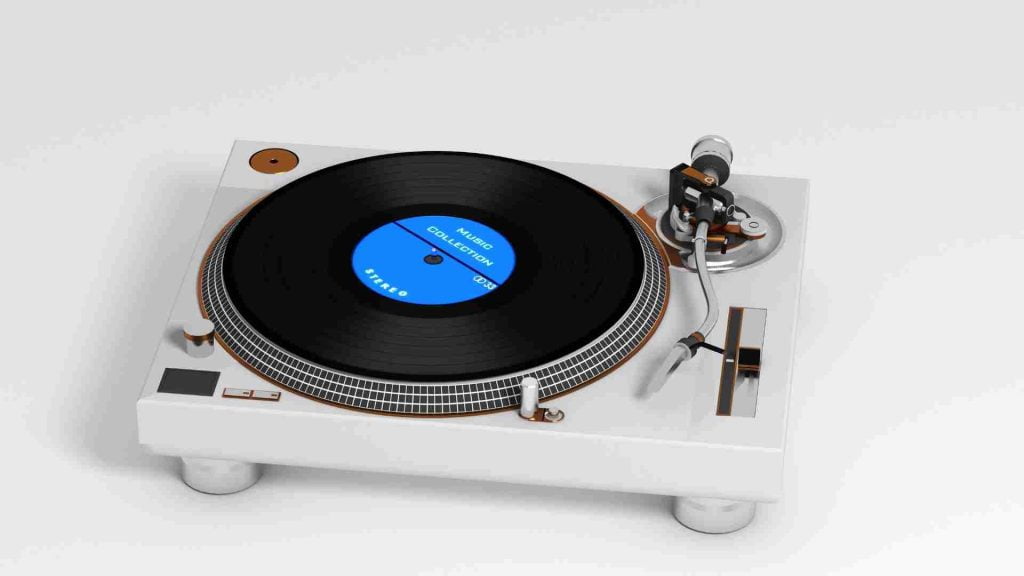 Best Phono Cartridge Under $500: FAQs
How Often Should I Change the Phono Cartridge on My Turntable?
The lifespan of a phono cartridge isn't set in stone. It varies depending on multiple factors including the construction of the cartridge's body, the durability of the stylus' material, and the frequency of use.
If we stick to the most average conditions, we'll find that a phono cartridge can deliver between 400 to 600 hours of playtime without any audible change. For casual audiophiles, this corresponds to a period of around 3 to 5 years.
Luckily, more and more brands nowadays are relying on materials of higher quality in their models.
The result is a significant improvement in the longevity of most cartridges to last for up to 1,000 hours before you can detect audible changes. Some units can even last for 2,000 hours!
So, don't forget to carefully check the durability rating for the particular cartridge you're considering.
Also, keep in mind that proper care can help boost your phono cartridge last longer.
Does My Phono Cartridge Need Maintenance?
Yes, any phono cartridge requires a decent level of care to keep its sound quality at optimal performance and also boost its durability to extend its lifespan.
So how can you maintain your cartridge in good condition? The answer is simple: clean it often.
Schedule a weekly session to remove dust from the stylus using the small brush that's usually included in the cartridge's package. Keep your strokes gentle and pay extra attention to the tip of the needle to prevent the buildup of dust which causes faster wear.
Similarly, you should clean your vinyl records regularly, especially when you can dust or debris on the surface.
Are Phono Cartridges One-Size-Fits-All?
Not all turntable phono cartridges follow the same installation process. Also, they aren't necessarily compatible with the same tonearms or headshells.
As such, we can't consider cartridges as one-size-fits-all.
That said, many phono cartridges feature either 1/2-inch or P-Mount setup mechanisms, which makes them easier to fit on most turntables on the market.
How Long Is the Break-in Period for a Phono Cartridge?
A break-in period is necessary for vinyl enthusiasts as it helps them decide whether or not to keep listening to music on their turntable system using a particular phono cartridge.
The length of this period varies from one listener to another because the amount of time it takes to pick up on a noticeable difference between the sound quality of various cartridges isn't a fixed period.
Not to mention, the duration can be affected by whether you're comparing the cartridge to one that you're currently using or trying a cartridge on its own.
What I can give you, however, is an estimate. So, if you're not happy with how your cartridge sounds within 50 to 100 hours of playing, you're probably never going to love it.