Many audiophiles claim that V15 type IV is the finest Shure cartridge that has ever been produced.
Whether you consider this a reality or an exaggeration, no doubt V15 type IV is an excellent cartridge that delivers smooth and vivid sound.
Nonetheless, when it's time to replace its needle, you need to be aware that this might imply significant changes in sound. That's why you have to pick the perfect alternative to the original stylus to get the desired output.
In this post, we'll break down the best replacement stylus for Shure V15 type IV.
How Did We Evaluate the Alternatives?
Here are the criteria we followed to pick the top 5 replacement stylus for Shure V15 type IV:
1. Prioritized SAS Tips Over Elliptical
Although the standard version of Shure V15 type IV comes with a hyper elliptical diamond tip, we prioritized SAS tips over HE.
The reason is that the hyper elliptical replacements are different from the original ones. They offer a high-frequency response. That's why their sound is bright, some will like it and others won't.
On the other hand, most users report that they got better warm sounds when using SAS needles, whether they were Neo or standard ones.
So, we gave higher points for SAS tips over the other types.
2. Selected Superior Cantilevers
Due to their pivotal role in the overall production of sound, especially when transmitting vibrations, we've chosen top-notch cantilever materials.
Most of our choices have aluminum cantilevers. This is because aluminum is a good vibration transmitter.
Nonetheless, we prioritized sapphire cantilevers over aluminum. The reason is that they're more efficient and delicate in transmitting vibrations.
Boron cantilevers also offer considerably better performance than standard aluminum. So, we gave them higher points.
Recommended: Here are the best dual turntable replacement cartridges
3. Stuck Between 1.25:1.75G Tracking Force
The original stylus of this cartridge is designed to work at a tracking force range between 1.25 and 1.75g. You can use up to 1.5g force without the dynamic stabilizer and 1.75 with it.
So, for the best performance, most of our recommended products are within this range.
4. Considered the Effect on Records
An unsuitable tracking force or stylus shape can rapidly deteriorate the condition of your records. That's because those two factors play a vital role in the direct contact of the stylus with the vinyl.
Bad friction distorts the groove when inappropriate tracking force is applied on the record's surface. The same goes for the shape of the needle. If the shape doesn't perform highly accurate tracking, the condition of the grooves can be negatively affected.
So, the balance of tracking force and tip shape is a significant point.
The 5 Best Replacement Stylus for Shure V15 Type IV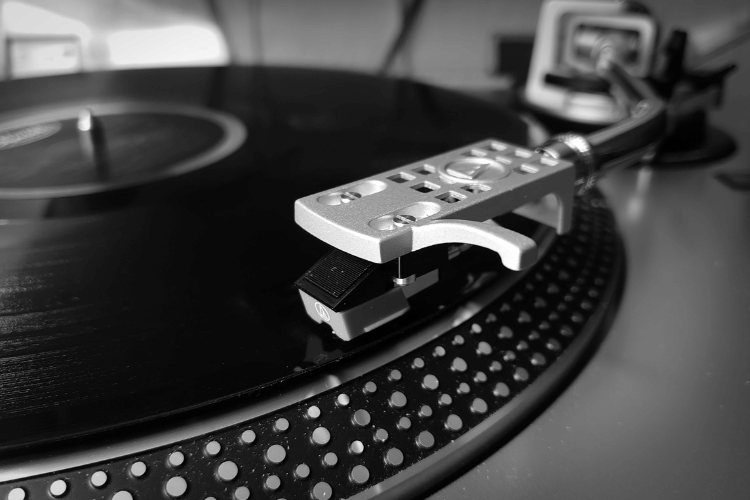 Among the tens of needles in the market, here are the top 5 picks on the market for the V15 type IV:
Pros
Full-of-details sound
Highly matches the original needle performance
Lasts longer than other needles
Cons
Required a bit of setup time to get the best sound
On the top of the list comes this perfectly-designed VN45HE JICO SAS needle. The tip of this needle is made of meticulously selected octahedral diamond.
This makes it highly compatible with old grooves as well as the new wider and deeper ones. In addition, the tip is ultra-thin, 0.007 in2. It also has a precise configuration and optimum height.
All these specifications make a radius curvature that doesn't change while playing, so it provides incomparable tracking accuracy.
Further, the cantilever is made of a special alloy of two pieces: one of aluminum and the other of boron. As a result, it's hugely effective in vibrations transmission.
More interestingly, this needle has a long lifespan, and it lengthens that of records.
Users also read: Best Replacement Stylus For Shure M91ed
This happens because the top presents constant fine contact with the groove walls, and the tip radius never changes over time.
Pros
Gives sound quality close to SAS at a lower cost
Accurate tracking on most records
Wide tracking force range matches the required for the cartridge
Cons
Miss slight sound details
This Hyper Elliptical stylus from JICO provides sound quality similar to the above SAS one. Still, SAS has a slight sound advantage related to accuracy over this HE.
Another difference is that SAS has a higher degree of compatibility with a wider range of old and new records.
That said, thanks to the elliptical tip, you can expect a dynamic and vivid sound experience using this stylus.
In addition, this needle works with a tracking force range between 0.75 and 1.5g. So, you can easily adjust it to cope with the ideal force of the cartridge.
Further, this needle comes with a soldered tension wire like that of the original stylus.
Pros
Ultra-precision
Keeps records in a good condition
Ideal tracking force
Cons
You need to adjust the VAT with different records to get the best experience
With this JICO Neo-SAS, set up the required VAT and SRA, then get ready to enjoy the most dynamic and detailed music experience.
This needle comes with a high-standard sapphire cantilever that transmits vibrations perfectly. Both the cantilever with the ultra-precision tip helps provide superb tracking accuracy.
JICO Neo SAS has a polishing technology that's highly effective in retaining the accuracy of the grooves.
Additionally, the tracking force range of the needle is identical to that of the original stylus, which is 1.25 to 1.5 g. That's why you'll get original sound and stable performance.
The only thing you may not like is that you need to adjust the vertical tracking angle (VAT) to get the most out of this top-notch needle. It may take time to get the ideal angle for each PL.
Pros
Come with stabilizer brush
Perfect tracking force range of 0.75 to 1.5 g
Keeps records in good condition
Cons
Some people might find the vintage sound not dynamic and produce insufficient details
This LP Gear VN45VL provides an authentic, intimate musical experience with its vintage sound production.
So, anyone with old fond memories related to vinyl would fall in love with the performance of this stylus. With a 0.002 x .0030-inch diamond tip, it tracks the center and the sides of the groove in a holistic manner.
In addition, its cantilever is made of top-quality aluminum, which results in the delicate transmission of vibrations.
Better still, the needle comes with a stabilizer brush that eliminates static charges and gets the dust off records. That way, you get a clear and more precise sound.
The brush also lengthens the records' life by maintaining them dust and debris-free.
Pros
Provides excellent value for the money
Offers good tracking and sound
Has two-speed options
Cons
Can negatively affect records condition over time
This Pfanstiehl 4772-DE can be a good pick if you're on a tight budget. It has an elliptical tip with a 0.0003 x 0.0007-inch radius, producing decent tracking and clear sound.
It also has a tracking force of 1 g, which is slightly lower than the ideal range. Nevertheless, it runs flawlessly, doing the necessary work.
In addition, it has two-speed options, 33, and 45, which you can alter according to your preference. Further, the Pfanstiehl needle is super easy to set up without prior experience.
FAQs
How To Replace Shure Stylus?
Replacing your Shure stylus is a pretty straightforward process, and it won't take you more than one minute. You'll disassemble the installed needle and set up the new one in the same place.
However, the challenging part is adjusting the cartridge's vertical tracking angle. This is to produce the best sound possible if the new stylus works on a different VAT from the original one.
So, this might take a bit of time to get perfect.
Is The Shure V15 Cartridge Moving Magnet?
Like most Shure phono cartridges produced post the 1950s, Shure V15 is a moving magnet (MM) cartridge.
In fact, the Shure brand was the first US manufacturer to produce MM cartridges which transformed the vinyl market.
The Bottom Line
To pick the best replacement stylus for Shure V15 type IV, consider the above-mentioned options. For a performance that's highly close to the original stylus, JICO Super Analogue Stylus is your best pick.
If you want an output close to that of SAS at a lower price and a wider range of tracking force, choose JICO Hyper Elliptical stylus. Furthermore, JICO neo-SAS needle can provide you with the finest music experience if you set up VAT accurately.
The LP Gear VN45VL stylus will guarantee the best authentic vintage sound, bringing you back to the fondest memories. Finally, a needle, such as the Pfanstiehl 4772-DE should be enough if you have a low budget.