The Technics SL-D2 turntable is well-valued for its reliability and ease of use. When this record player came out in 1980, it was particularly well-received by those still new to the record-playing scene.
Despite its old age, the Technics SL-D2 still has some life in it. Once you couple it with the right cartridge, you'll be good to go.
Luckily, the device pairs well with several cartridges such as the AT95E and Ortofon 2M Bronze. Aside from that, stick around to learn more about the best cartridge for Technics SL-D2.
Top Cartridges to Use for Technics SL-D2
Due to the Technics SL-D2's compatibility with multiple cartridges, you'll have a lot of options to choose from. These choices can range based on price, features, and overall build. Without further ado, check out our recommended options below.
1. Ortofon Super OM 10 – Best Overall
Top Pick: Ortofon Super OM 10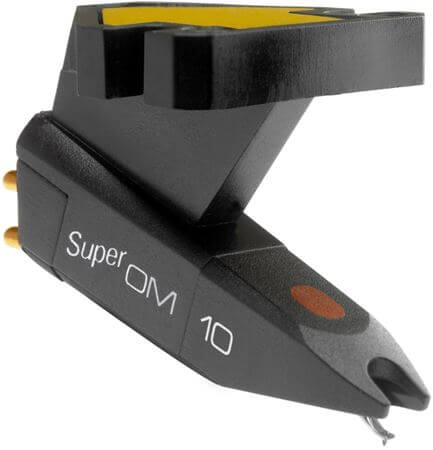 Pros
Flexible fit
Durable design
Easily replaceable stylus
The Ortofon Super OM 10 is a moving magnet cartridge with lots of potential for your Technics SL-D2 turntable. The elliptical option comes with a tracking force ranging between 1.25 to 1.75. This product is called a Super OM for a reason.
It abbreviates to optimum match indicating a great fit for most turntables. In addition to this, you'll be able to replace your stylus easily. Having said that, the Ortofon product offers minimal distortion, high channel separation, and enhanced linearity.
The Super OM 10 model is composed of a Noryl or glass and plastic combination that ensures high rigidity levels for a longer-lasting cartridge.
2. Ortofon 2M Bronze – Runner Up
Runner Up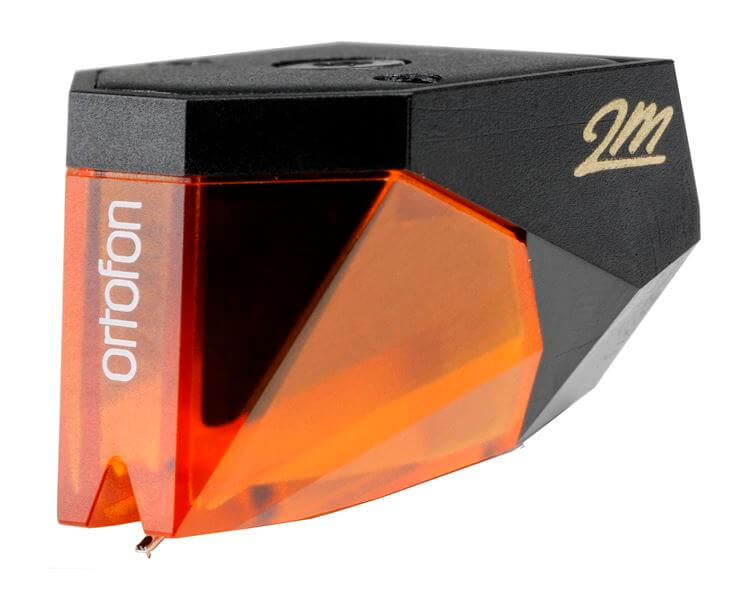 Pros
Durable material composition
Nude Fine Line diamond stylus ensures crisp and clear sound
Easy to fit
The Ortofon 2M Bronze bears a high price tag, so the main question would be, is it worth it for your Technics SL-D2? Well, for those looking to get a premium upgrade, then this cartridge could be a viable option.
First off, the 2M Bronze is a moving magnet cartridge and is fitted with a Nude Fine Line diamond stylus. Now, the latter feature is best recognized for those with trained ears in music.
You'll be able to hear things you don't normally hear in songs more clearly such as backing vocals and quieter instruments.
Another additional detail that contributes to the Ortofon 2M Bronze's high price is its material construction. The tool is manufactured using Lexan DMX Piano Black.
Related: The best cartridges for Technics 1500C compared
This is a transparent copolycarbonate resin that protects the cartridge from any scratches and enhances its rigidity. Aside from that, the cartridge's tracking force comes at a light of 1.5 g.
3. Audio-Technica AT95E – Best Budget Choice
Best Budget Pick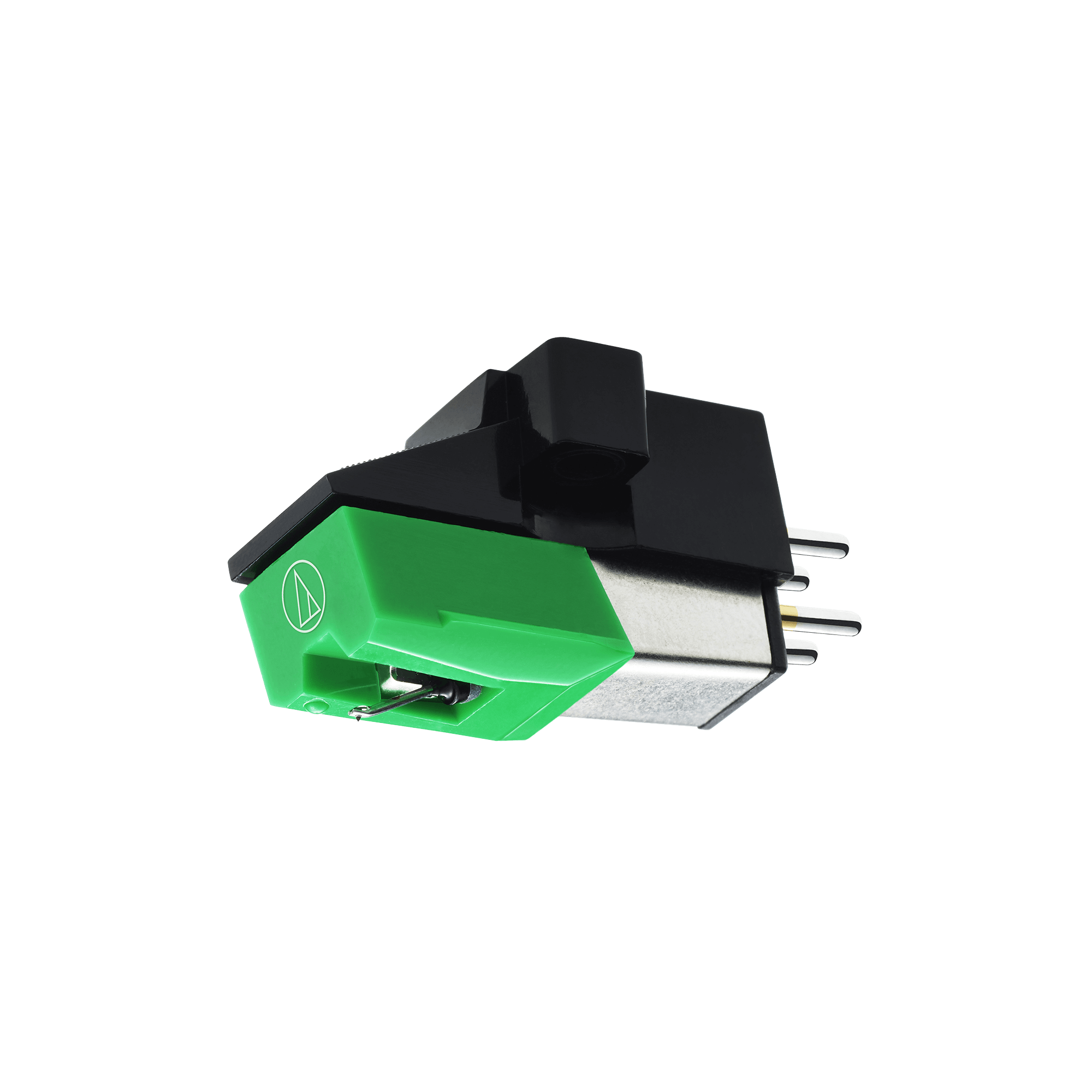 Pros
Sufficient response and tracking force
Budget-friendly
Delivers prime low and high-frequency sound
Cons
Stylus assembly may prove difficult
The Audio Technica AT95E is a particularly old model, created around the same time the Technics SL-D2 was introduced. Besides that, the AT95E comes with a nude elliptical stylus and can generate a tracking force between 1.5 to 2.5 g.
The moving magnet cartridge offers exceptional high-frequency sounds and overall treble. In terms of bass, the AT95E provides you with a fair low-frequency effect. The cartridge is overall well-balanced in terms of sound production.
That being said, the product comes at a relatively affordable price and offers precision in tracking. It also offers a dynamic music-listening experience.
4. Audio-Technica AT100E
Audio-Technica AT100E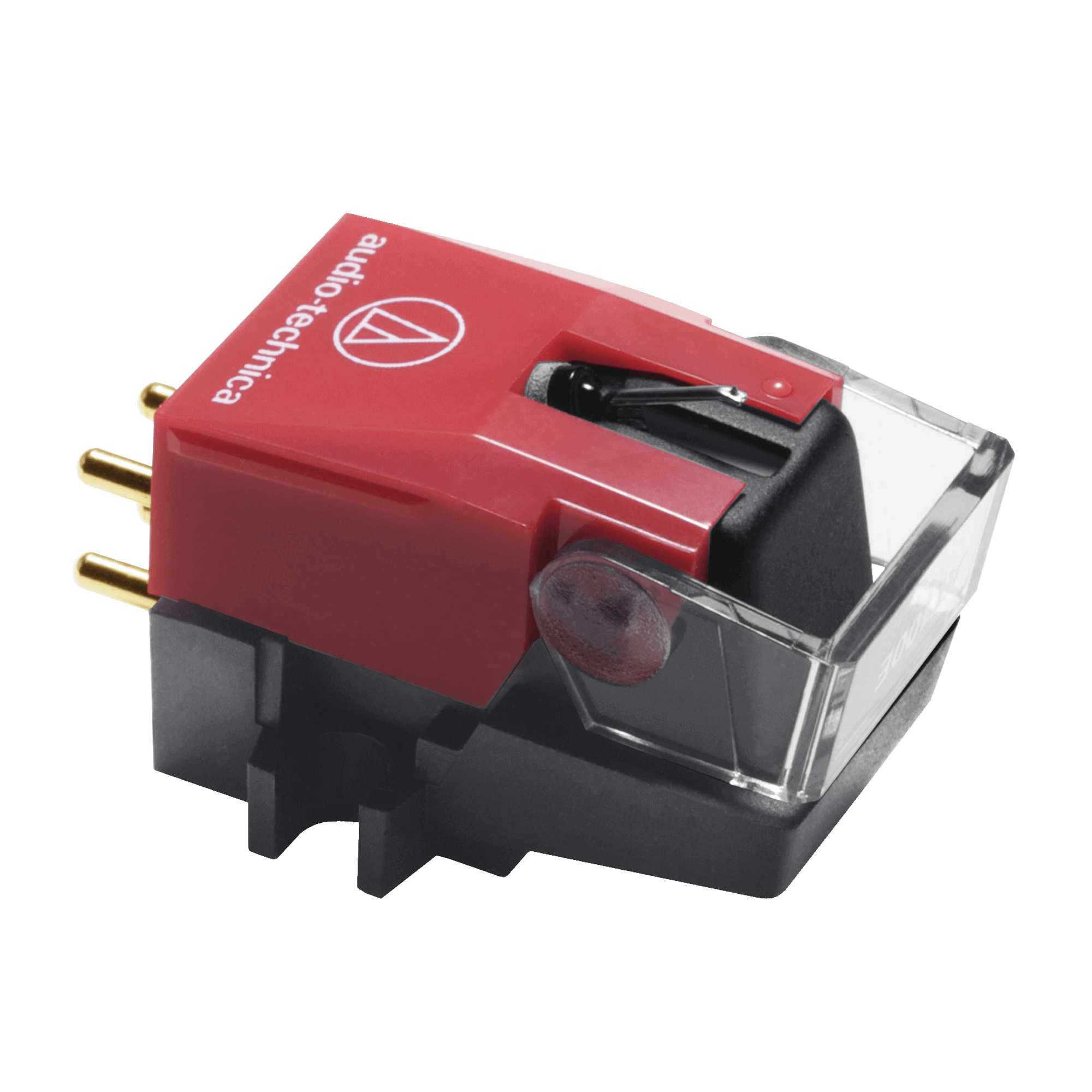 Pros
Easy setup
Lightweight
Reliable brand
Cons
May still hear some popping or crackling sounds
The Audio-Technica AT100E prioritizes the structure's vibration system. In other words, the contact between the record and the stylus is highly optimized.
The coil system design ensures maximum generating efficiency as well. In addition to this, the cartridge is elliptical-shaped allowing for minimal vibration. Plus, it's considerably easy to set up since it comes pre-aligned.
That being said, the cartridge is also lightweight, which helps in avoiding too much damage to your records.
5. Audio-Technica AT-VM95ML
Audio-Technica AT-VM95ML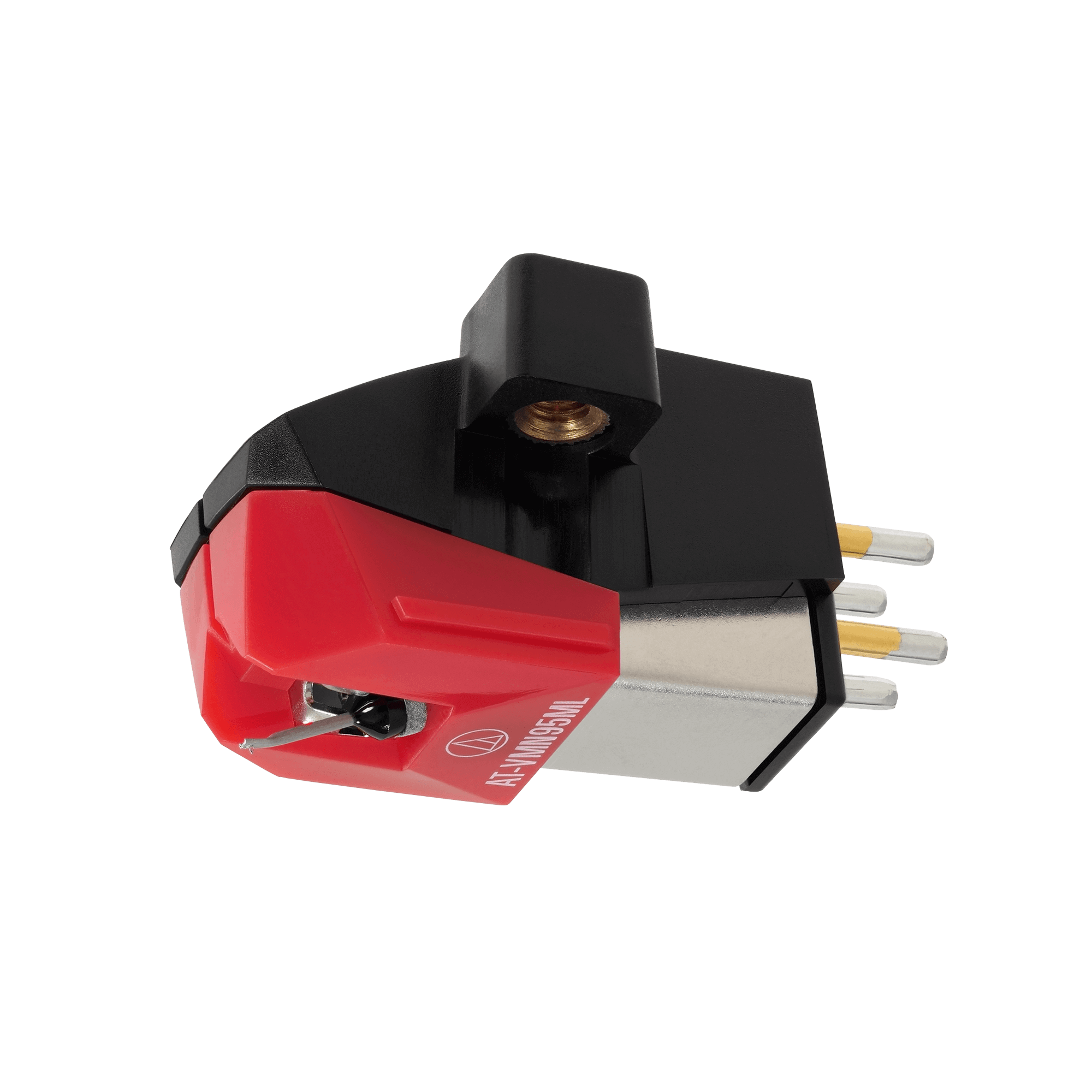 Pros
Microlinear stylus provides more nuanced high-frequency resolution
Durable construction
Compatible with several other styli options
Cons
Installation may be difficult
The AT-VM95ML provides you with accuracy due to its Microlinear Nude Square Shank stylus construction.
This will allow the music to flow with better frequency response and reduced wear compared to the common elliptical-shaped stylus.
Apart from that, it comes with an aluminum cantilever offering durability. The cartridge gives off prime channel separation as well as low distortion levels.
Another positive selling point that the Audio Technica model has to offer is its ease of mounting. You only need to install it using a couple of screws and no nuts. In addition to this, you can also replace the stylus thanks to the cartridge's flexible mechanism.
Recommended: The top cartridge picks for Technics 1200
What to Consider When Choosing a Cartridge for Technics SL-D2
Although the Technics SL-D2 turntable supports several cartridge options seamlessly, some may outperform others based on some aspects. For instance, you'll want to consider a cartridge's stylus shape, cantilever, and more.
These features will also help in determining which option will best align with the music genre you'll listen to.
Stylus Structure
The stylus is the only part of the tonearm that will make contact with the disc. It's essentially used to trace the record's grooves. Two of the most widely used stylus shapes are elliptical and conical.
The former is better suited to track higher-frequency sounds since it holds a narrower tip. Meanwhile, the conical stylus shape is more budget-friendly and picks up fewer pops and cracks in old records.
Recommended: Ortofon RS 309D tonearm review
Support and Upgrade
When browsing for the cartridge, you'll want to find one that's compatible with your Technics SL-D2's base.
Apart from that, the brand is also worth considering since it'll ultimately decide how well you get to upgrade.
Options like Ortofon and Audio Technica are ideal since they consistently release new cartridges with better performance specs.
Cantilever
This part is responsible for connecting the stylus to the cartridge's magnet. The cantilever needs to remain rigid so it can transmit the vibrational energy from the stylus as accurately as possible to the moving magnet.
Related: a step-by-step guide to learning how to clean technics 1200
Cantilevers can be composed of multiple materials such as aluminum alloy, carbon, copper alloy, as well as boron.
Generator Type
This refers to how the cartridge produces its energy source and sound transmission. In most cases, you'll find either a moving magnet or a moving coil cartridge. Here's a more in-depth look at each choice.
Moving Magnet
As its name suggests, the moving magnet cartridge operates through electromagnetic energy. The mechanism works by connecting the stylus directly to a magnet through a cantilever.
That way, the magnet directly vibrates from the motion of the cantilever and stylus. In turn, this movement creates motion energy that rubs off on the coil in between the magnets in the cartridge.
Moving Coil
The moving coil cartridge similarly operates on electromagnetic energy. The main difference is that instead of the cantilever holding a magnet on the other end, it holds pieces of coil.
These pieces vibrate against a magnet and produce the motion energy needed to produce an electric output. Since the moving coil cartridge holds fewer magnets, it's usually lighter. Nevertheless, this option is also relatively on the pricier end.
Channel Separation
This feature indicates how well the cartridge can distinguish between the left and right channels in the record grooves. For instance, as it moves to the right channel, there should be little to no distortions coming from the left channel and vice versa.
What is the Best Turntable Cartridge for the Technics SL-D2?
The best overall cartridge for the Technics SL-D2 is the Ortofon Super OM 10. This cartridge gives you better reliability in terms of fit and upgrading. Another product worth mentioning is the Ortofon 2M Bronze.
Although this product is relatively expensive, it's better suited for professional audiophiles that are detail-oriented in their music listening.
Lastly, the AT-VM95ML deserves a shout-out for its Microlinear stylus allowing it to last longer than other options.
Related: our favorite phono cartridges under $500
FAQs
Why Do Phono Cartridges Sound Different?
Due to the difference in cartridge composition, each one produces different vibrational frequencies that, in turn, generate different sounds.
Should I Replace The Cartridge Or Just The Stylus?
If the cartridge is mounted to the tonearm with screws, then you'll be able to replace both the cartridge and stylus. On the other hand, if there are no screws visible, then you'll likely only be able to replace the stylus.
How Long Will A Phono Cartridge Last?
The phono cartridge itself shouldn't wear off. The only component that may require replacing is the stylus since it can last around 800 to 1,000 hours of music playing.
To Conclude
Finding the right cartridge for your old Technics DL-S2 is critical to producing the throwback sound you may want to reminisce. From the Ortofon OM 10 to the Audio Technica options, each cartridge has its pros and drawbacks.
It's up to you to decide which points you care more about. For instance, if you're an audiophile that stresses details, then the Ortofon 2M Bronze may be your best pick. Otherwise, a beginner user may want to opt for a more reasonably priced AT95E.