Between the Ortofon 2M Red vs. VM95E showdown, the tie-breaker would have to be the overall balance and clarity. Listeners would describe the AT VM95E's treble as a bit lackluster, whereas the Ortofon 2M Red is predominantly leaning towards.
Does this make one better than the other? Probably, yes, because in the end, it all comes down to personal preferences and taste. Not to mention, the compatibility of the cartridge with the turntable affects this as well.
So, who exactly wins this round? Read on to find out.
Ortofon 2M Red vs. VM95E Overview
The Ortofon 2M Red and the AT VM95E are ideal starter carts with which you can conveniently replace and upgrade their styli.
While both cartridges have good sound dynamics, the AT VM95E has better overall clarity and balance. This is mainly because of the Ortofon 2M Red's sibilance and emphasis on the treble, which may be off-putting to some listeners.
Image
Product
Detail
Price

Ortofon 2M Red

Decent and versatile cartridge
Sibilance and emphasis on the treble

Price

Audio Technica VM95E

Better overall clarity and balance
Powerful bass
Well-balanced mid-range

Price
Ortofon 2M Red vs. VM95E Cartridge Face-Off
Both of these respectable cartridges have their fair share of strengths and weaknesses. How exactly do they stand against each other?
Read about it below.
What is Ortofon 2M Red?
Ortofon 2M Red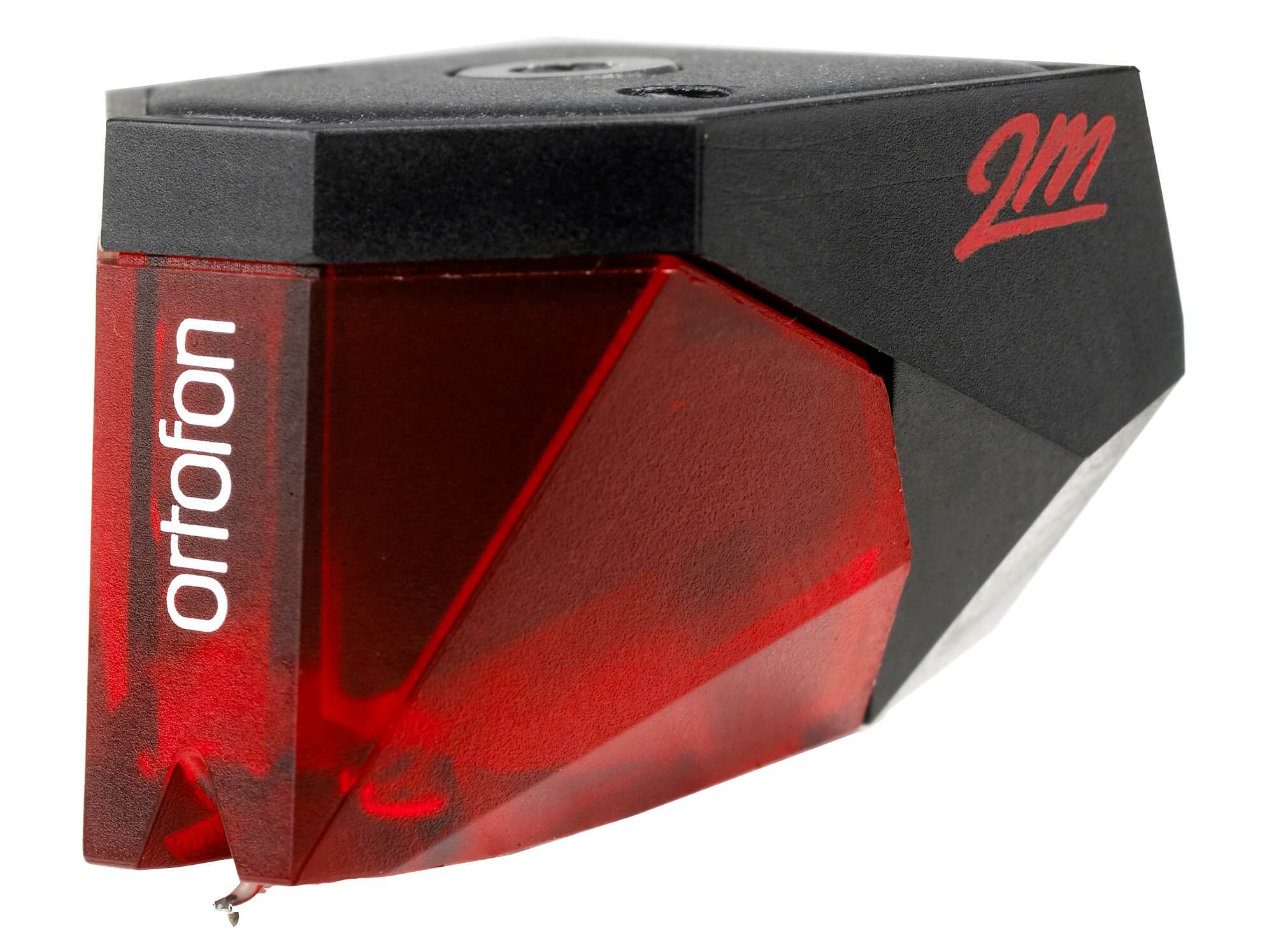 Pros
Replaceable stylus; can upgrade easily
Affordable
Cons
Tracking issues
Distorted sound or sibilance
Bass could use a little more power
The 2M Red is a product of one of the world's leading cartridge manufacturers. That said, it's fair to have high expectations out of this cart.
True enough, the Ortofon 2M Red is a decent and versatile cartridge, the predecessor of the 2M Blue. It'll sound right with practically any musical genre. Also, like most Ortofon carts, this one prides itself on its non-complex hardware, making it easy to install and align.
The overall tone is dynamic with lots of warmth and sharpness, but not harsh to the ears. It gives bright highs and mids, accentuating the treble.
Still, you wouldn't find its sound output too shrill. In fact, listeners would agree that this cart, despite its inclination towards treble, delivers quite smooth audio.
What is VM95E?
AT VM95E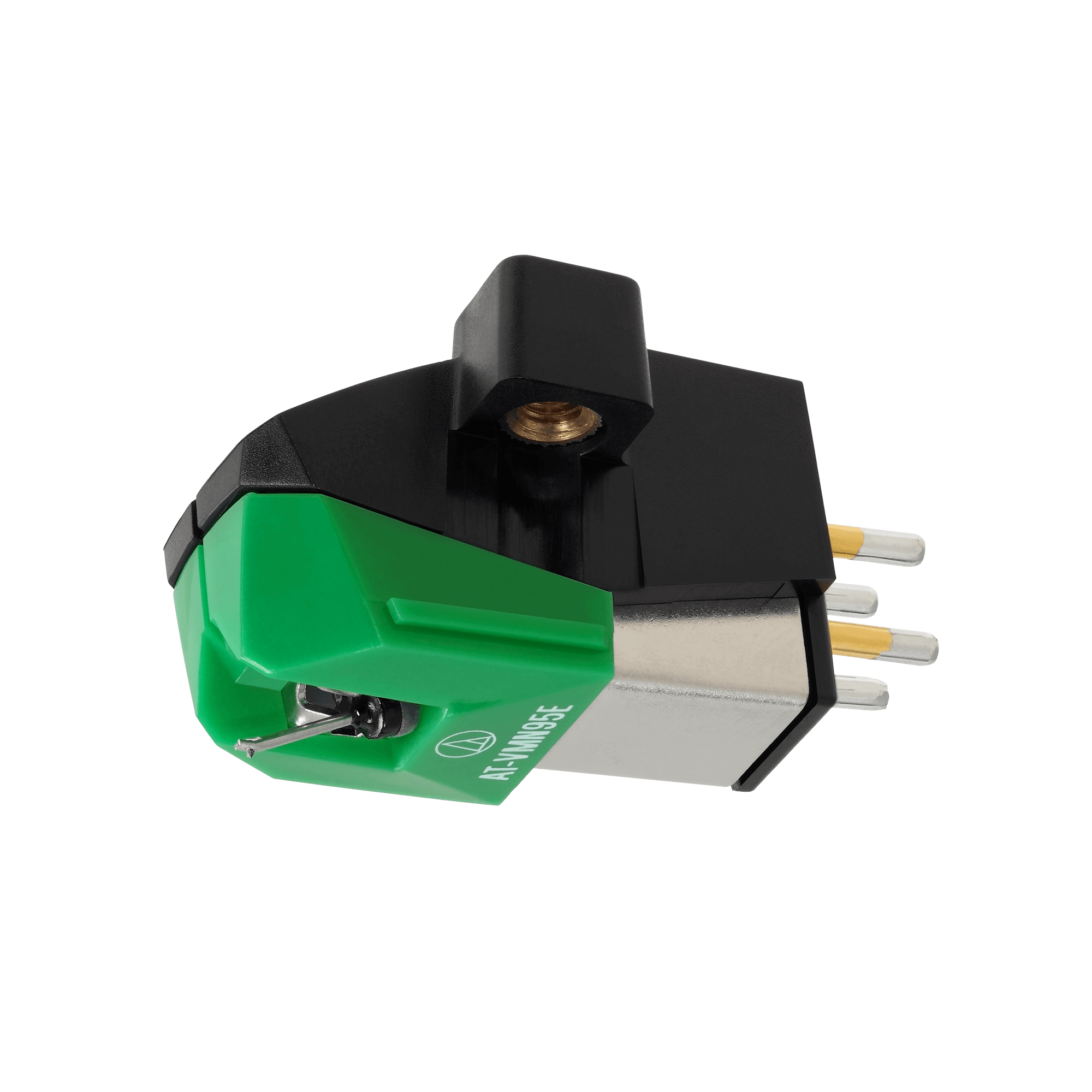 Pros
Clear output with great separation of instrument
Nicely balanced mids and lows
Audio-Technica's VM95E cartridge, the successor to the AT95E, has powerful bass and a well-balanced mid-range. The improvement on the mid is a worthy and notable upgrade from its predecessor.
However, it falls slightly short on the treble, if I have to be hypercritical about it. Nonetheless, it's not entirely terrible. Let's just say, it's the VM95E's weakest point, but it's still a pretty good cartridge, overall.
Additionally, listeners would appreciate the warmth and balance of the VM95E. While there are definitely better models out there, those would have to be on the higher range of cartridges.
In other words, the VM95E is among the most preferred cart models in its class.
How Are They Different?
To give you a good view of how the Ortofon 2M Red and AT VM95E differ, here's a side-by-side comparison of their specs:
SPECIFICATIONS
Ortofon 2M Red
AT VM95E
Stylus Type
Tipped Elliptical
Bonded elliptical (Microline or Shibata)
Weight
7.2 g
6.1 g
Rec. Tracking Force
1.8 g
2.0 g
Rec. Load Capacitance
175 – 250 pF
100 – 200 pF
Output Level at 1 kHz
5.5 mV
4.0 mV
Channel Separation at 1 kHz
22 dB
20 dB
Pros
Replaceable stylus; can upgrade easily to 2M Blue, Bronze, or Black
Affordable
Clear output with great separation of instrument
Nicely balanced mids and lows
Cons
Tracking issues
Distorted sound or sibilance
Bass could use a little more power
Average treble
Treble
Probably the most notable difference is the treble, where the Ortofon 2M Red stands out. The opinion of the masses, on whether this is a good thing or not, is pretty divided.
It's understandable, though, because several factors affect this, including the model and condition of the equipment. On top of that, the output is subject to the ears it falls on.
So, what's treble, anyway, and why does it matter?
Treble refers to higher frequencies, or the highs, and is the polar opposite of bass. When the treble is given more emphasis than the bass, the result is a crisp or sharp sound.
This is preferred, though, for certain tracks and genres, but has to be in moderation. Otherwise, too much treble could come off shrill, thus unpleasant to the ears.
For this round, the Ortofon 2M Red notably leans toward the treble, whereas the AT VM95E is more balanced on the frequencies. This means the latter doesn't favor either treble or bass.
The problem, then, with the Ortofon 2M Red is that it doesn't give justice to groovy tracks because it's lacking on the bass. There's also the issue of sibilance that comes with sharpness.
This becomes even more obvious when playing tracks with female vocals.
Those who favor the AT VM95E justify their decision by saying that the Ortofon 2M Red gives an annoying hissing sound, a symptom of sibilance. However, those who incline toward it say that the AT VM95E is painfully neutral and that it can sound bland on certain tracks.
Related: Sumiko Oylmpia vs. Ortofon 2M Blue
How Are They Similar?
Despite their stark differences, these two equally favorable cartridges share a few impressive features, too.
Convenient Upgrade Path from Ortofon 2M Red
Both the Ortofon 2M Red and AT VM95E have versatile bodies with easily upgradeable styli. Definitely, good value for money since you'll only need to replace the stylus and not the entire thing.
The Ortofon 2M Red has the same body as the Blue, so it's the immediate swap or upgrades for the Red. moreover, newbies have asked if it's also possible to skip right up to the Bronze or Black.
While it's possible, per se, it's not the most ideal upgrade for the Ortofon 2M Red. The Ortofon 2M Black and Bronze cartridges share the same body, so they're the immediate swapping partners.
Also, the Bronze and Black are of a higher cart level, so installing their stylus to a lower cart, like the Red, may not maximize its full potential. Therefore, upgrading from Ortofon 2M Red to Blue is recommended, but we can't say the same for the Red to Bronze or Black upgrade path.
Furthermore, if you're considering upgrading to Ortofon 2M Black or Bronze, it's also highly recommended. However, you'll have to replace the entire cartridge to get the most out of it, and not just the stylus.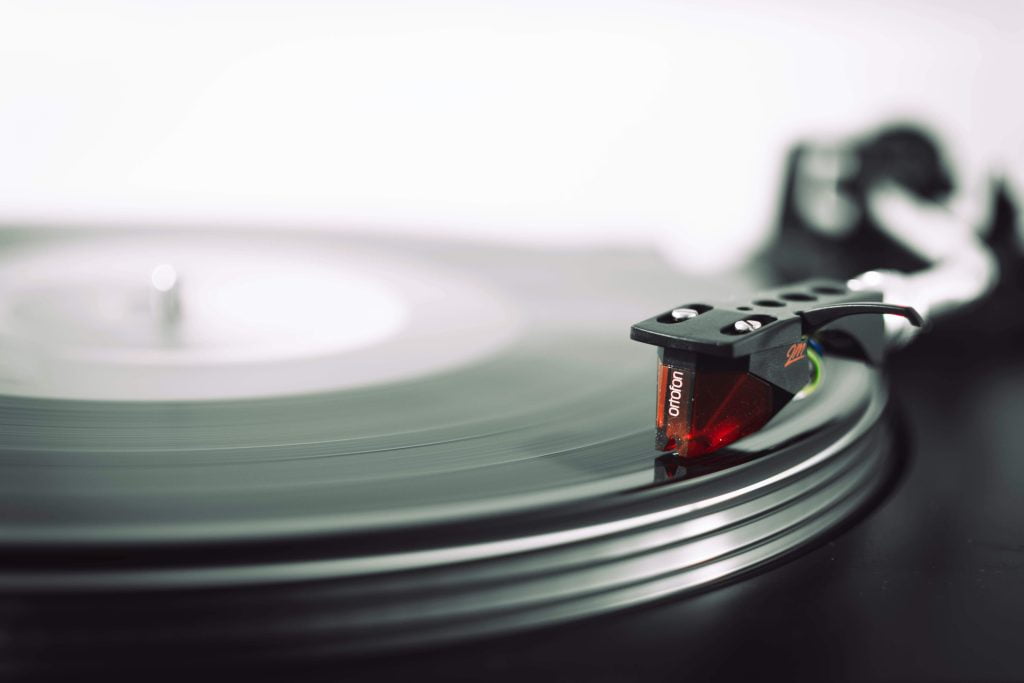 Convenient Upgrade Path from AT VM95E
On Audio-Technica's official website, they've stated that all cartridges within the VM series have interchangeable styli. In other words, you may upgrade and swap styli as much as you desire.
A downgrade would be possible, too, but then the real question now would be: Why would you want to do that?
Furthermore, Audio-Technical recommends the VMN510CB Conical stylus for vintage mono long-play (LP) records.
The following styli may also be compatible as long as the LP's dimensional groove build can handle it:
Special line contact
Shibata
Microlinear
Elliptical
Dynamics
In general, both cartridges have profound dynamics, which are quite pleasant to the ears. What we mean by this is the seamless transition of the sound from loud to soft and the other way around.
The ample dynamic range of both carts gives due credit to the life and soul of the tracks played on them.
What's Better About Ortofon 2M Red
Like most Ortofon carts, the 2M Red is easy to install and align. You'll find this cart better if you find bright trebles enjoyable.
Other than that, most people who have tried both the Ortofon 2M Red and the AT VM95E would say that the latter is superior when it comes to performance.
What's Better About VM95E?
Compared to the Ortofon 2M Red, the VM95E has distinctly clearer, more defined audio. Moreover, it has a wider soundstage, impactful bass, and an impressive separation of the instrument.
Another striking quality that makes it stand out is the way it delivers female vocals. It's generally better than the Ortofon 2M Red, which has a sibilance issue.
Related: Fluance RT85 Vs Pro-Ject
Who Should Get Ortofon 2M Red?
Those who are new to vinyl and turntable hobbies and are looking for decent entry-level carts. This is the affordable and straightforward option, recommended for non-technical record enthusiasts on a budget.
The Ortofon 2M Red is for listeners who enjoy lush, lively sound because this cart takes pride in its bright highs.
If you're nitpicky about your cartridge, then the Ortofon 2M Red might not be the one for you. However, if you're still curious about this cart, make sure you buy from a store that accepts returns if ever you decide that you really don't like it.
Who Should Get VM95E?
The VM95E will excite the average to the slightly fussy listener. The nicely balanced components make it a versatile cart for most genres and turntables.
Not to mention, it has a sturdy build with an excellent upgrade path. As the perfect marriage of economy and quality, we recommend this cart to practical vinyl enthusiasts.
Normally, if the Ortofon 2M Red didn't impress you entirely, then there's a chance the AT VM95E might tick off some of the boxes that the other didn't. If, in any case, it still doesn't, you'll have to have a bigger budget to satisfy your taste.