The Pro-Ject Debut Carbon Evo and Rega Planar 1 have received a lot of praise in the audiophile community in recent years, having both been hailed as two of the best entry-level turntables of this generation.
But with nearly identical playback speed, frequency range, and entry-level price, they're often compared to each other. Pro-Ject Debut Carbon Evo vs Rega Planar 1: Which is better? This isn't an easy question to answer, especially since they both shine in their own ways.
In this comprehensive review, I've compared the Pro-Ject Debut Carbon Evo and the Rega Planar 1 in terms of performance, sound quality, features, and design. By the end of this article, you'll hopefully be able to choose the turntable that suits your needs!
Pro-Ject Debut Carbon Evo vs. Rega Planar 1: Which Turntable is Better?
The Pro-Ject Debut Carbon Evo and Rega Planar are entry-level turntables with minimal but functional features. They're nearly identical in price, so they're both great picks for a budget audiophile. The Debut Carbon Evo offers smooth, silent performance and detailed audio capture, perfect for playing classical or jazz. The Planar 1 is deeply dynamic and versatile, making it suitable for kick-you-in-the-chest audio like rock and pop.
What Is Pro-Ject Debut Carbon Evo?
Top Pick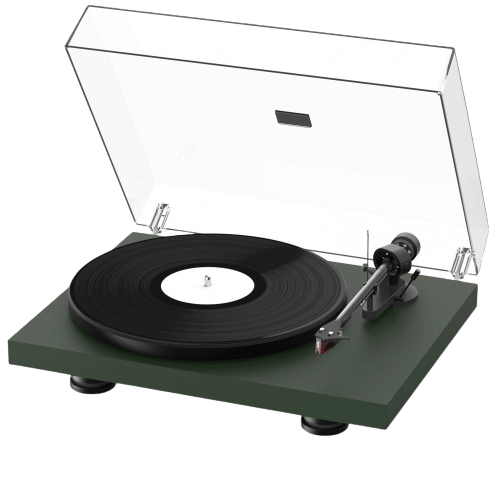 Specifications
Dimensions: 12.6 x 16.3 x 4.5 inches
Motor: 24V DC Motor
Cartridge: Ortofon 2M Red (UK and Australia), Sumiko Rainier (USA)
Bearing: Pro-Ject ultra-low friction bearings
Platter: Damped steel
Tonearm: One-piece carbon fiber tonearm
Material: Alloy Steel
Connectivity: Wired
The Debut Carbon Evo is a mid-range turntable created by Pro-Ject Audio Systems. It belongs to the ever-popular Pro-Ject Debut series, which first appeared in 1999.
Although part of the 1999 series, the Debut Carbon Evo has undergone a ton of changes to suit the evolving tastes of audiophiles. It's now known and loved for its low vibration suspension, high precision motor control, and expert craftsmanship—all of which contribute to its longevity.
The Carbon Evo features two speed selections: 33.33 and 45 RPM. The speed can go up to 78 RPM if you change the belt, which is included in the box.
Unlike the Rega Planar 1 with only three variations, the Carbon Evo comes in nine different color options. This includes the basic white, black, and red, as well as hand-painted matte pastel colors like blue, yellow, green, and walnut.
Pros
Straightforward installation
Brilliant sound out of the box
Perfectly leveled platform
Sleek aesthetics
Noiseless operation
What Is Rega Planar 1?
Top Pick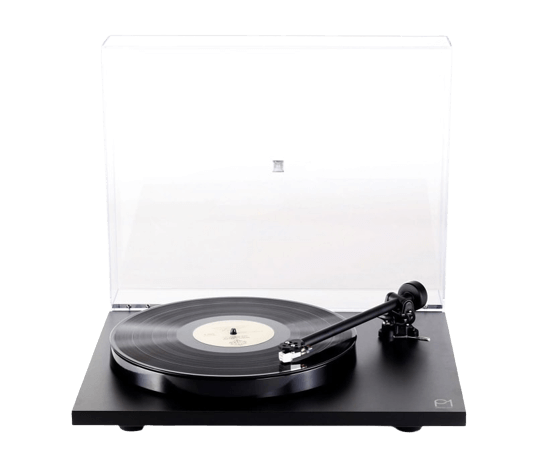 Specifications
Dimensions: 14.73 x 17.6 x 4.61 inches
Motor: 24v low vibration synchronous
Cartridge: Rega Carbon
Bearing: Bespoke zero play bearings
Platter: 23mm phenolic flywheel effect
Tonearm: RB110
Material: Brass
Connectivity: Wired
The Rega Planar 1 is Rega's best-selling turntable, which is evident from all the upgrades it still receives despite it being an "older" model. It's undergone significant changes since its release, from its gloss-laminated plinth to its Thermoset. It's basically a completely different product when compared to the original Planar.
From its 24V low noise synchronous motor to its factory-fitted Carbon magnet cartridge, there's little to hate about this product, especially at the price it comes with. Plus, it features a plug-and-play design, minimal vibration, and sleek aesthetics.
Pros
Multiple design options
Dynamic, detailed sound
High-grade audio capture
Low-vibration motor
Cons
Speed changes are a bit wonky
How Are Pro-Ject Debut Carbon Evo and Rega Planar 1 Similar?
Before I get into the differences between the two turntables, allow me to list the similarities first. That way, you'll have a baseline idea of what to expect in both products.
Control Type and Speed
The Pro-Ject Debut Carbon Evo and the Rega Planar 1 are belt-driven turntables, meaning they both use a belt to spin the turntable platter. In both set-ups, you'll have to attach the belt beneath the platter for the sound system to work.
Both turntables are available in 33-1/3 RPM and 45 RPM speeds. But unlike other machines, which allow you to change speeds with the click of a button, the Debut Carbon Evo and the Rega Planar 1 requires you to lift the platter and manually loop the belt around the assigned motor speed.
Though inconvenient and a little tedious, their belt-driven function is far from a deal-breaker. Plus, their features more than make up for the manual speed change function.
Stability and Vibration
Stability isn't an issue with either turntable. Both feature stable feet that keep the sound machine from moving or vibration, regardless of what you're playing.
The Debut Carbon Evo features three height-adjustable feet made from aluminum and thermoplastic elastomer, which can be seen in many upper-end turntables. It does a wonderful job at damping out resonances, which further contributes to its stability. The feet are also fairly large in diameter, giving it a properly stable base.
The Planar 1 doesn't have sizable legs, but it does have a heavy platter: 9.2 pounds as opposed to the Carbon Evo's 3.7. This makes it less prone to being disturbed by vibrations, resulting in reduced engine noise overall.
Lack of Phono Stage
The Pro-Ject Debut Carbon Evo and the Rega Planar 1 don't come with a built-in photo stage, a function typically used in off-ground setups.
The photo stage not only boosts weak signals from the deck's cartridge but also provides standard equalization to correct sonic imbalances, so it's unfortunate that neither turntable has this option. Not without buying an external preamplifier, at least.
The built-in phono option is available in higher Pro-Ject and Rega models, but they cost quite a bit more. The good news is that external phono preamps aren't all that expensive; you can get a decent one for roughly $100.
Related Comparisons:
– MoFi Studiodeck vs. Rega Planar 3
– Clearaudio Concept vs. Rega Planar 6
How Are Pro-Ject Debut Carbon Evo and Rega Planar 1 Different?
Now that we've discussed the similarities between Pro-Ject Debut Carbon Evo and Rega Planar 1, let's get into the meat of the topic: their differences!
Color and Design
The biggest differences between the Debut Carbon Evo and the Rega Planar 1 are their color options and overall design.
The Debut Carbon Evo is available in a broad range of colors, from a cheerful Satin Gold Yellow to a more luxurious High Gloss Black. There are over nine color options to choose from, so you'll surely find one that suits your tastes.
Personally, I'm a big fan of Satin Walnut; it exudes an "old school" feel that perfectly matches my setup's aesthetic!
On the other hand, the Rega Planar 1 comes in only three colors: Matte Black, Matte White, and Matte Walnut, which was recently added in 2022 as part of Rega's "Special Edition" collection.
Despite their minimalist designs and color options, both turntables look chic and expensive. They'll easily pass double the price with the right setup.
Sound Performance
The Carbon Evo produces a slightly leaner sound when compared to the Planar 1, which is expected from an Austrian brand. After all, most Austrian-made sound systems produce clean, neutral sounds that focus on detail and clarity, as opposed to warmth and boldness.
This isn't to say that Carbon Evo is bad or boring to listen to; in fact, it's miles better than Planar 1's resolution and dynamic slam. However, it does produce less bass overall.
On top of that, it can sound shrill and kind of harsh when certain genres are played, particularly rock, metal, hip-hop, and pop. It also doesn't sound as good with records that were pressed before 1980.
This sound issue can easily be fixed with an external cartridge, but that's an extra expense that not everyone is willing to pay.
That said, the Carbon Evo plays classical, jazz, acoustic, and other "clean" music beautifully. It emphasizes the acoustic notes and produces a clear-cut sound. It can still play other genres, but it won't sound as good as the aforementioned ones.
You won't find this issue with Planar 1. It has a typical "Rega" sound: deeply dynamic and detailed, with impeccable timing.
The RB110 tonearm improves bass quality and the AT95 cartridge balances the snap of the treble. It's perfect for toe-tapping, energetic songs—the complete opposite of the Carbon Evo.
Perhaps the only downside to Plantar 1's sound is that it doesn't have that mid-range warmth that many associates with vinyl turntables. Still, it produces a smooth and detailed sound that doesn't sound entry-level in any way.
Features
Both turntables aren't particularly feature-rich, but they can perform basic functions quite nicely.
The Planar 1 is fitted with Rega's EBLT advanced drive belt, which was once reserved for high-end Rega sound systems. This allows for smooth operation, increased longevity, and accurate speeds.
The Planar 1's tonearm is fitted with the company's signature ultra-low friction bearings, which are smoother and steadier than most bearings at this price point.
Another feature to note is the Planar 1's 24V synchronous motor, which, again, was previously fitted in higher-priced models only. Coupled with the EBLT belt, the turntable runs with reduced noise and vibration, making it a satisfactory user experience overall.
The Carbon Evo doesn't fall far from the competition. It comes with a one-piece carbon fiber tonearm, electronic speed selection, and adjustable feet. Its suspension system is similar to the higher-end X1 model, supporting a decently hefty 3.7-pound aluminum platter.
Although lighter than the Planar 1, the lack of weight is compensated by the thermoplastic elastomer lining the edge of the system.
In the UK and Australia, the Carbon Evo comes with a pre-mounted Ortofon 2M Red. In the UK, it's fitted with the Sumiko Rainier phono cartridge. Both cartridges are of the same quality, but they do add a slight difference in sound.
The Ortofon 2M has a more neutral, analytical sound, with a precise soundstage. The Sumiko Rainier has a warmer, smoother sound. Beginners might find the difference near-impossible to detect, but experienced audiophiles can pinpoint the difference.
Warranty
It's no secret that Plantar 1's warranty is infinitely better than Carbon Evo's warranty.
Rega offers a lifetime warranty against manufacturing defects, which just goes to show how confident the company is with its manufacturing process.
Of course, this warranty doesn't cover wear and tear, as well as unauthorized modifications. Everything else is covered, however.
Carbon Evo's warranty isn't bad, but it's not great either. Pro-Ject's audio systems—including the Carbon Evo—have a two-year warranty for manufacturer defects. That's nowhere near Rega's lifetime warranty.
You can extend the warranty from two to three if you subscribe to the company's newsletter, but this offer is only available with certain products.
What's Better About Rega Planar 1?
After using both turntables for over a week, I found that I preferred the sound produced by the Rega Planar 1 better than the Pro-Ject Debut Carbon Evo. It renders vocals quite clearly, plus it has better bass and treble. It's punchy, powerful, and precise.
Unfortunately, I can't say the same with the Pro-Ject Debut Carbon Evo. Don't get me wrong, it doesn't sound bad by any stretch of the imagination, but it does sound a bit lacking. Classical and jazz music sound better with the Carbon Evo, no doubt, but it isn't as impressive with hard-hitting songs with a lot of bass and power, like rock and pop.
That said, there's one issue that particularly bothered me with the Rega Planar 1: it doesn't have a grounding post on the back to connect the phono preamplifier.
Without it, there's a higher chance that you'll hear more background hum and electronic interference through your headphones and speakers. The noise is especially noticeable in between tracks and quieter passages, but you'll likely also notice it during playback.
Still, this disadvantage isn't a deal-breaker to me. It doesn't change the fact that I find the Rega Planar 1 more pleasing to listen to than the Debut Carbon Evo.
What's Better About Pro-Ject Debut Carbon Evo?
Sound aside, the Debut Carbon Evo excels in almost every aspect. I love how we're given multiple color and texture options to choose from, ranging from satin to high gloss. Planar 1 only offers three. I also liked how the Carbon Evo looked fancier overall, but that's just personal preference.
In terms of dimensions, the Carbon Evo is more compact than the Planar 1, making it more suited for those with limited desk space. The difference isn't that much, however; the Evo measures 12.6 x 16.3 x 4.5 inches, while the Planar 1 measures 14.73 x 17.6 x 4.61 inches. Still, the slight size difference makes it appear sleeker and more expensive in my opinion.
The single-piece carbon fiber tonearm is a particularly defining aspect of the Carbon Evo. It not only looks good but also helps fight resonance with its natural damping abilities and stiff construction. It's lightweight and tracks records smoothly.
Compared to the Planar 1, the Carbon Evo's damping doesn't pick up noise from the motor and does a decent job of neutralizing footsteps. However, you'll want to place the system on a solid surface and install an isolation rack if you want to completely remove the sound of footsteps.
Who Should Get Pro-Ject Debut Carbon Evo (And Why?)
The Pro-Ject Debut Carbon Evo is best suited for those who value aesthetics, design, and construction more than anything else.
Although it has a "weaker" warranty than Planar 1, it's built to last as long as possible. It uses high-quality materials that are often found in more expensive Pro-Ject sound systems.
It's also great for people who mostly listen to soft, slow music with a lot of instrumental notes, like classical, jazz, or acoustic. Thanks to its top-tier dynamic range, it produces clear-cut sound and emphasizes the notes and vocals with crystalline performance.
The Carbon Evo is for those looking for a turntable with no bells and whistles. It doesn't have an automatic tonearm return function nor a glossy acrylic platter, but it houses a precision chip that guarantees accurate speed and a TPE ring that lessens vibrations dramatically.
Finally, the Carbon Evo is best for people with limited table space since it's about two to three inches smaller than the Planar 1.
Who Should Get Rega Planar 1 (And Why?)
The Rega Planar 1 is perfect for those looking for a versatile-sounding turntable. It can play nearly any genre with ease, rarely affecting the sound quality produced. It has decent bass and tremble, and though not as great as high-end models, still sounds amazing for its price.
Moreover, the Planar 1 is great for people who aren't looking to fiddle with controls all that much. It's designed to be a set-and-forget, plug-and-play product, and it sounds wonderful out of the box. You won't have to do a lot of tweaking with this one!
Unfortunately, you don't get a lot of flexibility with cartridges or tonearms. You can't upgrade the phono stage, either. If those are a concern to you, you might want to go with another model.