Your choice of phono cartridge can make a world of difference in how you enjoy your precious vinyl records. This small yet significant audio component is responsible for holding your stylus and converting vibrations into an analog signal.
For some audiophiles and sound enthusiasts, expensive cartridges come with better components and result in superior-quality music. However, there are some cartridges in the market, such as the Sumiko Blue Point 3, that provide incredible audio at a much lower price.
In this Sumiko Blue Point 3 Review, we'll take a close look at what makes this special cartridge a popular favorite among music lovers worldwide.
Sumiko Blue Point 3 Overview
Sumiko is a world-renowned producer and importer of high-end phono pick-up cartridges. For over 40 years, this company has continuously provided audiophiles with a diverse array of products for top-tier record playback.
The Sumiko Blue Point 3 phono cartridge is a magnificent addition to the company's long list of impressive models. This high-performing yet affordable cartridge is a new and improved version of the previously released Sumiko Blue Point 2 phono cartridge.
Point 2 and Point 3 are both ideal for listeners who prefer moving coil sonics but don't want to spend extra money for MC pre-amplification.
Compared to the earlier model, Sumiko Blue Point 3 has greater resonance properties due to refinements made on housing and generator mounting. Better resonance results in smoother sound and an enhanced listening experience.
Key Features of Sumiko Blue Point 3
Take a look at this cartridge's well-crafted design and excellent functionality:
Elliptical Stylus Shape
Every Blue Point 3 cartridge comes with a 0.3 x 0.7 mil elliptical diamond stylus with exceptional sonic capabilities.
This specially ground stylus is capable of satisfying even the most discerning of audiophiles. Its high-reaching frequency response effortlessly captures detail and eliminates distortion.
Plus, this type of stylus minimizes wear and friction on your precious LPs, effectively lengthening their lifespan. What's more, this low-mass stylus has an aluminum cantilever that provides outstanding energy transfer from the stylus tip all the way to the coils.
Upgraded Cartridge Structure and Suspension System
The Blue Point 3's design is a modified version of Sumiko's Blue Point Special. It features an improved cartridge body with stiffened housing, improved generator mounting, and a lower mechanical impedance system.
This enhancement reduces unwanted vibrations and optimizes mass for a smoother overall tonal balance.
As for suspension, the Blue Point 3 uses a synthetic rubber material instead of the typical butyl material. This substance ensures that the cartridge retains its superior dynamics and tracking ability for an extended period of time.
Low and High Output Moving Coil Design
The Sumiko Blue Point 3 is available in high and low-output versions. The high version provides 2.5 mV of output. This level is high enough for use with standard moving magnet phono pre-amps.
As for the low-output version, this model produces remarkable depth and imaging. It's compatible with a wide range of phono stages for moving coils. Since both models are moving coil cartridges, they produce similarly spacious and high-definition sounds.
Sumiko Blue Point 3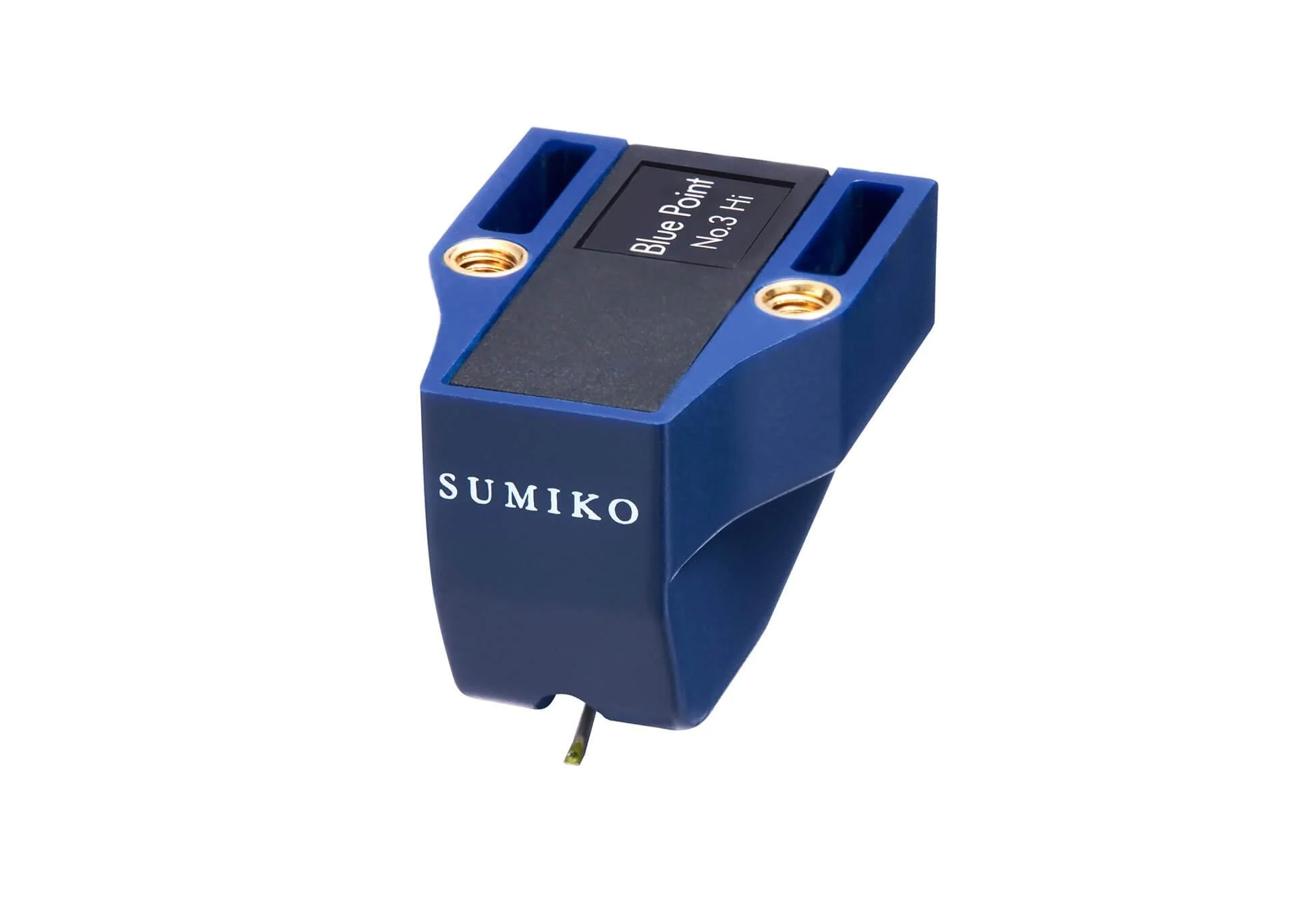 Pros
Sensational Sound Quality
Affordable Pricing
Trade-Up or Trade-In Option
World-Class Craftsmanship
Redesigned for Simpler Installation
Cons
Delicate Components
Detailed Setup Process
Sumiko Blue Point 3 Pros
Here's a list of reasons why the Sumiko Blue Point 3 might be the cartridge for you:
1. Sensational Sound Quality
The Sumiko Blue Point 3 produces a warm, dynamic, and textured sound that'll surely delight most listeners. It delivers just the right amount of subtlety and nuance, combined with a buttery low-end response.
Bass lovers, in particular, will appreciate this cartridge's full, defined, and cozy bass. Meanwhile, the mids have the same natural lushness. The Blue Point 3 will simply astound you with its high-frequency attack and decay that sounds airy and sweet.
This cartridge delivers even the smallest of details and textures with stunning clarity, almost as if it's a real-life performance. The soundstage and instrumental separation are superb as well.
2. Affordable Pricing
It's common for mid-priced and inexpensive cartridges to produce dull, distorted, and harsh sounds. However, the Sumiko Blue Point 3 is the exception. This cartridge offers the best value for money, as it's jam-packed with amazing features, yet it retails at a budget-friendly price.
Despite being significantly less expensive, this cartridge can compete with other high-end models in the market due to its incredible sonic presentation.
3. Trade-Up or Trade-In Option
Most moving coil phono cartridges don't have user-replaceable styli. This can lead to considerable costs when your cartridge's stylus gets worn out or damaged. You'd personally have to take it to the manufacturer for repair or replacement.
Fortunately, Sumiko allows you to return your old cartridge to the company when it's no longer usable. In exchange, you'll get a sizable discount on a new model of your choice. This trade-in or trade-up option is only available through an authorized dealer in the United States.
4. World-Class Craftsmanship
All of Sumiko's phono cartridges, from both its Oyster and Reference Cartridge Series, are handcrafted in Yokohama, Japan. They're produced by highly trained world-class cartridge makers who adhere to the highest standards of quality and precision.
Only the finest and best-performing materials are used in creating the products. What's more, each new cartridge design undergoes a thorough testing phase before mass production. A newly designed cartridge doesn't get released until it's completely perfected.
5. Redesigned for Simpler Installation
Compared to previous models, the Blue Point 3 features significant adjustments that make each unit simpler to install. For instance, the redesigned version now has threaded inserts to the cartridge body and an overhead mounting design.
What's more, the stylus tip has improved visibility which makes the mounting process more convenient and precise. The cartridge body itself is also easy to install on most types of tonearms.
Related: Sumiko Blackbird Review
Sumiko Blue Point 3 Cons
The Sumiko Blue Point 3 comes with a few minor disadvantages. Here are some drawbacks of getting this cartridge:
1. Delicate Components
As with all phono cartridges, the Sumiko Blue Point 3 is a delicate and sensitive instrument. In the first few pages of the cartridge's manual, you'll find a warning statement from the company that cautions owners to adjust the cartridge slowly in a spacious and well-lit area.
The warning statement also informs users that rushing the process may result in a lousy adjustment or a damaged cartridge. The Blue Point 3 requires incredibly tiny incremental alignment adjustments measuring one-eighth of an inch or smaller.
2. Detailed Setup Process
Both the high-output and low-output versions of the Sumiko Blue Point 3 come with an official user manual from the company. Each manual contains 26 pages of intricate setup instructions that require strict adherence, patience, and a gentle hand for the best results.
The setup guidelines consist of the following sections:
Basic mounting instructions
Tracking force setting
HTA and offset angle
Anti-skate, VTA, and azimuth adjustment
Sumiko Blue Point 3 Ratings
In conducting this fact-based and comprehensive review, we performed an analysis of buyer comments, product guides, and technical specifications. We also considered the cartridge's official manual and relevant manufacturer material.
Overall quality and performance, as presented in the previous sections, formed the basis of our ratings for the Sumiko Blue Point 3. They are as follows:
Product design and aesthetic: 4/5
Ease of assembly: 3/5
Sound quality: 4/5
Value for money: 5/5
Component durability: 5/5
Sumiko Blue Point 3 Alternatives
If you're not quite sure about the Blue Point 3, the following cartridges may better suit your turntable and unique music taste:
This Denon cartridge is another well-known favorite among audiophiles. Due to its smooth response, lively sonic output, and magnificent detail retrieval, it's been an industry standard for decades.
For a lower price than the Sumiko Blue Point 3, the Denon DL-103 delivers powerful bass, authentic midrange presentation, and silky highs. However, its sound can seem less clean when it comes to loud and high-frequency modulations.
The basic version of this classic black cartridge has a 0.5 mil spherical tip, but elliptical and Shibata styli are available as well. Note that the DL-103 provides a low output which requires an MC phono stage.
This Audio-Technica MC cartridge retails at a slightly lower price than the Sumiko Blue Point 3. Some of its key features are a half-inch mount, a PCOCC wire, and a tapered duralumin cantilever. It also has a 0.3 x 0.7mil elliptical tip.
What's impressive about this Audio-Technica model is its dual-moving coil cartridge. This design increases channel separation and widens the frequency response range to deliver a marvelous sonic presentation.
Additionally, this cartridge has an internal neodymium magnet, aluminum alloy housing, and vibration-controlling rubber. Plus, it has brass screws for superb audio quality.
Also check: Sumiko Blue Point 2 Vs 3
The Verdict
The top-performing Blue Point 3 is definitely one of Sumiko's best bargain models and is a worthy successor to the Blue Point 2. With both high and low-output versions, this cartridge makes high-fidelity analog more accessible and affordable for listeners.
Beginner audiophiles might need some assistance with the initial setup and regular adjustments, but the spectacular sound quality of this model is well worth it.
Significant improvements, such as threaded inserts and added stylus visibility, make this cartridge a lot easier to manipulate as well.
If you aren't content with Sumiko's smooth, precise, and lively sonic presentation, check out the alternatives mentioned in this Sumiko Blue Point 3 Review. Remember, an extraordinary cartridge is key to unlocking a transformative listening experience.