If you're looking for one of the best beginner-friendly cartridges Sumiko has to offer, the Pearl phono cartridge is always worth mentioning. While it's been a while since it was first introduced, there's no denying how reliable it still is.
In this Sumiko Pearl review, I'll be discussing the famed cartridge's pros, cons, and more. Let's get started!
What Is Sumiko Pearl?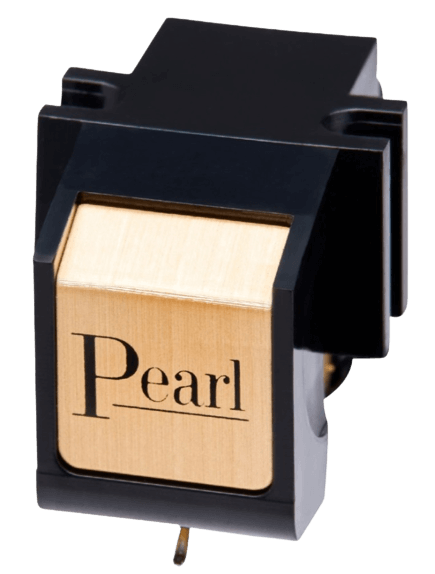 The Sumiko Pearl is a classic phono cartridge that has stood the test of time in the turntable scene. It's been around for decades and still exceeds the expectations of turntable owners by providing a smooth and well-balanced sound quality for an entry-level cartridge.
We first got a glimpse of this phono cartridge back in the 90s as an addition to their Oyster series, some of which included:
Oyster phono cartridge
Black Pearl phono cartridge
Rainier phono cartridge
Moonstone phono cartridge
Amethyst phono cartridge
Olympia phono cartridge
Sumiko Pearl is one of the best entry-level cartridges you can get if you want quality without over-extending your budget. It works perfectly for turntable novices and casual listeners but can also do wonders for experienced owners wishing to return to a classic setup.
If you're worried this cartridge might be too outdated, you'll be surprised how it still fits well with most tonearms on today's market. As far as moving magnet systems go, this cartridge proves you don't have to shell out a lot of money to reproduce high-quality analog music.
What Are Its Pros and Cons?
Sumiko Pearl is an established phono cartridge in the turntable market, and outliving its production date can attest to that. It's not the best in the world, especially with today's competitive standards, but it's certainly reliable at best.
When it comes to Sumiko moving magnet cartridges, Pearl is arguably the best in the series. What makes it stand out most is how well it performs for an old entry-level phono cartridge.
Here are the notable pros and cons of the Sumiko Pearl cartridge:
Pros
It has a lot of great specs considering its price range
It has a dynamic yet smooth sound quality with a well-rounded bass
Its diamond elliptical stylus sits well on the grooves of your records, providing a highly detailed stereo imaging
Despite being an old phono cartridge, it's still compatible with most modern turntable setups
It can still track well with low surface noise, even if you're using old and worn records
Cons
It can sometimes take 15 to 20 hours of break-in, according to some user reports
It's not as easy to set up as other plug-and-play phono cartridges
Modern turntable owners may find its features and specs a bit lackluster
Sumiko Pearl Tech Specifications
While the Sumiko Pearl phono cartridge may not necessarily be able to compete with modern high-end cartridges, its overall performance and design are enough to satisfy. Yes, it doesn't have a lot of advanced features, but it was undoubtedly revolutionary when it first came out.
It brought people's turntable listening experience to the next level so much that it remained a top-tier classic for decades. While I agree that there may be better options in today's market, I must give credit where it's due.
Here are the tech specifications of the Sumiko Pearl cartridge:
| | |
| --- | --- |
| Product Category | Tech Specifications |
| Cartridge Type | Moving magnet design with high-purity copper coils |
| Stylus Design | 0.3 mil x 0.7 mil elliptical |
| Cartridge Dimensions (WHD) | 11.6 mm x 20.26 mm x 27.24 mm |
| Cartridge Weight | 6.0 g |
| Compliance | 12 x 10-6 cm/dyn at 100 Hz |
| Tracking Force Range | 1.5 g to 2.0 g |
| Recommended Force | 2.0 g |
| Vertical Tracking Angle (VTA) | 25° |
| Output Voltage | 4 mV at 1 kHz |
| Load Impedance | 47Ω |
| Load Capacitance | 100 pF to 200 pF |
| Channel Balance | 0.5 dB at 1 kHz |
| Stereo Separation | 30 dB at 1 kHz |
| Frequency Response | 12 Hz to 30 kHz |
| Cantilever | Aluminum pipe |
What Are the Key Features of Sumiko Pearl?
I've seen a lot of phono cartridges come and go for the past few years, and it's still amazing how Sumiko Pearl stands its ground. The thing about Pearl is you don't see it as a highly advanced cartridge but rather a dependable comfort pick.
You can easily have it replaced by high-end cartridges that are more expensive, such as the Ortofon 2M series or Rega Aphelion. Be that as it may, it's still comforting to know there's a budget cartridge that can perform well, even by today's standards.
These are the key features you can expect from the Sumiko Pearl phono cartridge:
Moving Magnet Cartridge with an Elliptical Diamond Stylus
There are many reasons why turntable owners prefer using a moving magnet cartridge more than a moving coil one. For starters, moving magnets produce a higher output, have a replaceable stylus, and don't require a phono preamp.
If you check most moving coil cartridges, you'll also notice that they're likely to be more expensive and fragile. Not only does Sumiko Pearl make use of such an efficient feature, but it also does excellently with the addition of an elliptical diamond stylus.
Having a diamond stylus helps protect your records from damage and improves sound quality. On top of that, you won't have to replace your stylus for a long time since diamond designs are built to last.
Smooth and Well-Balanced Analog Audio Reproduction
Among all the budget-friendly and entry-level cartridges I've tried, Sumiko Pearl continues to prove how smooth its sound quality is with almost any type of music. If you don't like a lot of treble in your records, this cartridge definitely suits you.
It gives vinyl records a warm ambiance that pulls you in with every tap of a song's beat. Not only that, but it's also friendly with old records that might've collected dust on your shelves over the years.
The secret to enjoying your music listening is in the details, and Sumiko Pearl gives justice to what your records have to offer.
Related: The Best Sumiko Cartridges on the market
Sumiko Pearl Ratings
While the turntable market has evolved exponentially over the past few years, I believe Sumiko Pearl has solidified itself as an up-to-par phono cartridge. While the cartridge may leave much to be desired, especially for experienced turntable owners, its simplicity is where it shines most.
Overall, it's still a worthy pick, and I find no reason not to get it if you want to keep your setups sweet and simple. Love it or hate it, the cartridge is here to stay longer than it already has.
On that note, here are my ratings for the Sumiko Pearl:
Ease-of-Use: 3 out of 5
Features: 3.5 out of 5
Value for Money: 5 out of 5
What Are the Best Alternatives for Sumiko Pearl?
To some people, Sumiko Pearl is considered the best entry-level phono cartridge. As much as I do see that being a solid argument, I've got a few alternatives that can perform just as well, if not better.
Here are some of the best alternatives to the Sumiko Pearl phono cartridge:
Sumiko Rainier is a close sibling of the Pearl phono cartridge. If you Google enough, you'll find that some users argue this is the best cartridge Sumiko has ever made.
It's not surprising they think that way since the cartridge delivers a good dose of dynamics. Not only does it perform well in terms of sound quality, but it's also easy to set up.
If you love hearing your records come to life with much soul and emotion, this cartridge is more than worth a try.
The Goldring E3 is one of the company's best entry-level cartridge representatives, and deservingly so. Thanks to its Magnetic Duplex Technology, listeners are granted more sonic accuracy, enhanced analog audio reproduction, and better channel separation.
Whatever record you play sounds clean and rhythmic. There's also barely any effort in setting it up, so you can plug and play it straight from its box. Overall, it's a well-rounded phono cartridge turntable owners should definitely not sleep on.
Frequently Asked Questions (FAQs)
How Long Does The Sumiko Pearl Cartridge Last?
Since the Sumiko Pearl cartridge has a diamond stylus, you can expect it to play records for at least 2,000 hours before it completely wears out. Luckily, it's easy to replace, thanks to its moving magnet design.
As for the cartridge itself, it usually lasts for two years but can go beyond if you take proper care of it.
Related: Sumiko Rainier Vs Moonstone
What Is The Tracking Weight Of Sumiko Pearl?
Sumiko Pearl's tracking weight sits comfortably at 1.5 to 2 grams with a recommended tracking force of 2 grams. As long as the tracking force is followed, you'll find little to no distortions and vibrations while playing your records.
Final Verdict
It's hard to believe how long the Sumiko Pearl has lasted in the turntable scene. It just goes to show how crafty the company is in producing cartridges that are top quality.
While the Pearl cartridge may not be everyone's first pick, I find no reason not to get it even after all these years. Think about that the next time you're in search of a decent entry-level cartridge.