Sumiko's Wellfleet cartridge is fairly new to the turntable scene, but it showed great promise by improving on the series line of cartridges. Now, the big question is, is it worth getting?
Allow me to help you reach that decision by discussing its key features as well as the pros and cons in this Sumiko Wellfleet review. Let's dive right in.
Sumiko Wellfleet Comprehensive Review
Sumiko is one of the most trusted phono cartridge makers in the turntable scene, and its most recent addition, Wellfleet, is no exception. With over 40 years of experience, it's no surprise these skilled Japanese artisans produce top-quality cartridges with every release.
Wellfleet is the newest phono cartridge in Sumiko's Rainier collection. The cartridge boasts a nude elliptical diamond stylus to lessen tip mass further and increase response accuracy.
Sumiko utilized the best design features of the popular Moonstone cartridge while retaining the resonance-optimized housing. The results are nothing short of astounding as Wellfleet carries on the desirable traits of predecessor cartridges without compromising its lightweight design.
While Wellfleet has only been in the market for a year, it showed how Sumiko takes note of what makes their cartridges great and improves them even more.
What Are Its Pros and Cons?
Sumiko Wellfleet has shown considerable improvements in cartridge making, but avid turntable enthusiasts may still find a thing or two to be critical about. While the cartridge may be far from perfect, there's also no denying how well it performs for what it's worth.
Nonetheless, I have to appraise Wellfleet for its notable upgrades, despite the few minor criticisms it gained from various users. Let's take a look at the pros and cons of the Sumiko Wellfleet.
Sumiko Wellfleet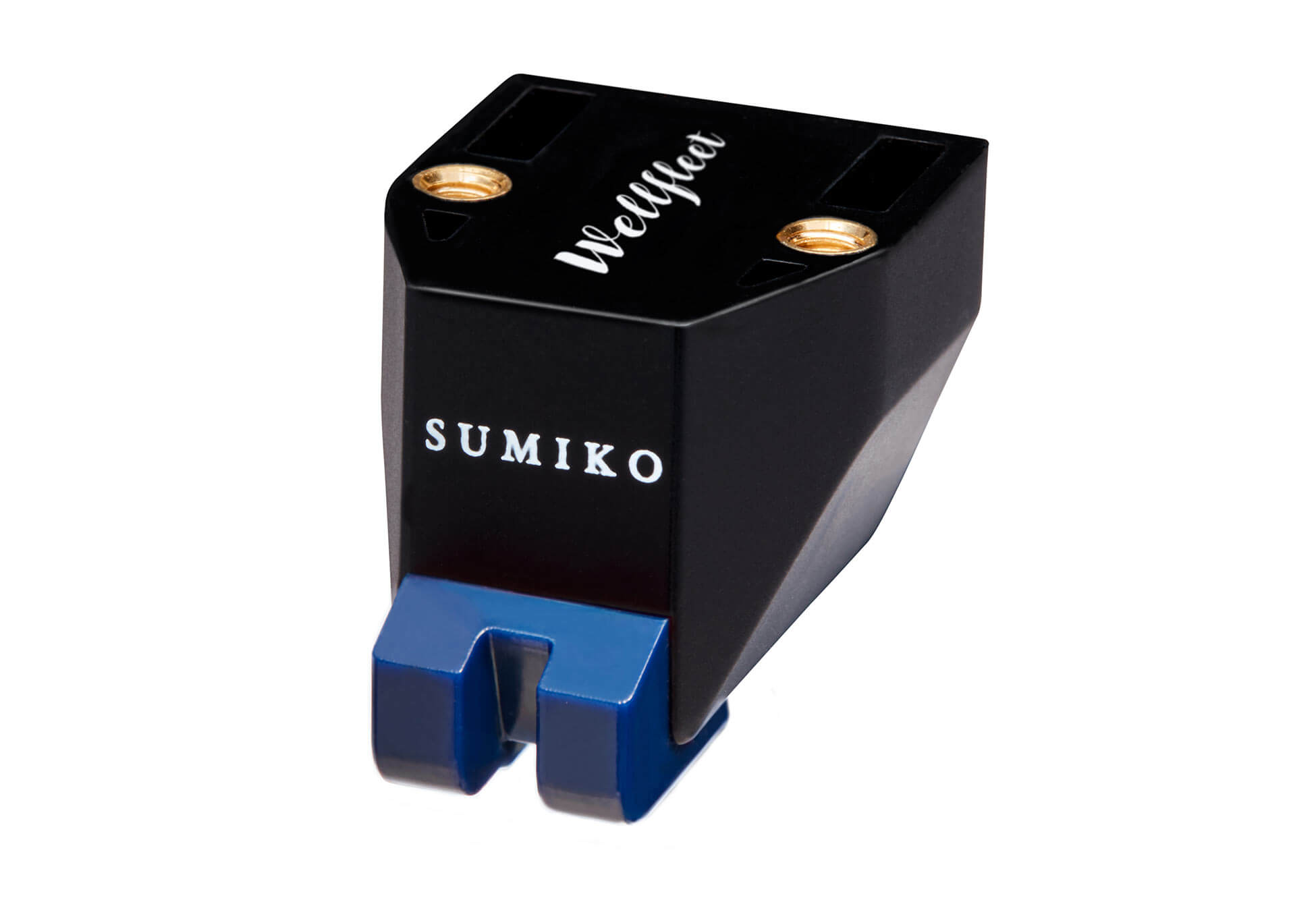 Pros
Its lightweight design gives off a more direct and accurate response to stylus movement
Its increased speed accuracy heightens the listener's sense of detail
The vocals of vinyl records come to life with a clear, detailed, and warmer sound quality
Backing vocals are easier to discern, and certain instrumentations are more distinct
Improved surface noise and distanced backdrop
Cons
Its tracking force range is quite limited compared to other cartridges
It has a slightly lower output voltage than other cartridges
Some users consider its lightweight approach to manufacturing more fragile and prone to breaking or damage
Sumiko Wellfleet Tech Specifications
If you take the Sumiko Wellfleet and Moonstone cartridges together, you'll notice they're almost exactly the same, except for the nude diamond stylus. While this may seem like a minor upgrade, it matters a lot in how the cartridge performs overall.
Whether you're an experienced turntable enthusiast or a casual listener, you'll certainly find many things to be impressed about in this phono cartridge. Here are the tech specifications of Sumiko Wellfleet:
| | |
| --- | --- |
| Product Category | Tech Specifications |
| Cartridge Type | Moving magnet design with high-purity copper coils |
| Stylus Design | 0.3 x 0.7 mil nude diamond elliptical |
| Cartridge Dimensions (WHD) | 17.2 mm x 18.8 mm x 29 mm |
| Cartridge Weight | 6.5 g |
| Compliance | 13 x 10-6 cm/dyn at 100 Hz |
| Tracking Force Range | 1.8 g to 2.2 g |
| Recommended Force | 2.0 g |
| Vertical Tracking Angle (VTA) | 26° |
| Output Voltage | 3 mV |
| Load Impedance | 47 kΩ |
| Load Capacitance | 100 to 200 pF |
| Channel Balance | 0.5 dB at 1 kHz |
| Stereo Separation | 30 dB at 1 kHz |
| Frequency Response | 12 Hz to 33 kHz |
| Cantilever | 0.5 mm aluminum pipe |
Readers also check:
What Are the Key Features of Sumiko Wellfleet?
Sumiko Wellfleet took the phono cartridge market by storm as it followed what made the Moonstone cartridge great and developed it further with its stylus design. You may have seen a few downsides to the product, but it doesn't compare to what it has to offer.
Let's go further into detail with the key features that make Sumiko Wellfleet such a viable phono cartridge.
Nude Diamond Elliptical Stylus
If there's anything worth mentioning about the Wellfleet phono cartridge, it's the transition to a nude diamond elliptical stylus. This manufacturing decision aims to reduce mass from the tip to enhance sonic accuracy and response to movement.
It's not an exaggeration when I say this cartridge truly brings justice to how artists intend their music to be listened to. Wellfleet brings out the tiniest details in each record you play as it runs smoothly on the grooves, producing a deeply suspended image.
Related: The full Sumiko Songbird review
First-Rate Sound Quality With High Attention to Detail and Instrument Distinction
Sound quality always makes or breaks a phono cartridge's capability to perform well in any turntable setup. Luckily, this isn't something you need to worry about since Wellfleet does its job well in this area.
You'll surely appreciate this phono cartridge if you've ever struggled with discerning back vocals and subtle instrumentations in the background. It's as if every turntable listening experience feels brand new as you discover more details in your favorite tunes.
Lightweight Plug-and-Play Design for Easier Switch-Ups and Flexible Compatibility
Another key feature worth noting is Wellfleet's accessibility and flexibility. Surely not everyone has the luxury of time in most cases and would rather spend more time relaxing to songs rather than setting up their turntables for extended durations.
With that said, I just love how it barely takes any effort to plug the Wellfleet cartridge into my turntable and start playing records. On top of that, the cartridge and replacement styli are interchangeable with Moonstone, Olympia, and Rainier.
It makes it easy for users to switch things up, especially if you enjoy tinkering with your turntable and trying different setups.
Sumiko Wellfleet Ratings
There's really not much to complain about the Sumiko Wellfleet, given how well it performs in almost any turntable setup. It may not have a loaded amount of upgrades compared to its previous versions, but it matters where it did improve.
Additionally, if a feature worked wonders before, then there's no reason to fix or remove it. What makes Wellfleet a good choice for turntable owners is how it gets the best bits from older cartridges and pairs them with a fitting nude diamond stylus upgrade.
Here are my ratings for the Sumiko Wellfleet cartridge:
Ease-of-Use: 5 out of 5
Features: 4 out of 5
Value for Money: 3.5 out of 5
Best Alternatives for Sumiko Wellfleet
If the Sumiko Wellfleet cartridge doesn't sit well with you, I've got a few cartridge recommendations that may do the trick. These are the best alternatives that can perform just as well, if not better:
Sumiko Moonstone is the direct inspiration for the Sumiko Wellfleet cartridge. Their features are closely similar that they're almost interchangeable.
If you're looking for a quality phono cartridge that's affordable and well-balanced, Moonstone is definitely worth a shot. It's one of the best options in the market for its price range, and you barely have to invest much to get it.
It works wonders for those who are testing the waters in the turntable scene.
Recommended: Our detailed Sumiko Blackbird review
The Ortofon 2M Blue is always worth mentioning if we're talking quality cartridges with many advantageous features. There's a reason why this cartridge remains a staple option in the turntable market, making it a go-to for DJs and casual record listeners alike.
Not only does it perform well, but it also rocks a sleek design that's pleasing to the eye as much as the ears. If you want to listen to how artists envisioned their music to be listened to, using this cartridge is the way to do so.
Audio-Technica is another known brand for producing quality moving magnet cartridges, and the AT-VM95EN is one of their best examples. Similar to Sumiko Wellfleet, it boasts a nude elliptical diamond stylus that sits well on the grooves of your records.
This cartridge is easy to use, has excellent channel separation for outstanding tonal quality, and is flexible. It definitely deserves its title of being one of the best entry-level cartridges.
Readers also check: Difference between Sumiko Blue Point 2 & 3
Frequently Asked Questions
Where Is The Sumiko Wellfleet Manufactured?
Sumiko is a well-known Japanese brand, and the first cartridge they developed was released in 1982. All of their cartridges are handcrafted by skilled Japanese artisans to reproduce analog music.
Given the company's level of expertise, it's no wonder how they've lasted 40 years in the business.
How Long Does The Sumiko Wellfleet's Stylus Last?
On average, a standard stylus can last up to 1,000 hours, depending on its usage. However, with the Wellfleet's diamond elliptical stylus, you can listen to your records for at least 2,000 hours before replacing it due to wear and tear.
While this is the expected lifespan of its stylus, it's still necessary to take good care of your turntable to avoid early deterioration.
Final Verdict
With all the facts laid out, I consider the Sumiko Wellfleet a solid and well-rounded cartridge for beginners and experienced turntable owners. It may not have a lot of highly advanced features, but it gets the job done.
Is it the best cartridge by today's standards? Maybe not. But if you're looking for a high-quality cartridge that performs well and is built to last, you can't go wrong with the Wellfleet.