Sumiko has always been one of the top brands when it comes to cartridges. For over 40 years, the company has been giving us high-quality cartridges for the most premium music experience.
That said, it seems like Sumiko doesn't plan to stop yet. With their latest release, the Starling Phono Cartridge, they continue the long history of musical excellence.
If you're a fellow audiophile, you must be raring to know more about this brand-new addition to Sumiko's collection. Then stick with me, and let's discuss everything about this MC cartridge.
In this Sumiko Starling review, I'll be talking about its pros and cons, its features, as well as some alternatives you can check out.
Sumiko Starling Full Review
The Sumiko Starling is the latest addition to the company's Reference open-body MCs. It features one of the best hand-built stylus technology, packed in a compact frame.
Within the minimalist build of Starling lurks some of the most premium technology in cartridges. Its coils are arranged in an "X" orientation that connects to a rigid boron cantilever.
This cartridge highlights an ultra-low mass, diamond Microridge stylus. So, expect a superior sound output, able to pick up the most subtle vibrations, which your typical needles cannot.
The configuration of stylus is tethered to a synthetic rubber material. Which, according to Sumiko, will ensure the best compliance despite the general wear and tear.
Sumiko Starling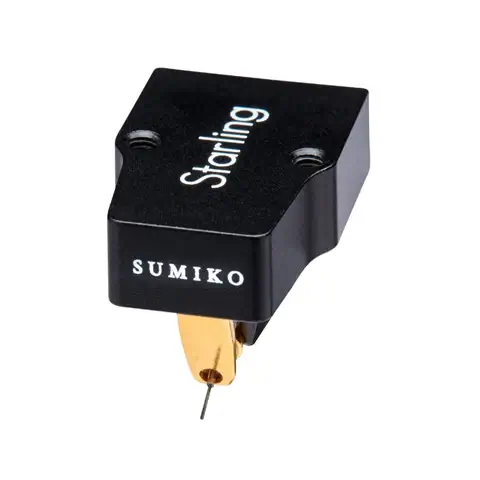 Pros
Tough Build
Diamond Microridge Stylus
Moving Coil Cartridge
Premium Sound
Easy Set-up
Cons
Nude Build
Non-tradeable Stylus
Pros
Before purchasing anything, we want to know what sets the product apart from its competitors. Here are some advantages of the Sumiko Starling MC cartridge:
1. Tough Build
From its first line of cartridges up to its latest cartridge line up, Sumiko has maintained its reputation. So, in terms of durability, you can expect the Starling to last years with you.
As with all their models, Sumiko hand-crafted this phono cartridge all the way from Yokohama, Japan—assembled by world-class craftsmen equipped with an eye for quality and precision.
2. Diamond Microridge Stylus
One of the highlight features of the Starling is its diamond-profiled Microridge stylus. This attribute allows for a longer play time than your average cartridge.
One advantage of having a diamond stylus is its durability. Before diamonds, manufacturers utilize soft ceramic and stones which doesn't last as long.
The unique shape of the diamond stylus will penetrate deeper into the groove of the vinyl. For this reason, it has the best frequency response and tracking capability that allows audiophiles to enjoy Hi-Fi music in their homes.
Most cartridge styli can last a decent play time of about 200 to 1,000 hours. On the other hand, Starling's diamond stylus has a whopping lifespan of over 2,000 hours.
3. Moving Coil Cartridge
Aside from the mechanics of the stylus, the technology behind the Starling also offers better value. As a moving coil model, it produces sound with excellent precision.
Audiophiles prefer a moving coil over a moving magnet cartridge for several reasons. Despite the high price, the advantages of an MC far outweigh the benefits of an MM.
One advantage of an MC is that it has lighter coils. This attribute allows them to vibrate and move effectively without disturbing other components of the cartridge.
Most importantly, a moving coil can pick up the nuances and subtleties of the texture of the vinyl grooves. This high sensitivity results in fuller, cleaner, and richer melodies you can enjoy.
Recommended: the full Sumiko wellfleet review
4. Premium Sound
Of course, as a top-of-the-line MC cartridge, Starling delivers superior quality in terms of sound output. It radiates the richest of melodies that will instantly capture your audiophile heart.
Its Microridge stylus digs exceptionally well on the vinyl, pulling out details of the music you may not even know about. This feat is what surprises many audiophiles.
The bass and treble production are also outstanding. It creates a distinct sound that brings your favorite singer's voice to life—like they're standing in front of you!
The space between the instruments has never been more distinct, and the nuances between tones are off the charts. It can render the orchestra easily while maintaining air and space.
Finally, and this might come as a surprise, the Starling doesn't make any surface noise. For this reason, you can listen to your treasured LPs in quiet perfection.
5. Easy Set-up
There's no arguing that the music and the build of the cartridge are essential. However, one aspect that most reviewers forget is if it's easy to install.
On this note, audiophiles remarked that the Starling is easy to mount on any turntable. There's a built-in guard protecting the needle and cantilever of the cartridge, making it simple to mount.
The device has threaded mounting holes which is a great locking mechanism. However, the connector pins behind the cartridge are smaller, so you might need to squeeze them in.
If you own other Sumiko cartridges, such as a Blackbird, their set-ups are similar, so you won't need to worry about installing your Starling.
Cons
While there's no doubt that the Starling offers one of the best musical experiences you can get from a cartridge, drawbacks are an inevitable part of any product.
1. Nude Build
Some people argue that nude-built cartridges are better. However, there are concerns about this orientation that some audiophiles raised.
One crucial drawback of a nude arrangement is the exposed internal components of your cartridge. The motor and cantilever of Starling hang out unprotected.
This issue makes your cartridge vulnerable to external elements, like dust or water. You need to take extra precautions and care to prevent damaging this MC.
2. Non-tradeable Stylus
Another pain point that users identified is the non-replaceable stylus of Starling. Unfortunately, this option isn't currently available for moving coil cartridges.
The advantage of a replaceable stylus cartridge is you can still use it even if the stylus heads south. For MC cartridges like the Starling, a worn-out stylus means you need a replacement.
Fortunately, Sumiko offers a trade-in deal with their customers. This way, you can purchase a new cartridge with your old Starling for a 30% price reduction.
Readers also check: The top Sumiko cartridges on the market
Sumiko Starling Rating
The specifications and features of a product aren't enough to capture its overall value. With that in mind, here's our final rating of the Sumiko Starling cartridge:
1. Ease of Use – 4/5
If you're new to cartridges and record players, it may take some time to learn their intricacies. That said, you can use a downloadable 15-page user manual, available on Sumiko's website.
2. Sound – 5/5
If you're looking for a clean and rich sound, this MC cartridge can give you exactly that. Its diamond, Microridge stylus exudes tonal excellence that's second to none in this price range.
3. Value for Money – 4/5
As a flagship product, the price of this MC cartridge can be overwhelming to first-time buyers. Nevertheless, Starling can offer one of the best audio experiences, perfect for audiophiles!
Recommended: Here's our comprehensive Sumiko Pearl review
4. Maintenance – 4/5
It's no secret that MCs are more difficult to maintain than MM cartridges. Moving coils may require professional help in case of malfunctions.
The open frame of set-up can also be prone to damage from external elements. Extra care and a steady pair of hands are necessary for Starling maintenance.
Key Features
It doesn't come as a surprise to find that the Starling has everything we need in a cartridge. That said, here are some additional key features you might find useful:
1. Product Design
The Starling boasts the best features Sumiko can offer with their cartridges. It's the picture of exquisite music coming from a light, compact frame hiding its technological ingenuity.
Recommended: Here's our comprehensive Sumiko Oyster review
2. Overall Quality
What sets Sumiko's cartridges apart from other brands is the unique sound and excellent craftsmanship. This premium quality remains in their Reference lineup.
Alternatives to Sumiko Starling
Choosing a cartridge is tricky if you don't know where to look. With that in mind, here are some alternatives to the Sumiko Starling offering outstanding values:
The Songbird cartridge is the little sister of the Starling. Despite the lower price tag, the Songbird offers a well-balanced value between musical aesthetics and practicality.
It excels at low bass, with clean and crisp mid and upper ranges. As a moving coil cartridge, it doesn't need a preamp and will work on any table turn.
If you're new to vinyl and record players, it's a good idea to start off with some cheaper cartridges. The Rainier is one of the most economical units from Sumiko.
Don't let the affordable price tag fool you, though. This MM cartridge from the company's Oyster series claimed the What Hi-Fi? Award for its affordability and great sound!
Related: Sumiko Rainier vs Moonstone
Final Verdict
From their first line of cartridges, the Talisman, to their newest flagships, the Reference, Sumiko became a steadfast companion to vinyl lovers all over the world.
The Sumiko Starling is a first-class MC cartridge with top-notch value. It's the perfect unit for audiophiles looking for a premium sound ride of musical excellence.
Take your love and passion for music further with Sumiko Starling!