Sumiko seems to always rise to the occasion when it comes to producing quality cartridges, and with the fairly recent Songbird, I have no doubts.
In this Sumiko Songbird review, I'll discuss the cartridge's key features, tech specs, as well as pros and cons. Is the cartridge worth all the hype? Let's find out.
What Is Sumiko Songbird?
Sumiko Songbird comes from the company's Reference series of moving coil cartridges. Songbird is one of the latest models Sumiko released roughly four years ago, and it's only been proving itself as a worthy candidate for your next cartridge replacement.
To put the evolution of Sumiko's Reference series in perspective, here are the moving coil cartridges included in the collection:
Celebration 40 Phono Cartridge
Songbird Low Phono Cartridge
Songbird High Phono Cartridge
Blackbird Low
Blackbird High
Starling Phono Cartridge
Celebration II
Palo Santos Presentation Phono Cartridge
At first glance, Songbird looks simple yet flashy enough to get your eyes turning. Its design is as bare as it gets, but we're all here for that electric blue finish that's just satisfying to look at in my turntable setup.
If you like blasting your records with punchy bass, you might find better alternatives. However, if you enjoy a warm, robust, and clear sound quality, Sumiko Songbird is definitely worth a shot.
This cartridge is adept at bringing out the best in a record's vocals and acoustic instruments. Additionally, you get to focus more on the details of each song with little to no distortions or vibrations, thanks to its resonance-optimized open-body design.
It's also worth noting that you have the option to choose between low and high output with the Sumiko Songbird since the cartridge comes in two versions.
Recommended: Sumiko Songbird vs Blackbird full comparison
What Are Its Pros and Cons?
Sumiko Songbird is one of the best cartridge examples of how far the brand has gone with its 40 years of experience in the turntable business. It performs just as well as its sibling, Starling, but with lesser investment and the option to pick your preferred output.
It may not be as affordable as other superb entry-level cartridges, but I believe it's still worth more than what its price tag says. Given the cartridge's performance, I wouldn't mind spending a few extra bucks getting it if I can have more relaxing moments with my turntable.
These are the notable pros and cons of the Sumiko Songbird:
Sumiko Songbird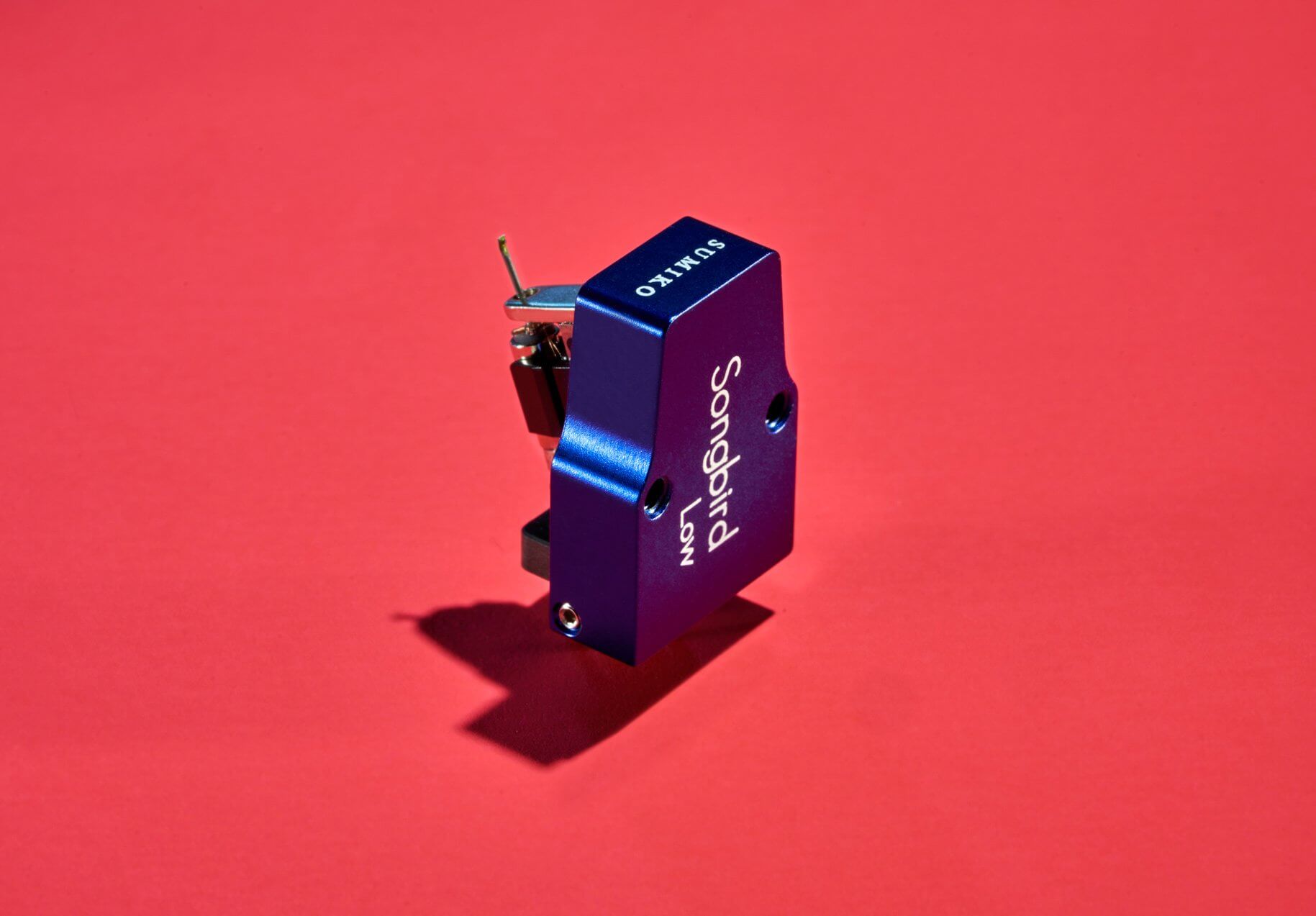 Pros
You can choose between getting a low or high-output cartridge to fit your turntable setup
It favors vocals and acoustic instrumentals, which helps bring out more soul and emotion in your records
Its open-body cartridge allows you to play records free of internal resonance and with minimal worries about vibration and distortion
It's easy to set up, even for turntable newbies
The cartridge looks stylish with its minimalist design and electric blue finish
Cons
It's a bit pricey compared to most entry-level cartridges
It's not the best pick for those who enjoy loud and heavy music with electric instrumentals
You might find other cartridges with better features and performance in its price range
Sumiko Songbird Tech Specifications
If there's anything the Sumiko Songbird excels at, it's playing records with much attention to detail and potent low frequency. Since Songbird and Starling are close siblings, you'll find lots of similarities in their performance and overall design.
What makes Songbird unique is how it utilizes what makes Starling great and gives you the freedom to switch between low and high output.
Here are the tech specifications of the Sumiko Songbird cartridge:
| | |
| --- | --- |
| Product Category | Tech Specifications (High Output) |
| Cartridge Type | High-output moving coil (high purity) |
| Stylus Design | 0.3 mil x 0.7 mil elliptical |
| Cartridge Dimensions (WHD) | 17 mm x 18 mm x 28.5 mm |
| Cartridge Weight | 8.5 g |
| Compliance | 12 x 10-6 cm/dyn at 100 Hz |
| Tracking Force Range | 1.8 g to 2.2 g |
| Recommended Force | 2.0 g |
| Vertical Tracking Angle (VTA) | 20° |
| Output Voltage | 2.5 mV (0.5 mV for low output) |
| Load Impedance | 47 kΩ (>100 Ω for low output) |
| Load Capacitance | 100 pF to 200 pF |
| Channel Balance | <0.5 dB at 1 kHz |
| Stereo Separation | 30 dB at 1 kHz |
| Frequency Response | 12 Hz to 40 kHz |
| Cantilever | ⌀0.5 mm treated aluminum pipe |
What Are the Key Features of Sumiko Songbird?
Playing my acoustic records using the Sumiko Songbird allowed me to appreciate the songs more. I just love how it fills up the quiet spaces in my room with its sublime, warm sound.
Its tracking force range isn't as flexible as you'd want it to be, but it tracks grooves accurately once it sits comfortably at 2.0 g. While it does cost a bit more than most mid to budget-priced cartridges, I find it more than worth it due to how well it performs.
These are the noteworthy features you can expect from the Sumiko Songbird:
A Moving Coil Cartridge With Two Models Capable of Playing at Low and High Outputs
One of the main advantages of using a moving magnet cartridge is that it delivers a higher output. In most cases, however, audiophiles prefer moving coil cartridges due to the wider frequency response and greater dynamic range moving coils offer.
That's why it's commendable how Sumiko Songbird gives the best of both worlds with its low and high models. If you want the best features of a moving coil cartridge paired with a moving magnet's higher output, this one's for you.
The only thing that's left missing is the replaceable stylus feature. Be that as it may, it still doesn't outweigh the Songbird's output flexibility.
Ultra-Low Resonance and Open-Body Design
While the open-body design may seem questionable in hindsight due to the cartridge's exposed internals, it actually gives more control to its generator. The absence of a shell helps remove unwanted internal resonance while offering the highest fidelity possible.
Sumiko's decision to manufacture cartridges such as Starling and Songbird with open-body structures is a step in the right direction. It's clear that the inspiration draws from how they designed the Blackbird and Blue Point Special EVO III cartridges.
Despite not having an outer shell to cover the cartridge, there's no compromise in durability. This means fewer mechanical noises and more clarity to analog audio reproduction.
Sumiko Songbird Ratings
Sumiko Songbird is a true gem among modern cartridges, and there's really much not to complain about. Not only does it look great, but it also performs well at a reasonable price. Sure, it's not the cheapest you can get, but its features are more than worth considering.
I can also see how people might look for better options with such a price range, but it's still a decent pick nonetheless. On that note, here are my ratings for the Sumiko Songbird:
Ease-of-Use: 4 out of 5
Features: 4.5 out of 5
Value for Money: 4 out of 5
Readers also check: Sumiko Rainier vs Moonstone
What Are the Best Alternatives for Sumiko Songbird?
Sumiko Songbird is a worthy contender for one of the best modern cartridges. You can't go wrong with it, but if you're looking for other options, I've got a few alternatives you can also check out.
Here's to name a few:
The AT-OC9XSL is a dual moving coil cartridge that shines best with its outstanding channel separation due to its nude rectangular shank. It also has a rigid aluminum body design that enhances sound quality by reducing resonance.
If you're looking for a mid-range cartridge with a high transient response (20 to 50 kHz, to be exact), the AT-OC9XSL is a must-try.
The Denon DL-103R is an upgraded version of the audio legend DL-103. It's a lot cheaper than the Sumiko Songbird but proves to be a cartridge of high value for money.
It has a solid bass performance, an impressive frequency range (20 Hz to 45 kHz), and comes at an affordable price. The only downside is you need an MC phono preamp, but if that's not an issue, it's well worth considering.
Frequently Asked Questions
Do Moving Coil Cartridges Sound Better Than Moving Magnet Cartridges?
If you ask any experienced audiophile, you're likely to hear they have a personal bias for moving coil cartridges. I don't blame them since MC cartridges tend to offer more clarity and tracking accuracy.
That's not to say moving magnet cartridges aren't viable, but they're often outperformed. However, in terms of ease of access, I have to give some points to MM cartridges since they don't need phono preamps and have replaceable styli.
Can You Use The Sumiko Songbird Moving Coil Cartridge On Any Turntable?
Since the Sumiko Songbird has two model versions, you can simply go for the high-output model to avoid using a phono preamp. I find this feature quite revolutionary, as MC cartridge users sometimes find it a hassle to use preamps.
Final Verdict
Sumiko Songbird is one of the best mid-range cartridges I've seen in today's market. Not only does it perform well, but it's also flexible with its two model versions.
Its price is not too steep, and its features are nothing short of impressive. I won't be surprised if this cartridge becomes a classic go-to for a soulful listening session.