The Rega Planar 1 cartridge is no doubt a smart buy. Despite its entry-level status, the turntable offers features well beyond its price point, including its low-synchronous 24V motor and enhanced speed stability.
With all the features promoted by the Rega Planar 1, you may want to pair this exceptional turntable with an upgraded cartridge. To unlock the turntable's full potential, you can browse from a selection of our recommended cartridges.
You'll find a versatile list ranging from the famed Ortofon 2M Blue to the reasonably priced Goldring E3. Having said that, stick around to learn more about the best cartridge for Rega Planar 1.
9 Top Cartridges for Rega Planar 1
The Rega Planar 1 is an all-around exceptional turntable choice, from its easy plug-and-play ease of use to its EBLT-belt drive-enhanced technology. One of the Planar's most noteworthy features is its RB110 tonearm.
It offers low friction with an ergonomic headshell design and automatic bias adjustability. Now, a well-designed tonearm deserves an equally well-designed cartridge. Luckily, we've compiled a list of the best matches below for you.
1. Ortofon 2M Blue – Best Overall
Top Pick: Ortofon 2M Blue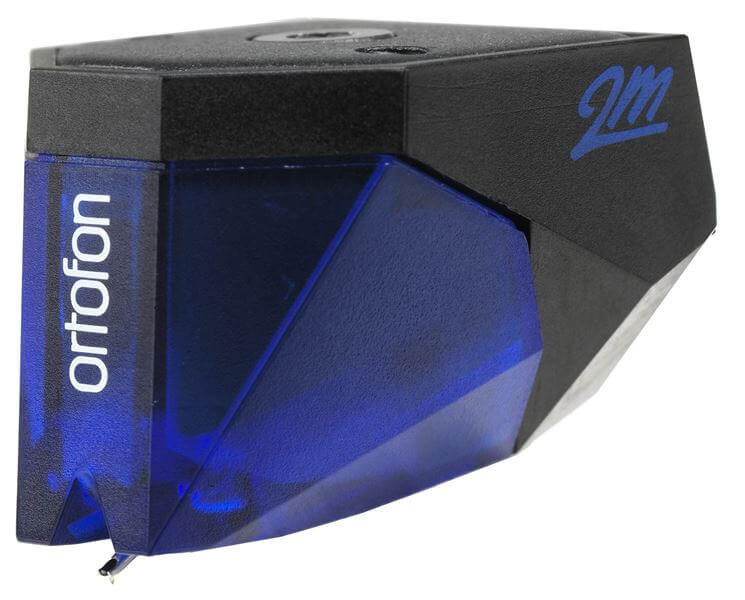 Pros
Reasonable price
Sturdy and easy-to-mount design
High-output sound production
Cons
Slightly high surface noise
When it comes to finding a reliable and universally fitting cartridge, it's hard to go wrong with the Ortofon 2M Blue. The best-selling cartridge offers a moving magnet generator type, giving you a high output reaching over 5.5 mV.
In terms of stylus shape and build, the Ortofon model comes with a nude elliptical diamond needle. This means that it's fully composed of diamonds, adding more to the stylus' lifespan. Speaking of build, the 2M cartridge is manufactured using Hopelex or a polycarbonate resin material ensuring a rigid structure.
If you're looking for a high-frequency range, then you may want to check out this cartridge model's response going between a standard 20Hz to a high 25kHz. In turn, you're provided with a more open sound.
Another winning point of the Ortofon 2M Blue is its ease of use. The cartridge's manufacturers have streamlined the design to make it fit with most turntables in the market, including your Rega Planar 1. Plus, you may find it relatively easy to mount this cartridge, compared to other options.
2. Audio-Technica VM540ML – Runner Up
Runner Up: Audio-Technica VM540ML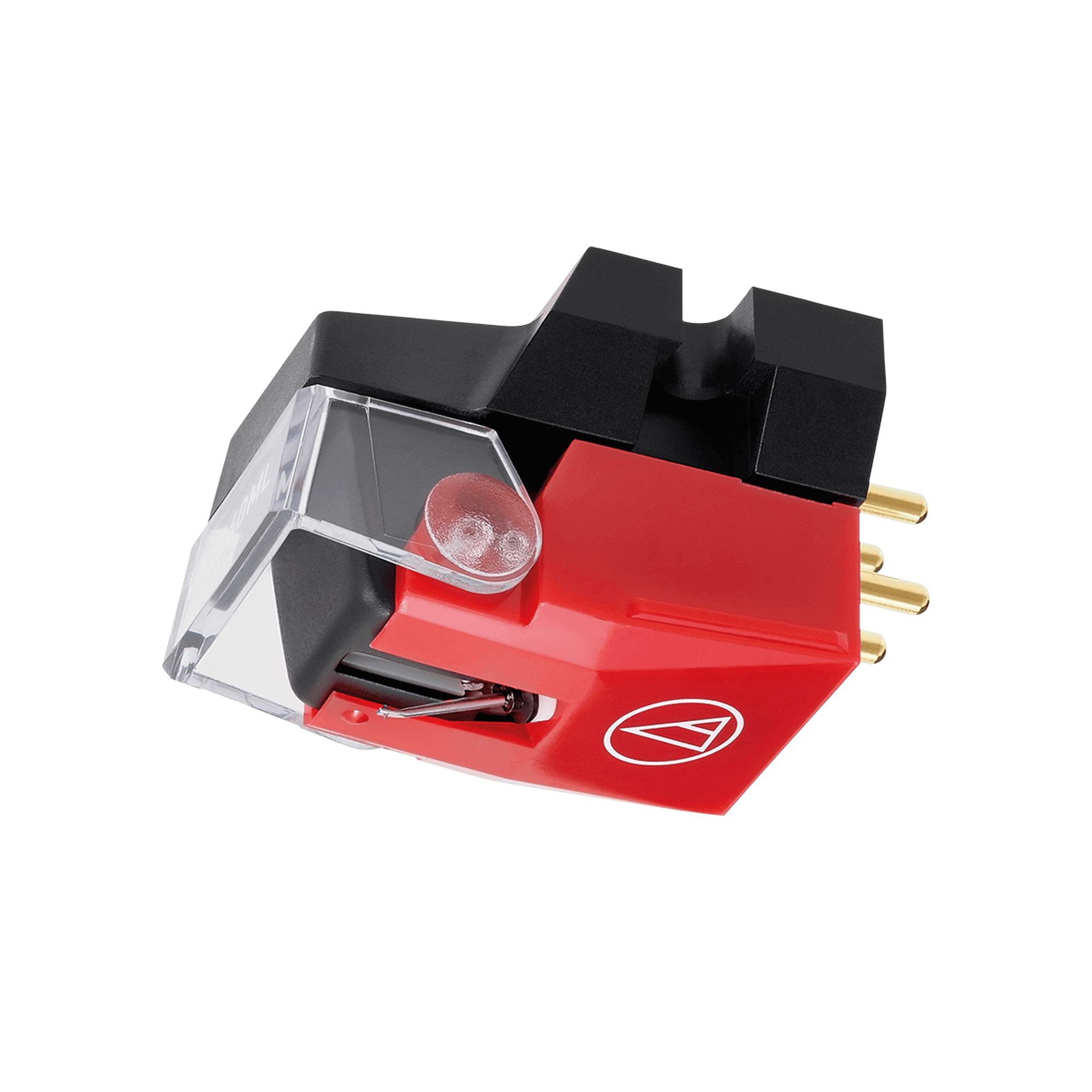 Pros
Great channel separation
Mounting hardware provided
Accurate MicroLine stylus
Cons
May pick up popping sounds
Audio Technica's VM cartridge line has produced some exceptional quality choices, one of which is the VM540ML model. The moving magnet cartridge prioritizes accuracy through features like heightened channel separation.
On top of that, the Audio Technica model comes with a MicroLine stylus giving you more precision and longevity.
When it comes to frequency response, the cartridge doesn't disappoint, going between 20Hz to over 27kHz. The Audio Technica cartridge also comes with mounting hardware such as a non-magnetic screwdriver and lead wire set.
In addition to this, the cartridge's cantilever is composed of a rigid aluminum tapered pipe. This component acts like a connecting arm between the stylus and generator, or in this case, the magnet.
3. Goldring E3 – Best Budget Choice
Budget Pick: Goldring E3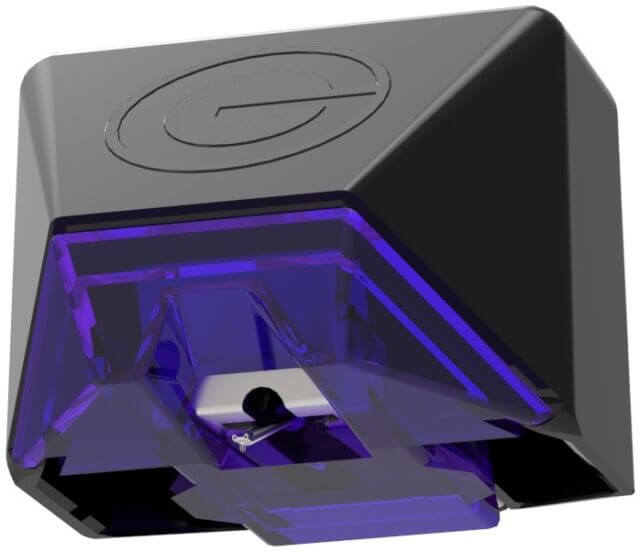 Pros
Delivers balanced and warm tones
Easy to install
Budget-friendly
Cons
Cantilever may prove weak
Cartridges, for the most part, can run a little high price-wise. Nevertheless, some options like the Goldring E3 offer you a reasonable price without sacrificing much performance. To begin, the moving magnet cartridge's cantilever is composed of an aluminum base.
In addition to this, the Goldring E3 is fitted with an elliptical diamond stylus measuring 0.3 x 0.7 mil. These measurements may ensure better sound retrieval from the record grooves. Additionally, it helps in reducing sibilance during high-frequency recording.
When it comes to compatibility, the E3's manufacturers put a lot of thought into designing a universal and easy-to-mount fit for most turntables. Overall, the sound delivery of the cartridge is clear, balanced, and dynamic.
It captures most of the instrumentals in your recording, while still maintaining cohesion. As far as balance in frequency goes, the E3 is high-performing whether there's a high-frequency treble or low-frequency bass.
4. Audio-Technica VM530EN
Audio-Technica VM530EN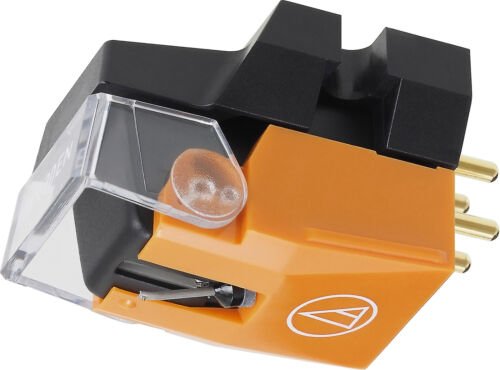 Pros
Exceptional channel separation
Wallet-friendly
Nude elliptical stylus design
Cons
Fullness and richness are not a strong suit in this cartridge.
The Audio-Technica VM530EN is a step down from the aforementioned VM540ML, nevertheless, it comes at a more affordable price. This upgrade will ensure an extended frequency range going between 20Hz to 25kHz.
Additionally, the dual-magnet design can give you enhanced channel separation, going at 27 dB. Plus, the cartridge includes a shield plate dividing the right and left channels which helps in crosstalk reduction.
Aside from that, the nude elliptical design can prove useful when looking for more accurate frequency recording.
The full-diamond composition means that there's no metal shank holding the needle in place. Consequently, there's less mass in the cartridge, giving better high-frequency sound detail.
5. Nagaoka MP-200
Nagaoka MP-200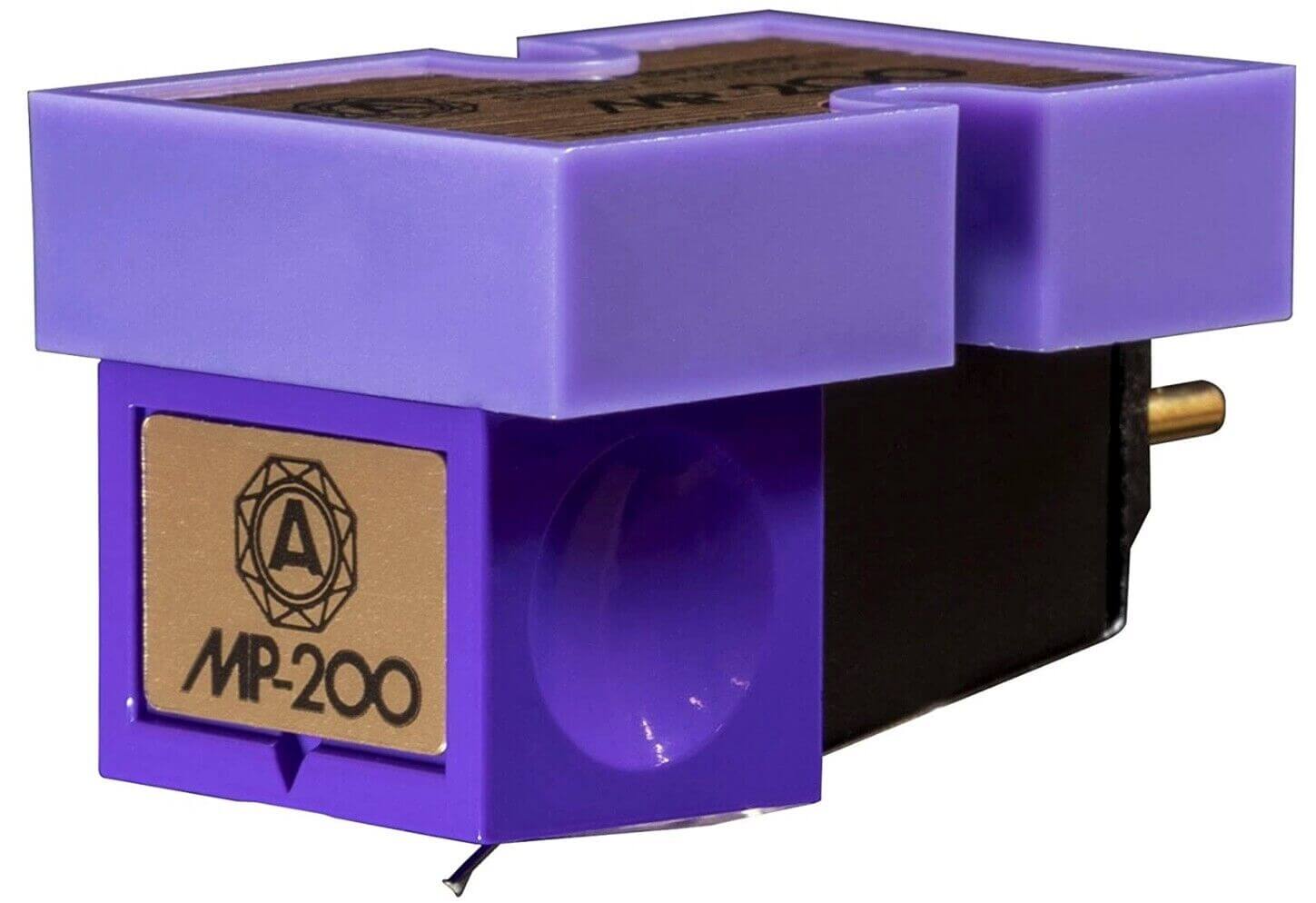 Pros
Overall sturdy build
Delivers warm and rich tones
Replaceable stylus
Cons
Can prove to be on the pricier end
If you're an audiophile who prioritizes richness, depth, and warmth, then you may want to consider the Japanese-made Nagaoka MP-200 cartridge. This moving magnet option is fitted with a boron-constructed cantilever, giving you improved sturdiness in vibrational energy transfer.
The cartridge is equipped with a nude elliptical diamond stylus, providing you with better value. In addition to this, the needle is replaceable in case you're due for an upgrade.
Aside from its needle, the cartridge is constructed using a strong anti-Ferro-magnetic permalloy shield casing. Whether you're a jazz or classical music listener, you'll want to give the Nagaoka model a try.
That being said, the manufacturers of the Nagaoka cartridge recommend a break-in period of at least 30 hours. After that, you can expect to hear the lustrous and enticing tonal quality of this product.
Related: Ortofon 2M Blue Vs. Nagaoka MP 110
6. Rega Carbon
Rega Carbon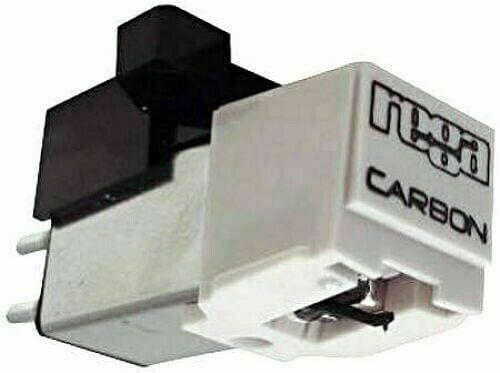 Pros
Reliable option
Replaceable stylus
Carbon cantilever
Cons
Low output level at 2.5 mV
The Rega Planar 1 already comes with a Rega Carbon cartridge. In some cases, you may not be looking for an upgrade. The Rega Carbon option already boasts several positive properties ranging from its easy setup to its highly affordable price.
One of the key features of this cartridge is its boron-made cantilever, increasing its overall durability and frequency delivery. Aside from that, the stylus is conical-shaped which allows it to last longer than other options.
Nevertheless, it may deliver less accuracy. The good news is that the stylus component is replaceable so you can use an elliptical option for better clarity and detail.
The main concern in this cartridge is its relatively low output, even though it's a moving magnet attachment. Apart from that, you still get exceptional tonal quality and bass considering the low price offered.
7. Denon DL-103R
Denon DL-103R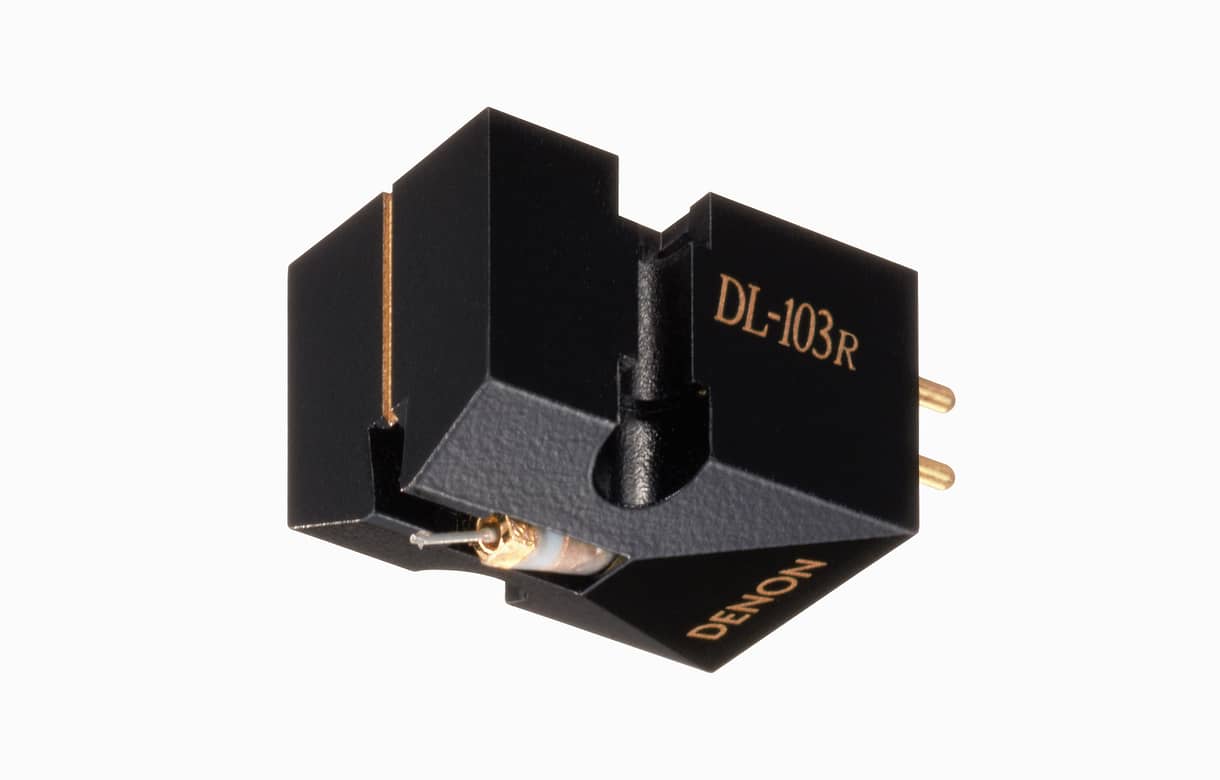 Pros
Great value for money
Moving coil generator
High-frequency range
Cons
May be an overkill for a Rega Planar 1 turntable
One of the Denon DL-103R cartridge's main selling points is its moving coil generator. These types of generators are renowned for their lightweight and overall better detail focus on high-frequency sounds.
Apart from the moving coil's aesthetic old-fashioned design, it has some technologically advanced features. One of which is its highly impressive frequency range going between 20Hz to a goosebump-inducing 45kHz.
For a moving coil cartridge, the Denon DL-103R comes at a cost-effective price. It's worth considering these kinds of cartridges go for around $800 to $1,000.
Apart from that, the Denon model comes with a conical stylus, which improves its longevity. Plus, the cartridge is fairly simple to set up.
8. Audio-Technica AT95E
Audio-Technica AT95E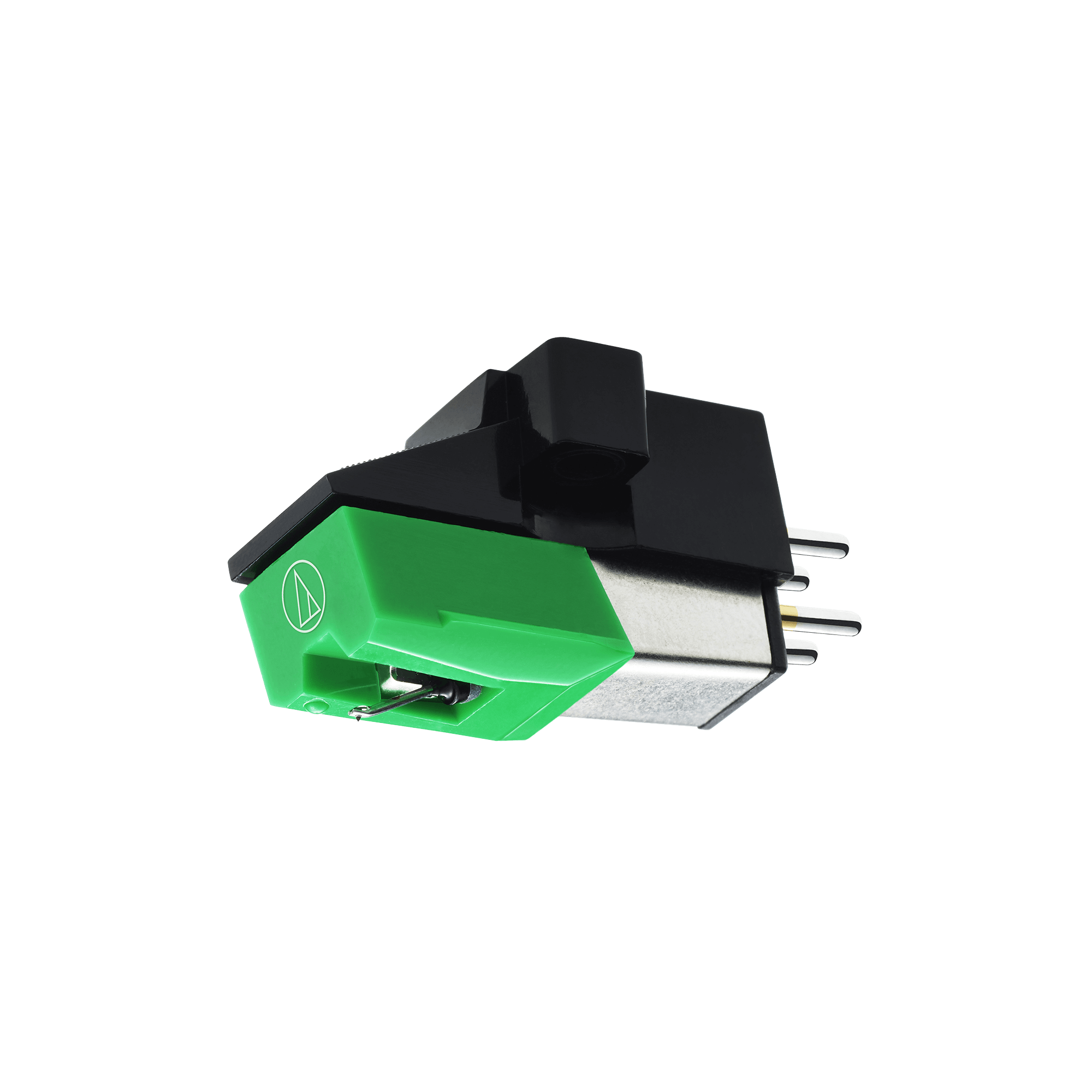 Pros
Easy to install
Affordability
Dual magnet technology
Cons
Tends to lean on the flat side in terms of frequency performance
The Audio Technica AT95E is one of the most budget-friendly options on this list. This could be an ideal option for those looking to get a quick replacement or novice vinyl listeners. Aside from that, the moving magnet cartridge is still fully equipped to deliver quality sound performance despite its low price.
The cartridge comes with a bonded round shank constructed elliptical stylus. The 0.3 x 0.7 mil elliptical needle design can give you detail-oriented tones. On top of that, the dual magnet design is built to enhance the cartridge's channel separation levels.
In turn, you'll be getting fewer distortion levels, as well as full and open sound quality. In addition to this, the moving magnet cartridge's cantilever is composed of a durable aluminum cantilever for a sturdy and reliable vibrational energy transfer.
Another winning point of the Audio Technica AT95E is its easy installment. You'll only need to mount the cartridge using a couple of screws and no nuts.
9. Denon DL-110
Denon DL-110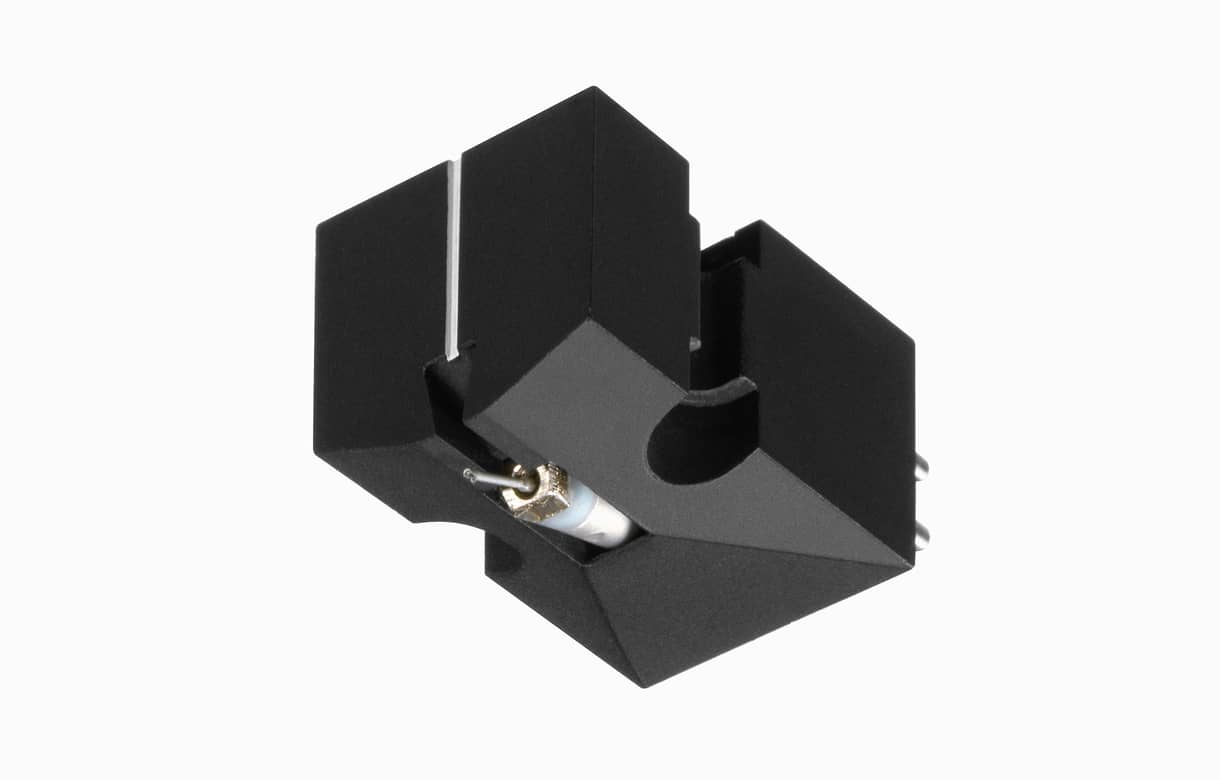 Pros
Cost-effective
Moving coil generator
Compatible with a moving magnet phono preamp
Cons
Might be too sensitive with a moving coil phono stage
The Denon DL-110 is another relatively affordable moving coil cartridge option worth considering. Since the cartridge delivers high output compared to other moving coil options, the Denon model can be supported by a moving magnet phono stage.
In regards to sound quality, the Denon DL-110 cartridge is highly versatile. It can deliver a crisp treble, sufficient midrange, and strong bass. Aside from that, the cartridge is fitted with a durable nude elliptical stylus.
In terms of tracking ability, the recommended force of this cartridge is 1.8 g. That said, the tracking quality is seamless with little to no sibilance since it's also handled well by the premium elliptical stylus.
Related: best cartridges for rega planar 3
Buyer's Guide
Purchasing a cartridge can amount to a hefty investment. For this reason, you'll want to ensure your decision is suitable by thoroughly evaluating your cartridge. This mainly involves looking at factors such as the device's generator type, cantilever build, and more.
Aside from that, we've compiled a buyer's guide based on these critical factors to help you through the decision-making process.
Cantilever
The cantilever is the component that connects the stylus to the generator, which could either be a magnet or coil. It needs to be rigid and durable enough to withstand the constant vibrational energy coursing through the stylus and generator.
While small, cantilevers are key in assessing the cartridge's frequency performance levels. The cartridge part can come in various materials, such as carbon, boron, and copper alloy. In most cartridges, it's composed of an aluminum alloy.
Generator Type
Cartridges primarily come in moving magnet or moving coil formats. Both of which differ in their construct and performance.
Moving Magnet
In the moving magnet cartridge's cantilever, a magnet is attached to the outer end. In turn, it becomes the vibrating part. Meanwhile, tightly assembled coils surround the moving magnet to produce an electromagnetic field.
Overall, moving magnet cartridges, for the most part, produce more output and are fitted with a removable stylus. Nevertheless, the cartridge design can sometimes be less detailed due to its heavy tracking force weight over the record grooves.
Moving Coil
Unlike the magnet attachment in the moving magnet cartridge's cantilever, the moving coil mechanism has a set of coils attached instead. The coils are surrounded by a stationary piece of magnet and their movement powers the cartridge.
That being said, moving coil cartridges tend to be on the lighter side since they're not made with as many magnets.
Subsequently, they're more favored by audiophiles due to the better accuracy in sound production. Aside from that, moving coil cartridges are usually priced higher than their moving magnet counterpart.
Stylus Type
The stylus or needle plays a key role in any cartridge. The component is responsible for making contact with the record's grooves and creating the vibrational energy that will eventually translate to quality music.
In the cartridge market, you may stumble upon several styli shape options, but the most common are:
Elliptical-shaped: these styli are narrowly tapered, which provides you with better tracking and reduced distortion. Nonetheless, their lifespan is comparatively short.
Shibata: Similar to the elliptical-shaped stylus, shibata options are also tapered at the end, but they're narrower. In turn, they provide you with a more well-defined frequency range.
Conical: Compared to other styles, the conical-shaped stylus has a thicker tracing radius, which may provide fewer details in sound output. On the other hand, they're considerably cheaper and last longer.
MicroLine: This stylus allows you to pick up hard-to-reach grooves on your record, making it one of the most accurate styli on this list. Plus, the ridge-tipped stylus is particularly longer-lasting since it wears more evenly compared to other styli.
Frequency Response
This specification allows you to track the range of frequency that your cartridge can pick up. The standard baseline for frequency response ranges between 20Hz to 20kHz. Anything above or lower will provide you with a higher-quality response.
Tracking Force
The tracking force measures the amount of pressure applied from the stylus to your record. Often provided in grams, the higher the force, the more damage you'll risk imposing on the record and vice versa.
Related: top cartridges under $500 on the market
What is the Best Cartridge for Rega Planar 1?
One of the best cartridge options for the Rega Planar 1 turntable is the Ortofon 2M Blue. It earned its top place due to its versatility and impressive high-output sound.
Meanwhile, the Audio-Technica VM540ML also makes for a well-suited choice for those looking to enhance sound accuracy and channel separation.
Lastly, a more budget-conscious option could be the Goldring E3. The price isn't the only attractive aspect of this cartridge. The E3 also offers impressive frequency response and improved tonal quality.
FAQs
What Cartridge Comes With Rega Planar 1?
The Rega Planar 1 turntable comes with a Rega Carbon moving magnet cartridge attached to its RB110 tonearm.
Are Rega Cartridges Any Good?
Rega cartridges offer high-fidelity sound coverage with great balance and accuracy. On top of that, the devices are easy to install and come at affordable prices.
How Long Does The Rega Stylus Last?
Rega elliptical styli can generally last between 150 to 200 hours of playing time with proper maintenance.
Does The Rega Planar 1 Have A Built-In Preamp?
Yes, the Rega Planar 1 has a built-in preamp. This essentially helps in amplifying the sound output from the cartridge to reach all input levels assembled.
Can You Replace The Stylus On A Rega Cartridge?
In the Rega Carbon model, you can replace the stylus. On the other hand, some models like the Rega Exact may require you to return the cartridge to the manufacturer to get a replacement.
To Conclude
After looking through our recommended list and buyer's guide, you may already have a faint idea of which cartridge will be your next purchase.
That being said, the right cartridge purchase mainly depends on your budget and the sound quality you hope to gain. If you're looking to listen to some deep notes of jazz music and don't mind the splurge, then the Nagaoka MP-200 may be your best bet.
In contrast, if your budget is more prioritized, then you can simply stick to the Rega Carbon cartridge. Alternatively, you can opt for an upgraded Goldring E3.