The TD-160 is a legendary entry-level turntable made by the renowned Thorens. It was first introduced in 1972 and went on to become the company's best-selling unit for the next 20 years.
Although it's currently not manufactured, the TD 160 remains unparalleled among classic vintage turntables.
If you manage to get your hands on one of these audiophile units, you need a cartridge that can make use of its full potential and deliver the exquisite sonic it's meant to offer.
In today's article, I'll help you find the best cartridge for Thorens TD 160 by reviewing the top 3 options available on the market and sharing a simple buying guide. Let's get started!
How I Chose Phono Cartridges
First, I searched the web for the most reliable phono cartridges compatible with the Thorens TD 160.
After that, I eliminated options based on ratings, users' reviews, and various budgets. My goal was to end up with the best-performing cartridges at different price ranges.
To form a list, I tested the final group of cartridges to determine how they compare in aspects such as audio quality, construction, and ease of installation.
Reviews of the Top 3 Phono Cartridges for Thorens TD 160
1. Best Overall: Ortofon Super OM 10 Moving Magnet Cartridge
Top Pick: Ortofon Super OM 10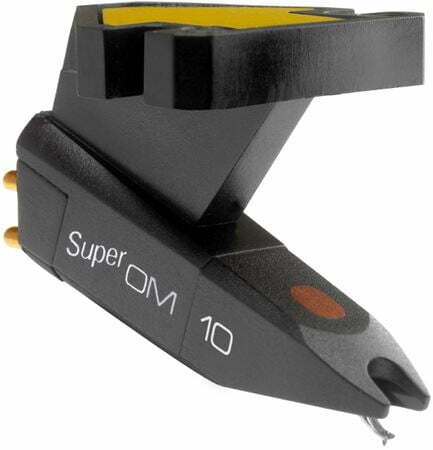 Pros
Causes minimal record wear
Excellent audio balance with impressive bass
Great value for money
Cons
The sound isn't the most detailed
If you're familiar with the popular Ortofon 2M series (for example, the 2M Red and 2M Blue), then you may have also heard of the Ortofon Super OM lineup. This range is the Danish company's lowest-mass range of moving magnet cartridges, which makes it ideal for the Thorens TD 160 with its stock low-mass tonearm.
The Super OM range starts with the Super OM 10, which is the most affordable out of the bunch. But make no mistake, just because it's affordable doesn't mean it doesn't bring the heat!
This cartridge has a lot to show for its name. For one, it sounds amazing with great warmth, depth, and detail.
Additionally, it has a compact design and lightweight construction, measuring in at a total of 5 grams heavy with the possibility of reducing that to 2.5 grams if you take off the weight plate in the upper mounting surface.
As such, you get a lot of room to tweak the counterweight on your turntable for ideal tracking.
The Ortofon Super OM 10 may not provide the best detail out there, but it resolves more than enough for the output to be musically satisfying. It also does a great job of producing engaging audio and balancing thin sound by focusing on lows and low mids as well as easing at the treble and high mids.
Similar to the Ortofon 2M series, the company designed the Super OM lineup with a similar engine.
This means you can easily remove the elliptical diamond stylus of the OM 10 and replace it with a new one at the end of its lifespan, or upgrade it to the stylus of the OM 20, OM 30, or OM 40 without having to buy the entire cartridge.
Related: Best cartridges for TN-400S
2. Runner-Up: Denon DL-110 High Output Moving Coil Cartridge
Denon DL-110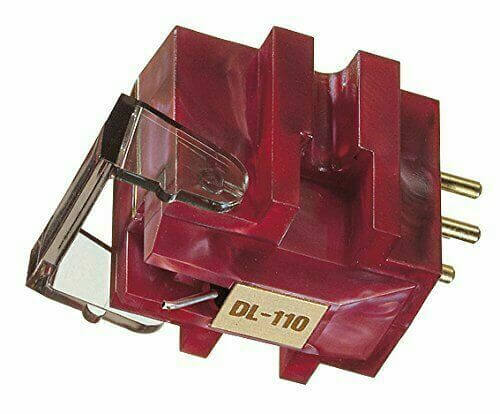 Pros
Easy to align
Amazing balance with a punchy bass
Open sound with a hint of warmth
Cons
Expensive price tag
Can take some time to break in
If you don't mind splurging to get a premium listening experience from your Thorens TD 160, then I recommend the DL-110 from Denon. Made to demonstrate the exquisite sound quality that moving coil cartridges can offer, the company went all out on both the technical and construction aspects.
As a high-output moving coil cartridge, the Denon DL-110 is capable of generating a power matching that of moving magnet cartridges at 1.6 mV. It's also rather functional and easy to align on a wide range of turntables since it relies on the standard 1/2-inch mount system.
This allows you to fit the DL-110 directly to the moving magnet interface of most amplifiers without having to use an extra feature such as a step-up transformer.
The sound of the DL-110 is very well-balanced and shows minimal vibrations thanks to the cross-shaped body of the cartridge, its dual-structure cantilever, and the single-point core support mechanism with suspension wires.
Not to mention, the total weight of the DL-110 is 4.8 grams with a tracking force of between 1.5 and 2.1 grams. This matches the need for a low-mass cartridge on the stock tonearm of the Thorens TD 160, letting the solid diamond elliptical stylus perform without hiccups.
As for the sound quality, the DL-110 is simply outstanding. The treble is beautifully detailed with clear highs and impressive extension. It's well-rounded with no annoying harshness.
The midrange is strong and prominent, offering a wonderful sound. Additionally, the bass is consistent, deep, and intense enough to produce a rich overall tone.
All these elements come together to create an excellent sound profile with a delightful hint of warmth for bass enthusiasts.
To enjoy all that the Denon DL-110 has to offer, you need to install it properly so take your time setting it up for the best results. Although it can take a while to break in, the performance is worth it.
3: Best Budget Option: Audio Technica AT-VM95ML Turntable Cartridge
Audio Technica AT-VM95ML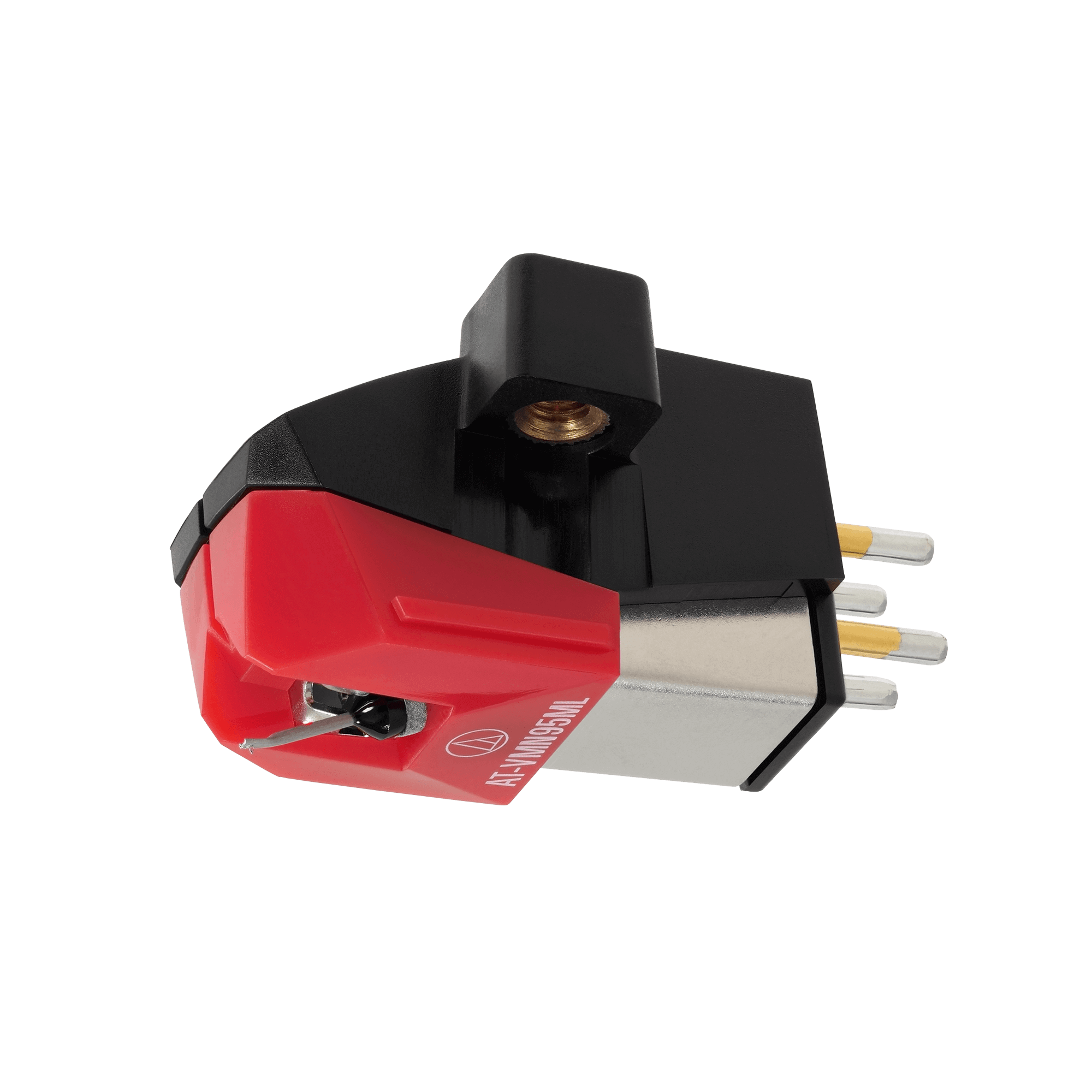 Pros
The stylus shape and audio quality are incredible given the price tag
Effective elimination of inner groove distortion
Very durable (up to 1,000 hours of playtime)
Cons
The bass is a bit lacking
When it comes to budget-friendly phono cartridges that pair well with the Thorens TD 160, I believe that the VM95ML from Audio Technica is a perfect match. It offers fantastic value for money while weighing only 6.1 grams, which is a decent mark if you're working with the low-mass arm of the turntable.
The Audio Technica AT-VM95ML carries a 2.2 x 0.12 mil micro linear nude stylus. This shape allows for an excellent sound resolution compared to other stylus styles such as elliptical and conical.
Additionally, this superior stylus supports tracking at very accurate levels to effectively reduce all sorts of inner groove distortion even if you're playing in higher frequencies. Not only is the listening experience pleasant with this stylus, but it also lasts longer thanks to the construction of the square shank.
The AT-VM95M dual magnet cartridge is suitable for various types of genres, so it's a good option for vinyl enthusiasts looking to broaden their musical palette. I also love that it can give you the best possible sound quality from old or worn-out records.
This cartridge is hassle-free in the installation department. It comes with a couple of M2.6 threaded inserts for quick mounting without having to use nuts.
Similar to the Ortofon 2M and the Sumiko Oyster lineups, the VM95 series is equipped with the same engine and assembly features. As a result, you can replace or upgrade the stylus on the AT-VM95M alone without needing to buy the entire cartridge.
What to Consider Before Buying a Cartridge for the Thorens TD 160
When deciding on a cartridge for your Thorens TD 160, keep the following factors in mind:
The shape of the stylus: conical styluses produce the lowest audio quality and wear down quickly, so opt for elliptical or micro linear styluses instead as they sound better and last longer.
The material of the cantilever: the stock arm on the TD 160 is low mass so it prefers low-mass cartridges. One way to achieve this is to choose a cantilever made out of aluminum or boron because these materials are sturdy yet lightweight.
Replacement and upgradability: you may want to switch to a more advanced cartridge later on or save some money when the lifespan of your cartridge comes to an end. In both cases, you'll benefit from cartridges that support interchangeable styluses.
Readers also check: Best Dual Turntable Cartridge Replacement
Best Cartridge for Thorens TD 160: FAQs
Are Thorens Turntables Any Good?
Thorens turntables are one of the best in the industry. They offer outstanding value, are extremely well-crafted, and have beautiful finishes.
Are Thorens Turntables Still Made?
Yes, Thorens turntables are still being manufactured in Germany, Switzerland, and the Czech Republic.
How Often Should I Replace The Phono Cartridge On My Thorens TD 160?
The lifespan of a phono cartridge depends on multiple factors such as the construction of its body, the material of the stylus, and the frequency of use.
Under the most average conditions, a phono cartridge can last between 400 to 600 hours without any audible change. For casual vinyl enthusiasts, that's about 3 or 4 years.
However, brands are currently using sturdier materials to significantly extend the longevity of their cartridges. As such, cartridges nowadays can last for up to 1,000 or even 2,000 hours.
So it all comes down to the durability rating for the particular cartridge you're considering. Not to mention, proper care can help your phono cartridge perform for a longer time.