The TN-400S is a reliable entry- and intermediate-level turntable made by TEAC. It offers good value for money and can sound pretty great, given that you couple it with the right cartridge.
While you need a cartridge that's able to make use of the turntable's full sonic potential, the choice can be confusing since there are dozens of brands and models on the market.
In today's article, I'll help you find the best cartridge for TN-400S by reviewing the top 3 options out there and sharing a simple buying guide. Let's jump in!
How I Selected Phono Cartridges for TN-400S
First, I searched the web to find phono cartridges that are both compatible with TN-400S and deliver an impressive performance.
After that, I eliminated options based on ratings, users' reviews, and different budgets. I aimed to end up with the best-quality cartridges at various price ranges.
To create a "Top 3" list, I tested the final group of cartridges in aspects such as audio quality, construction, and setup.
Reviews of the Top 3 Phono Cartridges for TN-400S
1. Best Overall: Audio Technica AT-VM95ML Turntable Cartridge
Top Pick: Audio Technica AT-VM95ML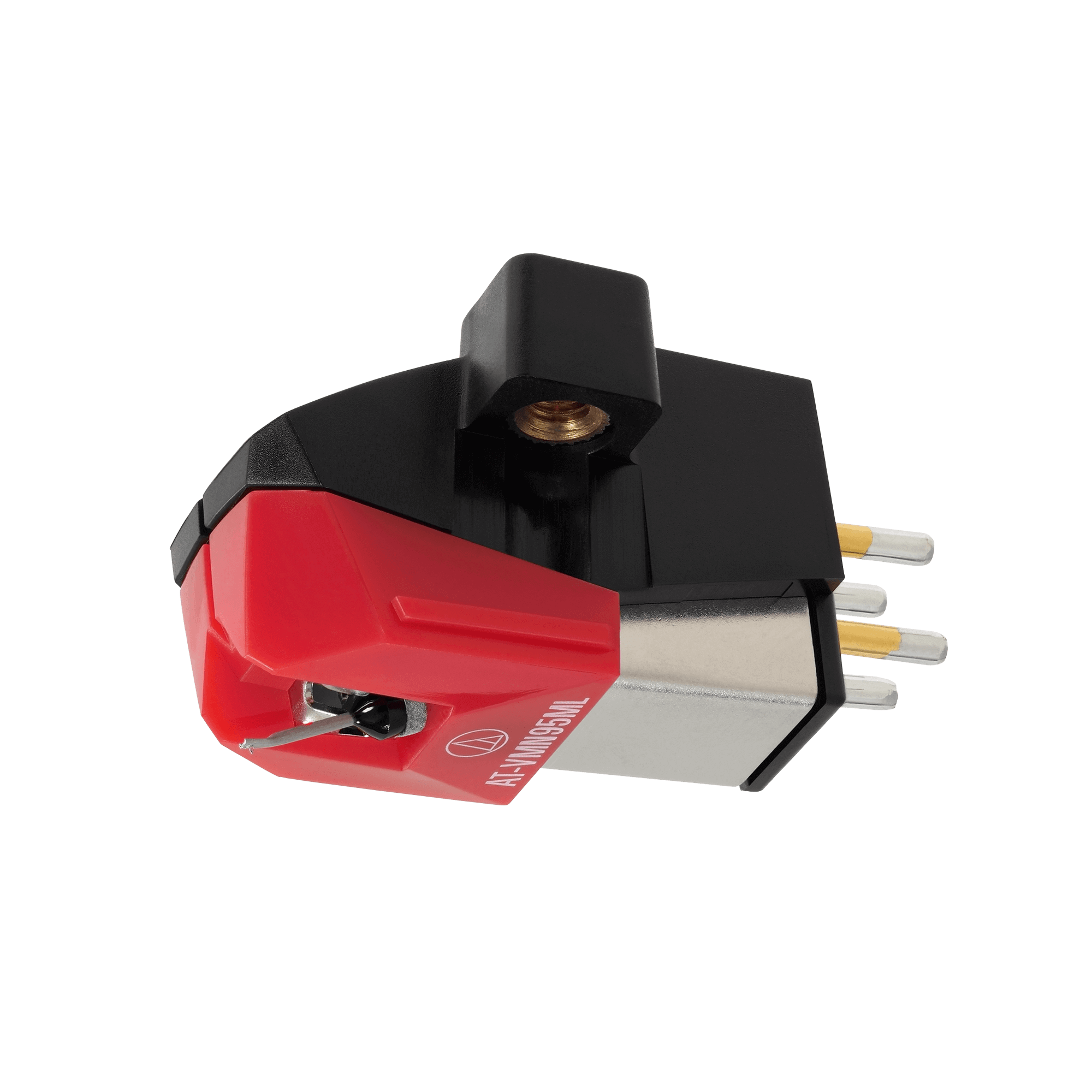 Pros
Micro linear stylus offers exceptional audio quality
Very durable build
Effectively eliminates inner groove distortion
Cons
You may have some trouble aligning the cartridge
TEAC's TN-400S comes with a stock Audio-Technica AT100E cartridge. While it does sound nice, I think that Audio Technica's VM95ML is a much better option when it comes to performance and value for money.
While the AT100E carries an elliptical bonded stylus, the AT-VM95ML takes things to the next level with its micro linear nude stylus.
Not only does the micro linear design provide excellent sound resolution compared to elliptical, but it also offers more accurate tracking to effectively reduce inner groove distortion even at higher frequencies.
Additionally, the listening experience lasts longer with the VM95ML stylus thanks to the square shank as opposed to the round shank on the AT100E. The VM95ML also features a wider frequency response range (20-25,000 Hz) and an improved channel separation (23 dB at 1 kHz).
Weighing only 6.1 grams, the AT-VM95M dual magnet cartridge is great for playing old or worn-out records. Its setup is hassle-free and you can easily replace or upgrade its stylus within the VM95 series.
2. Runner-Up: Sumiko Oyster Rainier Phono Cartridge
Sumiko Oyster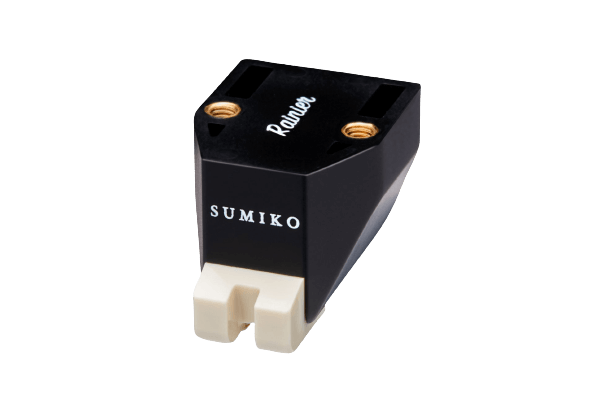 Pros
Reduces vibrations distortions
Reliable build quality
Straightforward to install and upgrade
Cons
May sound a bit too warm for some users
A close second to the AT-VM95M is the Sumiko Rainier from the company's Oyster lineup. It offers solid construction along with impressive audio quality at a reasonable price.
If you're a fan of the Ortofon 2M Blue, you'll be happy to know that the Sumiko Rainier delivers a comparable performance on the TN-400S.
The Rainier is equipped with an elliptical stylus and an aluminum cantilever tube to reduce overall weight and minimize vibrations. It features a channel separation of 25 dB at 1 kHz, a frequency response range from 12 Hz to 25,000 Hz, and a tracking pressure of 1.8 to 2.2 grams.
Additionally, it's fitted with a special housing designed to reduce distortions and maintain high resolution by resisting internal resonance.
Related: Best Cartridge For U Turn Orbit
The Rainier is pretty easy to install and it shares the same engine with other members of the Oyster series. This means you can upgrade the stylus to the more advanced Olympia or Moonstone without having to buy a whole new cartridge.
3. Best Budget Option: Ortofon 2M Red Moving Magnet Cartridge
Ortofon 2M Red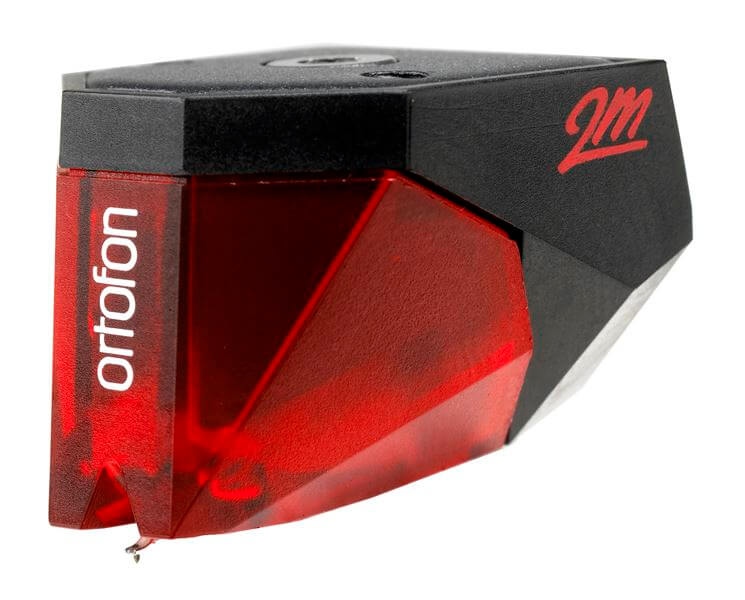 Pros
Fantastic value for your money
Open and warm sound
Lasts up to 2,000 hours
Cons
The stylus isn't interchangeable with 2M Bronze or 2M Black
Last but not least, the 2M Red is my recommendation for audiophiles on a budget. It's the most successful entry-level cartridge by Ortofon, offering an impressive performance all around.
Its 5.5 mV output supports an open, dynamic sound profile with plenty of brightness to enhance playback quality, especially for warmth lovers. It's also engineered to provide high accuracy for improved audio resolution.
The stylus on the Ortofon 2M Red is a diamond-tipped elliptical design that's rare to come across in an affordable cartridge. Besides boosting durability to as long as 2,000 hours, this build also does a good job of minimizing interfering resonance.
The 2M Red has the same body as the 2M Blue, which allows you to install the 2M Blue stylus alone on the 2M Red cartridge so you save some cash once you decide to upgrade.
What to Consider Before Buying a Phono Cartridge for TN-400S
Keep the following tips in mind when choosing a phono cartridge for your TN-400S:
It's best to opt for an elliptical or micro linear stylus instead of a conical one. The former types sound better and last longer.

Be aware of the mounting system of your turntable. The TN-400S uses the standard 1/2-inch type which most cartridges are compatible with, but it wouldn't hurt to check.
If possible, always go for cartridges that feature interchangeable styluses. This will save you money when you decide to upgrade your system or it's time to replace the worn-out stylus.
Choose a cartridge that you can align as easily as possible. It should also include all the necessary tools for mounting.
Related: Sumiko Rainier Vs Ortofon 2M Blue
Best Phono Cartridge for TN-400S: FAQs
What Is The Stock Cartridge On The TN-400S?
The TEAC TN-400S comes with the Audio-Technica AT100E.
How Often Should I Change The Cartridge On The TN-400S?
Most cartridges nowadays can last for up to 1,000-2,000 hours before you can detect audible changes. That translates to roughly 3 or 5 years for casual users.
How Do I Make My Phono Cartridge Last Longer?
To keep your cartridge in good condition, you should clean it every 7 or 10 days.
Use a small brush (typically comes with the cartridge) to remove dust from the stylus. Make sure your moves are gentle and focus on the tip of the stylus because a buildup of dust there leads to faster wear.