It's no secret that cleanliness is the key to preserving the life of your vinyl records. For this reason, choosing a trustworthy record cleaner is of the utmost importance.
If you're clueless about cleaners, no worries. We've got you covered!
In this guide, we'll explore two simple yet effective record cleaners that have been around for decades. Join us as we compare Discwasher vs. Spin-Clean to find out which one is worth getting.
Discwasher vs. Spin-Clean: Overview
Discwasher's original vinyl record cleaning pad and D4+ vinyl record cleaning solution were once considered the "gold standard" in record cleaning. However, customers have reported a decline in product quality over the years.
Spin-Clean's compact washer and quick-drying formula are proving to be an attractive alternative.
Image
Product
Detail
Price

Discwasher

Gold standard
Decline in product quality

Price

Spin-Clean

Compact washer
Better option

Price
What Is Discwasher?
The Discwasher is a vinyl record care system that was invented by Dr. Bruce Maier in Columbia, Missouri. Its reliable cleaning pad and fluid combo rapidly gained popularity among the masses.
At present, the Radio Corporation of America (RCA) owns and distributes the Discwasher.
What Is Spin-Clean?
The Spin-Clean Record Washer was first introduced in 1974 by Fidelitone Inc. Fidelitone is a worldwide producer and distributor of record and video accessories.
This vinyl record cleaning product is a crowd favorite for its straightforward three-step cleaning process.
Discwasher vs. Spin-Clean: How Are They Similar?
It's time to compare the two. First, let's check out the similarity between both cleaners.
Product Claims
When it comes to product claims, the two cleaners use different words in describing their cleaning powers. However, they both promise one thing — to remove dirt and other impurities from your records.
Discwasher
The RCA Discwasher's packaging claims that it removes dust, dirt, and fingerprints from vinyl records. It also says that it's suitable for use with all vinyl records.
Overall, the Discwasher is promoted as the ultimate vinyl record care system.
Spin-Clean
According to its official website, the Spin-Clean provides a quick and effective way of cleaning both sides of any record simultaneously. Its special washer fluid encapsulates dirt from your record's grooves.
Similarly, the company claims that after 3 rotations in the Spin-Clean, the dirt and fingerprints on your records will be gone.
Discwasher vs. Spin-Clean: How Are They Different?
Next, we'll find out what makes each cleaner unique. Let's get started!
1. What's Inside
First, let's take a look at what comes in the package for each of the two vinyl record cleaners. The different tools from each kit have various uses.
Discwasher
A standard RCA Discwasher kit includes 1 vinyl record cleaning pad, 1 mini dust brush, and a small bottle of D4+ vinyl record cleaning solution. The bottle usually contains 1.25 fl. oz (37 mL) of cleaning fluid.
Spin-Clean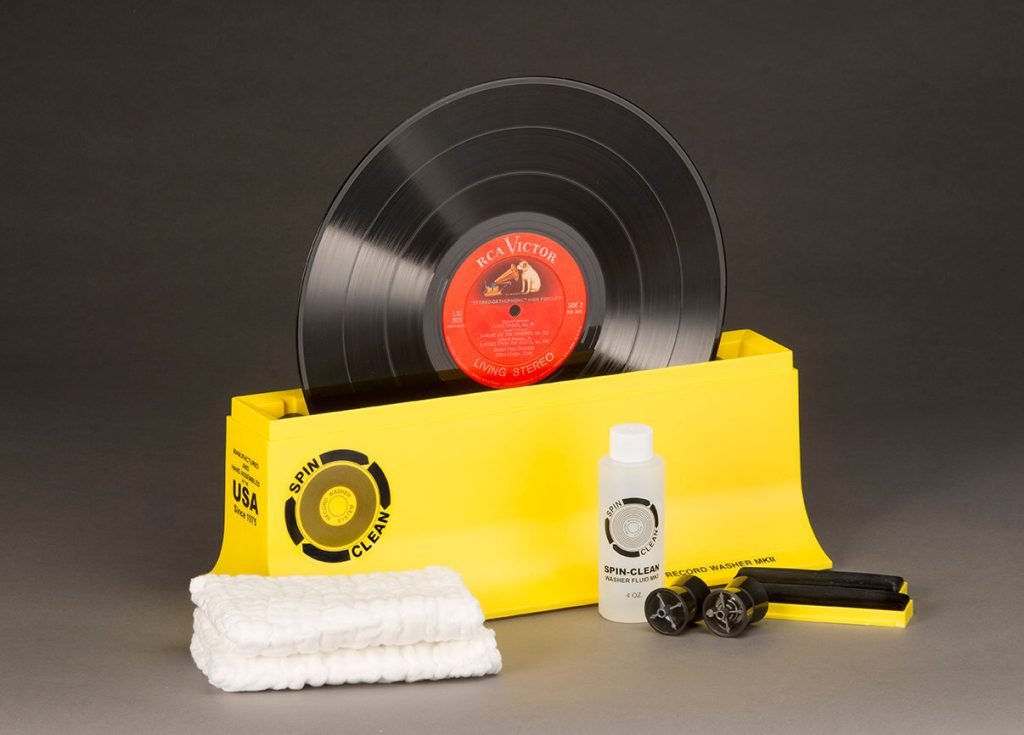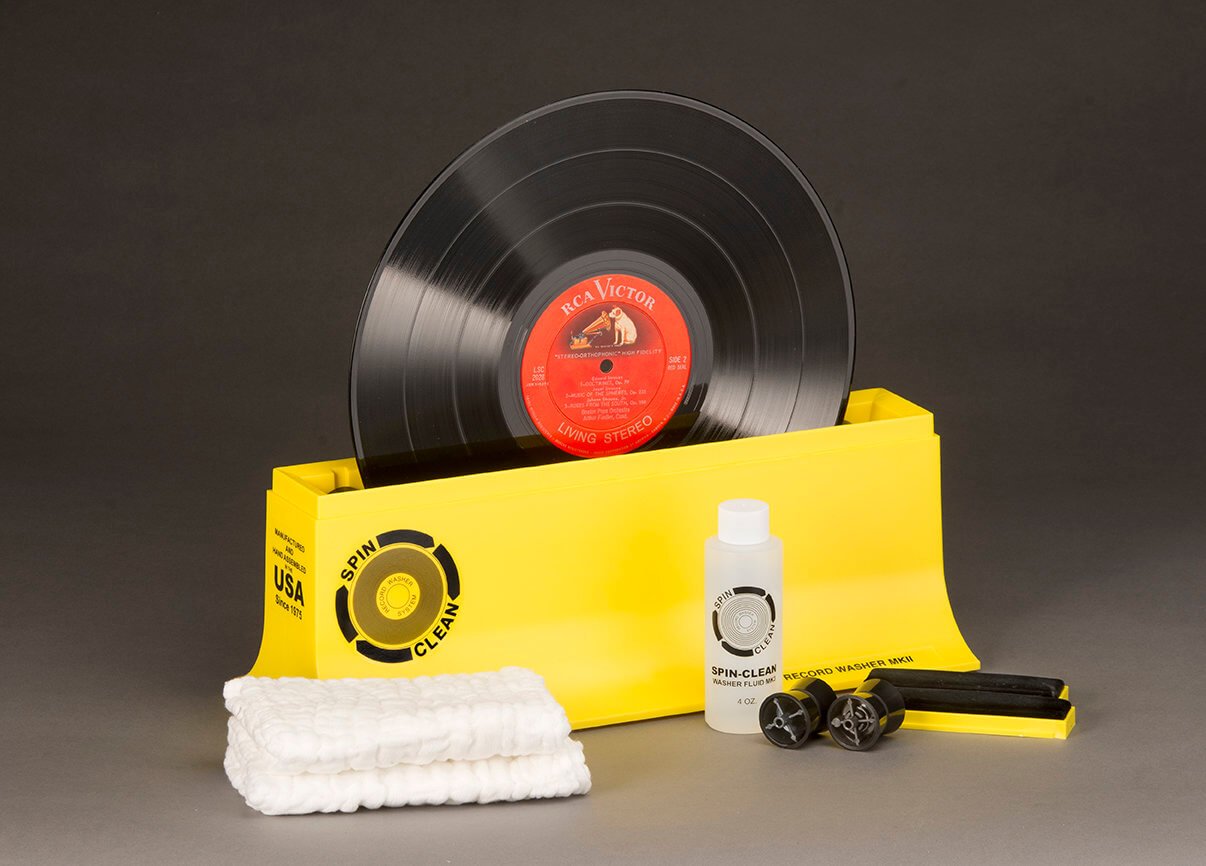 This record cleaner comes with a bright yellow washer basin plus a lid to prevent dust and other particles from entering. The cleaning kit also comes with 2 trusty rollers, 2 drying cloths, and 2 cleaning brushes.
You'll find the Spin-Clean alcohol-free washer fluid inside the package as well. The main unit has designated slots where you can insert the rollers and cleaning brushes.
Related: How to clean technics 1200 turntable?
2. How to Use It
We'll now go over the actual process of cleaning your records. The two cleaners have different cleaning methods.
Discwasher
To use the Discwasher, your record has to be on the turntable. First, apply 3–6 drops of its cleaning fluid evenly on the leading edge of the cleaning pad.
Gently press the leading edge of the pad on the record. Do this for 3 turns.
Then, use the middle and back edges of the pad to dry the record while it's still turning.
Repeat on the other side. Easy!
Spin-Clean
The instructions for the Spin-Clean are simple. You have to fill it, spin it, and dry it.
First, fill the unit up with the correct amounts of distilled water and washer fluid. You then need to insert the record snuggly in between the rollers.
Gently spin the record clockwise 3 times. Do the same in a counter-clockwise direction.
Use the provided drying cloth to wipe the record dry. Finished!
What's Better About Discwasher?
The Discwasher has received plenty of 5-star reviews from buyers on Amazon and other record supply stores. Here are their reasons why:
The cleaning pad, particularly its directional fabric, is very efficient at removing dust.
Discwasher's record cleaning fluid is described as the "gold standard" for its gentle and quick-drying yet highly effective formula.
The reapplication of cleaning fluid per side prevents cross-contamination of records.
The cleaning pad contains a pocket where the fluid bottle can easily be stored.
However, some customers expressed concerns about the older versions being significantly better than the newer ones. They commented that the Discwasher's fabric now has a different texture and grain.
Buyers also remarked that the fluid's formula had been changed, making it a less effective cleaner.
What's Better About Spin-Clean?
The Spin-Clean has also received its fair share of praise. Here's why customers are siding with Spin-Clean:
The cleaning brushes are pre-positioned and don't need to be held.
It doesn't involve using your turntable, so there's less wear and tear.
It's more economical. The Spin-Clean fluid mixed with water can clean 20–50 records.
It cleans both sides of your record at the same time.
Still, some customers hesitate on purchasing this product. They say that reusing the cleaning solution allows the transfer of dirt from one record to another.
Must read: Pro-Ject Debut Carbon Evo vs. Rega Planar 1
Who Should Get the Discwasher?
A big factor in choosing between the Discwasher and the Spin-Clean is your preferred cleaning style.
If you prefer cleaning your records one side at a time, the Discwasher is here for you. It's also the more meticulous option as the cleaning fluid isn't reused for every record.
Through the years, the Discwasher has retained several of its loyal users. If you want a basic cleaner that has stood the test of time, you might want to get the Discwasher.
Who Should Get the Spin-Clean?
If you don't mind using the same solution to clean multiple records, the Spin-Clean might be the one for you. It's great for those who want a quick, easy, and economical cleaner.
Also, Spin-Clean has a separate washer basin of its own. No need to get your turntable involved in the clean-up.
If you appreciate these perks, you might want to get the Spin-Clean. Whichever product you prefer, we hope you choose the one that gives your records the TLC that they deserve.
Here's to cleaner and better-sounding records!