Being on the market for a new turntable can be an exciting experience. You get to browse all the latest models and check out the newest features.
However, all the terminology and specifications can be a little overwhelming. So, if you're debating Pro-Ject vs. U-Turn, you've come to the right place.
Let's take a look at some of the main differences and similarities between the two turntables.
Pro-Ject vs. U-Turn Overview
The Pro-Ject Debut Carbon DC and the U-Turn Orbit Plus turntables have many features in common. They both have dual-speed and similar dimensions. Still, there are a few key distinctions. For example, the Pro-Ject uses a carbon tonearm and metallic platter, whereas the U-Turn has a precision gimbal arm with an acrylic platter.
What Is the Pro-Ject Debut Carbon DC?
Specifications
Length: 12.6 in.
Width: 16.3 in.
Height: 4.6 in.
Weight: 12.3 lb.
Power: 120 V. or 240 V.
Speed: 33.45 (manual change)
Connectivity: Phono RCA cable
Platter: 300 mm with felt mat
Tonearm: 8.6 in. Carbon.
Accompanying Cartridge: Ortofon 2M Red
Pro-Ject Debut Carbon DC Main Features
Pro-Ject Audio Systems has many amazing turntables on its roster. One of its more popular models is the Pro-Ject Debut Carbon DC.
This turntable combines most of the company's greatest features at an affordable price.
Another great feature of the Carbon DC is that it comes with a powerful decoupled motor. That means there's no physical connection between the motor and the platter. Instead, Pro-Ject uses a suspension mechanism to transfer power.
The main engine is a DC power supply. Nevertheless, an AC generator also helps minimize vibrations from the motor.
In addition, it lowers operation noise, making it almost completely silent.
The Carbon DC also arrives with a 300mm stainless-steel platter. Using a resilient metal like steel increases durability and adds weight to maintain balance.
On top of the platter, there's a felt mat that helps reduce the friction with records to cut down on resonance. The platter itself sits on top of a medium-density fiberboard plinth.
This unit is known for its minimal design that features only an on/off switch.
What Is the U-Turn Orbit Plus?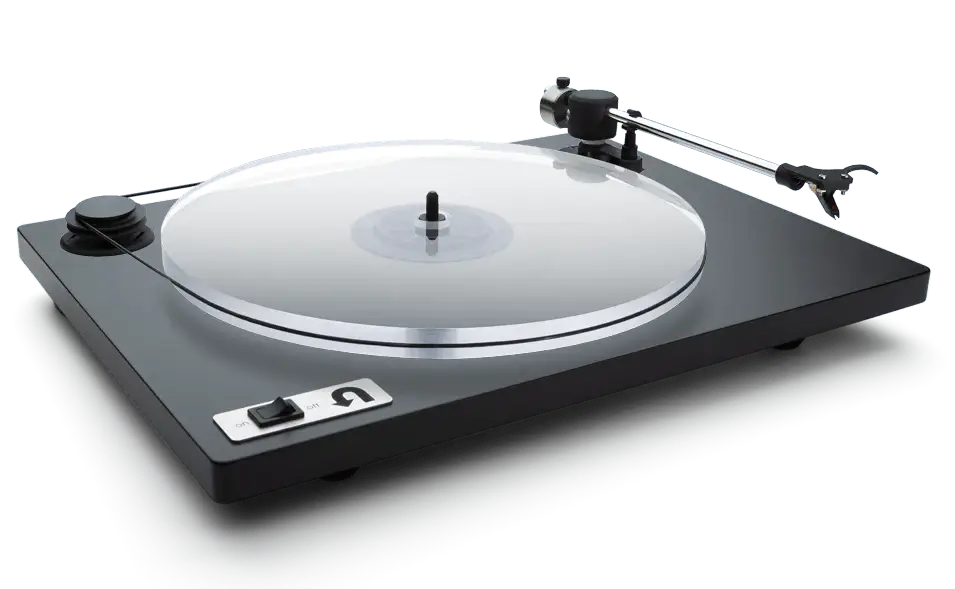 Specifications
Length: 12.5 in.
Width: 16.75 in.
Height: 4.25 in.
Weight: 12.5 lb.
Power: 115 V.
Speed: 33/45 RPM (manual adjustment)
Connectivity: Phono RCA cable
Platter: Acrylic
Tonearm: Precision Gimbal with adjustable counterweight
Accompanying Cartridge: Ortofon OM5E with elliptical diamond stylus
U-Turn Orbit Plus Main Features
U-Turn Audio is another company that provides excellent audio services. One of its best sellers is the U-Turn Orbit Plus.
Instead of the traditional metal platter, this turntable features one made of acrylic. Because of its low weight and friction, acrylic helps maintain a constant speed while reducing vibrations.
To produce crystal clear sound, the Orbit Plus uses an Ortofon OM5E. This is a high-end cartridge for such an affordable device, especially one with a diamond stylus.
In addition, this turntable also boasts an excellent tonearm. The precision Gimbal has accurate tracking, which creates less distortion, thus enhancing sound quality. In addition, there's an adjustable counterweight to help enhance tonearm stability.
Moreover, the Orbit Plus has two main speed modes, 33 and 45 rotations per minute. Switching between the two requires you to move the tracking belt on the outside of the device instead of connecting to the motor. This separation allows for fewer vibrations to travel through the turntable.
Users Also Read: Pro-Ject Debut Carbon vs EVO
How Are They Different?
If you're debating between the Pro-Ject Debut Carbon DC and the U-Turn Orbit Plus, you've come to the right place. Let's dive into some of the major differences between the two.
| | | |
| --- | --- | --- |
| Feature | Pro-Ject Debut Carbon DC | U-Turn Orbit Plus |
| Dimensions (LxWxH) | 12.6×16.3×4.6 in. | 12.5×16.75×4.25 in. |
| Motor | 120 or 240 V. | 115 V. |
| Tonearm | 8.6" Carbon | Precision Gimbal |
| Colors | White, gray, yellow, red, green, blue, and purple | Green, black, blue, white, and red |
| Platter | 300 mm with felt mat | Acrylic |
Tonearm
One of the most obvious distinctions between the two is their tonearms.
The Debut Carbon DC comes with a single-piece carbon tonearm. It's lightweight, stiff, and durable, allowing it to significantly cut down on vibrations.
As for the Orbit Plus, the tonearm is metallic. While this may help with balance and resilience, it's not great for resonance as the aluminum can affect audio quality.
Speed Control
Both devices use belts to change speed, but they don't employ the same mechanism. In the Orbit Plus, the belt is to the side, while the Carbon DC belt is underneath the platter.
Each mechanism has its benefits, but the Carbon DC isn't as user-friendly. This is because you have to lift the platter to switch speeds.
Finally, the Carbon DC is slightly more expensive than the Orbit Plus.
How Are They Similar?
Even though the two devices are manufactured by two different companies, they still have quite a few traits in common.
Appearance
For starters, both turntables look visually alike. They have similar dimensions and weights, with a minimal, sophisticated design. Aside from the finish of the plinth, they're almost indistinguishable.
Another feature both models share is that they come with a dust cover. The main task of a dust cover is to help protect your turntable from the elements while showcasing your record player when it's not in use.
Motor
Still, aesthetics aren't the only aspect they have in common. The DC and the Orbit Plus use DC motors, which allow the turntables a dual-speed system.
Not only do both turntables have DC motors, but they also have isolated motors. This type of motor reduces resonance and makes for a much quieter operation.
To connect to the motors, both the DC and Orbit Plus have RCA attachments, which allows them to produce clear audio with minimal distortion. In other words, they don't just look the same, they also perform the same.
Related: MoFi Studiodeck vs. Rega Planar 3
What's Better About the Pro-Ject Debut Carbon DC?
The Pro-Ject Debut Carbon DC has many interesting features.
Tonearm
Possibly one of the most prominent is the tonearm. The single-piece carbon-fiber tonearm has a fully integrated headshell, which is beneficial for several reasons.
First of all, it's made of lightweight material. It helps reduce the risk of scratching your records.
Second, since it's a single piece, there's increased rigidity. This means that fewer vibrations will travel through, cutting back on resonance.
Cartridge
Aside from that, the Carbon DC also has a superior cartridge. Even though both turntables use Ortofon, the DC has a slightly more advanced version, which may explain the device's higher price range.
As an added bonus, this turntable has rubberized feet, providing the unit with added stability and noise damping.
What's Better About the U-Turn Orbit Plus?
The U-Turn Orbit Plus is one of the most popular turntables for many reasons, including the following:
Platter
One of the best features of this device is the acrylic platter. It's long-lasting and lightweight so that it won't weigh down the entire gadget. Also, since it's made of a glossy material, it eliminates the need for a felt mat.
Performance
Moving on to performance, the Orbit Plus has near silent operation noise. You can hardly make out the motor during operation. You only hear the music, which is exactly how it should be.
In addition, this device requires manual speed change, but it's a simple process. The belt is in a convenient spot that makes the task a piece of cake.
Assembly
Finally, this turntable is a breeze to assemble. Following the set-up instructions shouldn't take more than a few minutes, after which you're all set to listen to your favorite music.
Who Should Get Pro-Ject Debut Carbon DC (And Why)?
If you prefer a more retro-looking turntable, the Pro-Ject Debut Carbon DC may be the way to go. Not only does this device have a clean design, but it also comes in various classic finishes, including wood veneers.
With this device, you get excellent sound quality without much maintenance. Other than occasionally changing the cartridge, you don't have to do much.
In addition, this device has a stable metallic platter that can last a long time. However, you have to use a felt mat with it.
Keep in mind that while the mat may help reduce friction, it also creates a static charge. While it's not usually a big deal, it can be a nuisance.
Related: Pro-Ject Debut Carbon Evo vs. Rega Planar 1
Who Should Get U-Turn Orbit Plus (And Why)?
If you're new to turntables, you may want to start off with a U-Turn Orbit Plus. This device is incredibly user-friendly and doesn't require extensive assembly.
Moreover, the speed control mechanism is easy to use. Unlike the DC, you don't have to move the platter to gain access.
Another great reason to purchase this device is the silent operation. So, if you dislike background motor noise, this is the perfect option for you.
When it comes to sound quality, this turntable checks all the boxes. Its audio output is impressive and has a tonearm that rarely skips during operation.
Finally, the Orbit Plus is a little more affordable. Hence, you don't need to worry about making as much of a commitment money-wise.