Despite its Japanese-sounding name, Sumiko is an American company that's been manufacturing and distributing phono cartridges since 1982. The company's headquarters are in Minnesota, while its production facility is in Japan.
Over the years, Sumiko gradually became one of the industry leaders in analog audio. Its vast array of unbeatable cartridges caters to audiophiles of all kinds, from high-end enthusiasts to casual music lovers.
In this Sumiko Olympia review, we'll explore one of the company's in-demand moving magnet cartridges. Let's examine this phenomenal pickup's key features, drawbacks, and alternatives.
Sumiko Olympia Review
The Olympia is one of the latest and most advanced moving magnet phono pickups released by Sumiko. It's a redesigned and upgraded version of an earlier and equally popular model, the Rainier phono cartridge.
Significant improvements to the Sumiko Olympia include decreased output and special adjustments to the cartridge housing and cantilever. This resulted in a livelier listening experience with enhanced sonic presentation and more accurate details.
The Sumiko Olympia is ideal for discerning sound enthusiasts who are on the lookout for budget-friendly audio instruments. This highly-rated model is a product of Sumiko's 40 years of experience in providing iconic and groundbreaking cartridges to audiophiles all over the world.
In case you're wondering where this unique cartridge got its name, Olympia is actually a type of oyster that's found in Yokohama, Japan. The names of other cartridges in Sumiko's Oyster Series have the same origin as well.
Oyster Series Cartridges
The Olympia phono cartridge is part of Sumiko's acclaimed Oyster Series Cartridges. Other popular and notable models from this series are as follows:
Amethyst phono cartridge
Moonstone phono cartridge
Pearl phono cartridge
In addition to the Oyster Series, Sumiko offers a second lineup of phono pickups called the Reference Series Cartridges. This collection caters to luxurious listeners with an ear for premium quality components and finely detailed sound.
Key Features of the Sumiko Olympia
This powerful phono pickup boasts the following design, components, and specifications:
Improved Cartridge Design
For the past few decades, Sumiko has displayed an unrelenting commitment to continuously upgrading the quality of its cartridges. Advancements in technology allowed the company to create an all-new cartridge design that addresses previous resonance issues.
The Olympia's enhanced housing significantly disperses vibrations and allows the generator to produce seamless, transparent, and accurate sonics. You're in for an enchanting musical journey with this cartridge's natural harmonics, diminutive backdrop, and spacious sound.
What's more, the Sumiko Olympia's remodeled cantilever assembly removes extra mass. This results in more agile groove tracing, a greater frequency response, and a more intimate nuance. Meanwhile, the lowered output reduces noise for better imaging and realism.
Interchangeable Styli
Widely available styli for the Olympia, Rainier, and Moonstone phono cartridges are completely interchangeable. That's because all three pickups consist of the same generator assembly and housing.
The Sumiko Olympia has a 0.3 ✕ 0.7 mil elliptical stylus with exceptional tracking capabilities. It provides a rich and even sound that'll astound most home audio enthusiasts.
The stylus rests on a bespoke aluminum cantilever with a slightly smaller alnico magnet compared to the Rainier.
The decrease in magnet size accounts for the lower output, from 5 mV to only 4 mV. This tiny change results in more polished movements and better channel separation.
Similar Reviews:
– The Full Sumiko Pearl review
– Sumiko Amethyst review
In addition to the stylus, the Sumiko Olympia comes with the following parts and accessories:
Pure copper internal wiring
Non-resonant plastic housing
Integrated motor system
Plastic stylus guard
Wooden case and owner's manual
Mounting screws
Allen-key
Brush and plastic washers
Sumiko Olympia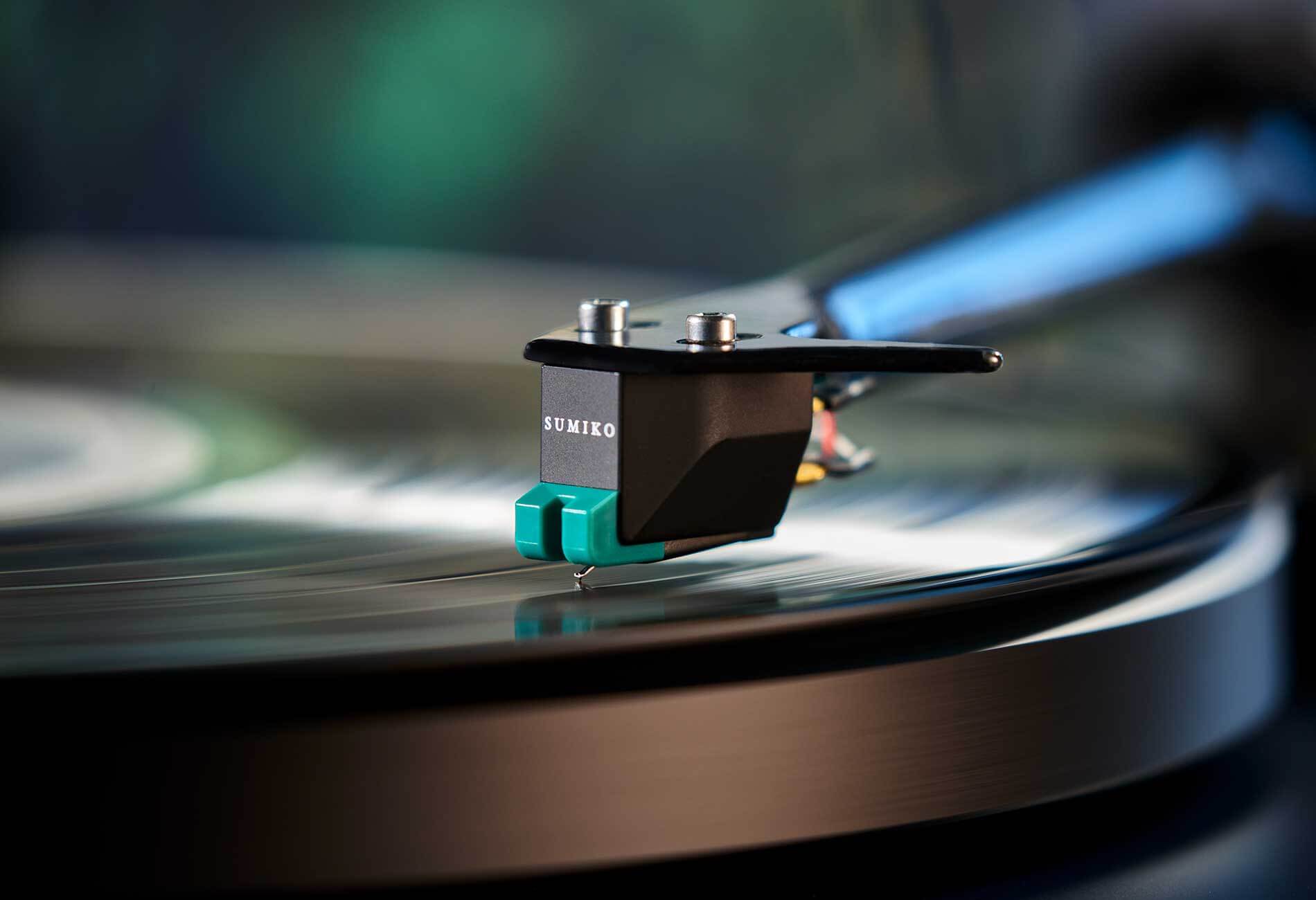 Pros
Excellent Sound Quality
Low-Cost Upgrade and Wide Compatibility
One-Year Warranty Period
Handcrafted in Japan
Designed for Easy Setup and Mounting
Cons
Requires Delicate Cleaning and Maintenance
Slightly Muted Details
Pros of Sumiko Olympia
Let's take a look at what this top-performing phono cartridge has in store for music lovers:
1. Excellent Sound Quality
The Sumiko Olympia's moving magnet architecture allows it to create highly detailed, dynamic, and deep sounds. This cartridge has tighter and higher control over the full-bodied bass, which makes it perfect for rock, pop, and rhythmic music.
What's more, the Olympia is more than capable of delivering a phenomenal attack and decay with extended and rich highs. Meanwhile, the midrange is smooth with an outstanding tonal balance. The vocals sound natural, and the sensational soundstage shines through.
2. Low-Cost Upgrade and Wide Compatibility
If you're longing to level up your listening experience but don't want to shoulder the costs of a brand-new cartridge, the Sumiko Olympia might be the right choice for you.
With this versatile pickup, you can easily and affordably upgrade from a Rainier to an Olympia and, eventually, a Moonstone without buying another cartridge. Since the models utilize the same cartridge body, all you have to do is swap your stylus and enjoy the new music.
As for compatibility, the Olympia works with most phono stages. It can replace any standard half-inch mount cartridge from major brands such as Ortofon, Audio-Technica, and Grado.
The Sumiko Olympia is suitable for Pro-Ject, Denon, Kenwood, and Sony turntables, among others. However, this cartridge doesn't support P-Mount style turntables.
3. One-Year Warranty Period
Sumiko provides a one-year warranty period for the Olympia and other cartridges from the Oyster Series. Just show your official receipt or proof of purchase at their service center to avail yourself of the warranty services.
During the warranty period, the company will shoulder all related repair and replacement expenses except for collateral costs.
4. Handcrafted in Japan
All of Sumiko's iconic phono cartridges are individually handcrafted in Yokohama, Japan. The products adhere to a high standard of quality in terms of both craftsmanship and materials used.
Specially-trained and world-renowned cartridge makers oversee the production of Sumiko's pickups from start to finish. When unboxing the product, you'll notice that the green and black Olympia cartridge comes in authentic Japanese-style wooden packaging.
5. Designed for Easy Setup and Mounting
The Sumiko Olympia's overhead mounting design and threaded inserts make the mounting process more convenient and simple. Unlike other cartridges, the Olympia doesn't need nuts to hold the unit in place. Instead, this model has a tapped integral body screw.
Additionally, this cartridge's output level is high enough for easy matching with a phono stage. Most experienced audiophiles and turntable enthusiasts will find the setup process a breeze.
Related: Sumiko Olympia Vs. Ortofon 2M Blue
Cons of Sumiko Olympia
Here are a few downsides to owning a Sumiko Olympia cartridge:
1. Requires Delicate Cleaning and Maintenance
According to the Sumiko Olympia user manual, owners should exercise extreme caution when cleaning this cartridge, especially the stylus. Note that a single incorrect front-to-back motion can damage the cantilever permanently.
The manual advises owners to clean the stylus with gentle back-to-front motions. Brushing will suffice for accumulated dust. However, Sumiko recommends LAST cleaning products for compacted debris.
2. Slightly Muted Details
Overall, the Sumiko Olympia received an overwhelmingly positive response from most of its buyers. However, a few new owners commented on the cartridge's subtle lack of precision.
Several customer reviews stated that the Olympia's sound had a lower degree of detail and accuracy compared to other brands with the same price tag. There was also room for improvement in terms of range extension and separation of instruments.
Lastly, some buyers demanded more depth and additional character in the midrange, particularly with vocals.
Sumiko Olympia Ratings
In producing this detailed and comprehensive review, we examined the Olympia's buyer feedback, criticism, technical specifications, and terms of use. We also evaluated the product manual and relevant publications from Sumiko.
Our ratings for the Sumiko Olympia phono cartridge are based on the product's overall performance, as presented in the previous segments. They are as follows:
Product design: 4/5
Ease of assembly: 4/5
Sound quality: 4/5
Maintenance requirements: 3/5
Special features: 5/5
Customer service: 4/5
Value for money: 5/5
Sumiko Olympia Alternatives
Here are a few popular cartridges to consider as an alternative to the Sumiko Olympia:
This highly-rated cartridge is slightly more expensive than the Sumiko Olympia. However, its dynamic sound reproduction, 5.5 mV output, and unparalleled resolution may be worth the higher price tag.
Like the Olympia, the 2M Blue features a replaceable stylus, a moving magnet system, and universal compatibility with most turntables. Its nude elliptical diamond stylus and Hopelex cartridge body create a detailed, clean, and open audio quality.
The Audio-Technica AT-VM95SH retails at a similar price as the Sumiko Olympia. This model also supports ½-inch-mount turntables and doesn't utilize nuts. Other features in common with the Olympia include threaded inserts, a replaceable stylus, and low-resonance housing.
However, what sets this cartridge apart is its 2.7 ✕ 0.26 mil Shibata stylus. This unique type of stylus is a favorite among high-end audio enthusiasts. It's sharper and narrower than other stylus shapes, allowing it to deliver amazingly high frequencies and incredibly strong bass.
Related: The best Sumiko cartridges on the market
The Verdict
Indeed, the Sumiko Olympia is an excellent investment for serious audiophiles on a budget or beginner sound enthusiasts interested in making future upgrades. It's a remarkable improvement from the Rainier in terms of frequency response and resonance dispersion.
Listeners are in for a treat with this cartridge's dynamic punch and exceptional tracking capabilities. You'll surely appreciate the Olympia's simplified mounting and setup process, although cleaning and maintenance procedures require a gentle and meticulous touch.
Wide compatibility and a sufficient warranty period are additional bonuses for this model. If you find this cartridge lacking, you can always go for the alternatives mentioned.
We hope you enjoyed this Sumiko Olympia review!