Our love for the musical aesthetics that vinyl records provide remains the same since their first release in the 1930s. Proof of that is the longstanding history of Sumiko cartridges, making their way into the 21st-century music scene.
If you're a phonograph lover, chances are you've heard about the latest addition to Sumiko's Oyster line. After all, it's a company that has been the companion for many audiophiles, providing us with a premium music experience every time.
If this describes you, you've come to the right place! In this Sumiko Blue Point Special Evo III review, we'll discuss the features, pros, cons, and some alternatives to this latest MC cartridge.
Blue Point Special Evo III Review
The Blue Point Special Evo III is an entry-level cartridge from the Japan-based company. It's an economical, solid-build, high-output MC that's just as competent as other Sumiko cartridges.
This brand-new cartridge falls under Sumiko's Oyster line. It follows the line-up of the Black Pearl, Pearl MM, and Blue Point No 2.
Despite the affordable price tag, the Blue Point line can easily outperform other cartridges in the market. So, you can safely expect a consistent, high-fidelity performance from this piece.
This MC comes in two orientations: the high and low-output moving coils. Each is a capable unit able to deliver high-quality sound and could sweep any audiophile from their feet.
Blue Point Special Evo III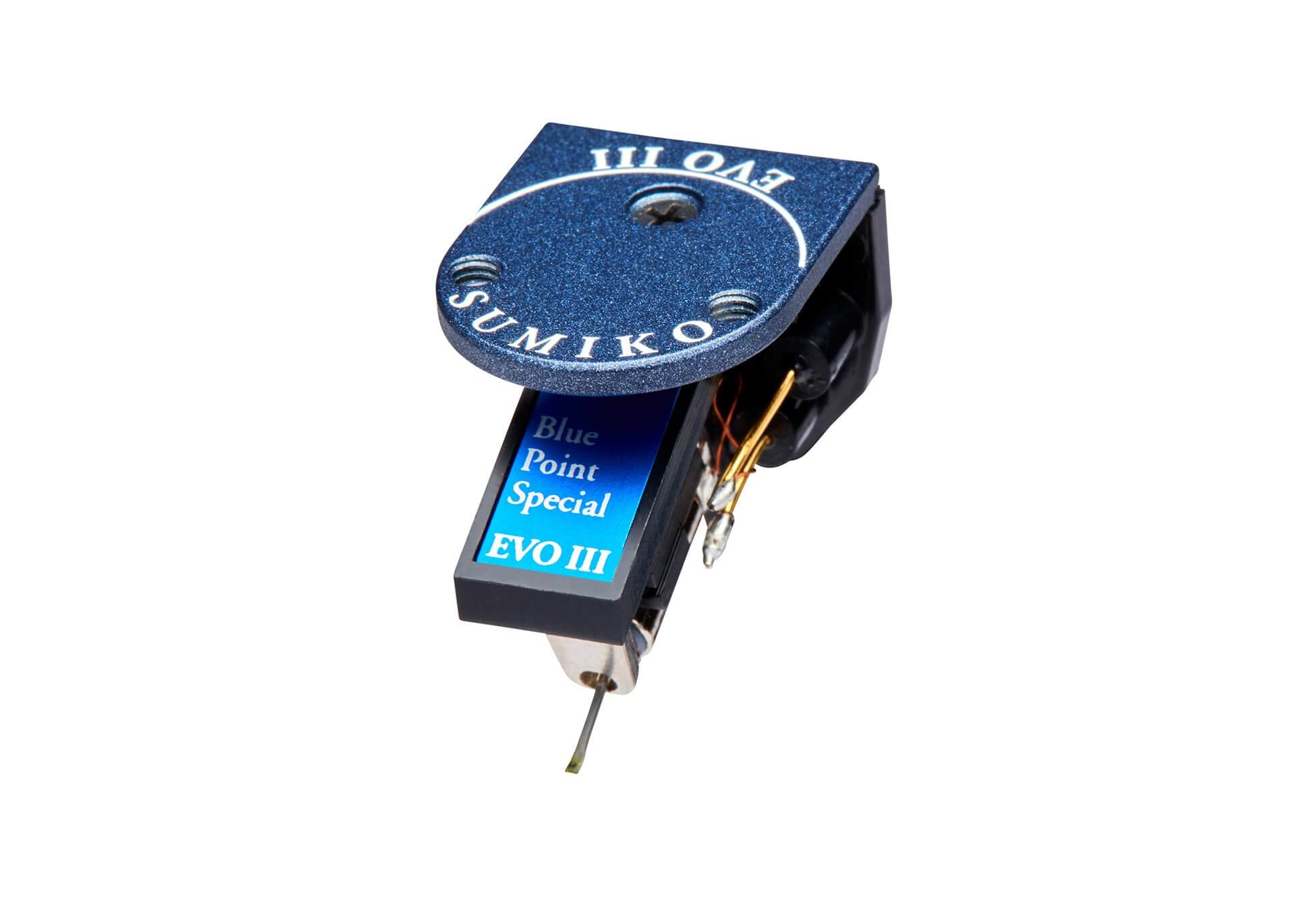 Pros
Moving Coil
High and Low Output
Elliptical Diamond Stylus
Sound Quality
Competitive Capability
Cons
Open Design
Bright Sound
Non-replaceable MC Stylus
Pros of the Blue Point Special Evo III
A refined music taste means an investigative ear. So, here are some pros to the Blue Point Special Evo III:
1. Moving Coil
The moving coil setup of the Blue Point Special Evo III is one of its advantages. It means this cartridge can detect minute details from your vinyl grooves.
As the moving coil vibrates, it picks up delicate changes in your vinyl's texture. This sensitivity produces a more refined sound that surprises audiophiles new to this technology.
MC is also lighter than MM phonograph cartridges. For instance, the Blue Point Special Evo III only weighs 8.3 grams, a tad lighter than MM brands available in the market.
The featherweight build allows extremely minimal sound distortions, which is a tendency for heavier cartridges. It also means it's easier to orient as it connects with your vinyl.
Related Posts:
– Sumiko Oyster review
– Sumiko Pearl review
– Sumiko Amethyst review
2. High and Low Output
The Japanese brand is known for its cartridges' high and low sound output, and they intended to flaunt this feat in their Blue Point Special Evo III.
That said, you can choose between the high-output or low-output varieties. It's a welcome option, as phono stages come in varying gain capacities.
If you have an MM phono stage, the mechanism of the high-output Blue Point allows its use without a step-up transformer. So, you'll be able to enjoy an MC sonic without additional costs!
3. Elliptical Diamond Stylus
The tip of the record player, or its stylus, is the component that tracks the vinyl record and enables the music. Thus, the quality of the stylus is essential for the best phonograph output.
The stylus of the Blue Point Special Evo III is yet another edge that sets it apart from other cartridges in this price range. This unit boasts a 0.3 x 0.7 elliptical diamond stylus tip.
Because of its material and shape, its stylus can penetrate deeper into the grooves of your vinyl. This characteristic creates a piece of rich music and a smoother listening session.
In addition, it's common knowledge to audiophiles that a diamond tip stylus lasts longer than a ceramic or stone stylus. This cartridge promises over 2,000 hours of spinning records!
4. Sound Quality
As vinyl music buffs, we're sure you're here for the sound quality of the Blue Point Special Evo III. After all, we're all after the immersive music experience that only a phonograph can provide.
Well, there's nothing to fret about, as this cartridge delivers an extensive soundstage full of refinement and subtleties, all thanks to its MC setup and diamond tip stylus.
If your music taste leans toward classical or Jazz, it produces instrument sounds with excellent nuance and space. So, your ears and heart are surely in for a great treat!
Finally, the realism of the Blue Point Special Evo III music easily sits on top of the cartridge market. Users described its output as "startlingly realistic" with outstanding depth and details!
Related: Sumiko Songbird Vs. Blackbird
5. Competitive Capability
Whether you're a newbie to cartridges or a vinyl buff, everybody wants a product that gives real value for our bucks. The Blue Point Special Evo III does this exceptionally well.
For a price that's multiple times lower than other MC units, this Oyster-tier cartridge can produce almost-holographic sound imaging you can only find in high-end cartridges.
Cons of the Blue Point Special Evo III
If you're trying to decide the best cartridge for your turntable, it's better to know its pros and cons. So, here are some disadvantages of the Blue Point Special Evo III according to users:
1. Open Design
Similar to other Oyster cartridges from Sumiko, the Blue Point Special Evo III has an open-body frame. An open-design cartridge exposes some vital components of the unit.
This orientation means it's more prone to external elements that can cause damage, like dust and humidity. In addition, as you can't install a stylus guard, you need to exercise extra care when attaching this cartridge to the tonearm.
2. Bright Sound
If you're chasing sound neutrality, then this cartridge may not be for you. Unfortunately, the sound of the Blue Point Special Evo III leans toward the brighter side of the spectrum.
3. Non-replaceable MC Stylus
As excellent as an MC cartridge when it comes to soundtracking, there's a problem most audiophiles scratch their head for—when the stylus wears out, you need to replace the unit.
You can't change the needles of moving coil cartridges like the Blue Point. Thankfully, Sumiko offers a trade-in deal for customers with unusable MCs for a 30% price markdown.
Key Features
Its diamond tip MC stylus delivers some of the best sounds, with richness and musicality you'll surely appreciate. As far as sounds go, this Oyster never disappoints.
This unit produces commendable high-fidelity sound staging packed inside a minimalistic, light frame. The high and low output options also sweep the phono stage market.
Recommended: An A–Z Sumiko Moonstone Review
Blue Point Special Evo III Final Rating
Deciding the best phono cartridge for your turntable based on specs alone can be tricky. So, here's our final rating for the Blue Point Special Evo III:
1. Sound – 4/5
This cartridge's sound output far exceeds the money you invest in it. It produces rich music with superb tonal balance and instrument spacing with minimal downside.
2. Ease of Use – 5/5
If you're new to the mechanics of cartridges, you might need an expert hand when installing this open-body MC. That said, mounting it would be familiar territory for audiophiles and music buffs.
Most importantly, this unit is compatible with any MM phono stage and many tonearms. If you have the high-output variety, you also won't need to invest in an MC preamp.
3. Value for Money 5/5
The best selling point of the Sumiko Blue Point Special Evo III is its competitive build at an extremely reasonable price. You can't say that for every affordable cartridge in the market.
4. Maintenance – 3/5
Maintenance is a tricky business for moving coil cartridges like this Blue Point. The open design also exposes some sensitive components in its cantilever assembly.
In addition, the cartridge is supplied without a stylus guard to protect its needle. So, you need to apply caution whenever you're handling the unit.
3 Alternatives to the Blue Point Special Evo III
If for some reason you can't purchase the Blue Point Special Evo III phono cartridge, here are a few alternatives from the same Japanese manufacturer:
If you're in for an affordable cartridge with top-notch sound quality, Rainier is up there with the Blue Point Special. It definitely set the bar higher for entry-level MM setups.
This award-winning cartridge doesn't lag behind in clarity, sound staging, tonal balance, and overall musicality. The natural warmth of its output is a treat to the ears!
Sumiko's Olympia phono cartridge, like the Blue Point Special, belongs to the Oyster lineup. It features an open-body architecture with an upgraded cantilever assembly.
Despite being entry-level, the Olympia can create a penetrating sound realism rarely found in its class. A true budget-friendly masterpiece!
If you're gearing for flagship-level sound quality, we recommend the Sumiko Songbird. This cartridge is the little sister to the critically acclaimed Starling.
Named after a specific breed of birds, the Sumiko Songbird lives up to its name. This MC cartridge stands out with its excellent vocals and instruments, perfect for any music!
Final Verdict
Audiophiles have been in love with vinyl records since their first release in the 1930s. For over 90 years, the phonograph captured and engraved musical sounds we can all enjoy.
Sumiko's vigor for continually releasing high-quality Blue Point cartridges is a testament to the shared passion of audiophiles worldwide.
The Sumiko Blue Point Special Evo III doesn't disappoint their long history of musical excellence—a true value champ!